Looking for the best Valentine's Day menus in London? Naturally, we've got it covered. From fine-dining to fried chicken, we've got something for everyone this Valentine's Day. Lovers get ready, here's our top picks for Valentine's Day menus in London:
1. For Wining + Dining: Les 110 de Taillevent
What: This Valentine's Day, transport yourself to France with a six-course menu at Les 110 de Taillevent. Head chef Raphael Grima has created the menu, which is available from the 14th-18th February.
The Menu: The menu features seasonal duck foie-gras, served with clementine, pistachio and toasted brioche, scallop tartare served with apple, celeriac and watercress and John Dory, served steamed with shellfish and a Champagne sabayon sauce. To end the evening in true French style, desserts include Agrume, hibiscus jelly and earl grey granite, and the Pomme D'Amour, the French 'apple of love' consisting of mousse and caramelised apple, served alongside a granny smith sorbet.
Price: £68 per person
Where: 16 Cavendish Square, Marylebone, London W1G 9DD
2. For Fancy Sushi: Nobu London and Nobu Berkeley Street
What: Nobu London and Nobu Berkeley Street will serve a Valentine's Omakase menu for lunch and dinner on 14th February: a seven-course tasting menu carefully curated by Executive chef Mark Edwards.
The Menu: At Nobu London, feast on stunning dishes like Age Toro – sashimi salad with spicy miso dressing, expertly handcrafted Nobu sushi, pan-fried scallops with yuzu truffle quinoa and Japanese Waygu beef. Diners at Nobu Berkeley Street can enjoy scallop and foie gras with karashi plum miso, white fish sashimi and caviar with pepper salsa, and fresh lobster salad with ume dressing. Saving space for dessert is a must with a Kobito with vanilla cream, lychee and raspberry soup, bronte pistachio sponge and white chocolate raspberry gelato.
Price: £120 per person or £195 per person with wine pairings
Where: Nobu London – 19 Old Park Ln, Mayfair, London W1K 1LB and Nobu Berkeley Street – 15 Berkeley St, Mayfair, London W1J 8DY
3. For Stunning Views: Fenchurch Restaurant, Sky Garden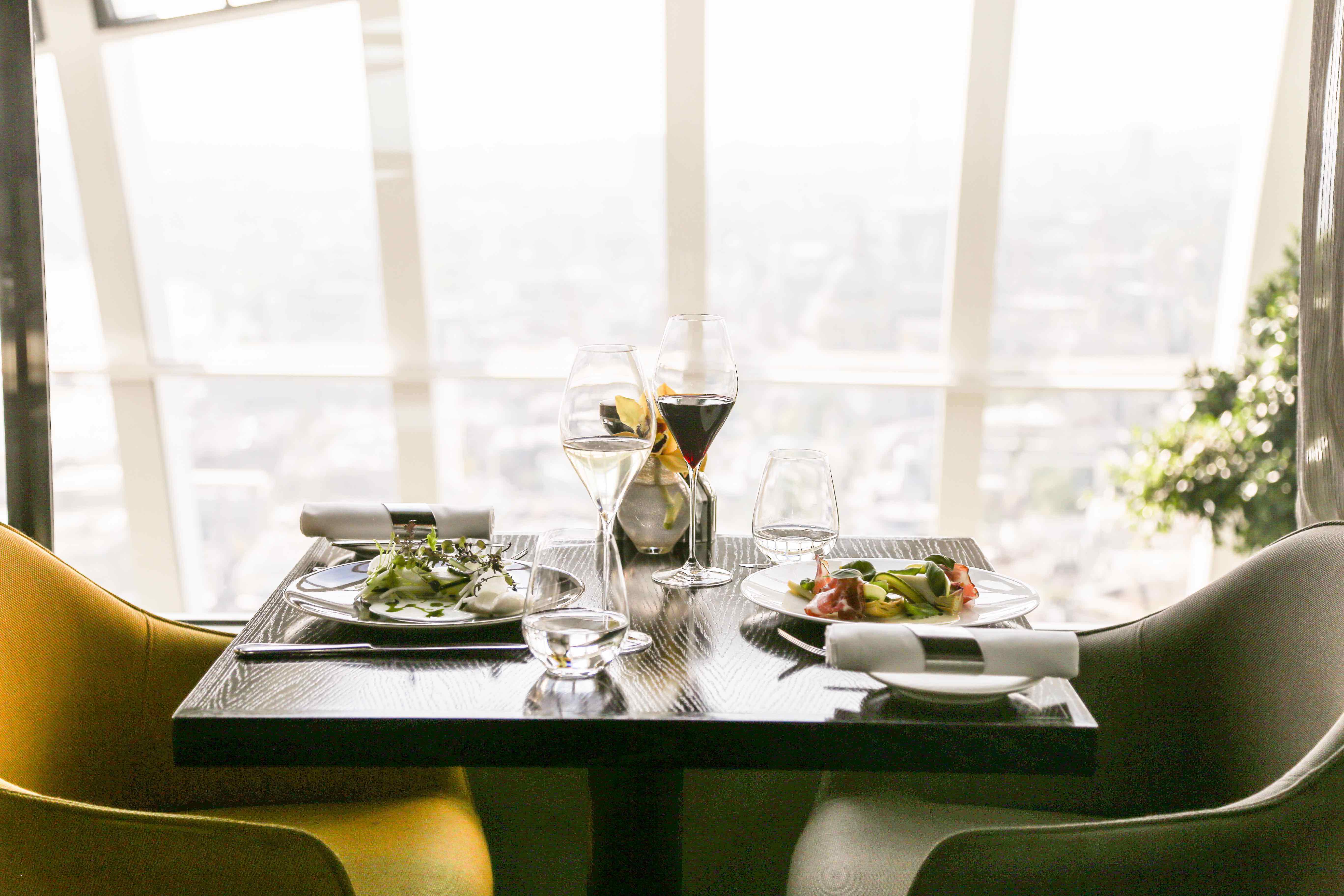 What: Love is in the air 37 floors up at fine-dining restaurant Fenchurch this Valentine's Day. Sweep your loved one up to the sky-line, for a tasting menu created by Head chef Daniel Fletcher, available from 14th-17th February.
The Menu: One of our favourite Valentine's Day menus in London, dishes include beef tartare with black truffle dressing, crisp kale and Berkswell cheese, roast Orkney scallop, delica pumpkin, hazelnut, red chicory and citrus dressing and triple-layered chocolate bar with salted popcorn ice cream. Head sommelier Alexandru Pastrav will be on hand to pair wines to each course too.
Price: The five-course lunch tasting menu is priced at £65pp and the seven-course dinner tasting menu at £95pp
Where: Sky Garden, 1 Sky Garden Walk, London EC3M 8AF
4. For a Taste of France: Frenchie
What: On the most romantic day of the year, Frenchie Covent Garden will be offering a 5-course tasting menu which has been lovingly created by Gregory Marchand and the Frenchie team.
The Menu: On arrival, everyone will be welcomed with a glass of Champagne and nibbles. The menu has been inspired by the day's freshest and most exciting seasonal produce, and includes dishes such as foie gras with beetroot, smoked eel and horseradish, and scallops with broccoli and grenobloise sauce. To finish: chocolate, malt lollipop and treacle ice cream.
Price: £75 per person with a wine pairing option for £50
Where: 16 Henrietta St, London WC2E 8QH
5. For Fried Chicken: Butchies
What: Fried chicken kings Butchies are introducing a Valentine's Day sharing menu of aphrodisiac dishes, served only on February 14th.
The Menu: The fried feast kicks off with deep-fried oysters with a spicy remoulade, followed by You Sexy Thing, a giant sandwich of two fried chicken fillets, coated in chilli and cacao shake, in a heart-shaped bun, served with sharing-size buffalo halloumi fries. They'll also be offering two limited edition sharing cocktails for £6 per person.
Price: £15 per person for two to share
Where: 22 Rivington St, London EC2A 3DY
6. For Italian Flair: Theo Randall at the InterContinental
What: Theo Randall at the InterContinental have curated a special two person 4-course tasting menu for Valentine's Day this year, inspired by the same simple, rustic dishes chef Theo Randall enjoys when he goes to Italy.
The Menu: Begin with fresh burrata with grilled marinated red peppers and Taggiasche olives before delving into the risotto di mare, a seafood risotto with tomatoes, chilli and parsley. For your third course, experience the arrosto di faraono, wood roasted guinea fowl with prosciutto di Parma before finishing on a sweet note with their Amalfi lemon tart.
Price: £120 per couple
Where: One Hamilton Place, Park Lane, London W1J 7QY
7. For a Sharing Menu: The Pilgrm
What: The Lounge at The Pilgrm hotel in Paddington are rolling out a special menu available on the evening of Valentine's Day.
The Menu: The selection features small plates, such as octopus salad with rucola, and cod and lard on toast, and large plates, like the roasted lamb rump with Jerusalem artichoke, mint and feta salsa, and tempura onion with Tokyo turnip, salsify, and quince with crispy pork belly. House-made Pastel de Nata with cinnamon ice cream and hot chocolate pudding with a ginger crisp are the choices for dessert.
Price: £20 per person
Where: 25 London St, London W2 1HH
8. For Blowing the Budget: Elystan Street
What: For the ultimate Valentine's dinner, Elystan Street is offering the private dining room for two people only, serving a bespoke menu devised between head chef Phil and the two diners, as well as vintage champagnes, fantastic wines and beautiful flowers. And it could be yours for a cool £800. If that's too much, the restaurant are also running a Valentine's Day menu in the restaurant.
The Menu: One of our favourite Valentine's Day menus in London for sure. Starters include curried lentil veloute with onion shells, golden raisins, hung yoghurt and coriander, roasted and shaved cauliflower with cashew cream, pickled mushrooms, toasted almonds, truffle and La Latteria burrata with winter leaves, blood orange, rhubarb, soused red onion, Capezzana olive oil and pistachio. For main take your pick from slow cooked Jerusalem artichokes with pumpkin gnocchi, buttered chanterelles, truffled egg, hispi leaves and parmesan or the warm salad of duck with caramelised vegetables, scorched red onion, roasting juices and balsamic vinegar among others. And the only dessert you need to know about is the smashed brownie with vanilla ice cream, chocolate foam and cream.
Price: Starters are from £19, mains from £25 and desserts from £14
Where: 43 Elystan Street, Chelsea, London SW3 3NT
9. For an Italian Banquet: Fiume
What: In the Italian spirit of romance, Fiume, Francesco Mazzei's latest restaurant at Battersea Power Station, is offering a beautiful 4-course set menu for Valentine's Day.
The Menu: The meal begins with a light and fresh tuna tartare followed by a creamy tortelli burrata and anchovies. The main course will be roast veal, artichokes and m'pacchiuse – and for dessert guests will be presented with a decadent Cupolone (AKA a chocolate dome).
Price: The menu is priced at £55pp including a glass of Ferrari Maximum on arrival.
Where: Circus West Village, Battersea Power Station, London SW8 5BN
10. For Portuguese Dishes: Bar Douro
What: Bar Douro has created a Valentine's feast that avoids all clichés. Sitting at the countertops and looking onto an open kitchen, couples can tuck intopetiscos (snacks) of chanfanna rolls and prawn rissole. If, however, you want to be cliche, dig into the restaurant's set menu.
The Menu: In true Portuguese spirit, sharing mains include fish and seafood stew, and roast suckling pig and Josper-grilled Picanha – with both meats served with chargrilled vegetables and signature BD potatoes. End the night on a sweet note, with chocolate tart, sea salt and ginger.
Price: £40 per person
Where: Arch 35B, Union Street, Flat Iron Square, London SE1 1TD
11. For a Special Menu: German Gymnasium
What: They say romance in Germany is subtle, but nothing is understated about German Gymnasium's Valentine's menu.
The Menu: Starters include orange and dill cured salmon, and marinated beef steak tartare with Siberian caviar, followed by mains such as Hertford beef fillet steak and seared duck foie gras, or Schupfnudeln with fresh truffles and young vegetables. Finish off the meal with a strawberry chocolate heart for two or a pink champagne and raspberry coupe.
Price: 3 courses menu and a glass of Besserat de Bellefon for £75 per person
Where: King's Blvd, Kings Cross, London N1C 4BU
12. For an Indulgent Menu: Galvin La Chapelle
What: Michelin-starred Galvin La Chapelle is pulling out all the stops for Valentine's Day. Jeff Galvin has designed the three course menu which includes Champagne to starts and after-dinner coffee with handmade chocolates and macaroons.
The Menu: Starters from the menu include terrine of Landes foie gras, burnt orange, granola and brioche, linguine of "Fine de Claire" oysters, Oscietra caviar, compressed cucumber and sea herbs and textures of heritage beetroot and raspberry, goat's cheese mousse, ginger bread and hazelnuts. And for mains there's roast loin of Highland venison, braised red cabbage, celeriac purée & trompette mushrooms, and tea-smoked Cumbrian beef fillet, pommes Anna, cêpe purée, caramelised shallot and Madeira sauce. One of our favourite Valentine's Day menus in London without a doubt. For pudding choose between hot Valrhona chocolate fondant and salted caramel ice cream or crimson Yorkshire rhubarb, shortbread, crème patissière and blood orange sorbet.
Price: £125 per person
Where: 35 Spital Square, London E1 6DY
13. For Indian-Inspired Feasting: Benares
What: Benares Restaurant is offering a six-course tasting menu from Chef Atul Kochhar, and includes a glass of organic Drappier Champagne on arrival and handmade chocolates to take home.
The Menu: The 6-course tasting menu starts with pan-seared scallop and spiced root veg, and works up to the chargrilled Scottish salmon, tandoori lamb cutlets and slow-roasted rump of British lamb. There's pudding and each lady will be given a rose and chocolates.
Price: £115 per person
Where: 12a Berkeley Square House, Mayfair, London, W1J 6BS
14. For a Spanish Fiesta: aqua nueva
What: Celebrate Valentine's Day with an amazing Spanish feast from aqua nueva, only available on 14th February. There's bubbles and meat aplenty.
The Menu: aqua nueva's Valentine's Day menu includes a glass of Veuve Clicquot on arrival; Guijuelo Iberian Ham, crystal bread and Arbequina olive oil; hand-dived scallop ceviche with cucumber, avocado and black caviar; grilled baby purple artichokes, fennel and Gordal olive vinaigrette and Galician beef fillet with pan fried ceps and chimichurri salsa. Finish with dark chocolate and cherry tart with Marcona almond ice cream and petit fours.
Price: £80 per person
Where: 240 Regent St, Soho, London W1B 3BR
15. For a Seafood Cruise: London Shell Co
What: After last year's sell out Valentine's run, London Shell Co. are setting sail with romantic two and a half hour dining cruises. For an entire week, book to take part in either a lunch or dinner cruise – both of which will offer an exclusive seasonal five-course seafood menu.
The Menu: Start with a traditional aphrodisiac of oysters, followed by a range of seafood dishes including devilled brown crab for sharing; smoked sprats, beets and horseradish; and wild Salmon with sprouting broccoli, potatoes and maltese. And there's rhubarb and blood orange with set vanilla cream for dessert.
Price: £45 per person
Where: London Shell Co The Prince Regent, Sheldon Square, Paddington Central, London W2 6PY
16. For an Indian Menu: Darbaar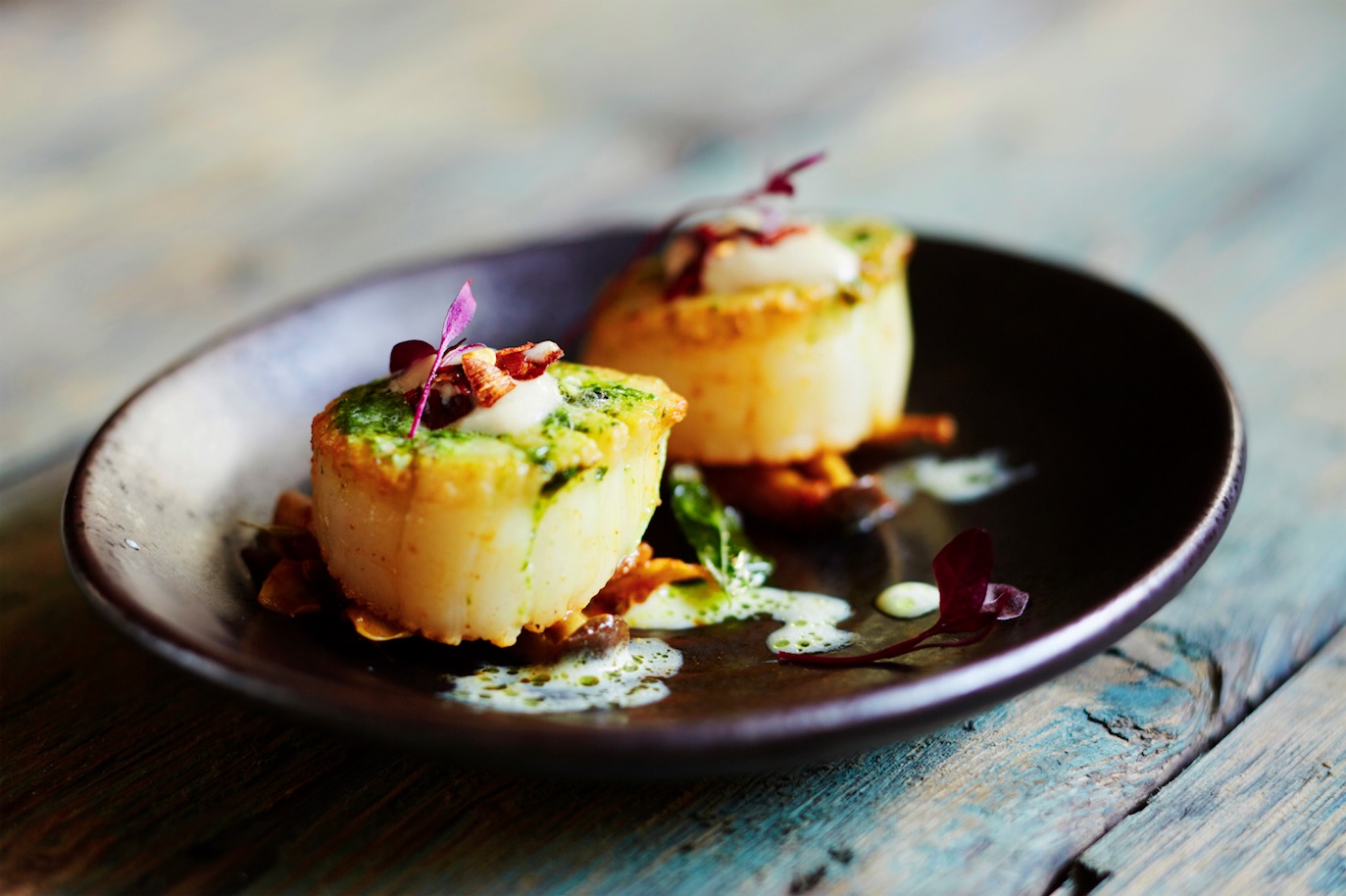 What: Darbaar are going down the feasting route, with an opulent tasting menu to bring some rich, vibrant flavours and spice to February 14th.
The Menu: Dishes include Kerala-style tawa sea bream on a bed of green moong lentil and shrimp kedgeree, and Jodphuri-spiced Kentish lamb saddle served with saag lamb mince, chilli and corn sauce. There's loads of sides and dips to enjoy too. One of the top Valentine's Day menus in London when you're looking for something different.
Price: £60 per person, including a cocktail
Where: 1 Snowden St, London EC2A 2DQ
17. For a Winter Terrace: Dalloway Terrace
What: Dalloway Terrace, the picturesque winter hideaway nestled in the heart of Bloomsbury, is inviting everyone to lose themselves amidst a beautiful canopy of frosted foliage, ferns and pine cones, and indulge in a carefully created Valentine's Day menu on 14th February.
The Menu: Begin the evening with starters such as the 28-day dry-aged Aberdeen beef carpaccio, served with rocket and delectable freshly shaved truffle, or goat's cheese and roasted fig, with toasted walnuts and balsamic vinegar reduction. For mains, delicacies available are pan seared cod, served alongside mussels and white wine velouté, as well as a classic beef Wellington and a vegetarian option of Dalloway's homemade Gnocchi with stilton cream, seasonal mushrooms and sautéed spinach. For dessert, Dalloway Terrace will be serving two sharing desserts – passionfruit and strawberry flamed Alaska and chocolate and chilli fondue, served with seasonal fruits and berries, marshmallows and cheesecake bites
Price: £60 per person
Where: 16-22 Great Russell St, Fitzrovia, London WC1B 3NN
What: Hoppers will be turning pink for the day at both Hoppers Soho and Hoppers St Christopher's Place. Get down to enjoy a menu full of Hoppers' well-loved bites.
The Menu: A selection of dishes include Hoppers favourites like the bone marrow varuval with roti, mutton rolls with SL hot sauce, and chicken wing chukka. They'll also be a selection of special dishes, and the exclusive pink hoppers served with chutneys and sambol.
Price: £35 per person
Where: Locations here
19. For Michelin-Star Dining: Trishna
What: Valentine's Day is also known as the Feast of Saint Valentine and this year at Trishna the team have made sure to honor this nod of passion with a 6 course Valentine's evening tasting menu.
The Menu: Start the night with a Rose Hip Royale and enjoy dishes such as lobster balchao and Welsh hogget coconut fry, finishing the night with a refreshing tandoori pineapple and coconut.
Price: £75 per person
Where: 15-17 Blandford St, Marylebone, London W1U 3DG
20. For Jazz and Sushi: Devonshire Club
What: For an enchanting evening, one of London's most luxurious destinations, Devonshire Club, are offering up a romantic three-course dinner from 6pm – 10pm in their Brasserie.
The Menu: Indulge in a selection of dishes including their signature sushi to share, crispy ox cheek with smoked mash and shallot salad and a gluten-less chocolate mi-cuit all whilst listening to the soft sounds of soulful jazz. One of our favourite Valentine's Day menus in London!
Price: £40 per person for 2 courses and a glass of prosecco or £47 per person for 3 courses and a glass of prosecco
Where: 5 Devonshire Square, London EC2M 4YD