From almond milks to healthy Red Velvet Cake bars, everyone's gone mad for health. And hey, what are we, if not trendy? Just remember a little balance is OK, so you can still have your Peanut Butter Kit Kat if you feel like it. Wallets at the ready, here's 20 brands to watch in 2015. Thank us later.
1. The Peanut Butter: ManíLife
What: ManíLife crunchy peanut butter is like none other. Made with purely Argentinian Hi-oleic peanuts, sourced straight from Cordoba, it's naturally sweeter – having grown naturally there for over 7,000 years, Argentine peanuts are sweeter than the American and Chinese ones normally used in the UK market. This peanut butter will blow your mind.
The Story: ManíLife was inspired by a trip to Argentina where founder Stu spent time working with a peanut butter social enterprise getting the stuff into soup kitchens. Seeing the impact it had on the kids was unbelievable, and he put off a job in the city to start ManíLife – a beautifully natural nut butter that brings a new standard to the peanut butter realm.
Why: It's better for you than the normal stuff. Using hi-oleic peanuts gives the peanut butter a fat profile more akin to virgin olive oil than your average peanut butter – the fat in them is over 80% mono-unsaturated as opposed to the 55% in normal peanuts. This means not, only is Manílife peanut butter naturally tastier, it's naturally healthier too! It can help regulate appetite, reduce cholesterol and blood pressure, increase our fat oxidation rate  and act as an anti-oxidant, so dig in.
Buy: Online from Bonativo here (use the code 'ABOUTTIME20' at checkout to get 20% off)
What: Imbibery's range now includes a gazpacho, which is cold pressed and blended with fresh tomato, bell pepper, cucumber, cayenne pepper, apple cider vinegar, evoo, himalayan sea salt and black pepper. The Imbibery recipe is also free from onions and garlic, making it nice and gentle on the digestive system and suitable for any IBS sufferers following a low FODMAP diet.
The Story: Imbibery is a fantastic cold-pressed juice company, founded by two stylish New Yorkers, Lily and Meryl who were brought up on juices and are leading London's wellness revolution. They've recently partnered with Belevedere Vodka, amongst others, on special collaborations.
Why: With antioxidant-rich tomatoes, hydrating cucumber, metabolism-boosting cayenne pepper and omega 3-rich extra virgin olive oil, their gazpacho really is the perfect summer skin drink. Sip it on a sunny day for a healthy glow and nutritious energy boost.
Buy: Online from here
3. The Snack: Aduna Moringa Bar
What: Aduna, the Africa-inspired health brand, is a brand to watch. They've just launched the Aduna Moringa Green Superleaf Energy Bar – a delicious superfood snack bar made from 100% organic raw fruit and nuts, supercharged with a full teaspoon of Aduna Moringa Superleaf powder. The bar is a source of protein and an easy way to up your greens intake on-the-go, giving your health and beauty a super-boost.
The Story: Aduna is a social business on a mission to create demand for under-utilised and exceptional natural ingredients from small-scale producers in rural Africa. The mango, cashew nuts and moringa in The Miracle Bar are all sourced from small-scale producers, contributing to sustainable income streams for the farmers and their families.
Why: Aduna Moringa Superleaf powder is one of the UK's newest and best-selling superfoods. Made from the naturally dried leaf of the moringa 'Miracle Tree,' it contains 13 essential vitamins and minerals at RDA levels, nearly 25% plant protein and is high in antioxidants. The Miracle Bar combines deliciously sweet mangos with protein-packed cashew nuts, fiery ginger and super-green moringa powder, cold-pressed to create a healthy snack that's free from preservatives, additives, gluten, dairy, wheat and refined sugar.
Buy: Online here
4. The Dessert: Livia's Crumbles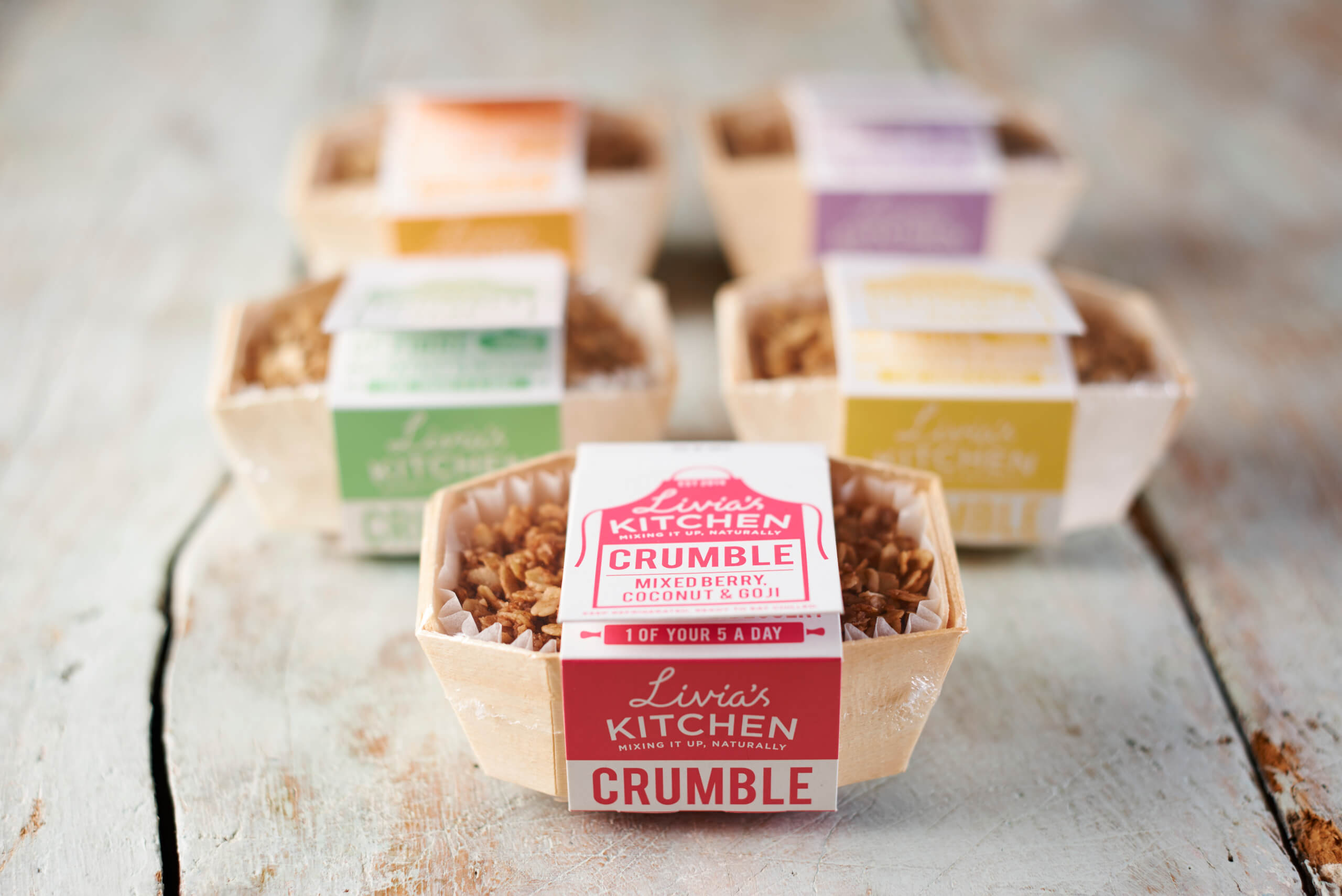 What: Livia's have taken the quintessential British comfort food, and given it a healthy, superfood twist. Using simple, creative recipes that provide exquisite flavour and nourishment, Livia's is committed to baking the highest quality crumbles using the most energising and nutritious ingredients. With four signature bakes available at any one time, the humble crumble has never been cooler.
The Story: Livia's Kitchen is all about naturally good food. Created by Olivia Wollenberg, Livia's Kitchen was established in 2014 to share Olivia's passion for healthy eating and delicious food. They have a range of superfood crumbles, such as mixed berry, coconut and goji, and the amazing apple, maca and maple. Dreamy. 
Why: It is not just about what the food is 'free-from', but actually and more importantly, what the food is 'made-with'. With every product on the shelves, and every recipe shared, so much thought and creativity has gone into each one to ensure that they are always naturally delicious. Try them and see what we mean. 
Buy: Online here
What: This is a coconut water like you've never tasted before. MightyBee is a London-based colony of health-conscious individuals, tasked with the mighty mission of bringing exotic, organic produce of the highest quality to the UK.
The Story: In their search for the world's tastiest coconut, they explored every corner of Southeast Asia, eventually arriving in Ratchaburi, Thailand, where they discovered the extraordinary Nam Hom coconut. Not only does the local blend of water and soil help to nurture an intense and unique sweetness in the fruit which was unlike anything they had ever tasted, what really made them fall in love with these young, green coconuts was the way they are lovingly grown and expertly harvested by local farmers who are immensely proud of their produce.
Why: MightyBee proudly boasts an ethically-conscious team who understands that businesses can also act as a force for good. They are own customers – and believe what will never change is the goodness of nature's harvest. They aim to deliver honest future foods that our everyone can enjoy, and this beautiful, pink coconut water will blow you away.
Buy: Online here
What: graze have just launched their good to go range – 12 exciting snacks, available in stores nationwide. Each snack in the range has been carefully put together by the graze experts. Using their flavour expertise and new ideas they put together good ingredients in interesting ways to create exciting snack combinations.
The Story: graze have been making good snacks more exciting for over seven years, gathering millions of online ratings about what people love to eat and developing over a thousand combinations you won't find anywhere else. The combinations are delicious – try the deconstructed Dark Chocolate Cherry Tart – a mix of Belgian dark chocolate buttons with the naturally sweet flavour of whole dried cherries and cranberries, eat them together and the flavours of a chocolate cherry tart come to life!
Why: To make sure grazers feel good after every snack the Taste Experts use quality ingredients, never use any artificial flavours, colours or preservatives and ensure there is a positive nutritional benefit from every snack (some are a tasty source of natural protein others are 1 of your 5 a day!).
Buy: Available nationwide in Sainsbury's, Boots and WH Smith Travel and lots of independent retailers from July 12th 2015.
7. The Sweet Snack: Rhythm 108
What: These dessert-inspired healthy snacks are everything. The Good-For-You Dessert Bars come in 5 flavours, and are packed full of goodness with dates, cashews, pecans and natural flavourings. 
The Story: The Yogi – inventor of sliced bread, the pickling process, levitation and elevated food standards – has now gone back to his roots and concocted the Good-For-You Dessert Bar, the pinnacle of his achievements. The Good-For-You Dessert Bars offer a naturally nutritious and undeniably convenient option to accompany you on your feats. They are totally delicious, too.
Why: Because they are pure and simple. And dessert that's good for you totally wins in our books. Try the Coconut Macaroon – a mixture of cashews, dates, coconut flakes, Swiss milk, coconut oil and cider vinegar, it's deliciously sweet and moreish. The Banana Muffin bar is also sensational – it's rich in calcium, 100% organic, and a source of fibre and protein. Genius.
Buy: Online here
What: The best nut milk ever. They've got two kinds currently – ALT Almond Milk and ALT Cashew Milk. Their signature organic almond milk recipe contains just 5 highly nutritional ingredients – organic almonds, organic dates, vanilla, filtered water and a little himalayan salt. The cashew milk recipe contains organic cashews, organic dates, cinnamon, filtered water and a touch of himalayan salt. Brilliant.
The Story: Alt Milk is redefining dairy-free industry standards through honesty, quality and simplicity. Try their Almond Milk – almonds are a known powerhouse, rich in protein, calcium, monosaturated fats to prevent heart disease, manganese to support strong bones and skin-boosting Vitamin E.
Why: They do things differently here – typical nut milks on the shelf contain as little as 1.5% almonds, using stabilizers, chemicals and sugar to compensate for taste and extend shelf life Alt Milk stands behind a luxurious 20% nut dairy-free blend. The signature cold-pressed process and use of organic ingredients ensure an honest product – packed to the brim with vitamins, minerals, and heart healthy fats.
Where: Available now at Fortnum & Mason and online at Hubbub
9. The Post-Gym Snack: Pulsin & Beond 
What: For the perfect afternoon treat, look to Pulsin. Pulsin' protein bars and raw chocolate brownies are lovingly hand-crafted to provide the perfect balance of nutrition and taste and only contain natural ingredients. Pulsin & Beond bars make the ideal pre or post exercise boost. Time to hit the gym.
The Story: Packed full of healthy ingredients like maca and goji berries, the all-raw brownies aren't just incredible tasting and happiness-inducing, they're also free from refined sugars, meaning no energy crashes.
Why: Pulsin & Beond bars are vegan, dairy free, gluten free, contain no trans fats, Non GMO and perfect for altheletes looking for a pre or post-exercise boost, people watching their weight and looking to burn fat without losing muscle and busy mums on the go needing a natural energy lift.
Where: Online here
10. The Indulgent Drink: Peanut Hottie
What: Peanut Hottie is the world's first hot peanut-butter flavoured drink, available in peanut-butter flavour or peanut-butter and chocolate flavour. It's caffeine-free, and made with real peanuts.
The Story: Peanut Hottie was created by British fitness writer Lisa Gawthorne (Author of Gone in 60 minutes) after tough gym session. Lisa describes the moment she came up with the idea for Peanut Hottie:  "After getting in from a late training at the gym with a craving for peanut butter, I tucked into a teaspoon full of the spread and washed it down with a cup of tea.  "It was then that the idea came to me. I thought of the brand name within minutes after realising there wasn't such a thing as a peanut butter flavoured hot drink and the rest is history."
Why: It contains no artificial additives, artificial colours and is both gluten-free and wheat-free. Peanut Hottie is onle 83 calories per serving, and you can enjoy as a cold milkshake for just 100 calories.
Buy: Now available in ASDA, Sainsbury's and Tesco.
11. The Muesli: Primrose's Kitchen
What: Raw gluten-free carrot, apple and cinnamon muesli, amongst other delicious treats. They've also got a range of nut and seed butter, superfood boosters for smoothies and great hampers. Their muesli is a great source of potassium, and is super healthy.
The Story: Having had a youth of chronic fatigue, M.E and poor digestion, Primrose Matheson set out on a mission to understand her body and what was needed to maintain it in perfect health. This led her into Naturopathic and Complementary health studies, and started making her own healthy treats. It seemed logical that if she was going to add a healthy ingredient like vegetables why not add other nutritious ingredients not found in breakfast muesli that support good health. And Primrose Kitchen was born.
Why: These delicious gluten free oats with fresh carrot and harmonious cinnamon are balanced with a combination of apple, nuts and seeds, as well as extra love in the form of chia seeds and psyllium husks. The muesli is slowly dehydrated at low temperatures to preserve nutrients & enzymes, and is also gluten-free and wheat-free.
Buy: Online from Bonativo here (use the code 'ABOUTTIME20' at checkout)
12. The Coconut Sugar: Coconut Merchant 
What: The best ingredient for baking. This 100% organic coconut sugar is as pure as you can get – nothing but the coconut sugar. The Coconut Merchant also makes other great coconut products, such as coconut snack chips, coconut flour and coconut waters. We can't get enough of their amazing quality products, and the coconut jam is sensational.
The Story: Coconut Merchant want to revolutionise the way we enjoy natural foods. They want to honour the spirit of the merchants of old who braved obstacles and oceans to share the new wonders of the coconut. Coconut Merchant believe that farmers should be fairly paid and respected for their produce. To ensure this, they work directly with farmers' cooperatives to ensure their coconut is ethically sourced.
Why: Coconut sugar is packed with nutrients like zinc, iron, calcium, potassium, and inulin, as well as antioxidants. Pure and unrefined, with nothing artificial added, this coconut sugar is perfect in cooking and baking as well as in coffees, teas, and smoothies. Coconut Merchant work hard to ensure they have the purest, 100% coconut sugar. And don't just take their word for it: simply drop it into a glass of water to see just how clear it dissolves – a true marker of its natural purity.
Where: Online from Bonativo here (use the code 'ABOUTTIME20' at checkout)
13. The Condiment: Foraging Fox
What: Beetroot ketchup by the Foraging Fox. This condiment is beyond delicious; born from a glut of garden vegetables, the ketchup recipe uses naturally sweet beetroot and apples together with a magical mix of spices.
The Story: The name was inspired by and in memory of owner Frankie's father, Roland Fox, the original "Foraging Fox", a plant and mushroom expert. When Frankie left her career in the City to spend more time with her children, she wanted to pass on her knowledge of where food came from. Teaming up with friend Desiree, they started by finding and growing things to eat in their own garden and, in the process, exploring ways to preserve their produce. The Foraging Fox Beetroot Ketchup started out as a kitchen project with Frankie's kids to find a way to use their bumper crops of apples and beetroot!
Why: The ketchup took 3 years to make and you can really taste its quality. At the heart of the recipe is beetroot, packed with nitrates, minerals, protein, antioxidants, vitamins and carbohydrate. The ketchup has got a number of health benefits – made with only natural ingredients, it's a healthy mouth-watering alternative to other condiments and is free from allergens, artificial colours, thickeners and sweeteners. The condiment is suitable for vegans, too. Win.
Where: Online from Bonativo here (use the code 'ABOUTTIME20' at checkout)
What: Deliciously nutritious, clean eating snacks – these are so handy to keep in your bag. The 100% organic, vegan, gluten, dairy and GMO free snacks are not taste free, we might add. Think seeds like never before. Hand made in their kitchen, Superseeds are dried at low temperatures and combined with 100% natural, organic ingredients that are not only packed full of nutritional goodness but bursting with flavour.
The Story: Founded by Alexandra Dudley, artist, yoga lover and all round health foodie, Punch Foods was set up to bring something new to the health food market. Bored of the bland, tasteless snacks that were available for those with intolerances Alexandra decided that the flavour of the health market needed a bit of Punch. Using only the finest 100% natural and organic ingredients she has created an innovative range of artisan snacks that, as well as containing highly potent health benefits, taste totally delicious.
Why: Seeds offer many immune boosting and health benefits, rich in amino acids, iron and zinc. High in fibre and protein and low in saturated fat, they are a brilliant natural energy source. A great alternative to the vast array of highly sugared, processed snacks available, these uniquely artisan, premium superseeds are a deliciously satisfying health hit.
Where: See a list of stockists here
15. The Vegan Protein Bar: 22 Days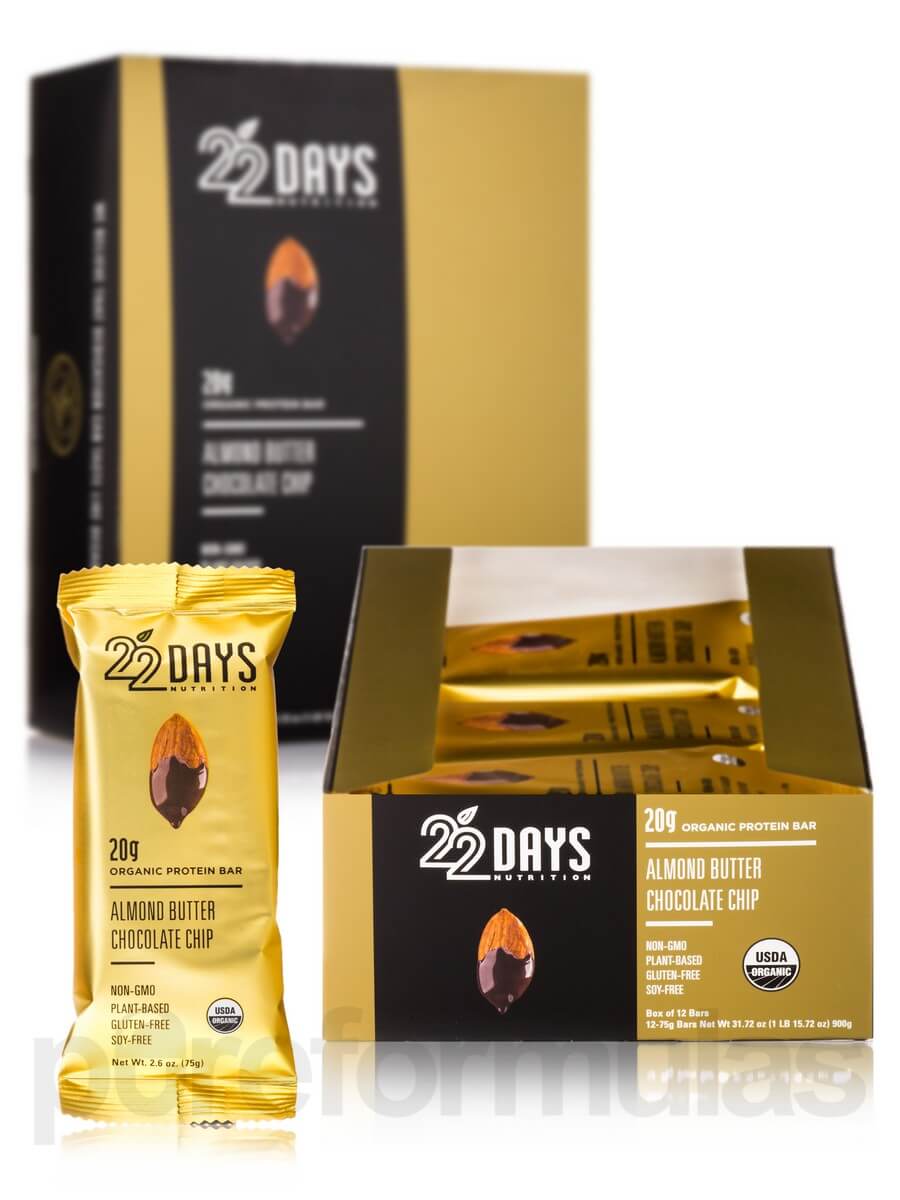 What: Peanut butter and chocolate protein bars, good for pre and post workout. They are totally plant-based and vegan, designed especially to help you function, made with organic products. What's more, they are really delicious – try the almond butter chocolate chip, quinoa chocolate chip crisp or walnut fudge brownie flavour. Nom.
The Story: As a vegan, world-known exercise physiologist Marco Borges was always in search of the perfect nutrition for optimum wellness. He found that the options were limited to provide his clients with the types of foods they needed to perform at their best. Unwilling to settle for what was available on the market, Marco sought out to formulate nutrition-packed vegan options for people who are trying to transform their lives, bodies and habits.
Why: Psychologists have discovered that it takes 21 days to make or break a habit. Here they applied this principal to helping people live a healthier, more energetic and productive life and created the 22Days Challenge. The goal is to help everyone get to the 22nd Day – and achieve a major breakthrough.
Where: In-store at Planet Organic and online here
16. The Treats: Naturally Sassy
What: Another vegan treat, this time inspired by classic dessert flavours. These Naturally Sassy bars are utterly delicious, and full of goodness. All the snacks are packed with superfood goodness – high in protein and totally vegan, gluten free, wheat free and contains absolutely no added sugar! There's Red Velvet, brownies and blondies to choose from. Delicious.
The Story: Ballet dancer Sassy was dancing long days and feeling completely exhausted. She decided to stop eating  meat, dairy, gluten and refined sugar, and her health flourished. She started blog Naturally Sassy to share her passion for cooking and recipes – now she splits her time being dancing, writing her first cookbook and blogging – and needed a snack to keep her going. She wanted to created something that would taste delicious and give her a great source of sustained energy, and this is how Naturally Sassy Food started.
Why: Sassy's Blondie, Sassy's Brownie, Sassy's Flapjack and Sassy's Red Velvet were all born out the idea of making the swap from unhealthy afternoon treats to something that tastes just as good, but is so much better for you. They are all gluten free, refined sugar free, raw, vegan, and handmade with health in mind. They're packed with beneficial superfoods that impact your mood, body and wellbeing – and best of all they aren't overpriced!
Where: In-store at Planet Organic, Whole Foods and online here
17. The Matcha Drink: Vivid Drinks
What: Matcha-based drinks with lots of added help benefits. Vivid have just their Unsweeted Matcha drink, which is perfect for those watching their sugar intake. They've got great flavours to choose from – everything from grape and elderflower flavour, to pear and rhubarb. Vivid also produces their own Matcha powder, so you can create your own Matcha treats at home. Anyone for a Matcha Latte?
The Story: Owner James discovered Matcha whilst working for a tea company and quickly realised that the Buddhist monks in Japan were onto something. Matcha has a natural caffeine boost and is green tea goodness at its most effective, so he decided to bottle the goodness and make healthy, delicious alternatives to the average soft drinks on the market.
Why: Matcha contains natural caffeine, which improves cognition and concentration, so it will keep you focused at work. It also keeps you calm, relaxed and alert, whilst raising your metabolism and helping you to burn fat faster. Matcha also contains more ant-oxidants than regular tea. Matcha is simply pure, high-grade green tea leaves that have been picked and ground into a fine powder. This powder is blended straight into Vivid drinks to give you all the nutritional benefits in a highly concentrated form. Win.
Where: Whole Foods, Planet Organic and more stockists here
What: Hand made bites and balls are 100% natural, gluten & dairy-free with no added sugar. Choose between sweet raspberry cocolossal balls, banana berry bites and savoury courgette crunch. We can report that the figberry balls are very good news indeed.
The Story: Moral Fibre Food first sprouted its leaves when founder Jenny, inspired by her healthy and active upbringing in Sydney, Australia set about creating simple, delicious and, most importantly, healthy snacks. With the large selection of sugar-filled snacks and treats on offer it is easy to consume much more sugar than our bodies need even when we have the best intentions. This is why Moral Fibre has worked carefully with nutritionists, dieticians and personal trainers in order to create a range of delicious snacks that treat you well. Their ingredients are all raw, meaning you get as much nutrition as possible with every bite. They are also ingredients ethically sourced – the closer the produce is grown to their kitchen, the better.
Why: Inspired by passion for sharing delicious and nutritious food, Moral Fibre's plant-based snacks are packed with flavour & raw energy. No added sugar, preservatives or flavourings – just all natural ingredients. Damn good stuff.
Buy: Online from Bonativo here (use the code 'ABOUTTIME20' at checkout)
19. The Granola: Spoon Cereals
What: Just the best granola ever. Spoon Cereals isn't like your regular granola – they have two great flavours, cinnamon and pecan, and peanut and apple, which are fresh, tasty, and not too sweet. You can really taste the flavours of all the ingredients, and the cereal is the perfect morning pick-me-up.
The Story: Annie and Jonny met over a family dinner, and found a shared passion that night: a bowl of granola. Annie was working in advertising and she dreamt of healthy, perfect granola – crunchy grains, roasted nuts, coconut chips that create light and crispy texture and perhaps a touch of maple syrup. Jonny worked in investment, and agreed to help her with the Spoon venture. They decided to test the concept and, after a few markets, the next thing they knew they were running a pop-up at Old Street underground station in London. Together Annie and Jonny jumped into another adventure and tried their luck on the BBC Dragons Den programme. Good fortune was on their side and Spoon received investment from two of the dragons.
Why: For both the story and the taste. The pair are on a mission to give everyone a reason to jump out of bed in the morning. Not only business partners but good friends too, they share their story and the ups and downs of starting their business below.
Buy: Launching in August 2015 – see here for more information
What: Whether you're keeping an eye on sugar levels or watching your fat consumption, the new Skyr yogurt range from Arla Foods, the farmer-owned dairy company, may be just what you're looking for. Fat free, reduced sugar and naturally high in protein, Arla Skyr is the perfect healthy choice to fuel you through the day.
The Story: Skyr has been the go-to yogurt in Iceland, the famously healthy nation, for thousands of years, with Icelanders enjoying the nutritional benefits in their daily diet. Arla Skyr (pronounced 'Skee-er') is made from skimmed cows milk and is carefully made following traditional Icelandic methods, which results in a delicious, silky texture that is low in fat, reduced sugar and naturally high in protein. Skyr is owned by Arla Foods – dating back to 1881, Arla's purpose is to secure the highest value for its farmers' milk, while creating opportunities for their growth. With production facilities in 11 countries and sales offices in a further 30, Arla is the world's sixth largest dairy company and largest supplier of organic dairy products.
Why: There's lots of health benefits to these delicious yogurts – they are fat-free as made from skimmed milk, high in protein and contained reduced sugar. So, if you're looking for fuel for the day that will keep you going for longer, try Arla Skyr.
Where: Find it in the yogurt aisle nationwide at all major retailers and here
Use the code 'ABOUTTIME20' at checkout on Bonativo to get 20% off your first order