We're only a few weeks into 2021, but we've already seen a new wave of vegan products hitting  supermarket shelves and the internet. Now, you can get your hands on vegan sashimi (yes, it's very much a thing), a plant-based alternative to the humble egg, and plenty of ground-breaking sweet and savoury options. Take a look and bathe in all the plant-powered goodness:
Meat/Fish Replacements
The Lowdown: Moving Mountains, the pioneering British food tech company that introduced the first plant-based 'bleeding' burger in the UK, has launched what Founder Simeon Van der Molen believes is "the meatiest plant-based product in the world": Plant-Based Beef Tender Strips. The Moving Mountains Plant-based Beef Tender Strips are 100% plant, 0% cow and can be cooked from frozen in just five minutes. The strips sizzle, smell and brown just like the real thing.
Price: £4.50
Where: Sainsbury's
The Lowdown: The wait is over. Future Farm, Brazil's most popular (and most mouth-wateringly delicious) meatless-meat, has arrived in the UK. Future Farm are determined to change the way the world eats – in the juiciest way possible – by buying back the Amazon Rainforest from the meat industry, and only using 100% natural and GMO-free ingredients. The range includes: Future Burgers, Future Meatballs, Future Mince, and Future Sausage.
Price: £3.89
Where: Sainsbury's
The Lowdown: THIS is plant-based food for meat lovers. They have produced what are possibly the most realistic meat-alternatives in the world. THIS was created by two ex-burger chain founders who used their in-depth knowledge and love of meat to replicate it in texture, appearance and taste. THIS' plant-based 'bacon' rashers sizzle in the pan and mimic bacon in taste and smell. 

Price: £2.95
Where: Tesco, Sainsbury's, ASDA, Waitrose and Ocado
The Lowdown: Good Catch is a chef-driven innovative food company developing flavourful, plant-based tuna. The Good Catch planted-based tuna is available in three flavours and ready to eat straight from their convenient pouches. Try the likes of Naked, Mediterranean, and Oil and Herb.
Price: £1.50
Where: Tesco
The Lowdown: ZeaStar's plant-based sashimi is made with tapioca starch and is completely allergen-free. It slices and holds flavour exactly like its raw fish equivalent. It's mind-bogglingly like the real thing. So, treat it like fish – it deserves nothing less.
Price: £9.50
Where: Buy online 
Tofu
The Lowdown: There is a tofu revolution taking place. Already leading the way in the chilled meat-free aisle, Tofoo can now be picked up for the first time in the frozen section of the supermarket. Offering an alternative source of protein, Original Chunkies' boasts a subtle hint of onion and garlic coated in a gloriously golden crispy crumb.
Price: £2.25
Where: Sainsbury's
The Lowdown: Miso Tasty makes a wide range of high-quality Japanese-inspired ingredients and products that bring authentic cooking into your home kitchen – and have just launched a new fresh range of organic craft tofu. Made with care and using authentic Japanese methods, the range features two products: Firm Craft Tofu and a Soft Craft Tofu. Wanting to expand the knowledge behind what tofu is and how it should be used, the Miso Tasty range has been designed to offer different tofu types that suit specific styles of cooking and for selected dishes in mind.
Price: £10 for a pack of four
Where: Online 
Savoury Bites
The Lowdown: After years of hard work, taste tests and trials, Higgidy has cracked (without the use of eggs, of course) the recipe to the UK's first-ever vegan quiche, which has been made with clever food combinations and careful cooking. No cream, no milk and no eggs in sight. Higgidy's new plant-based quiches include a Spinach and Roasted Tomato Vegan Quiche and a Porcini Mushroom and Spinach Vegan Quiche.
Price: £4.25
Where: Waitrose, Sainsbury's and Boots
The Lowdown: The Savourists are a brand new duo of daring savoury snack bars. The first two bars in the range are a Black Olive & Nori Seaweed and a Sundried Tomato & Herb, and are one of the very first savoury snack bars available in the UK, challenging the notion that snacks and treats need to be laden with sugar. Packed with ancient grains, such as puffed quinoa, puffed amaranth and sunflower seeds, they are full of fibre and plant-based protein.
Price: £1.85
Where: Sainsbury's, Whole Foods and Planet Organic
The Lowdown: Founders, Nick and Italian pizza maestro, Matteo, the duo behind The White Rabbit Co, have introduced The Vegan Arrabbiata on their new authentic wood-fired wheat base.  dough. One for the plant-based heat seekers, The Vegan Arrabbiata offers a bold tasty feast of spicy chicken-free strips with succulent sundried tomatoes, roast red onion and a generous topping of creamy vegan 'mozzarisella'.
Price: £4.50
Where: Waitrose
The Lowdown: Rollasnax is a new line of wild and wonderful vegan and gluten-free trail mixes from independent British granola makers, Rollagranola. A combination of high-quality glazed nuts, spices and seeds with bold, unconventional flavours elevate these trail mixes beyond anything else on the supermarket shelves, with the range including: Sweet and Salty, Salt and Pepper, and Berry and Coconut.
Price: £1.79
Where: Online and selected independent stores throughout the UK
The Lowdown: Crackd The No–Egg Egg is the UK's first liquid egg replacement, and is 100% plant-based, Vegan Society certified and contains no artificial colours or flavourings. Crafted from pea protein which is cold-pressed to retain both flavour and nutrients, Crackd The No–Egg Egg is rich in vitamin B12 and allergen-free. Whether it's indulgent egg-less bakes or showstopping savouries you're after, this new replacement product has been crafted especially for those who don't want to compromise on taste, versatility and ease of use.
Price: £3.99
Where: Whole Foods Market, Marks and Spencer and The Vegan Kind
Sweet Bites and Desserts
The Lowdown: Cult ice cream brand Northern Bloc has launched the first vegan white chocolate ice cream into supermarkets. This new, indulgent, white chocolate vegan ice cream is laced with crunchy honeycomb pieces, adding that perfect autumnal, caramelised flavour. Profits from Northern Bloc's The Show Must Go On! will be donated to Theatre Support Fund+. Set up by two employees of the west end, the organisation supports charities responding to the Covid-19 pandemic and the struggles of theatre employees.  
Price: £5
Where: Waitrose
The Lowdown: Magnum has added another flavour to their plant-based ice cream range – Magnum Vegan Sea Salt Caramel. Expertly crafted for 100% pleasure, Magnum Vegan uses the highest quality ingredients. The cocoa beans are carefully selected and are certified by the Rainforest Alliance to satisfy every chocolate expert, while the smooth ice cream is made with pea protein, a plant-based alternative to dairy.
Price: £3.69 for a pack of three
Where: Supermarkets nationwide
The Lowdown: New plant-based brand, Fancy Plants, has just launched its range of chilled plant-based snacks in the UK. Fancy Plants Silky Pot is a range of indulgent plant-based puddings available in Chocolate and Chocolate Salted Caramel flavours, while Fancy Plants Chia Parfait, features cultured coconut milk layered with fruity chia compote, available in Red Berry, and Mango and Passion Fruit flavours.
Price: From £1.80
Where: Tesco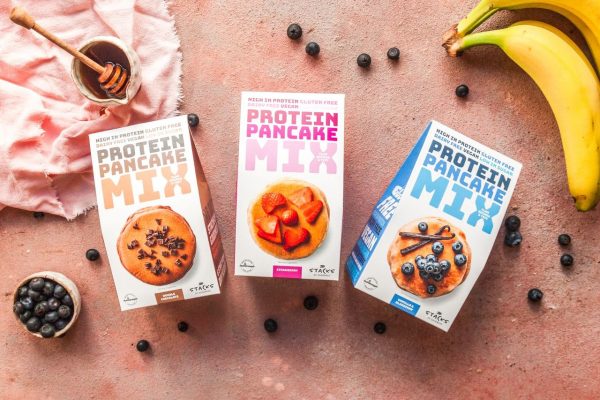 The Lowdown: Following months of research, taste testing, and various batches of batter, founders Philipa and Tanya have created a number of tasty pancakes mixes, taking the classic breakfast favourite to new, delicious heights. All Stacks of Goodness' mixes are vegan, low in sugar, gluten-free, and high in protein. Try the likes of Strawberry Protein Mix, Double Chocolate Protein Mix, and Vanilla and Blueberry Mix. 
Price: £4.99
Where: Online 
The Lowdown: The brand new Collective Plant range is changing the game when it comes to thick and creamy yoghurt alternatives. Made with a unique blend of oats, coconut and rice to create a thick and creamy base, then layered with low sugar compotes which are soy-free, nut-free and vegan friendly, the range comprises four flavours – Natural, Raspberry, Passion Fruit and Fudge.
Price: From £1.25
Where: Supermarkets nationwide
The Lowdown: OGGS is the brains behind many plant-based snacks but their newly launched Millionaire Shortbread Bites are sensational. Each bite is completely plant-based and all eggs and  dairy have been removed. If you're a chocolate fiend, the brownies are also a must-try.
Price: £2.25 
Where: Sainsbury's
The Lowdown: LoveRaw has emulated a leading confectionery favourite with the launch of the world's first vegan hazelnut cream filled wafer bar. Made from the finest ingredients including LoveRaw's very own M:lk chocolate, this exclusive treat contains no artificial nonsense, no palm oil, no dairy and no compromise.
Price: £1.69
Where: Online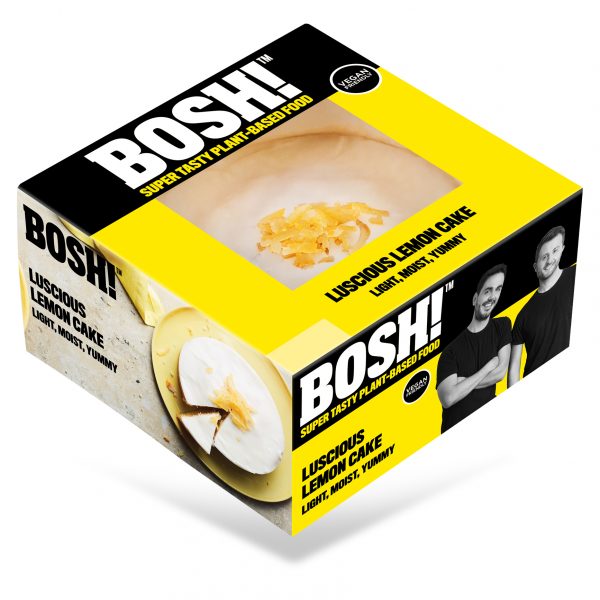 The Lowdown: BOSH! understands the difficulties of finding vegan chocolate and cake and other treats, and took it upon themselves to create a line of sensational plant-based sweet bites. Their Luscious Lemon Cake features a light lemon flavoured sponge, injected with zingy lemon syrup, flooded with a lemon favoured icing and sprinkled with candied lemon peel. You won't believe that it's vegan.
Price: £3.50
Where: Tesco, ASDA, Co-Op and Morrisons