About Time: You Discovered the Best New Vegan Food Products 2018By Alicia Grimshaw
Looking for the best new vegan food products in 2018? From chocolate ice creams to delicious ready meals, we've got the lowdown on the vegan products you *need* to try right now. Here's our pick of the best from the supermarkets:
Best New Vegan Food Products 2018: Milk, Yogurt and Ice Cream
1. For a UK First: Rude Health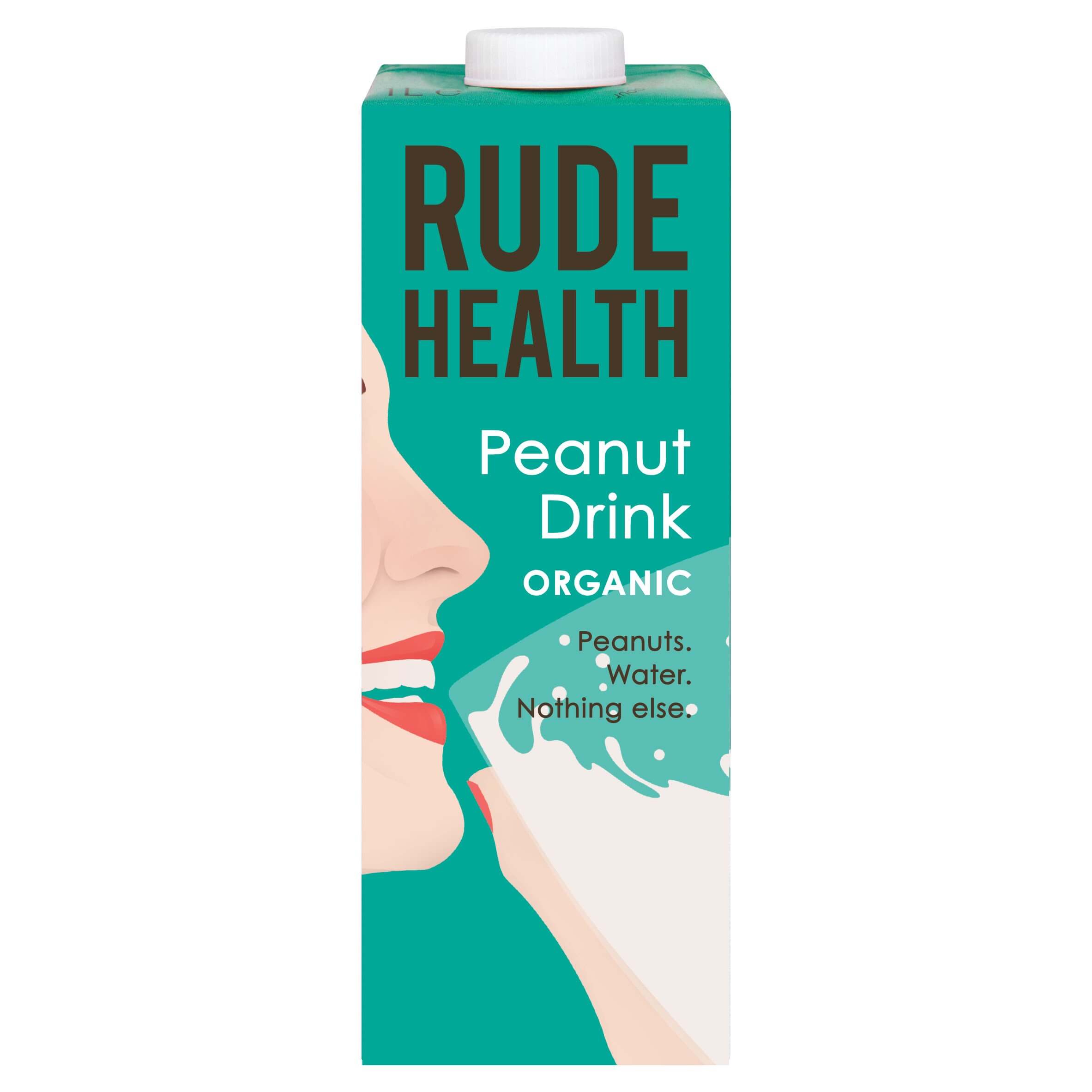 What: Peanut Drink (£1.99)
The Lowdown: We're a nation nuts about nut butter and even nuttier about nut milk. So, Rude Health have combined the two and created the UK's first peanut drink. Gluten-free and organic, Rude Health's Peanut Drink is made only from roasted peanuts (8%) and water. Nothing else. One of the best new vegan food products 2018, for sure.
Where: Waitrose, Ocado, Wholefoods, Planet Organic, independent health food stores and the Rude Health website.
What: Mango and Passion Fruit, Chocolate and Orange, and Coconut (£4.99 each)
The Lowdown: A brand new range of fruit ice creams made with the creamiest, freshest coconut milk has now arrived in Waitrose's freezer section. Available in three flavours – Mango and Passion Fruit, Chocolate and Orange and Simply Coconut – Blue Skies experts carefully grow, hand-pick and cut the fruit, before churning it with coconut milk (also picked and cut by hand) at source. It goes straight from tree, to tub, to you.
Where: Waitrose
3. For Chocolate Lollies: Miiro
What: Vegan Ice Pops (£2.49 for an individual bar and £6.49 per 3x70ml portioned pack)
The Lowdown: Made with frozen coconut milk, nutritionally bolstered by tasty nuts, sweetened with coconut sugar and Italian grapes, balanced by Himalayan pink salt and fortified with pea protein, each of MiiRO's vegan ice pops are coated in a thick layer of nutrient-dense raw cacao and contains no refined sugar, no preservatives or artificial flavourings and they're gluten-free too. And the Magnum-shape treats are available in three flavours: Salted Caramel, Peanut Butter and Chocolate Hazelnut. One of the best new vegan food products if you fancy something sweet!
Where: Ocado and Planet Organic
4. For an Afternoon Treat: Coconut Collaborative
What: The Oat Collaborative Peach and Apricot (£1.50)
The Lowdown: Well, this is exciting. The Coconut Collaborative have launched two new sister brands: The Oat Collaborative and The Almond Collaborative. As well as the 2 new 350g products, there's also two additional single serve tubs – The Almond Collaborative with Raspberry and The Oat Collaborative with Peach and Apricot.
Where: Sainsburys, Ocado and Itsu
Best New Vegan Food Products 2018: Sweet Treats
5. For a New Flavour: Pip and Nut
What: Chocolate Orange Almond (£3.95)
The Lowdown: This is the best news ever. The Pip & Nut team have been squirrelling away in the kitchens to perfect a brand new and utterly divine limited edition Chocolate Orange Almond nut butter. Showcasing their flair for flavour, this nut butter features a winning combination of gently roasted almonds, rich cacao and zesty orange, to create a Pip & Nut twist on a chocolatey classic. True to the Pip & Nut ethos, it's 100% natural and contains absolutely no palm oil or refined sugars. One of the most exciting new vegan food products to hit the shelves in ages, we say.
Where: Sainsbury's and Ocado
6. For On-The-Go Snacking: Seed and Bean
What: Sweet Orange and Thyme (£1.20)
The Lowdown: British chocolate brand Seed and Bean have added to their chocolate family with The Little One – a 25g bar of pure, organic, fairly traded and ethical deliciousness. Try the likes of Extra Dark 72%, for those who like their bars, plain, simple, but with a great cocoa hit; the smooth Dark Espresso; and, finally, Dark Sweet Orange and Thyme.
Where: Selfridges, all Wholefoods, Planet Organic, and Abel & Cole
7. For Raw Chocolate Bites: Livia's Kitchen
What: Nugglets (£1.89)
The Lowdown: Available in three flavours – Raw Chocolate Brownie, Salted Almond Butter, and Raw Cookie Dough – Nuggets are the latest product from baking queen, Olivia Wollenberg. Nugglets are made using only plant-based ingredients such as oats, dates and cacao, and covered in a velvety vegan chocolate. One of the best new vegan food products right now, like with all of Livia's Kitchen products, Nuggets are naturally vegan friendly and gluten-free.
Where: Planet Organic, Whole Foods
8. For a Gluten-Free Snack: Mindful Bites
What: Hazelnut and Berries Crunchy Bites (£1.79)
The Lowdown: Combining the velvety creaminess of their nut butters with a crunchy gluten-free wafer, Mindful Bites have launch its brand new nutrient-dense Crunchy Bite snacks. The new Crunchy Bites are vegan, gluten and dairy free, high in plant-based protein, fibre rich, free from added sugar or sweeteners, made without palm oil and created with sustainable and ethically sourced ingredients.
Where: Wholefoods Market, Planet Organic, Harvey Nichols, Selfridges and Amazon
9. For a Custard Alternative: Oatly
What: Vanilla Custard (£1.20)
The Lowdown: This is a lot like the custard you (used to) have at school. Only better. And tastier. This vanilla custard, made with oats and not milk, is the perfect thing to accompany your pies and tarts, crumbles and berries. Heat it up, give it a whisk or eat straight from the tub – we're sure you're going to love it like we do.
Where: Tesco
Best New Vegan Food Products: Dinner Winners
What: British Pearl Barley and Root Veg Pot (£3.50)
The Lowdown: BOL Foods and Action Against Hunger have joined forces with chef and sustainability campaigner Tom Hunt to create the British Pearl Barley and Root Veg Pot. The pot contains pearl barley, chargrilled carrots, parsnips, borlotti and butter beans topped with kale & pumpkin seeds in a tomato, rosemary and thyme sauce, with 10p from each pot sold donated to Action Against Hunger.
Where: Waitrose, WHSmith, Wholefoods, Ocado and Amazon Fresh
11. For Vegan Ready Meals: The Happy Pear
What: Chickpea Curry (£4.50)
The Lowdown: David and Stephen Flynn started The Happy Pear in Ireland in 2004 to inspire community to create a happier, healthier world, and to make healthy food and living accessible to everybody. For the first time, the range is now available exclusively in Waitrose stores. The Happy Pear range includes four dips and two ready-meal dishes, made without any artificial preservatives, colours or flavourings.
Where: Waitrose
12. For a Meat Alternative: Sgaia's Vegan Meats
What: Mheat Steak (£3.90)
The Lowdown: Mheat is a vegan meat made with a uniquely crafted blend of wheat and soya protein and very few other, whole plant-based ingredients. Available in three flavours (smoke, original, hot chilli), the steak has a rich umami taste that compliments any marinade, sauce or vegetable side dish. One of the best new vegan food products to spice up your dinner.
Where: Buy online
13. For Curry Sauces: Tideford Organics
What: Vegan Tikki Masala (£2.75)
The Lowdown: Creating nourishing food with organic ingredients has always been the Tideford way, making homemade-style soups and sauces in its Devon kitchen since 1996. The team have recently developed a vegan version of Britain's favourite sauce – its Tikka Masala is gently spiced with a balance of chilli, paprika, coriander, and a dash of creamed coconut. Totally vegan too, which is fun.
Where: Ocado
14. For a Nut Based Cheese: CICIONI
What: CICIONI (£8.49)
The Lowdown: Meet CICIONI: a food that has never been seen before – the extraordinary new product revolutionising the fermented and free-from food world. Originating from Italy, CICIONI is made by blending high quality almonds and cashew nuts, which undergo a careful and extended fermentation process. Try it cubed in your favourite salad, crumbled over soup, or sliced on thick toast drizzled with olive oil. DREAMY.
Where: Ocado, Wholefoods and Planet Organic
Best New Vegan Food Products 2018: Condiments
15. For an Egg-Free Mayo: Sacla
What: Free From Mayonnaise (£2.49)
The Lowdown: Sacla's new Free From Mayonnaise tastes and looks every bit as good as if it were made with eggs. The new recipe is made with potato protein, sunflower oil and lemon juice and is completely vegan friendly, and egg, gluten, and dairy free.
Where: Tesco, Asda and Morrisons
16. For a Spicy Mayo: Rubies in the Rubble
What: Chipotle Mayonnaise
The Lowdown: Rubies in the Rubble's range is handmade in the UK from fresh fruit and veg that would otherwise go to waste. For Rubies new vegan chipotle mayonnaise, the team whisk aquafaba (water drained from a can of chickpeas), together with rapeseed oil, a pinch of salt and a squeeze of lemon juice along with a hint of Dijon mustard – or a good dose of Chipotle chilli powder – to create vegan mayonnaise, with all the satisfying creaminess of regular mayo. Winner.
Where: Wholefoods and Planet Organic
Best New Vegan Food Products 2018: Drinks
17. For a Natural Vegan Drink: Minor Figures
What: Iced Mocha (£1.99)
The Lowdown: Minor Figures are changing up the way we drink ready-made coffee drinks, combining great quality cold-brew with simple ingredients – and all their products are naturally vegan. The super-refreshing, super-simple Black Coffee is infused with nitrogen for a creamy texture and canned, ready to drink. The Iced Mocha combines the same smooth nitro coffee with house-made oat m*lk and cocoa – the result is a dairy-free ice-cold mocha. Iced Latte blends the inherently sweet nitro cold brew with oat m*lk for a light and reviving jolt of energy.
Where: Ocado, Planet Organic and Sainsbury's
What: Alpro Caffè Coffee and Soya Caramel (£1.70)
The Lowdown: Entirely plant-based, Alpro have launched two brand-new single-serve Alpro Caffè blends combining the Alpro drinks you know and love, with sustainably-sourced coffee. Available in two flavours, including the original Alpro Caffè Coffee and Soya Caramel and a brand-new Alpro Caffè Coffee and Coconut combination – the products are best enjoyed ice-cold straight from the fridge.
Where: Tesco
19. For Dairy-Free Drinks: Innocent
What: Almond Drink (£1.99)
The Lowdown: No stabilisers, no gums, no funny business – innocent's new dairy-free range contains three ingredients. Tasty in tea, lovely in lattes and splendid on cereal, the news drinks (Almond, Oat and Hazelnut) make a great addition to everything from breakfast through to dinner. One of our favourite vegan food products on the market right now!
Where: Waitrose, Ocado, Sainsbury's, Tesco, Asda and Morrisons