There's nothing finer than a cheesecake. Soft, creamy, with a crunchy base, there's simply nothing a cheesecake can't solve. Whether you like it baked, covered in salted caramel or with a sprinkling of berries, here's where to find London's best cheesecakes:
Best For: Salted Caramel Cheesecake
What: The range of cakes and desserts here is, justly, the stuff of legend – but chief among them are the cheesecakes. They come in individual size, sometimes topped with decadent salted caramel and macadamia nuts, or sour cherries: in season, you might be lucky enough to get a pumpkin one. And if you've had a plate of the glorious salads first, a cheesecake for pudding is totally justified.
Where: Throughout London
Best For: Cheesecake Brownies
What: This Chiswick cafe, run by two self-taught American bakers, David Munis and David Lesniak, is the place to come for proper, US-style desserts. The cheesecake comes in vast slices, but is really too good to share. And if you can't make it to the shop, their stall at Southbank Centre Market or the Real Food Festival at Kings Cross sells sour cherry cheesecake brownies. As good as they sound.
Where: 83 Chiswick High Rd, London W4 2EF
Best For: Vanilla Baked Cheesecake
What: It's become their signature dish: a creamy, unbaked cheesecake on a katafiyeh base, a drizzle of honey and a salty unexpected hit of feta. It's always impossible to choose which dessert to have among the cornucopia of baked goods: impossible sometimes to get beyond the call of the chocolate hazelnut babka. But imagine the lure of a vanilla baked cheesecake topped with rhubarb compote or even a Nutella one. Yes. You will need find room for seconds.
Where: 25A Warren St, London W1T 5LZ
4. The Colony Grill, The Wolseley and The Delaunay
Best For: Classic Cheesecake
What: If there is one dessert I'd go back for again and again at any of the Corbyn and King establishments, it's the cheesecake: always impeccable, creamy, smooth, the base properly crunchy, enriched by subtle flecks of vanilla. It's a classic for a reason, and this is the place to have it.
Where: 55 Aldwych, London WC2B 4BB
Photo Credit: Eating the World Out
Best For: Individual Cheescakes
What: Muswell Hill might seem like a long way to go for a piece of cake, but this tiny neighbourhood cafe run by Dorchester chef Chris Honor, is worth the trek. Yes, there salads and hot food, but the vast table groaning with cakes is why you're there. Cheesecakes are baked in individual tins and sold by the half – just the right size for one.
Where: 7 Tetherdown, London N10 1ND
Best For: White Chocolate Cheesecake
What: White chocolate cheesecake, people. Oh yes. Buttery biscuit base, thick, rich cheesecake, job done. Plus a brunch menu which offers everything from mushroom, spinach and fried egg on toast to wholegrain veggie salads. At breakfast, the chocolate almond croissants are especially good. And don't get me started on the merits of the sour cream and pecan cinnamon crumble cake.
Where: Throughout London
Photo Credit: Instagram – Ailidh Eats
Best For: Pistachio Cheesecake
What: These guys run the most incredible market stall in Crystal Palace on Saturday mornings. Their cakes are impeccable; the double carrot cake is an absolute winner. And they've created a few masterpieces in baked cheesecake form – think rosewater pistachio cheesecake with fresh figs. Be warned: they tend sell out early, so turn up first thing to avoid crushing cheesecake disappointment.
Where: See here
Best For: Butterscotch Cheesecake
What: Another food market pioneer, Birmingham born Nick Fu has stalls at the Duke of York Square and Brunswick Centre Markets and sells to a range of independent coffee shops. His raspberry white chocolate brownies are one of the best things ever, also the triple layered carrot cake and the baked cheesecake with macadamias and oodles of sticky caramel butterscotch sauce. It's messy. Take a napkin.
Where: 218 Long Ln, London SE1 4QB
Best For: Baked Cheesecake
What: These guys have mastered the perfect sourdough: there are few loaves better than their Hackney Wild. But if you make it down to their cafe, tucked inside a railway arch near Mare Street, you will find an absolute feast. And yes! They do a baked cheesecake, as unctuous and creamy as you like, a pleasingly thick biscuit base with plenty of crunch. Hackney, you are blessed.
Where: 395, Mentmore Terrace, London E8 3PH
Photo Credit: Things Wot I Have Made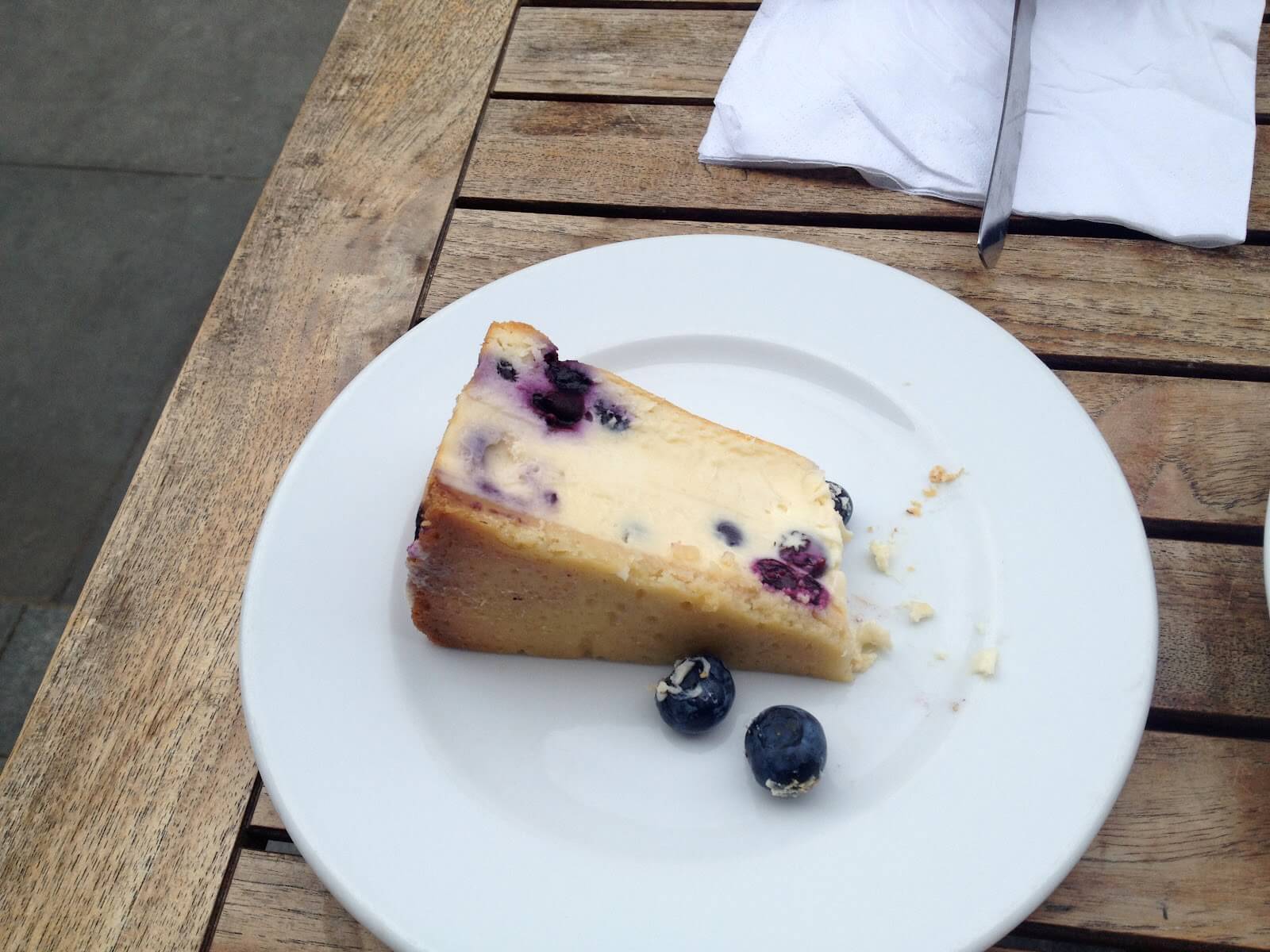 Best For: Blueberry Cheesecake
What: Yes, a box of roasted carrot salad costs more than a first class air fare to JFK, but this is where to find the baked blueberry cheesecake of your dreams. Also, seasonal fruit crumble brioche. And cinnamon spiked, sugar drenched whirls of morning bun. Just add coffee.
Where: Throughout London
Best For: Cheesecake Slices
What: One for the south Londoners: this Brazilian cafe in Brixton village might not sound like the natural home of baked cheesecake. But it is! The banana caramel cake is like a sort of sticky toffee pudding in cake form. And the cheesecakes, in massive slices, are beautifully, lovingly made.
Where: 25-27 Coldharbour Lane, London SW9 8LB
Best For: Jewish Cheesecake
What: If it's proper, Jewish baked cheesecake you want – this is where to find it. Huge slabs, cut to order, a sweet shortcrust pastry base, with raisins or without. If you didn't know what the word 'zaftig' meant before, you will after you've tried this cheesecake. Jews like zaftig.
Where: 222-226 Jubilee St, London E1 3BS
Best For: Baked Vanilla Cheesecake
What: Prada for your larder it might be, but the salads and cakes at the two North London branches of this uber-grocer are faultless. The date and oat bar is perhaps the sine qua non breakfast food (wake up at the back, we're in Hampstead now). And of course there is a baked vanilla cheesecake, in individual size or a larger version which you can buy to take home. If it makes it that far.
Where: Throughout London
Best For: Simple Cheesecake
What: Continuing the posh-person's guide to cheesecake theme, this oh-so-stylish cafe in the Nicole Farhi shop in Westbourne Grove might be full of leggy girls with ironed-chestnut hair and Bill Amberg sheepskin baby carriers, but it is also home to amazing desserts. And in keeping with the New York feel to the menu – a rather good cheesecake. Take pity on the yummy mummies pushing rocket round their plates as you tuck in.
Where: 202 Westbourne Grove, Notting Hill, London W11 2SB
Photo Credit: Sam Stewart Etc.
Best For: Salted Caramel Pretzel Cheesecake
What: Echoes of America ring loud in the in house restaurant of Holborn's Hoxton hotel. Hey, you'll even think you're in Brooklyn! Or you will when you tuck into a plate of the salted caramel pretzel cheesecake. Creamy, salty, sweet and utterly over the top.
Where: 199 – 206 High Holborn, London WC1V 7BW
Photo Credit: Eating the World Out
Best For: Baked New York Cheesecake
What: What's an almost-vegetarian like me doing at London's premier steak house, you ask? It's not for the red meat. Obviously there's the lobster mac and cheese to negotiate first. Obviously. Feel those arteries screaming for mercy as you follow it up with a hefty slice of cheesecake. And then clamber into your taxi home for a long snooze.
Where: 86-90 Park Lane, London, W1K 7TN
Best For: Giant Cheesecake
What: The Grosvenor House Hotel on Park Lane houses a naughty secret. No, not that kind of naughty secret. On the dessert menu is what must be London's most enormous cheesecake, a vast creation which I think two people are supposed to share. If you're the kind of person who never shares dessert, you might want to go with an appetite. This cheesecake will be bigger than your head.
Best For: Banoffee Cheesecake
What: If you're in a branch of Whole Foods Market, head for the chiller cabinet – where you'll find boxed up slices of this small London bakery's expertly made baked cheesecake. It's hard to choose between the salted caramel and the banoffee: either way, you'll be happy.
Where: Throughout London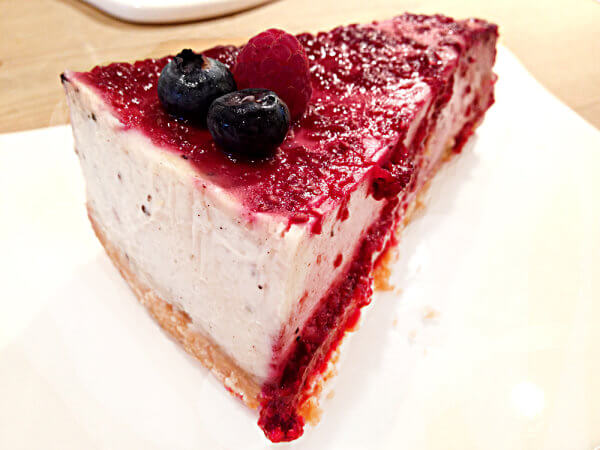 Best For: White Chocolate Cheesecake
What: This Belgian-based chain is rapidly expanding across London: the generous bread baskets at breakfast come with jars of spreads including a white chocolate one and a hazelnut praline which is like a supercharged peanut butter on steroids. But beyond the tartines and healthy 'superfood' salads, there are tempting wedges of cheesecake. My kind of superfood.
Where: Throughout London
Best For: Oreo Cheesecake
What: Russell Norman's diner describes itself as a "kind of New York deli, with cocktails". And hence, there's a cheesecake, a good creamy baked version with an Oreo biscuit base. I mourn for the departure of the peanut butter jelly version, but this one is almost as good. Start with the chicken soup, and end with this. It's almost New York.
Where: 25 Catherine St, London WC2B 5JS