Salted caramel is always good news – oozing in sundaes, squeezed over sponges, on its own, with a spoon, it screams of happiness. We searched high and low for the best salted caramel treats in London, and found some of our favourite ways to eat it – forget the bikini body, go for brownies instead. Here's 15 creative ways to eat the sweet, salty stuff in the capital:
What: Salted chocolate caramel tart
Salted Caramel Win: Come for the pizza and stay for the dessert.  This knocks any other tart out of the park and is a must try for all the sweet toothed fans out there. If you're looking for a light dessert, this certainly isn't it. The thick chocolate layer is rich, but is balanced with the sweet and saltiness of the caramel, all wrapped together with the plain pastry base. Don't bother looking at the rest of the dessert menu, this tart is the one.
Where: Locations across London including, Kentish Town and Portobello
What: Salted caramel, cacao, malted barley ice cream
Why: In 2014, they were name the 7th Most Sustainable Restaurant in the UK at the National Restaurant Awards and source their produce from British suppliers. Their menu is a refreshing mix of seasonal ingredients paired with delicious meat, fish and vegetarian dishes. Understandably, it's hard to get excited about ice cream, but their malted barley, salted caramel and cacao ice cream is three flavours that  just seem to work and we aren't complaining. They've recently opened a delicatessens next door, smoking, baking and pickling all produce on site, oh stop it.
Where: 15 The Pavement, Clapham Oldtown, London SW4 OHY
3. In an Gelato: Snowflake Gelato 
What:  Sea salted caramel gelato
Salted Caramel Win: With over 20 gelato flavours to choose from, it's hard to know which one to pick – choose the sea salted caramel, every time. The gelato is made using organic Jersey milk, cream and sugar and is handmade in store everyday, none of this Carte D'Or nonsense. The sea salted caramel is our go to flavour, thick, creamy and packed full of caramel goodness, exactly how it should be. They also serve up a guilt-free range which is fat,dairy,sugar and gluten-free, made only using natural ingredients, it still tastes good too. Our picks of the menu are the apple and elderflower, pear and pomegranate flavours.
Where: 102 Wardour Street, London, W1F OTN
Order: Salted caramel brownie
Salted Caramel Win: Only established two years ago, Bad Brownie have trailblazed their way through London's street food scene. There's nothing worse that a dry brownie (or a soft apple for that matter), the salted caramel brownie from Bad Brownie is far from dry.  A  thick layer of liquid, gooey salted caramel sauce sandwiched between two fudgey brownies, topped with pieces of caramel,  it's no surprise that this brownie is their best seller.  For all the peanut lovers out there, their peanut butter brownie is outrageously good. A crunchy peanut butter centre topped with peanut butter brittle. Heaven.
Where: Locations all around London. Check them out here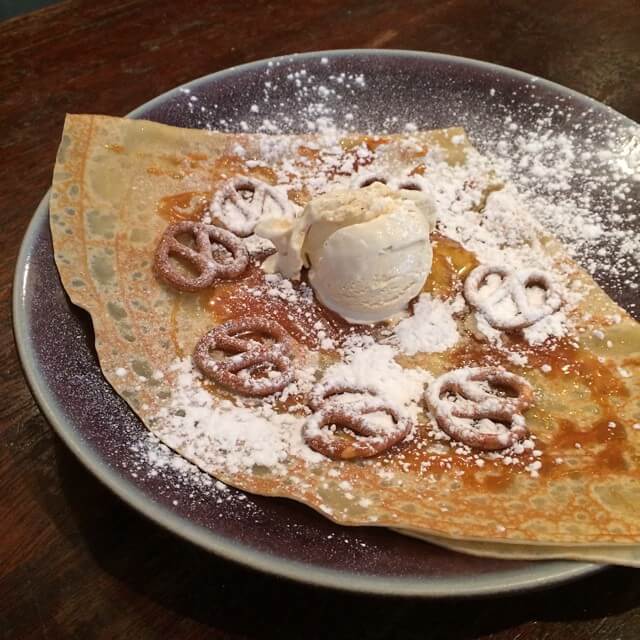 Order: Shutterbug salted caramel, vanilla ice cream and pretzel crumble (£5)
Salted Caramel Win: Shutterbug specialise in two things and they do them very well; cocktails and crepes. By day, the bar serves a wide range of sweet and savoury crepes such as Soignon goat cheese with baby spinach, toasted walnuts and fig relish and the crowd pleasing red velvet crepe with mascarpone, dark chocolate and strawberries. Nothing beats their salted caramel, vanilla ice cream and pretzel crumble, the sweetness of the caramel matched with the saltiness of the pretzels is too good, shun the savoury crepes for one of these. Stick around as they serve up some killer cocktails at night, their Gentleman's Club Cocktail with dark rum, orange zest, spiced chocolate bitters mixed with their homemade cigar-infused maple syrup is our favourite.
Where: 1 Rivington Place, London EC2A 3BA
6. In a Cupcake: Crumbs & Doilies 
Order: Salted caramel cupcake
Why: Whipping up some sweet treats in their South London kitchen, Crumbs and Doilies are experts at cake making. Their menu is full of tasty offerings including cherry bakewell, toffee apple and a mojito cupcake – it shouldn't work, but it does.  All of their cupcakes are hand decorated and  we believe them when they say 'this is the best darn cake experience you've ever had.' Head down to their shop in Soho for flavours that change every day.  There's so many different flavours to choose from that we always go for our favourite, salted caramel, obviously. If you need more of a sweet fix, order their caramel pretzel cupcake – heavenly.
Where: 1 Kingly St, Soho, London W1B 5PW
7. In a Doughnut: St. JOHN Bakery 
What: Salted caramel custard doughnut
Salted Caramel Win:  You've probably heard of St. JOHN Bakery and rightly so, their baked goods are outrageous with their brownie made from 70% dark Valrhona chocolate. Now selling in Selfridges and Fortnum & Mason, their signature doughnuts are light, sweet and best of all, they don't scrimp on the filling. These beauties are packed full of different fillings including jam, custard and rhubarb.
Where:  St. John Bakery Counter in Selfridges Food Hall
What: Dark and milk chocolate mousse with salted caramel (£5)
Why: Priding themselves on using good quality fresh British produce, their menu is all about sweet sweet burgers. Once you've had your meat fix, their dark and milk chocolate mousse with salted caramel has to be tried to be believed. The combination of chocolate mousse  and salted caramel is the dream, so much so that we haven't tried another dessert off the menu. If you've ever wanted to make your own burger, that's not your standard quarter pounder, the guys at Bobo Social run a experimental burger creation evening in their own Science Laboratory with their Head Chef every Monday – meat tastic!
Where: 95 Charlotte Street ,London W1T 4PZ
What: Salted caramel chocolates (£3)
Why: Let's not beat around the bush here, salted caramel chocolates are one of the best chocolates around, hands now and the ones  at Magdalen are no exception. Opened in 2007 to critical acclaim, the restaurant uses British ingredients to create traditional and seasonal dishes. Hereford salt beef with poached spring vegetables and green sauce, oh hello. Finishing your meal with their salted caramel chocolates only seem right, as it's a Monday night and you've had a bottle of wine.
Where: 152 Tooley Street, London SE1 2TU
10. In an Extravagant Dessert: Marcus at The Berkeley 
What: Warm chocolate, cacao, salted caramel (£85 for three courses)
Why: If you're going to dine at a two Michelin starred restaurant you know you're in good hands. Marcus Wareing (he's a judge on Masterchef: The Professionals  and he has a pretty face) is at the helm  of Marcus at The Berkley creating European dishes with British influences. After you've ploughed your way through either the 2, 3 or 4 course menu (it's up to you how many courses you want to eat) make way for their salted caramel dessert with cacao and warm chocolate, indulgent but worth it. You'll probably need a nap after.
Where: The Berkeley, Wilton Place, Knightsbridge, London SW1X 7RL
11. In a Cheesecake: The Lyttelton Arms
What: Salted caramel and chocolate cheesecake with whipped cream and  chocolate sauce (£5)
Why: Think American diner food meets British gastropub and you've got The Lyttleton Arms – snazzy interiors, wall murals and exposed brick work. If you've had enough of people sticking miscellaneous food items under your nose down at Camden Market, seek refuge in The Lyttelton Arms for their cracking salted caramel and chocolate cheesecake, you can also get a mini version of it on their sharing plate too. Fancy it isn't, but you don't need fancy when you have a cheesecake that tastes this good.
Where: No 1, Camden High Street, London NW1 7JE
12. In a Hot Chocolate: Caravan
What: Salted caramel hot chocolate
Salted Caramel Win: One of our favourite brunch spots in the city, Caravan is known for serving up exceptionally tasty dishes including avocado on toast, baked eggs and japapeno cornbread. No need to go with your standard hot chocolate, when you've got the choice of ordering the  salted caramel one. Sicily it isn't, this drink has the right amount of chocolate well matched with the subtle salted caramel kick. If you're there for breakfast, order the porridge with brown sugar, dates and banana, bold statement but it's probably one of the best porridges in town.
Where: Granary Square King's Cross and Exmouth Market
13. In a Soft Serve: Tredwell's
What: Housemade salted caramel soft serve (£5)
Why: Who doesn't love a bit of soft serve ice cream? It tastes just like your childhood, in the best way possible. We love the salted caramel flavour at Tredwell's – the new West End eatery from Marcus Wareing Restaurants. It's got a great relaxed, informal atmosphere, with yummy food and cocktails. A focus on British produce, the menu is totally to die for.
Where: 4a Upper St Martin's Lane, London WC2H 9NY
14. In a Choc Ice: The Tommy Tucker
What: Choc, Raisin & Infused Rum Choc Ice, Salted Caramel Cream, Almonds & Their Milk (£6.50)
Why: Think of those choc ices that you get from the supermarket, they usually come in packs of six and usually melt by the time you've only eaten half of it. Well, the chocolate raisin choc ice with salted caramel cream is the exact opposite, infused rum ice cream with the  salted caramel cream is a revelation. We didn't know choc ices could taste like this – utterly delicious.
Where: 22 Waterford Road, London SW6 2DR
15. In a Coffee Dessert: French & Grace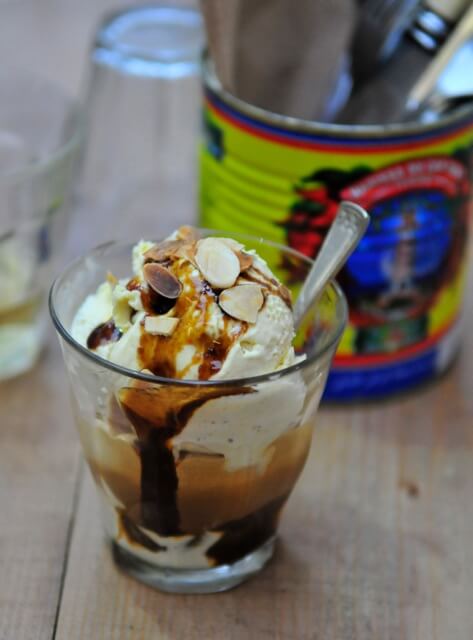 What: Almond and salted caramel affogato
Why: Middle Eastern food meets rustic British style at French & Grace. The winning combination of hearty grub, incredible flavours and 'that' baklava has meant this South London eatery is always on our radar. The pudding features vanilla ice cream, drenched in espresso topped with toasted almonds and salted caramel. A sweet mix of coffee, nuts and caramel is always going to win gold stars with us.
Where: 19 First Avenue,Brixton Village, London SW9 8PR