Mother's Day afternoon teas in London: is there anything finer? Nothing saying 'I love you' like finger sandwiches and scones, right? The good news is London is full to the brim with amazing Mother's Day afternoon tea this year – everything from gin-based teas, to traditional fare, and wild and whacky teas. Here's where to get your clotted cream fix this Mother's Day in London:
Mother's Day Afternoon Teas in London: Our Favourites
1. For a Classic Afternoon Tea: Fortnum & Mason 
What: The Diamond Jubilee Tea Salon within Fortnum & Mason, opened by the Queen five years ago this month, is offering a special afternoon tea menu with delicate patisseries, to ensure all mothers feel like royalty on their special day.
Eat and Drink: Spoil your VIP (Very Important Parent) with rose éclairs, elderflower panna cotta with mixed summer berries, red velvet sponge, apple crumble tart and vanilla cheesecake with lemon curd glaze. This beautiful array will be accompanied by finger sandwiches, buttery scones, tea and champagne.
Price: From £44 per person
Where: 181 Piccadilly, London W1A 1ER
2. For a Musical Afternoon Tea: Hotel Café Royal
What: Hotel Café Royal, Regent Street is taking the British tradition of scones and finger sandwiches to a whole new level thanks to the arrival of a live pianist, specially for Mother's Day. Served in the Grade II listed Oscar Wilde Bar, relax and delve into a selection of savoury and sweet delicacies, in addition to your choice of over 20 tea blends. 
Eat and Drink: The savoury eats at Hotel Café Royal are just important as the sweet bites. Finger sandwiches include English cucumber and cream cheese, coronation chicken and golden raisins, Scottish smoked salmon and horseradish and honey roast ham and English mustard. Cakes come in the form of cherry and vanilla macaroon, yuzu and blueberry choux mandarin almondine;and comice pear and goat's cheese tart. There's also gluten-free fruit cake – lemon and poppy seed loaf and praline hazelnut cake. And of course, scones.
Price: From £50 per person
Where: 68 Regent St, Soho, London W1B 4DY
3. For a Fragrant Afternoon Tea: The Savoy
What: The Savoy have teamed up with luxury British perfumers Penhaligon's to create the ultimate Mother's Day treat. Mothers will be treated to a traditional afternoon tea for two in the magnificent surroundings of the Thames Foyer as well as receiving a stunning bouquet of Savoy Flowers, and a bottle of Penhaligon's new eau de parfum, Savoy Steam. This exquisite fragrance is a soft spring-like scent, with notes of aromatic rosemary, fresh geranium and delicate rose.
Eat and Drink: There's plenty of finger sandwiches to get stuck into such as the Wiltshire bone ham with wholegrain mustard, coronation chicken on olive bread, Scottish smoked and poached salmon with dill mustard and egg salad with watercress. The cakes at The Savoy are seriously impressive. The nutty opera is a take on the traditional opera with Sicilian pistachio butter cream and 75% dark chocolate ganache between two layers of dacquoise sponge. The tropical eclair filled with fruit cremèux and dipped in icing is an absolute showstopper.
Price: £200 for 2 people
Where: Strand, London WC2R 0EU
Mother's Day Afternoon Teas in London: Very Special Teas
4. For a New Afternoon Tea: Bea's of Bloomsbury
What: Bea's are creating a special Mother's Day Afternoon Tea with a brand new treat included just for the occasion on Sunday 26th March.
Eat and Drink: Included in the afternoon tea will be new treats: mini lemon tarts, handmade chocolate eclairs and beautiful blue berry, lavender and rose macaroons. Bea's favourites have not been forgotten with their famous brownies and handmade cupcakes also featuring in the sweet lineup. There's also plenty of savoury nibbles too!
Price: £26.50 per person
Where: The tea will be available at Marylebone, St Paul's, and Bloomsbury locations
5. For a Musical Themed Afternoon Tea: K West Spa and Hotel
What: To celebrate the leading ladies in your life, the glam rock afternoon tea at K West Spa and Hotel will be served with a glass of pink bubbles for two guests, a Doisy and Dam chocolate bar, and a complimentary spa gift for all mothers.
Eat and Drink: Savoury bites include mozzarella and pesto on sundried tomato bread, honey roast ham and mustard mayonnaise on spinach bread and smoked salmon and cream cheese on golden corn bread. The sweet selection includes red fruit macaroons filled with cherry, blackcurrant, redcurrant and blackberry, white chocolate nougat lollipops, dark chocolate nougat mini-sandwiches, wild berry scones with clotted cream and homemade jams and hibiscus Turkish delights.
Price: £37.50 per person
Where: Richmond Way, London W14 0AX
6. For a Cute Afternoon Tea: Cutter & Squidge
What: For Mother's Day, Cutter & Squidge will be serving their signature afternoon tea in their Secret Garden, with all mums receiving a lovely natural canvas tote bag of their choice.
Eat and Drink: Kick off the afternoon tea with a range of finger sandwiches: chicken salad, Sriracha egg, smoked cheese and caramelised onion and cucumber and mint. Other savoury nibbles include the salmon tart, chive and sour cream scones, with tomato and pepper jam and cheese clouds. Known for their inventive cakes, the afternoon tea showcases a range of Cutter and Squidge's signature bites. From the lychee pearl biskie to the chocolate and raspberry lollibag cake, and the billionaire tart – this afternoon tea will satisfy all the sweet toothed fiends.
Price: £55 for 2 people 
Where: 20 Brewer St, Soho, London W1F 0SJ
7. For a Champagne Afternoon Tea: The Dorchester
What: For over 80 years, The Dorchester has enjoyed the enviable reputation of serving one of the finest afternoon tea experiences in the country. Similar to fine wine, tea has its own language and mystique. The Dorchester's special Mother's Day Champagne afternoon tea will win you all the gold stars. Twice over.
Eat and Drink: On arrival, sip on either a glass of Laurent-Perrier Brut NV Champagne or Laurent-Perrier Cuvée Rosé Champagne, or The First and Only (non-alcoholic cocktail) – a creamy combination of red fruits blended with rose water and lavender. A selection of homemade finger sandwiches on artisan bread include: smoked salmon with sweet mustard and dill, roast chicken with Pommery mustard, cucumber with mint cream cheese on caraway seed bread and egg mayonnaise with shallot confit and shiso cress. Themed French pastries and warm scones head up the sweet bites.
Price: £65 per person
Where: 53 Park Lane, Mayfair, London W1K 1QA
Mother's Day Afternoon Teas in London: Unmissable Teas
8. For a Traditional Afternoon Tea: The Goring Hotel
What: The Goring has been perfecting the art of afternoon tea since it opened its doors over a century ago. On Saturday (25th) and Sunday (26th), the hotel in Belgravia will be serving their well-loved afternoon tea with Bollinger Rosé Champagne and strawberries.
Eat and Drink: The Goring keep is classic with their afternoon tea offering. Dig into a selection of finger sandwiches, freshly baked, warm homemade scones with Devonshire clotted cream and jam, cakes, bakes, fancies and tarts. And tea brewed to your liking.
Price: £69 per person
Where: 15 Beeston Pl, London SW1W 0JW
9. For an Iconic Afternoon Tea: The Ritz
What: Served in the spectacular Palm Court flanked by high walls of gleaming mirrors, romantic birdcage chandeliers and a soaring, vibrant floral display at the centre of the room, afternoon tea at The Ritz is more than tea and a few scones.
Eat and Drink: The Ritz boasts one of the largest loose leaf tea menus in the capital (there's over 18 to choose from). Feast on a range of finger sandwiches filled with ham and grain mustard mayonnaise, cheddar cheese with chutney, chicken breast with parsley cream and egg mayonnaise with chopped shallots. Freshly baked raisin and plain scones with clotted cream and jam, and a variety of cakes pastries and cakes make up the sweet selection.
Price: £54 per person
Where: 150 Piccadilly, London, W1J 9BR
10. For a Timeless Afternoon Tea: London Hilton on Park Lane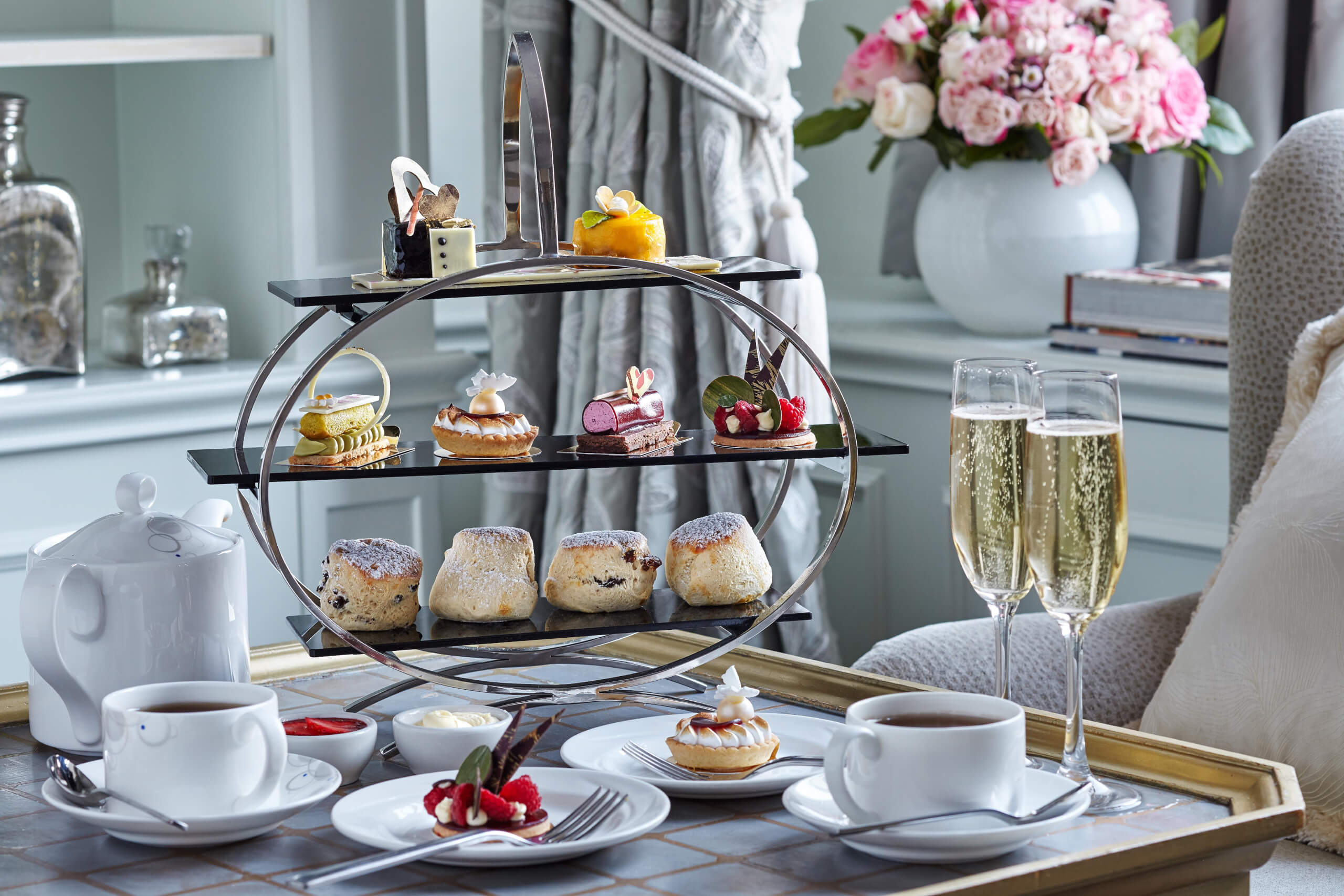 What: London Hilton on Park Lane has rolled out a special afternoon tea for Mother's Day, created by Executive Chef Anthony Marshall. The afternoon tea features a range of tasty teatime treats such as chocolate parfaits, and apricot and milk chocolate tartlets.
Eat and Drink: Enjoy freshly made sandwiches including classic combinations of smoked salmon and horseradish crème fraiche on malted seed, cucumber, chive and cream cheese and prawn cocktail with lettuce. A middle tier of delicacies include an assortment of pistachio and almond financiers, and lemon meringue tarts presented alongside blackberry cannolis. The eclectic menu of cakes and pastries combines the contemporary with the classic by offering a delectable array of freshly baked scones, in a choice of plain, chocolate chip or raisin, to be generously layered with a heavenly filling of your choice; praline chocolate spread, clotted cream and strawberry jam.
Price: £39 per person
Where: 22 Park Lane, Mayfair, London W1K 1BE
11. For a Chocolatey Afternoon Tea: St Martins Lane x Hotel Chocolat
What:  St Martins Lane have collaborated with luxurious chocolatier, Hotel Chocolat, to offer mums and chocolate lovers the ultimate sweet experience with their new chocolate dreams afternoon tea.
Eat and Drink: Chocolate dreams includes unlimited hot chocolate and the exclusive afternoon tea will be served until 30th April in The Den, a classically British and oak-panelled snug at the hotel. The offering will include a selection of specially crafted chocolate treats and an indulgent hot chocolate menu. Fresh savoury bites include caraway rolls with chicken, tarragon, lime and sundried tomatoes; olive and chilli bread with smoked salmon and salsa verde cream; and brioche with brie, mushrooms, garlic and parsley. Classic warm scones with clotted cream and jam are also served alongside. To compliment the sweet and savoury items, guests can also choose from one of the three deeply chocolatey and comforting 'hot chocolat' options. Opt for the classic hot chocolat made from 70% dark chocolate, a mellow milky hot chocolat made from 50% milk chocolate, or a salted caramel hot chocolat with added deep caramel and a pinch of salt.
Price: £40 per person
Where: 45 St Martin's Ln, London WC2N 4HX
Mother's Day Afternoon Teas in London: Quirky Teas
12. For a Themed Afternoon Tea: St James' Court, A Taj Hotel
What: Get lost in a whimsical world 'through the rabbit hole', with the St James' Court, A Taj Hotel's Afternoon Tea in Wonderland, with an exclusive selection of finger sandwiches, decadent pastries and 'Queen's recipe' strawberry drop scones.
Eat and Drink: The 'drink me' strawberry potion, and 'pocket watch' macaroons are inspired by the Lewis Carroll classic, the first bespoke edition in the 'English Classics, Reinvented' series. Drawing inspiration from Alice's adventures down the rabbit hole, the classic has been given a new lease of life with a cover by East London artist, Ethan McClean.
Price: £40 per person
Where: 54 Buckingham Gate, Westminster, London SW1E
13. For a Sporting Afternoon Tea: Lord's Cricket Ground
What: Is your mum a sporting fan? Combine scones with a side of cricket with the fantastic Lord's afternoon tea. Not your usual afternoon tea offering, but finger sarnies and a mega view of the cricket ground is hard to beat.
Eat and Drink: Lord's afternoon tea is a traditional affair, including freshly baked scones with homemade jam and Cornish clotted cream, and a selection of finger sandwiches and dainties from the Lord's resident Pâtissier. For an extra essence of celebration, packages can be upgraded to Champagne afternoon tea which includes a glass of fine Champagne. 
Price: £48 per person
Where: St John's Wood Rd, London NW8 8QN
14. For a Quirky Afternoon Tea: Zetter Townhouse Marylebone
What: The Zetter Townhouse in Marylebone offer afternoon tea with a boozy twist. If your mum likes sloe gin, and quirky sandwiches – this afternoon tea ticks all the boxes. Ditching traditional teatime favourites for unusual flavour combos, this afternoon tea is not to be missed.
Eat and Drink: The savoury nibbles include Sloe Gin glazed ham finger sandwich, Chapel & Swan smoked salmon on herb crème fraîche, free range egg mayonnaise and mustard cress brioche and goat's cheese and red onion marmalade melt. Other savoury fare includes Lincolnshire pork pie and piccalilli, haggis sausage roll with homemade brown sauce and black pudding Scotch egg with Indian spiced mayonnaise. There's also cakes, scones and cocktails aplenty.
Price: From £28 per person
Where: 28-30 Seymour Street, London W1H 7JB
15. For a Sweet Afternoon Tea: Where the Pancakes Are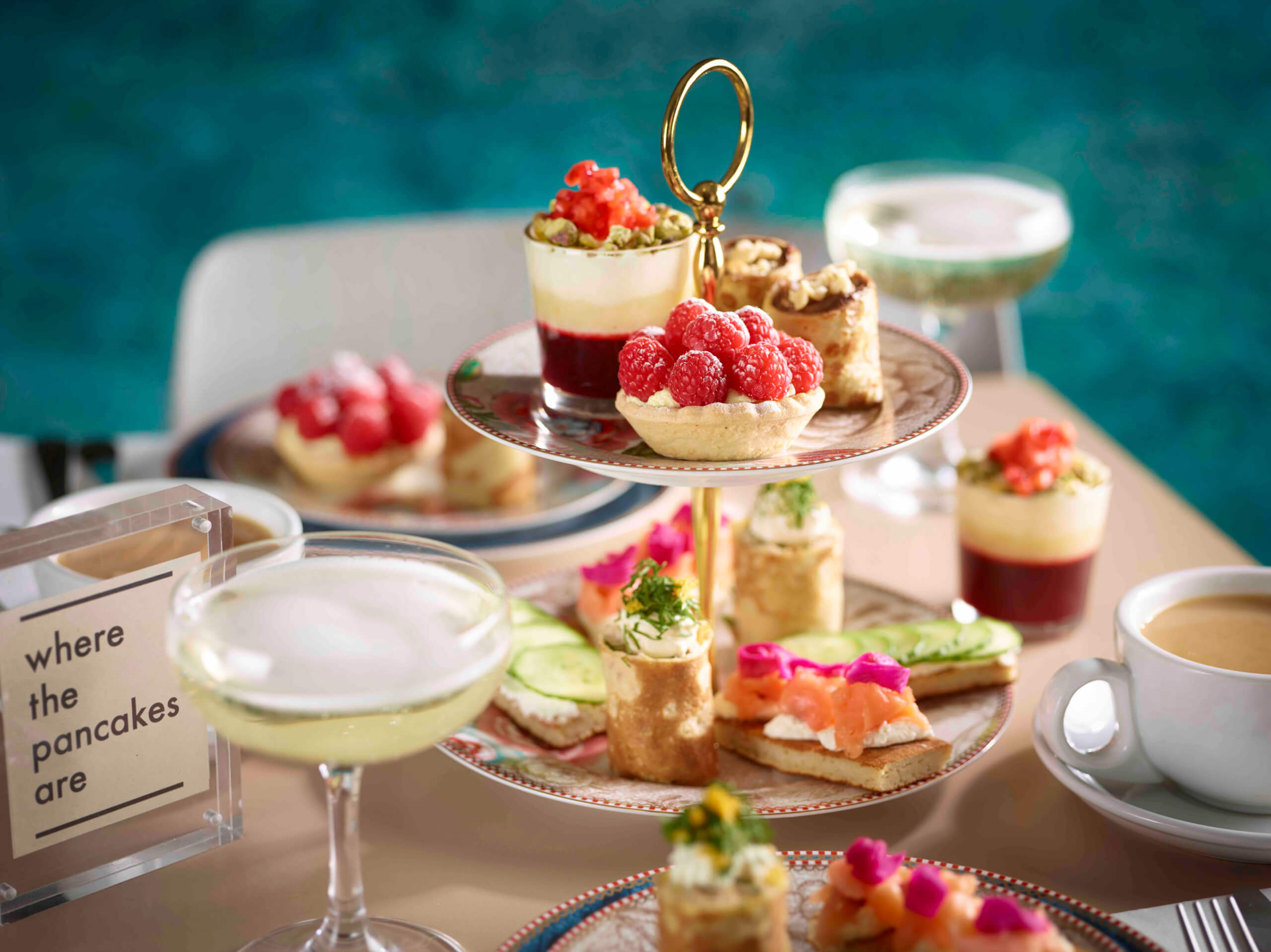 What: Where the Pancakes Are have launched their new afternoon tea menu this month, just in time for Mother's Day. Expect pancakes, sweet goods, and their new affogato.
Eat and Drink: If your mum enjoys the sweeter things in life, she's going to go positively wild for this afternoon tea selection. Sweets include callebaut chocolate crêpe with hazelnuts, lemon berry pot with pistachios and strawberry raspberry tart. Pay a few quid more to enjoy the Dutch baby flambée – a traditional Californian oven-baked pancake with Cox & Bramley apples, cinnamon, toasted almonds and burnt Cointreau. And not one to leave out sarnies, there's smoked salmon; pickled turnip; crème fraiche; English cucumber and cream cheese and sorrel Tuna roll crêpe with zest and parsley on the menu.
Price: £22.50 per person
Where: 85a Southwark Bridge Rd, London SE1 0NQ
Photo Credit: Howard Shooter