Once again, Chelsea Flower Shower is returning to London and the city is embracing flower power in full force. From floral themed menus, edible flowers and flower cocktails – we've rounded up the best edible floral treats London has to offer. Bring a pack of tissues:
1. Sushi Flowers: Yashin Ocean House 
What: For the Chelsea Flower Show, feast on floral delights at Japanese eatery Yashin Ocean House, in South Kensington. Enjoy their vegetable garden tempura or tuna with truffle infused ponzu jelly decorated with fresh flowers.
Why: Yashin has created innovative, fresh and herbal cocktails including the dry yashitini, a delicious combination of  sake, gin and vodka mixed with grapes, cucumber and grapefruit. This spot is fantastic for dates – it's low-lit, vibey and super cool.
When: 18th-23rd May
Where: 117 – 119 Old Brompton Road, London SW7 3RN
2. Floral Fancy: The New Angel
What: Special floral menu at The New Angel, created by Michelin-starred chef John Burton-Race, which highlights his creative flare and knack for designing innovative menus. The menu consists of three courses and an accompanying glass of Laurent Perrier Cuvée Rosé for £62.
Why: Start with Orkney scallops, crab and cucumber flowers, followed by Spring-inspired lamb with courgette flowers. The dessert reflects the gardens on display – an iced vanilla parfait with poached champagne rhubarb, Gariguette strawberries and rose petal. Bliss.
When: The menu will be available  from 19th May – 23rd May exclusively and will be charged at £62 per person.
Where: 39 Chepstow Place, Notting Hill, London W2 4TS
3. Churchill's Flowers: Hyatt Regency London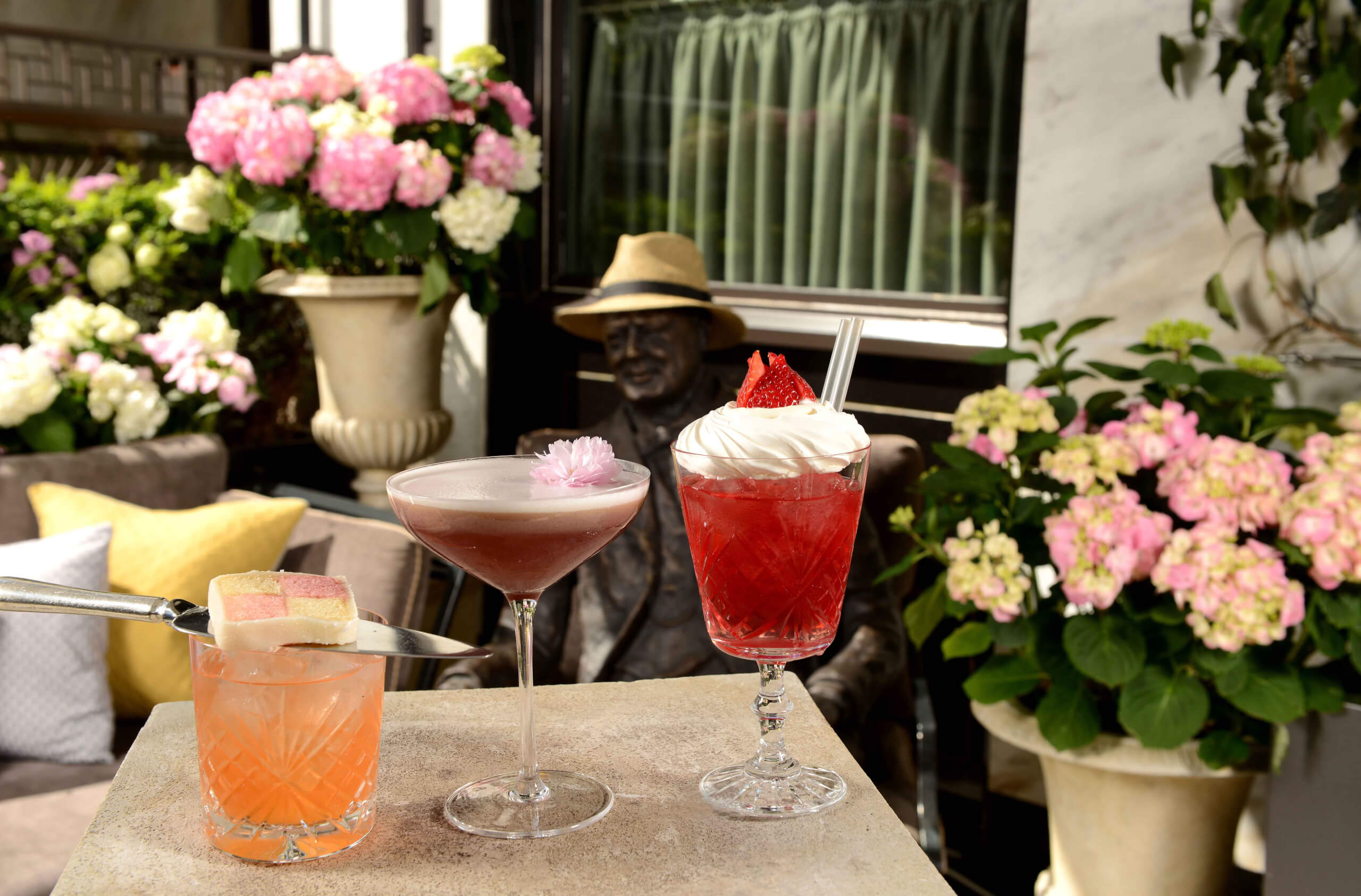 What: The Churchill Bar is offering a series of special Chelsea Flower Show cocktails – try The Botanist (£16) with potato-based Chase vodka with honey and lemon for balance, Greengage liquor and home-made basil and ginger juice.
Why: Winston Churchill found inspiration for some of his paintings in English gardens, and in tribute, from 1st June, The Churchill Bar & Terrace will transport you to an English country garden. Think: rambling roses, blooming hydrangeas, the perfect space for enjoying barmy evenings. For a bit of fun, try the British Allotment (£16) – a delicious mix of pear, fresh carrot juice, and vodka, mixed with fresh egg white and plum bitters, which pays homage to the Royal family at Windsor Castle, who ate a plum pudding every day made from fresh plums picked in their garden. Served in a hip flask and garnished with a few drops of pea puree, it's a show-stopping cocktail.
Where: 30 Portman Square, London W1H 7BH
What: This popular family-run Japanese café is launching a new floral dish to celebrate the Chelsea Flower Show. From the 18th May and for a limited time only, their Salmon Sashimi Don will be served with fragrant rice and edible flowers.
Why: Their legendary Matcha Latte will also be putting on a scented display with a hint of rose – we thought their Matcha Latte couldn't get any better, but this tastes delicious. Come for the relaxed setting and fantastic, good value Japanese food.
When: The floral menu will be available from  from the 18th-24th May
Where: 29 Thurloe Place, London SW7 2HQ
5. Floral Cocktails: Mondrian London
What: Dandelyan at Mondian London have an exciting floral cocktail menu all-year round – think exotic flavours, unusual ingredients and creations much snazzier than you've ever seen before.
Why: For beautiful drinks and a great location. Their floral cocktail menu includes Crystal Lyan with sparkling Grey Goose vodka, crystal peach nectar, lime-flower blossom and vanilla – it's fantastic. Also try their famous Dandelyan Sour, a combination of Beefeater London Garden gin, lemon, lime and dandelion capillaire with garden bitters. Sit back, relax and take in that smashing view of the Thames.
Where: 20 Upper Ground, London, SE1 9PD
6. Peruvian Flowers: Pachamama
What: At Pachamama, expect all the floral-adorned dishes. They do insanely good Peruvian brunch dishes (hello, quinoa waffles) and their new menu with a floral twist is no exception.
Why: For the salmon, roasted barley, wild garlic and a poached egg, topped with edible flowers and herbal leaves. They'll be adding nasturtium flowers in a big way to make everything extra tasty. To wash it down, they've created a special Chica Morada floral cocktail with Pisco sours, maraschino and cinnamon syrup.
When: For one week only – 18th- 25th May
Where: Pachamama London, 18 Thayer Street W1U 3JY
7. Flowers in the Pub: The Cross Keys 
What: The newly re-opened Cross Keys pub in Chelsea are celebrating the Chelsea Flower Show by serving up a Flower Infusion Menu, for the sweet-toothed. Think beetroot cake and amazing finger sandwiches… Someone pass us a scone.
Why: Co-owner of the Cross Keys Mark Dyer is a trustee of Prince Harry's charity Sentable, which is having a garden at the show named 'Hope in Vulnerability' to generate awareness  for their cause. The afternoon tea menu features floral themed food including pickled cucumber sandwiches and chocolate and beetroot cake with hibiscus. Stop by after the show for Rosewater Bellinis and flower-accented Prosecco.
When: The afternoon tea in celebration of the Chelsea Flower Show  and will run from May 19th – May 23rd from 12pm – 5.30pm and is priced at £30, or £35 with a glass of Prosecco or Rosewater Bellini.
Where: 1 Lawrence Street, London SW3 5NB
What: To celebrate Chelsea Flower Show, Sketch have launched a limited edition floral menu which will be served as part of the Gourmet Rapide lunch menu.
Why: Dishes off the menu include a medley of braised, dried and jellied turnips with garden pea ice cream for starter. For main course choose between the roasted monkfish tandoori with baby onions and paris mushrooms or the rabbit fricassee with oregano, grilled aubergines and nougatine. Dessert, is not one but a combination of three desserts or a selection of cheeses from Neal's Yard.
When: The menu will be served from Tuesday 19 May- Friday 23 May  and is priced at £40 for three courses including coffee and petit fours.
Where: 9 Conduit Street, London W1S 2XG
9. Drinking Flowers: Mele e Pere
What: The expert mixologists at Mele e Pere have created a special floral cocktail, Marguerite, to be served throughout the duration of Chelsea Flower Show.
Why: It's damn delicious. The show-stopping drink contains Mele Red, Heering, Antica, Tanqueray gin and a dash of cassis. Perfect for an after-work tipple. Don't leave without trying their incredible Italian small plates – the truffle gnocchi, spaghetti with ragu and pistachio ice cream are some of the best you'll ever taste in London.
When: 18th-23rd May.
Where: 46 Brewer Street,Soho, London W1F 9TF
10. Gordon's Flowers: London House
What: You've guessed it people. ANOTHER limited edition floral menu.
Why: Head Chef Anna Haugh has created a flower-filled à la carte menu starting with creamy, homemade goat's cheese served with edible flowers, sliced radish and crisp baby gem. The main course features a rose and black pepper marinated Dingley Dell pork chop, topped with pink peppercorns alongside a carnation salad. Dessert is kaffir lime panna cotta served with mango, sorrel flowers and crystallised chocolate.
When: Available from 19 – 24 May
Where:  7-9 Battersea Square, Battersea Village, London SW11 3RA
What: Bumpkin is a neighbourhood Great British Brasserie serving top notch British dishes using locally-sourced, seasonal ingredients. For Chelsea Flower Show, they've created the Gentian White Lady – a delicious cocktail with lime, Portobello gin, gomme and egg white.
Why: For a lovely weekend atmosphere, perfect for groups and friends. They will be serving their Gentian White Lady cocktail for a limited period – head for their outdoor terrace to enjoy it.
When: Running throughout the week of the Chelsea Flower Show
Where: 119 Sydney Street, London, SW3 6NR
12. Chelsea Flowers: Bibendum Restaurant & Oyster Bar
What: Bibendum have designed their own special garden in collaboration with Easigrass, a previous Chelsea Flower Show gold medal winner. The makeover has seen the the courtyard transform into a garden filled with plants, pots and tons of summer flowers.
Why: Newly appointed Head Chef, Peter Robinson, has created dishes inspired by the Chelsea Flower Show, including gull's egg in a cress nest, Chelsea garden salad with radish 'toadstools', salad of violet artichokes, lentil and mint and gariguette strawberries crème crue. Sup on the specially created raspberry and rose collins cocktails.
When: 18th-23th May
Where: Michelin House, 81 Fulham Road, London SW3
13. Rooftop Flowers: Coq D'Argent
What: Coq D'Argent have teamed up with McQueens Florist to create unique terrarium installations based on the Coq d'Argent rooftop garden. The installations will use multiple terrariums to present a variety of miniature versions of the restaurant's garden, creating imaginary scenes using human figurines.
Why: The terrariums will coincide with a  flower-inspired menu created by head chef Damien Rigollet. Dishes include a dry-aged rump of beef, fondant potato, carrot and liquorice purée, thyme sauce with daisy flowers and the baked Poitou goat's cheese salad, with hazelnuts, heritage beetroot, honey and truffles served with edible pansies and micro pea shoots. Leave room for dessert as the coffee biscuit with mousse, sorbet,  and crumble served with  fudge, lavender and micro honey cress is sensational. 
When: 1st May until 14th June
When: The Poultry, 1 Poultry, London EC2R 8EJ
What: Head chef Jesse Dunford Wood's has curated yet another culinary masterpiece. To celebrate the start of summer and, of course, the Chelsea Flower Show, Jesse has created a special floral complete with edible flowers. 
Why: The brulee'd elderflower, lavender & scented geranium tart is the dream. There's also a limited edition cocktail will also be available called Not-in-hill, a combination of egg white, lemon juice, lavender syrup and vanilla vodka.
When:  From the 18-24th May
Where: 5 Regent Street, Kensal Green, London, NW10 5LG
What: Cafe Royal are showcasing a special floral Menu du Jour, including dishes such as tartar of Angus beef with cocoa marshmallows, pansies and red onion jelly and cutlet of Cherry Tree Farm pork, served alongside apple hibiscus and black pudding.
Why: For the sheer creativity. For something sweet, Cafe Royal will be serving a twist on strawberry cheesecake and lemon and saffron sponge with vanilla and passion flower ice cream. The afternoon tea has also had a floral makeover, such as hibiscus and fruit macaroon, rose regent and seasonal flower pots.
When: 11th – 24th May
Where: 68 Regent Street, London W1B 4DY