I love a bit of spice. I'm forever adding chilli sauce, flakes and spices onto everything. In fact, last year I did a piece on London's best chilli cocktails which, I'll tell you for free, dear reader, almost ruined my digestive tract. 25 chilli cocktails in two weeks. Please don't try it. On a lighter note, these spicy eggs are absolutely fantastic and have done nothing but excite our taste buds all year round.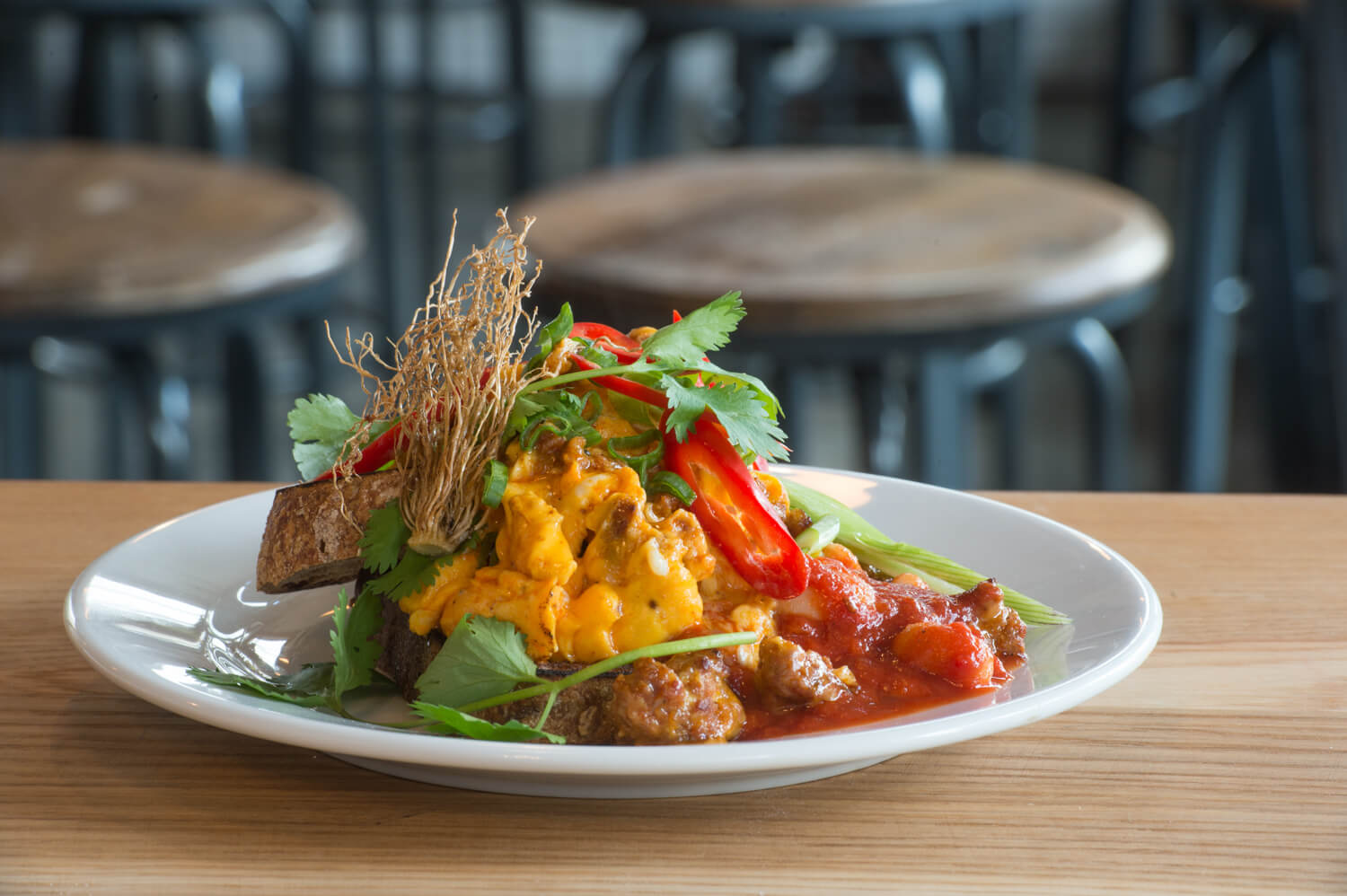 If you like your breakfast with a kick, here's where to find London's best hot and sexy eggs:
1. For Huevos Rancheros: Bad Egg, The City
What: Huevos Rancheros (£9.50)
Expect: Creamy scrambled eggs with chilli, chorizo, peppers, salsa and guacamole, served with fried tacos on the side. This classic Mexican dish, full of spice and flavour, is given a twist at Bad Egg, with the addition of chorizo – and it really works. They do love meat here – you can breakfast plates of pulled pork on toast, ham and eggs, and a black pudding hash, and a side of Nduja cheese, if that's not enough.
Why: Bad Egg is naughty, indulgent and just totally over-the-top, but we love that. Breakfast is the order of the day (literally) here, as they serve breakfast all day long – you can feast on hash browns, breakfast baps and a Full English well into the night. They've also got one of the bottomless brunches in town; the Boozy Brunch, priced at £35, comes with unlimited Bloody Marys, Mimosas or Frizzante, and you can choose from not one, not two, but three brunch plates. Choose from house granola, fried corn tacos, mac and cheese balls and the best pancakes with fried chicken, banana and maple syrup. We're not saying make a habit of it, but every once in a while, everyone deserves a Bad Egg bottomless brunch experience.
Where: City Point 1, Ropemaker St, London EC2Y 9AW
2. For Bottomless Brunch: ZEST at JW3, Finchley Road
What: Harissa scrambled eggs on sourdough toast with smoked salmon (£19.95 for bottomless brunch)
Expect: Delicious, creamy scrambled eggs, with a distinctly Israeli twist, and only the finest smoked salmon – perfect with a Bloody Mary. ZEST is the restaurant centre for Jewish living, JW3, in Finchley Road. It's led by Head Chef Dan Burrell, who cooks up the finest Middle Eastern food in town. On Sundays, you can catch their special bottomless brunch – it's bottomless food and drink for £19.95. Win.
Why: For the vibe and incredible food. ZEST blends culinary cultures and the Tel Aviv vibe to create a more contemporary approach to Jewish cooking – think great hummus, grilled fish and the best Middle Eastern inspired bakes, such as honey cake and chocolate rugelach. At the Sunday bottomless brunch, there's Pomegranate Mimosas, Zest Harissa Bloody Mary and the best Israeli Breakfast with mixed mezze, artisan bread, pickles, olives and a boiled egg. For a totally indulgent sweet treat, try their incredible rugelach and challah French toast with crème fraiche, stewed plums and flaked almonds.
Where: 341-351 Finchley Road, London NW3 6ET
3. For a Spicy Fry-Up: Arabica, Borough Market
What: Arabica Fry-Up (£10)
Expect: Two fried eggs, grilled spicy beef Sujuk, roasted tomato, chestnut mushrooms and flatbreads. For a twist on the classic Full English, this breakfast is the one. The spice comes in the form of delicious beef sausages, which are a welcome break from your classic pork ones, and are served alongside beautifully roasted vegetables and freshly-made, warm flatbread. The kind of breakfast you just want to have again and again.
Why: Take one look at the breakfast menu and you'll see why – for the best Middle Eastern brunch, head to Arabica and eat all the sourdough. On the menu, you'll find delights such as spiced porridge with apple, tahini, almonds and pecans, homemade fig and sesame job to slather on sourdough, fried eggs with dried beef and mini flatbreads and spicy slow cooked broad beans, garlic, parsley, olive oil and lemon. Enough said? They also do great tapas-style dinner in the evening, such as hummus with spiced lamb, whipped feta, Turkish-style pizza with swiss chard and the best sticky lamb and chicken wings.
Where: Borough Market, 3 Rochester Walk, London SE1 9AF
4. For Shakshuka: Berber & Q, Haggerston
What: Tunisian Shakshuka (£9.50)
Expect: A braised egg dish with red pepper jam, green chilli ketchup and coriander, full of warmth, flavour and Middle Eastern spices. This is one of the many great brunch dishes at Berber & Q, such as their Turkish eggs with paprika butter, Israeli breakfast with whipped feta and Israeli salad, and the best Bloody Mary with house smoked vodka and rose harissa. Whatever you order, you can't go wrong. Honestly. 
Why: An East London grill house taking inspiration from the Middle East and North Africa via Brooklyn, the food here can't be missed. Berber & Q has been getting a lot of attention of late – and for good reason. What they're doing, they're doing really well. Expect grilled and smoked meats cooked over charcoal, mezze from the East, music from the West, and great cocktails. There's a focus on quality, too – all their meats are free range and naturally reared, working closely with suppliers to ensure they bring in the best products. Come here for dinner and try the homemade sucuk sausages, smoked short-rib with date syrup glaze, cauliflower shawarma, roasted pumpkin with yogurt and pecan. For pudding, try the sweet potato pie meringue. Culinary genius.
Where: 338 Acton Mews, London E8 4EA
5. For Akoori on Toast: Chutney Mary, St James'
What: Indian Scrambled Eggs (£8, £30 for 3-course brunch on Saturdays)
Expect: The Akoori here, also know as Indian scrambled eggs, are a taste sensation. This simple egg dish, full of spices and colour, is simply amazing. Come to Chutney Mary on a Saturday for their special Saturday Brunch – it features Indian brunch classics, such as Bombay Kejriwal, Chilli Cheese Toast and Masala Omelette, at £30 for 3 courses.
Why: The creators of Chutney Mary are passionate about food, presentation and the perfect atmosphere. Namita and Camellia Panjabi, along with the chefs, have sought out the most unique recipes from all over India – they use the finest spices for truly wonderful food. Come here for everything from Indian street food to the tasting platter of curries, and luxuries such as butter crab, lobster and venison. Don't miss the tandoori lobster marinated in lime, ginger and kashmiri chilli, and Hyderabadi lamb shank cooked for 6 hours.
Where: 73 St James's St, London SW1A 1PH
6. For a Spicy Breakfast Burrito: The Good Egg, Stoke Newington
What: Breakfast Burrito (£8.50)
Expect: A breakfast burrito with eggs, chorizo, sauteed potatoes, cheese, refried beans, guacamole and hot sauce. It sounds so wrong, and it tastes so right. The brunch at The Good Egg is all about sharing – you can choose from dishes for the table, which everyone can get stuck into, as well as your own personal brunch plate. For the table, there's sweet caramelised apple pastries, freshly baked cornbread (with salted honey butter, no less) and Middle Eastern salad with pine nuts, cucumber and tomato. You can't miss Oded's babka – a sweet, delicious, twisted cake – designed for everyone to share.
Why: The menus here change daily and seasonally – on the weekend brunch menu, you'll find delicious brunch plates with a twist, such as Iraqi aubergine pita – a Tel-Aviv style pita with egg, aubergine, tahini and house pickles. For something even more unusual, try the bacon and date pita – this comes with their homemade date jam and egg. If you like sweet things, try the house granola – a twist on the classic, served with Labneh (a Lebanese, slightly sour yogurt) and fruit. Delicious. Don't miss the watermelon and mint juice – it's dreamy.
Where: 93 Stoke Newington Church St, London N16 0AS
Photo Credit: Anna's World on a Plate
7. For More Spicy Shakshuka: Honey & Co, Warren Street
What: Shakshuka (£8.60)
Expect: Legbar eggs baked in a spicy tomato sauce with a milk bun. This is a dish full of vibrancy and flavour – a Middle Eastern stable, given a special Honey & Co touch. On weekends only, you can find The Big Breakfast – expect a feast for the table to share, including chunky chopped salad with creamy feta, great hummus and homemade jams, followed by your choice of eggs. You can't miss their scrambled eggs with chilli tomatoes, yogurt and potato bread. Dreamy.
Why: Headed up by Israeli husband and wife duo, this is a place where you put down your knives and forks and just get stuck in. For brunch, there's everything from roasted pumpkin with a fried egg to Green Shakshuka with herbs and Goat's yogurt. Come the evening, their luxury mezze features a range of small dishes, such as white peaches and sheep's curd, labaneh and marinated aubergines, cheesy za'atar buns and their homemade creamy hummus – get slathering it on their homemade bread. It's an absolute winner.
Where: 25a Warren Street, London W1T 5LZ
Photo Credit: How You Glow
8. For More Huevos Rancheros: Stories, Broadway Market
What: Pulled pork Huevos Rancheros (£9)
Expect: Two fried eggs, crispy tortilla, avocado, tomato and red pepper salsa, black bean sauce, jalapeño and coriander salsa and BBQ pulled pork. It's seriously tasty – full of spice and flavour – and the avocado really cuts through the richness of all the spices. Their homemade BBQ pork is the perfect addition, and will fill you up all Sunday long.
Why: Stories is a buzzing neighbourhood bar for Broadway Market brought to you from Mothership Group, the folks behind the Queen of Hoxton and The Book Club in Shoreditch. One of their most popular brunch dishes – even above avocado on toast – and for good reason. The brunch at Broadway Market's Stories is seriously special. We're talking the best Bloody Marys in town, great eggs and fantastic granola with berry compote. Perfect placed for exploring Broadway Market, this is an East London brunch spot you can't miss. 
Where: 32 Broadway Market, E8 4QJ
9. For Spicy Avocado: Canto Corvino, Spitalfields
What: Avocado, chilli & stracciatella piadina (£8)
Expect: An Italian version of avocado on toast, served on piadina, with lots of fresh chilli and a squeeze of fresh lime – it's total perfection. At Canto Corvino, they have serve Italian sharing plates – from cured meats sourced and imported in-house from small artisan Italian producers to Veal Spiedino with Roman artichokes, pancetta and Marsala, and, of course, great Italian desserts like salted chocolate delizia.
Why: Newly opened Canto Corvino is 140-cover modern Italian restaurant in the heart of Spitalfields and we think it's going to be big. Canto Corvino, meaning song of the raven, is the third restaurant from owners of the successful Manicomio restaurants. Come for the design; the main restaurant dining area features a commanding show kitchen with cut stone tiles in a bold triangular pattern to the front, allowing you to view the chefs at work.
Where: 21 Artillery Lane, Spitalfields, London, E1 7HA
10. For a Spicy Scramble: Poco, Broadway Market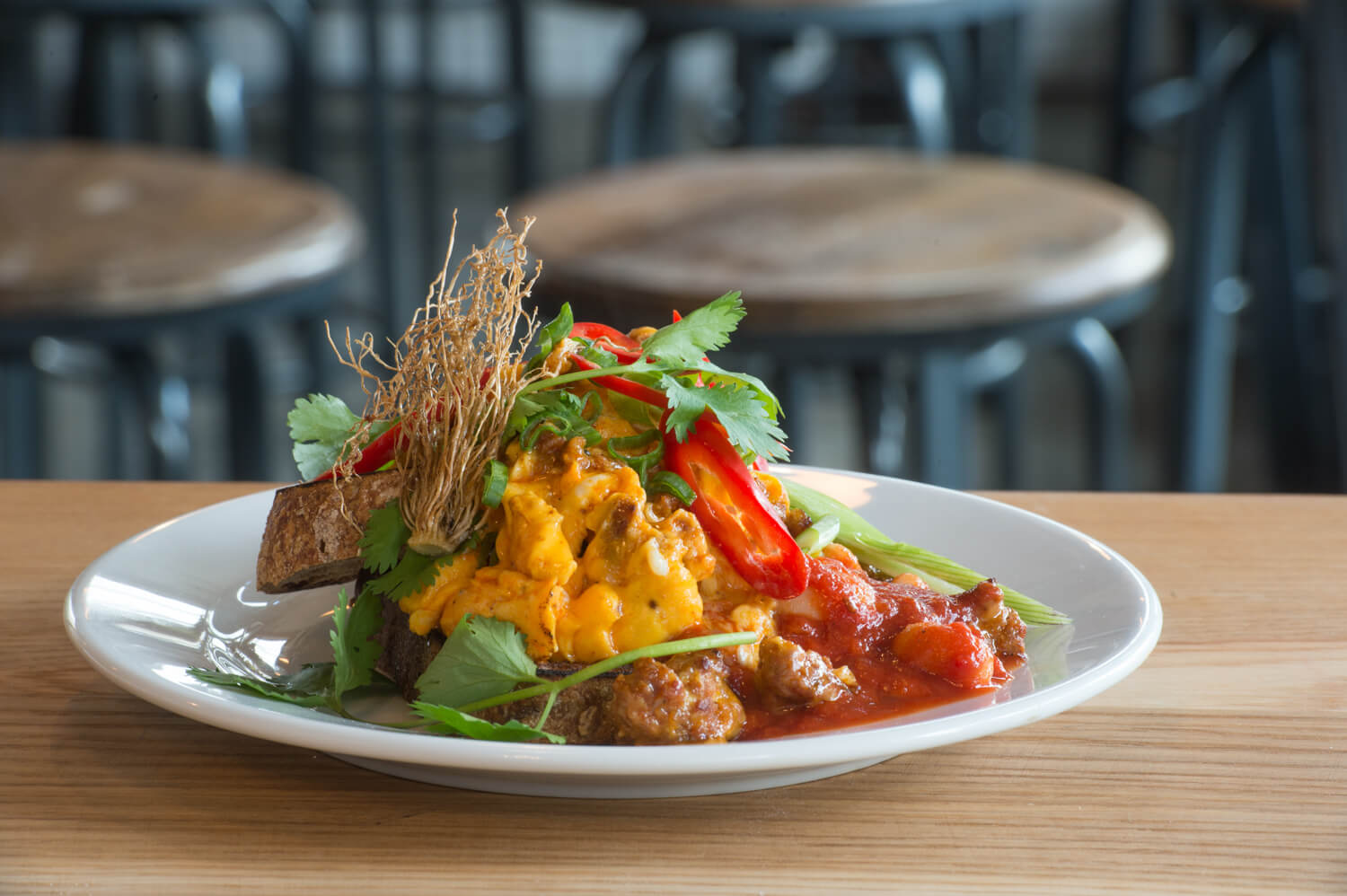 What: Moorish Scramble (£10) 
Expect: A rich, beautiful dish, made with chorizo, eggs, harissa beans, chilli, spring onion, coriander and, of course, grilled sourdough. From the team behind Poco in Bristol, the menu at Poco focuses on organic and seasonal British produce, sourcing locally from small producers. From the communal tables, to the al fresco dining and intimate seating, Poco in Broadway Market is designed to create a multi dimensional environment. Come for all the tapas goodness and great seasonal cocktails.
Why: The brunch menu is hearty and unpretentious – their own chorizo and merguez sausages are unbeatable with a hearty slick of harissa and a lush side of buttered greens. The signature bacon butties and organic coffees are fast becoming legendary and for those with a sweeter tooth their homemade granola with seasonal compotes, yoghurt and honey is irresistible.
Where: 129 Pritchard's Rd, London E2 9AP
Photo Credit: Tom Bowles
11. For Spicy Poached Eggs: Cambridge Street Cafe, Pimlico
What: Avocado, poached eggs, rocket and chilli on rye bread (£8.50)
Expect: A breakfast menu with all the classic, but just done really well. There's cooked breakfasts, such as as the Cambridge St Breakfast with herby tomatoes, smoked bacon and eggs, and the best sweet treats. Think: banana pancakes with vanilla cream, berries and maple syrup, or a sweet and savoury version with crispy bacon. For something healthy, try the millet porridge with berries, honey and almonds, for the perfect start to your day.
Why: Cambridge St Café is an all day neighbourhood space open daily for breakfast, lunch and dinner as well as coffee and juice. It's got a really great vibe, perfect for families and celebrations – the open-plan kitchen serves an all day comfort food menu, cooked using fresh and seasonal ingredients. For dinner, you can get your comfort food fix – there's amazing fish pie, lamb shank, mushroom risotto and burgers with Applewood cheddar. You can't leave without trying their plum and apple crumble – it's a classic for a reason.
Where: 52 Cambridge St, Artist Residence, London, SW1V 4QQ
12. For Spicy Scrambled Eggs: Dishoom, Throughout London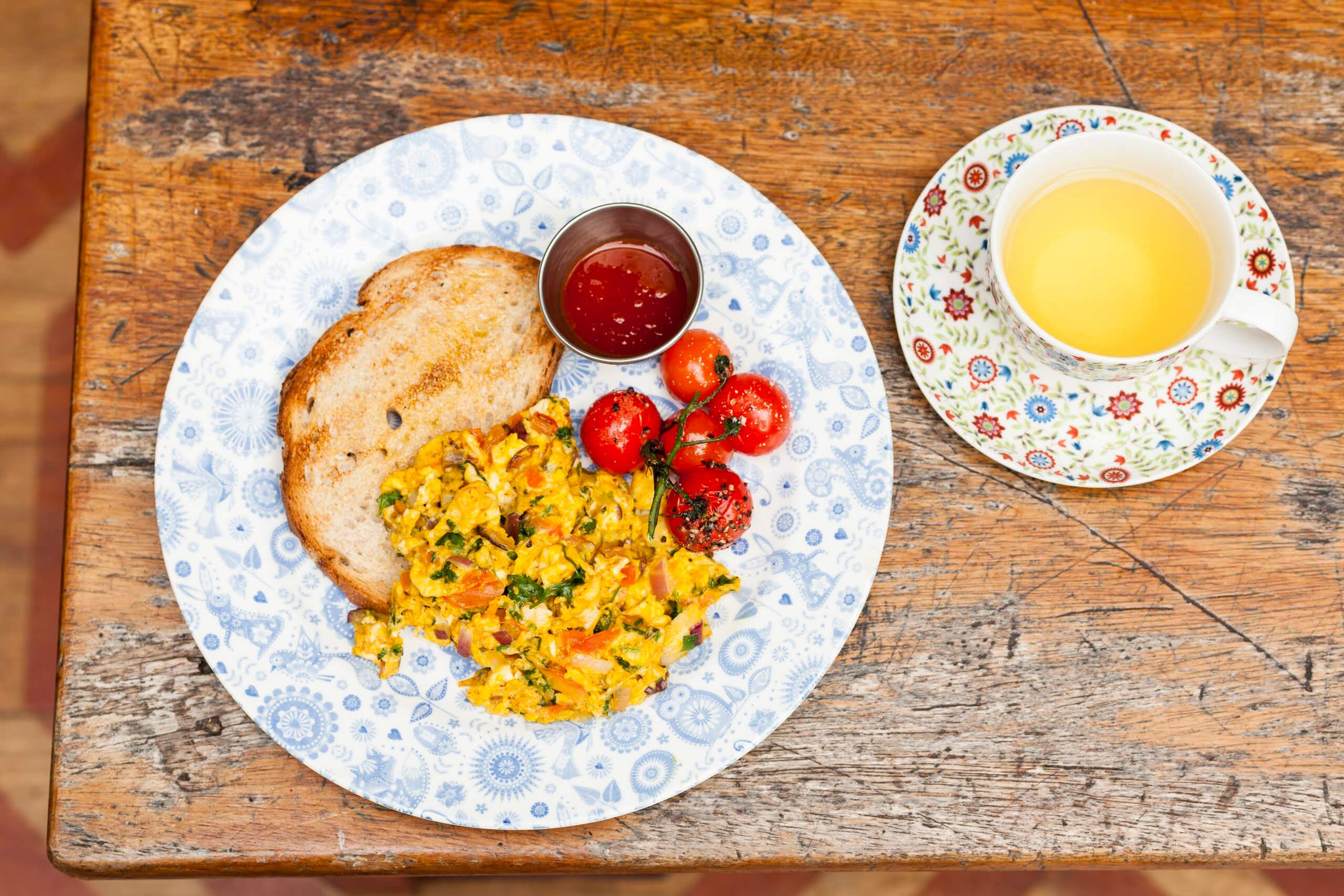 What: Akuri with buns (£6.90)
Expect: Spicy scrambled eggs – an Irani café staple – piled up richly alongside plump pau buns and served with grilled tomato. If you like spice, these eggs are the one. The eggs are always perfectly cooked and creamy, with lots of fresh herbs, chopped onion and garlic, so full of flavour and a welcome relief to normal scrambled eggs. With the grilled tomatoes and sweet accompanying jam, the whole dish just really sings.
Why: Dishoom always has such a great vibe, and the food is top quality. They also serve unlimited porridge and unlimited chai on weekdays, so you can make a morning of it. Word of warning: it gets really busy at the weekends, so prepare for a queue. It's worth it though – their bacon and egg naan is a thing of legends, and their banana porridge with chia spices is simply wonderful.
Where: Locations here
13. For Spicy Turkish Eggs: Kopapa, Covent Garden
What: Turkish Eggs (£7.50)
Expect: Two poached eggs with whipped yogurt, hot chilli butter and sourdough. This dish is rich, decadent and totally delicious – the combination of creamy whipped yogurt (how do you even whip yogurt?) and the spicy butter is sensational with these delicately poached eggs. Their bread, made by hand every day, is worth travelling for alone.
Why: You can't beat the wonderful and wacky fusion cooking at Kopapa. This cafe, located near Seven Dials, is the perfect place to meet, eat and drink in town. They do fantastic coffee and fresh juices, energising and hearty breakfasts with seasonal ingredients and weekend specials. We say: eat all the brunch, such as spiced banana French toast with grilled bacon, orange blossom labne, tamarind raisin relish and their hot-smoked salmon, with poached eggs, spinach and yuzu hollandaise. Glorious.
Where: 32-34 Monmouth Street, Seven Dials, Covent Garden, London, WC2H 9HAh
14. For Spicy Cornbread: Caravan, Kings Cross
What: Jalapeno corn bread, fried eggs, black beans, guindilla pepper (£9)
Expect: A dish made in heaven. Soft, moist corn bread, covered in the best beans and pepper, this is a breakfast dish that will make your heart race. The fried eggs are the perfect addition – delicious washed down with one of their famous coffees.
Why: Caravan ticks all the breakfast boxes. From buttermilk pancakes with balsamic berries, mascarpone and pecans to avocado, chilli, lemon and olive oil on toast, you really can't go wrong. There's normally a queue on weekends some come early, and soak up the industrial chic vibe. Honestly, everything on the Caravan brunch menu is worth trying; their baked eggs with a rich tomato sauce, stirred with thick Greek yogurt, is simply divine. Don't leave without trying the pumpkin waffles with baked ricotta, too.
Where: 1, Granary Building, Granary Square, London N1C 4AA
Photo Credit: Paul Winch-Furness
15. For Spicy Jamaican: The Rum Kitchen
What: Full Jamaican (£12.50)
Expect: Two eggs any style with sausages, bbq pulled pork, spicy beans, roasted tomato, smashed avocado and toast. This is the breakfast of kings – and perfect if you're bored of the normal Full English. Brunch is available on weekends only; we say, come to the Kingly Court branch and use the cool restaurant as a pit stop during shopping.
Why: The Rum Kitchen are all about bending the rules. They've developed a menu that concentrates on Caribbean beach shack food, with a sprinkle of global flavours and a massive Rum Kitchen twist. Think jerk chicken sharing plates, jerk tofu and spiced baby squid. Their jerk chicken wings with scotch bonnet sauce is an absolute belter, as is their sticky BBQ ribs. For something filling and delicious you can't go wrong with their curried mutton.
Where: 1st Floor, Kingly Court, Carnaby, Soho, W1B 5PW