What better way to end About Time's Dessert Week than with a super sweet ending. Everything from traditional apple to special key lime pie, here's our favourite sweet pies in London for your weekend indulgence:
1. For Pecan Pie: Jackson & Rye 
What: Pecan pie with whiskey rye ice cream (£5.95)
The Vibe: All day American restaurant, Jackson & Rye serve up some classic state-side breakfast dishes including creamed grits and buttermilk pancakes with maple syrup and bacon.
Where: 56 Wardour Street, Soho, London W1D 4JF
2. For Total Pie Indulgence: Rita's
The Pie: Oreo pie (£5)
The Vibe: Rita's is an East London restaurant whose menu is an eclectic mix of dishes including fried chicken and waffles to ham hock and fried egg and chicken caesar salad – Rita's doesn't play by the rules. Their salt chocolate mousse is heavenly, the desserts are the real stars here.
Where: 175 Mare Street, London, E8 3RH
3. For Apple Pie: Chicken Shop
The Pie: Deep-filled apple pie served with cream or homemade ice cream (£5)
The Vibe: Using free range birds from Banham's Farm in Norfolk and​ cook​ing them on their  rotisserie spit, Chicken Shop ​surprisingly, do chicken very well. Choose from a full, half or quarter chicken and pair with one of their four sides on offer. The menu is no nonsense and we like it. If you're veggie, this isn't the place for you.  You should still go for the pie though.
Where: Locations throughout London – here
4. For Banoffee Pie: Hache Burgers
The Pie: Homemade banoffee pie (£4.95)
The Vibe: Hache is a serious contender for some of the best gourmet burgers in the city. A cool, relaxed vibe, Hache is a perfect mid week dinner spot. Their steak Mexican burger with salsa, guacamole, jalapeño peppers is fast becoming our favourite. All of their desserts are handmade on the premises, nom nom. ​
Where: Locations throughout London – here
5. For Passion Fruit Pie: Blixen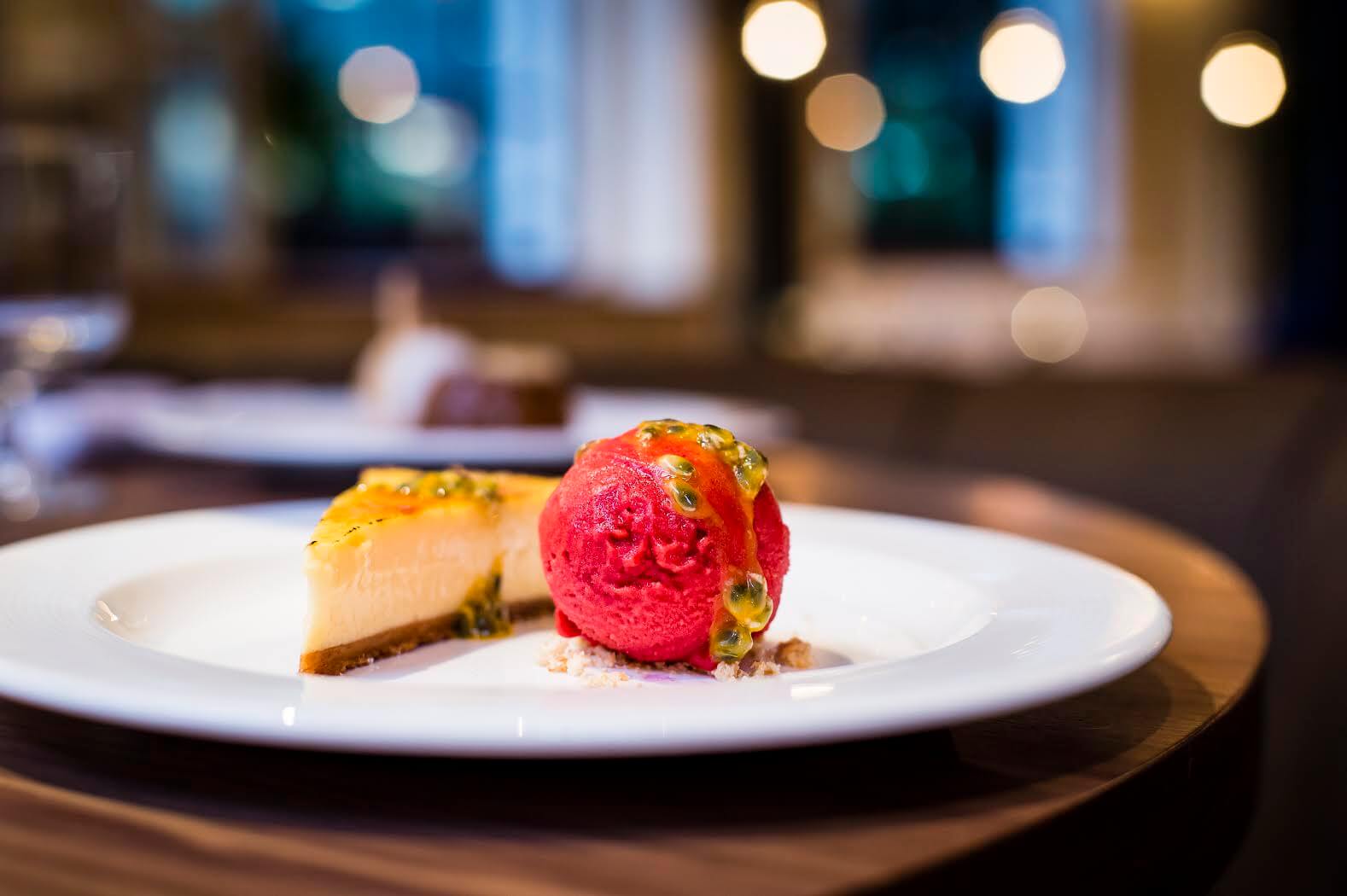 The Pie: Passion fruit tart, raspberry sorbet (£7.0)
The Vibe: European brasserie with menus from breakfast to late-night drinks in an elegant former-bank space, Blixen serves up some incredible British-inspired cuisine. Come for weekend brunch and get the pancakes with blueberries and whipped crème fraiche, or house hot-smoked trout with avocado and poached eggs on toast. Heaven.
Where: 65A Brushfield Street, London E1 6AA
6. For Key Lime Pie: Hummingbird Bakery
The Pie: Tangy lime-flavoured custard in a 9 inch shortcrust pastry base, topped with whipped cream (£33 for a whole one)
The Vibe: Hummingbird Bakery freshly bake American style cupcakes, brownies and sweet treats. They're also well known for baking unbelievable cheesecake and pies. Drop into one of their many locations across London and don't forget to buy one of their famous red velvet cupcakes – happiness in cake form.
Where: Locations throughout London – here
The Pie: Citrus tart with grapefruit curd, Kalamanzi, lemon sable (£5.90)
The Vibe: Inventive high-end dim- sum restaurant Yauatcha serves up some incredible Chinese dishes, such as crispy duck rolls, ribs and buns. Start with Asian cuisine and finish on a sweet note with their European passterie selection. Sensational.
Where: 15-17 Broadwick Street, London W1F 0DL
9. For Peanut Butter Pie: Joe's 
The Pie: Peanut butter fudge pie with Chantilly cream (£4)
The Vibe: Trendies head to Joe's for comfort food like Southern fried chicken and banging Espresso Martinis. They also do a crazy weekend brunch, and this nutty pie is one of the best things on the menu at Joe's. Peanut butter in a pie is so naughty, and yet it's utterly delicious.
Where: 34 King Street, Covent Garden, London WC2E 8JD and a newly opened branch in Kentish Town
10. For Whoopie Pie: Kooky Bakes
The Pie: Whoopie pies in all flavours, including peanut butter
The Vibe: Kooky Bakes is a London-based bakery, creating small batch baked goods. The bakery is known for their American treats including tray bakes, S'mores, cake pops and pies.  They have also created the 'dosant' – a cross between a doughnut and a croissant that has been deep fried, filled, and glazed – baked goods heaven.
Where: Kooky Bakes – here