We're tired of hearing about 'guilt-free', 'low-calorie', 'sugar-free' cakes and quite frankly, we don't want to eat them either. We like cake. End of. To celebrate all things sweet and delicious, we've hunted down the best sticky toffee puddings in London – have your cake and eat it too. We say, there should be no shame in pure delight:
What: Sticky toffee pudding with ice cream (£7.50)
The Lowdown: For meat madness, look no further than Hawksmoor. They use only the best British beef available from farms that use traditional rearing methods, ensuring their steaks are top quality. At Hawksmoor they mean business when it comes to meat, they have a dedicated steak menu with prime cuts that can bought by per 100 grams and have some serious sides to match (oh hello, lobster mac n' cheese).
Expect: Meat, meat and more meat. Their brekkies are legendary – the English fry-up for two people includes smoked bacon chop, sausages (made with pork, beef and mutton), black pudding, short-rib bubble and squeak and grilled bone marrow. It's a breakfast fit for a king, and if you can't handle all the meat, there's always porridge or granola.
Where: Locations here
What: Sticky toffee pudding with salted caramel ice cream (£7)
The Lowdown: Bumpkin is a neighbourhood Great British brasserie serving top notch British dishes using locally-sourced, seasonal ingredients. Come here for roaring fires, rustic decor and a country inspired menu to match. They have a fine selection of wines and premium beers, including their very own Bumpkin Ale which is lovingly brewed in the heart of Kent.
Expect: Classic British fare done exceedingly well. All of their meat used is free-range, their eggs and dairy are organic, and all fish sourced is sustainable. Drop in for braised beef pies, Aberdeen Angus beef burgers and salmon Wellington. You don't have to venture far out of London to taste the best of British food.
Where: Locations here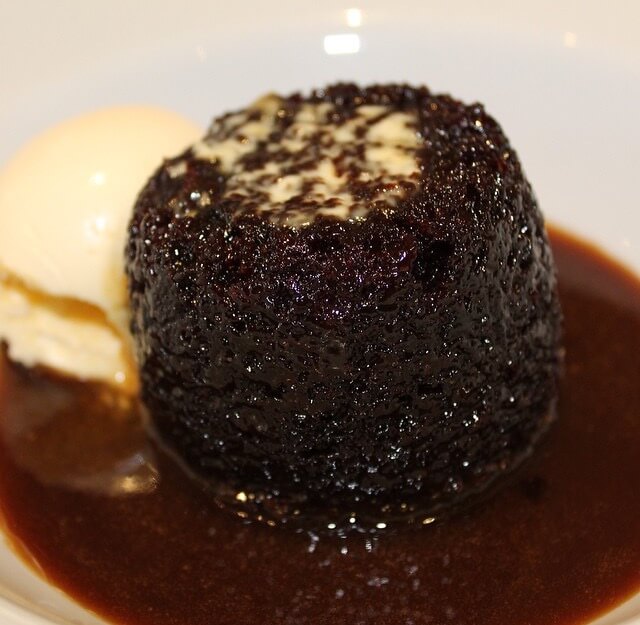 What: Sticky toffee pudding with toffee sauce and clotted cream (£6.50)
The Lowdown: The Abington is a family-owned pub that has been knocking up British and Modern European favourites for the past 17 years. The restaurant and wine bar is a home away from home, creating comfort food dishes with seasonal twists.
Expect: Their sticky toffee pudding here is a show stopper and has become a firm favourite on the menu. If there's one thing to travel across down for, it's for this pudding. On Sunday they serve a range of fantastic roasts including confit pork belly, slow cooked Scotch of rump beef and supreme of chicken. Dare we say it, this roast will be as good or even better than your mums.
Where: 54 Abingdon Rd, London, W8 6AP
Photo Credit: Transatlantic Gourmand 
4. Paradise By Way of Kensal Green 
What: Sticky toffee pudding, caramel, cream cheese and vanilla ice cream
The Lowdown: Paradise By Way is a gastropub specialising in European food with the contemporary menu created by Head Chef Cat Ashton. They're big on seasonality and work closely with  the farmers who supply the restaurant's ingredients to make sure they're ethically sourced, sustainable and most importantly, the best they can find.
Expect: Delicious Sunday roasts with all the trimmings. Their duck fat roasties are heaven on earth and their Yorkshire puds are something special. And, if you're one to have your roast swimming in gravy, you can order it by the bucket load – no dry roasts here.
Where: 19 Kilburn Ln, London W10 4AE
What: Sticky toffee pudding with vanilla ice cream (£7)
The Lowdown: The Holborn Dining Room's elegant, chandelier-decked space and courtyard is simply stunning – come here for a great traditional British menu, filled with all kinds of foodie delights. Operated by Des McDonald and his team, with over 20 years' experience running some of London's most renowned restaurants, Holborn Dining Room is the ultimate breakfast and dinner spot.
Expect: The grand brasserie serves up seasonal, locally sourced British cuisine with a twist in a vibrantly bustling dining salon. Aside from their killer brunch (their Eggs Benny is pretty special), they also bang out sensational charcuterie boards, seafood and meat dishes. For a truly decadent meal, you can't go wrong with Holborn Dining Room.
Where: 252 High Holborn, London WC1V 7EN
What: Sticky toffee pudding with vanilla ice cream (£6.50)
The Lowdown: Four floors of delicious food awaits at 'SMITHS' of Smithfields. Enjoy a tipple in the basement bar, relax in the cafe on the ground floor to enjoy a laid back lunch, tuck into the finest selection of British meats in the 1st floor dining room or go all out and book the 2nd floor for your Christmas bash. Party time.
Expect: 'SMITHS' is very much a best of British restaurant. All of their meat is sourced from British farms and served with the finest British =produce around. For brunch, expect dishes to soothe your sore head, from fry-ups to bacon butties and beef brisket hash, 'SMITHS' have got you covered. Head down there before 11am on a weekend to enjoy their bottomless brunch. Pay £15 and your Bloody Mary glass will never be empty.
Where: 67-77 Charterhouse St, London EC1M 6HJ
What: Sticky toffee pudding (£6)
The Lowdown: HotBox opened in November 2014, after 12 months of festival events, pop-ups and residencies at Street Feast. American flavours meets the London food scene with their classic Texan barbecue dishes. Hotbox is house in a former art gallery that boasts an industrial, sleek decor with long communal wooden tables and low lighting.
Expect: All the BBQ favourites. The dishes here are as authentic as possible, with all meat smoked on their brand new custom-built wood and charcoal-fuelled grill. They've recently launched a new menu that is one big meat feast, think bone smoked bone marrow with spiced red onion chutney, 28oz dry rubbed beef short ribs and smoked baby chicken with a Scotch bonnet glaze. And, let's not forget their sticky toffee pudding, it's sublime.
Where: 46-48 Commercial Street, London, E1 6LT
What: Sticky toffee pudding with bourbon butterscotch and maple pecans (£8)
The Lowdown: Barbecoa is the absolute one. Opened in 2010 by Jamie Oliver, Barbecoa is a celebration of incredible produce and fire-based cooking. Here, the meat is the real talking point, all of their beef is dry-aged in house for up to 70 days. At Barbecoa, they stick to what they know best – they use traditional cooking methods such as the Texas pit smoker, Argentine grill, Japanese robata grill, tandoor and wood-fired oven.
Expect: The best ribs this side of the Atlantic. Their ribs three ways dish is the stuff of meat filled dreams. The drink selection is not some shoddy afterthought. Barbecoa is home to the largest variety of American whiskies in the UK along with incredible global wines and British beers.
Where: 20 New Change Passage, London, EC4M 9A
What: Sticky toffee pudding, caramelised banana and clotted cream (£8.50)
The Lowdown: Bread Street Kitchen is part of the Gordon Ramsay empire. This casual all-day dining restaurant has a sophisticated menu with a certain informality that Bread Street in known for. From the open-plan kitchen the team of chefs prepare pancakes for brunch to their globally-inspired dishes for lunch and dinner.
Expect: At Bread Street Kitchen, brunch isn't just brunch but a celebration and you could easily while a way a few hours here on a weekend. Come here on Saturday and tuck into BSK favourites including steak and eggs, omelettes, eggs Benedict and lobster rolls. For the bargain price of £15 booze on as many  Bloody Mary's as you wish.
Where: One New Change, 10 Bread St, London EC4M 9AJ
Photo Credit: Instagram 
One for out of town..
What: Sticky toffee pudding with vanilla ice cream (£7)
The Lowdown: Found in the picturesque village of Southdrop, The Swan is a 17th century country pub where timeless dishes meets modern decor. The Swan fits with all the cliches – roaring fires, exposed beams and classic pub food done really, really well – but that's why we like it.
Expect: Their menu changes with the season, with the food used homegrown and homemade. Tuck into roast pork cutlet with squash and Kalamata olives, Cornish hake fillet, vine tomatoes and pelourde clams and the totally dreamy sticky toffee pudding with vanilla ice cream.
Where: Lechlade, Southrop, Gloucestershire GL7 3NU