Pumpkin mania is sweeping London and we can't get enough. We've discovered the best pumpkin creations in the capital including brownies, cakes, whoopie pies and more. It's time to celebrate the humble squash:
What: Pumpkin Pie
The Run-Down: When it comes to pumpkin sweet bites, Balthazar does not disappoint. Bringing over a slice of NYC to London, the Balthazar Boulangerie always knock up a fine array of pumpkin products come autumn. The pumpkin pie is silky smooth and absurdly delicious. A slice is never enough, and you have to order the whole god damn pie. When it comes to pumpkin pie – go hard or go home.
Where: 4-6 Russell St, London WC2B 5HZ
2. For Ice Cream: Chin Chin Labs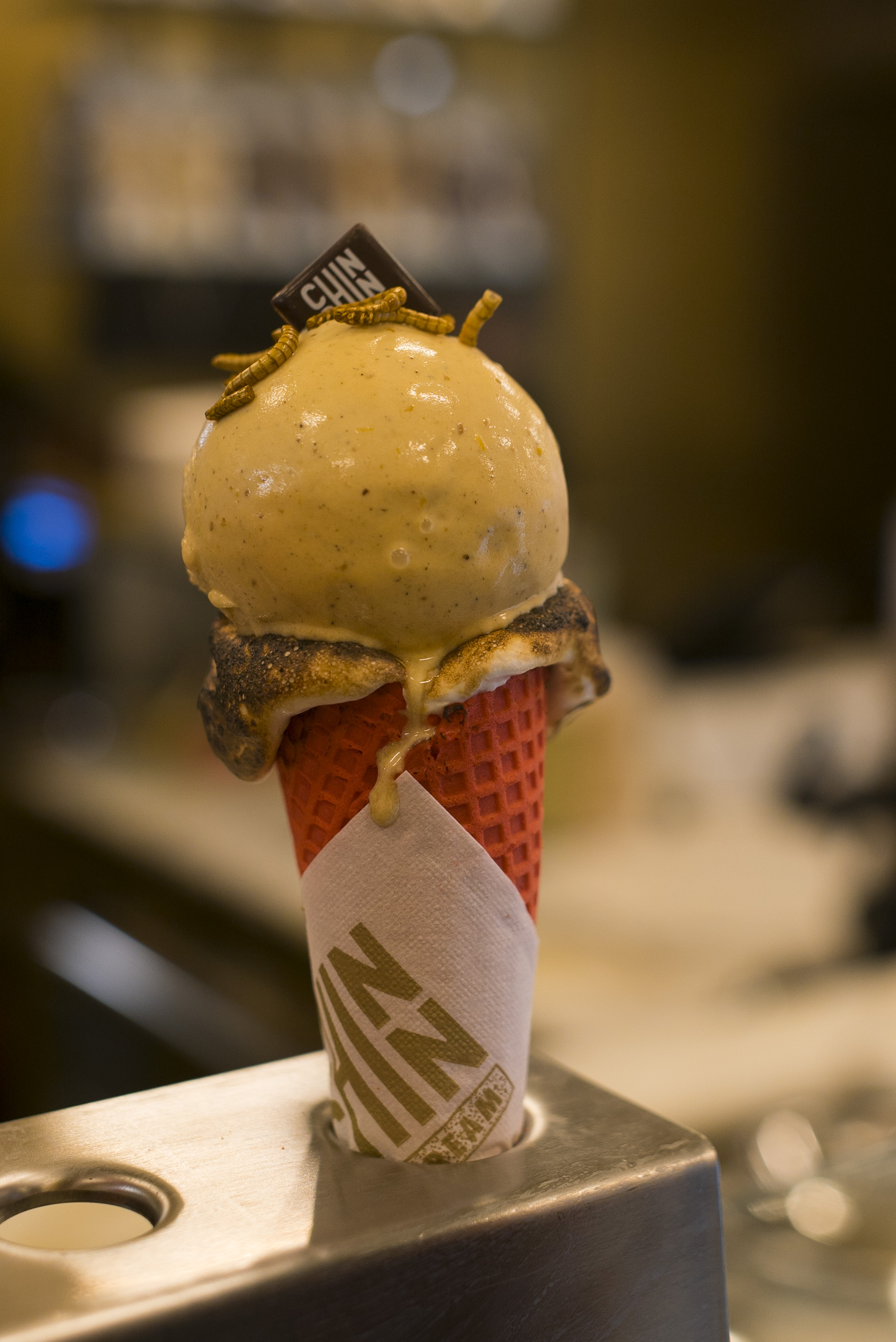 What: Pumpkin 5 Spiced Ice Cream
The Run-Down: Chin Chin Labs don't play by the rules when it comes to ice cream. They flog everything from blackberry and coriander seed sorbet stuffed inside a handmade, gluten-free blue corn waffle taco to their epic brownie/cookie/ice cream sandwich mash up. But, friends, ignore all of the above and order the pumpkin 5 spiced ice cream. Way better than any other pumpkin ice cream you've ever tried – think big punchy flavours. You can ask for an extra portion of spiced worms, they're seasoned and nutty, and apparently quite tasty.
Where: 49-50 Camden Lock Place, London NW1 8AF; Hawker House, Canada Street, London SE16 2XU; and 54 Greek Street, London W1D 3DS 
3. For Whoopie Pies: Hummingbird Bakery 
What: Pumpkin Whoopie Pie
The Run-Down: The Hummingbird Bakery hand-make American style cupcakes, cakes, pies and brownies with serious style and flair. And they're also well known for baking unbelievable cheesecake and pies. Take a first-class ticket to heaven with their sensational pumpkin whoopie pie – it's utterly divine. Pumpkin purée, spices and marshmallow fluff  are used to bake the pumpkin sponge, and then it's filled with a cream cheese filling. Oo-er..
Where: Locations here 
4. For Vegan Bites: Ms Cupcake
What: Pumpkin Cheesecake Brownie
The Run-Down: Gone are the days where vegan sweet treats were pretty much non-existent. Times are a changin', and the clan at Ms Cupcake are slinging some of the best vegan goods in the capital. But we're not just talking about your bog standard cookies. Hell no. They're mixing it up with their quirky cupcake flavours, and this new beauty: pumpkin cheesecake brownie. The best of two cakes have collided and we're totally into it.
Where: 408 Coldharbour Ln, Brixton, London SW9 8LF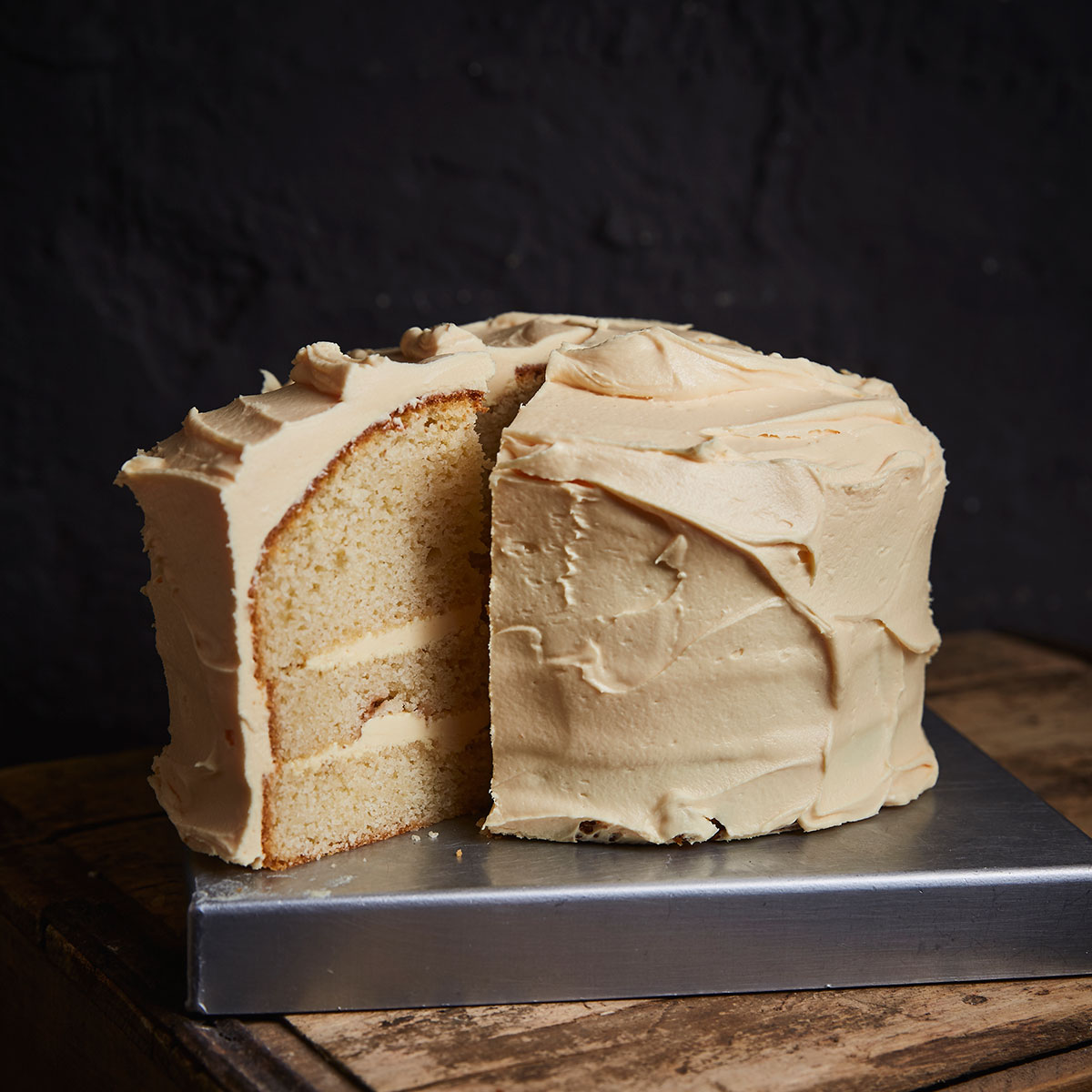 What: Pumpkin Layer Cake
The Run-Down: Run by an American couple, Outsider Tart is a US-style bakery with a menu that will send your blood sugars rocketing. Counters are covered in all sorts of bakes like their famed whoopie pies and oh-so-sweet brownies. But the pumpkin layer cake is a work of edible art; three layers of tangy pumpkin is thickly coated in a  mascarpone cream cheese frosting. Worth the journey south of the river for, and that's saying something.
Where: 83 Chiswick High Rd, Chiswick, London W4 2EF
6. For Cupcakes: Primrose Bakery
What: Pumpkin Cupcake
The Run-Down: Primrose Bakery is fast becoming our go to place to stock up on sweet eats, and they now serve coffee by Caravan Roasters. Win Win. The pumpkin cupcakes are tiny bites of pure, sweet joy.  The cupcake has a pumpkin sponge, with a nice tang of cinnamon, and is topped with a spiced cream cheese icing. Forget your synthetic bakery scents that are piped around supermarkets, the whiff of the freshly baked cakes at Primrose Bakery is the real deal.
Where: Locations here 
7. For Chocolate: Paul a Young
What: Pumpkin Spice Truffle
The Run-Down: Everything Paul a Young touches turns into chocolate gold – he's the Willy Wonka of the chocolate world in London. And back by popular demand are the pumpkin spice truffles, with a filling made from Guittard 35% white chocolate, pumpkin puree, nutmeg, mace and cinnamon, all enrobed in beautiful 55% Venezuelan milk chocolate. Never tried the hot chocolate? You haven't lived.
Where: Locations here
8. For Cookies: My Cookie Dough
What: Sweet Pumpkin Pie Cookie Dough
The Run-Down: My Cookie Dough opened last month and they've already caused quite a stir with their cookie dough creations topped with everything from caramel sauce to Nutella and peanut butter. You can really go to town here on all the toppings, and don't get us started on their milkshakes. Specially for the autumn months, the team have whipped up a pumpkin treat: baked caramelised dough base topped with sweet pumpkin and caramel sauce. Tasting is believing.
Where: Westfield Stratford City, Olympic Park, Montfichet Rd, London E20 1EJ
9. For Biskies: Cutter and Squidge 
What: Pumpkin Spiced Latte Biskie
The Run-Down: If you're hankering for a pumpkin spiced latte, don't be basic and head to Starbucks – stop by Cutter and Squidge instead. Shelve the drink, and opt for a biskie. Before you look at your computer screen puzzled and ask what a biskie is, it's a creation of biscuit/cookie/cake filled with a special lightened buttercream. The pumpkin spiced biskie features a vanilla cream cheese light filling, and a spiced pumpkin compote complete with a cinnamon sugar cookie.
Where: 20 Brewer St, Soho, London W1F 0SJ
10. For Mini Pies: Bea's of Bloomsbury 
What: Mini Pumpkin Pies
The Run-Down: Bea's of Bloomsbury have probably sold more scones than you've had hot school dinners. They're cake connoisseurs, and know a thing or two about what makes a bangin' bake. We don't know what it is, but things just taste so much better in miniature form. The mini pumpkin pie is basically an entire pumpkin in one bite. All the classic spices and glorious pumpkin in a homemade buttery pie crust.
Where: Locations here