Love street food markets? Hate feeling left out? Don't worry, About Time is here. For all you gluten-free honeys, we found London's tastiest gluten-free bakes at street food markets across the capital. Hold tight and get your bake on:
For Gluten-Free Doughnuts: Ruby's of London
What: White Chocolate and Raspberry Doughnut
How much: £2.40
Why: If you're looking for a gorgeous gift for a gluten-intolerant foodie, look no further than Ruby's. They're all about pretty, eye-catching designs – the dried raspberry pieces and the swirly icing make this donut look like something from a fairy tale, and it tastes just as good. As well as being gluten-free, Ruby's products are also vegan, and they don't contain any refined sugars. Wow.
Where: Ruby's of London, Greenwich Market
For Gluten-Free Cupcakes: Cupcakes and Shhht!
What: Blueberry and Cheesecake Cupcake
How much: £2.00
Why: This little cake is just the right size for a quick refuel during a stroll around the market. It's juicy, creamy and flavoursome, with a perfect swirl of buttercream icing. Don't be fooled by the raspberry on top – the bake itself is packed with blueberries, and just like all the best gluten-free bakes, you would never notice the lack of gluten. A definite winner.
Where: Cupcakes and Shhht!, Camden Lock Market
For Gluten-Free Blondies: The Free From Bakehouse
What: Peanut Butter and White Chocolate Blondie
How much: £2.00
Why: It's no mean feat to make a decent gluten-free blondie, but The Free From Bakehouse have achieved perfection here. This indulgent bake is one for true peanut butter fans – the flavours are super-strong. It can also be bought in a bag of mini-bites for on-the-go snacking. As their name suggests, The Free From Bakehouse specialise in gluten- and dairy-free products, and have lots of equally delicious tray bakes to choose from.
Where: The Free From Bakehouse, Borough Market
For Gluten-Free Cookies: Cookies and Scream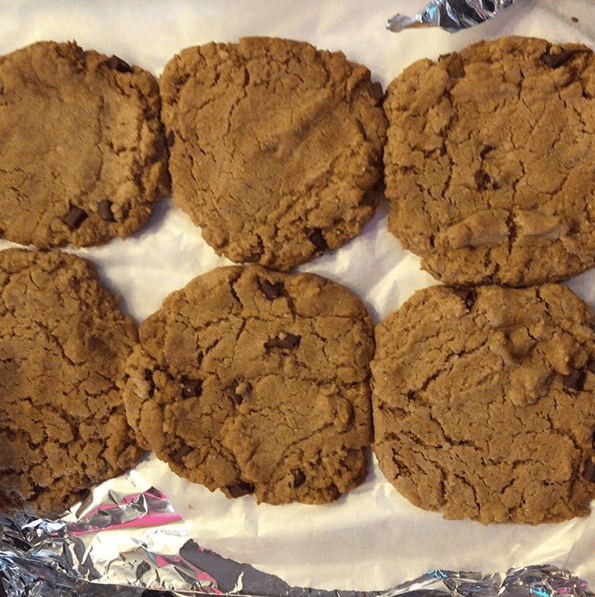 What: Chocolate Chip Cookie
How much: £2.00
Why: Like the blondie, a gluten-free cookie is one of the hardest recipes to get right, but these guys have made it their speciality. Their classic chocolate-chip cookie is gooey, oaty and laden with chocolate. Cookies and Scream is famous for being one of the first gluten-free bakery stalls in London. They can be found in the market hall in Camden Lock, where they sell plenty of other cookie varieties, as well as brownies and cakes.
Where: Cookies and Scream, Camden Lock Market
For Gluten-Free Friands: Eat 'n' Mess 
What: Blackberry and Pistachio Friand
How much: £1.80
Why: This Friand is the perfect light bite as you weave your way around Broadway Market's eclectic stalls. The contrast between the salty pistachio and sweet blackberry is delicious and they don't skimp on either flavour. Eat 'n' Mess focus on gluten and dairy-free products, and they slot right in at this market with their modern foodie vibe.
Where: Eat 'n' Mess, Broadway Market
For Gluten-Free Cake Slices: Artisan Foods 
Photo Courtesy: themacadames.com
What: Chocolate and Raspberry Cake Slice
How much: £3.00
Why: This is your fairly standard chocolate cake, but I'm a sucker for a raspberry flavour, and this really hit the spot. It's one of those those rich, gooey creations that make you wonder why any bakers use flour in the first place. You can also buy it as a whole cake – perfect if you want to throw a gluten-free birthday party. Artisan Foods can be found in lots of London's markets, so keep your eyes peeled for them during your next weekend stroll in the city.
Where: Artisan Foods, Borough Market/Broadway Market/Covent Garden Market/Whitecross Street Market
For Gluten-Free Churros: Sweet Brigadeiro 
What: Mini Churro
How much: £1
Why: Anyone who's tried churros knows that they're delicious, but very awkward and messy to eat in public. Fortunately for us, mini churros are here to save the day. These little balls are made of churro mixture and topped with a swirl of caramel. Sweet Brigadeiro sells all kinds of bakes and sweets, the majority of them gluten-free.
Where: Sweet Brigadeiro, Camden Lock Market
For Gluten-Free French Cakes: Saint Sugar of London
What: Chocolate Financier
How Much: £1.00
Why: Another small but mighty bake, this financier is unashamedly chocolatey. Buy two – they're tiny and cheap. Saint Sugar pride themselves on using real butter and Belgian chocolate, and draw inspiration from traditional French baking and patisserie. Take a bite and imagine you're walking down the Champs-Elysees, rather than Roman Road.
Where: Saint Sugar of London, Greenwich Market/Roman Road Market/Brick Lane Market
For Gluten-Free Cake: Mei's Kitchen
What: Sweet Plum and Raspberry Loaf
How Much: £2.50
Why: Camden-based Mei bakes traditional sponges and fruity creations. This gluten-free cake is lovely and sweet, with fresh plums, raspberries and sugar drizzle – like something your Nana might bake. Mei also specialises in personalised wedding and celebration cakes, which can be made gluten-free on request.
Where: Mei's Kitchen, Camden Lock Market
For Gluten-Free Everything: Roberto's Cakes
What: Chocolate Orange Cake Slice
How much: £3.50
Why: Back to Camden again (honestly, if you're gluten-intolerant, just move to Camden) for this little gem at Roberto's stall. This chocolate orange cake is ridiculously flavoursome and indulgent – like a dessert you'd order in a restaurant, but wouldn't be able to finish. It's a treat that's definitely best wrapped up and brought home, so you can eat it from a bowl while slobbing out in front of Netflix.
Where: Roberto's Cakes, Camden Lock Market
Words by Rebecca Hastings