Tahini is the 'Israeli master sauce', according to Palomar head chef Tomer Amedi. So versatile, you can use it in sweet and savoury dishes, mix it with honey to spread on toast, or with lemon juice to dizzle over roasted veg. It's one of the essential ingredients that food from North Africa and the Eastern Mediterranean just wouldn't be the same without. If you want to cook with it yourself try recipes by writers like Molly Yeh or Izy Hossack. Or, if you don't feel like cooking –  here's our guide to 10 of London's finest tahini dishes in restaurants across town:
The Dish: Warm tahini cake
The Lowdown: Honestly, this cake is a revelation. The simple sounding name belies the sheer, unbelievable gloriousness of this dessert. Imagine the best kind of chocolate fondant; oozing, bursting its banks with that interior of hot, sticky, oozey sauce – but it's not chocolate, it's tahini. So much more thrilling. This pudding is EVERYTHING.
Where: 50 Baker St, Marylebone, London W1U 7BT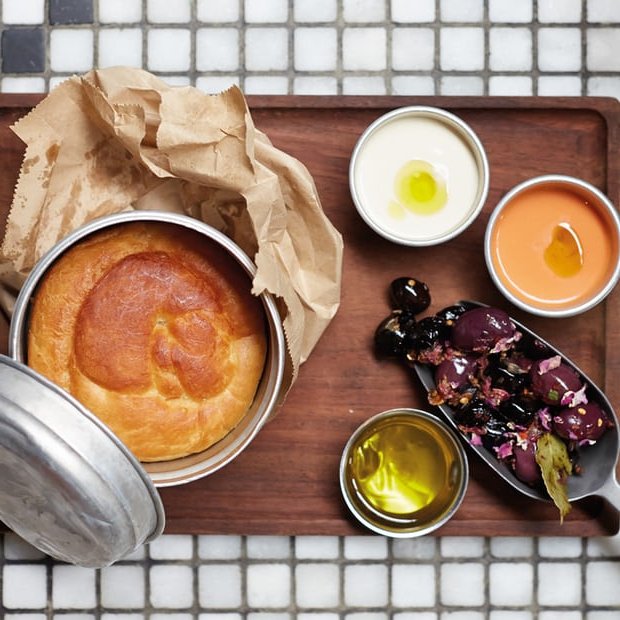 The Dish: Kubaneh bread
The Lowdown: It is mandatory to order one of these, preferably the moment you sit down at the bar with the chefs kvetching and playing the drums on saucepans and throwing flatbreads with abandon and working magic with zhoug and reckless spices. The Yemeni Kubaneh, baked in a clay pot, comes with a saucer of tahini and some very spicy tomato stuff, and is utterly irresistible.
Where: 34 Rupert St, London W1D 6DN
Photo Credit: Helen Cathcart
The Dish: Pistachio tahini puree with porchini mushroom tagine and freekeh
The Lowdown: The words 'pistachio tahini puree' are more than enough to turn this dish into a wondrous thing. And it's vegan. Yes, a vegan dish which is anything but worthy, and has all the luxury and flavour and joy you could need, with no animal products involved.
Where: Arch 25 Old Union Yard Arches, 229 Union St, London SE1 0LR
The Dish: Basically, everything
The Lowdown: Go and order the lot at Honey and Co – especially the roasted mauve aubergines adorned with a BBQ tahini crust, on a mound of jewelled rice salad spiked with lime. And if you are lucky, there might be a slab of tahini white chocolate babka left for dessert. Go double tahini. It makes sense.
Where: 25 Warren St, Fitzrovia, London W1T 5LZ
The Dish: Aubergine sharabik
The Lowdown: Head to The Barbary for more aubergine, this time roasted into smoky, melted submission, scattered with almonds and pistachios and perhaps, daringly, raspberries – on a mound of creamy tahini deliciousness. Gimme.
Where: 16 Neal's Yard, London WC2H 9DP
The Dish: Sabich sandwich
The Lowdown: At the Good Egg there is also aubergine with tahini a plenty, notably in their outstanding sabich sandwich, but also their baharat spiced pumpkin with black tahini ( yes, black sesame makes black tahini), creamy yoghurt and coriander oil. So much yes to this.
Where: 93 Stoke Newington Church St, Stoke Newington, London N16 0AS
The Dish: Cauliflower shawarma, pomegranate, tahini and pine nuts
The Lowdown: Where is the whole roasted cauliflower, we hear you ask? Well it's here. Roasted cauliflower adorned with pomegranate, pistachio, urfa chilli butter and a good slick of tahini. It is the prettiest cauliflower you will see, and ask for extra tahini. No harm ever came from extra tahini.
Where: 46 Exmouth Market, Clerkenwell, London EC1R 4QE
The Dish: Tahini halva brownie
The Lowdown: For once you have tasted a tahini halva brownie you will wonder how you could have lived a life without it. It has that salty savoury note which cuts through the chocolate just enough: this is sophisticated, dark, rich and delicious.
Where: Locations here 
The Dish: Valrhona Cookie
The Lowdown: Visit Fatties Bakery at Druid Street Market for many things, especially the dark Valrhona chocolate cookies sandwiched with an excitingly grown up tahini salted caramel, which keeps it just the right side of not-too-sweet. You will need a napkin for this is not a cookie to eat delicately.
Where: Druid Street Market, 126 Druid St, Bermondsey, London SE1 2HH
The Dish: Shawarma with fried eggs and tahini
The Lowdown: Turn brunch into a tahini feast at Strut and Cluck. They have managed to pile warm, toasty pita bread with hand pulled shawarma and a fried egg, and drizzle the whole lot in tahini. This will set you up for the day in the best way imaginable.
Where: 151-153 Commercial St, Shoreditch, London E1 6BJ