In celebration of National Burger Day, restaurants across London have created their own special burgers to honour this magical day. From the tasty, to the downright bizarre – we've discovered the best burger specials you need to try in the capital. Put down that cheeseburger, and try something different this week:
1. For a Yorkshire Pudding Burger: Reform Social & Grill
The Burger: Angus beef and bone marrow patty, served with ogleshield cheese and horseradish mayonnaise in a Yorkshire pudding
The Lowdown: At Reform Social & Grill, they're cooking up something extra special for the occasion. They're bringing you a patriotic treat – the one and only, Yorkshire Pudding Burger. Their Yorkshire pudding menu went down a treat and they've fast become known as the restaurant with the best Yorkshires in town, so why waste an obvious talent. If you've got it, flaunt it – and they're all about flaunting their Yorkshire skills with their newest burger. The combination of familiar Yorkshire softness, with tender, juicy beef will make you wonder why no one has ever thought of this inspired idea before.
Where: Reform Social & Grill, Mandeville Hotel, Mandeville Place, London, W1U 2BE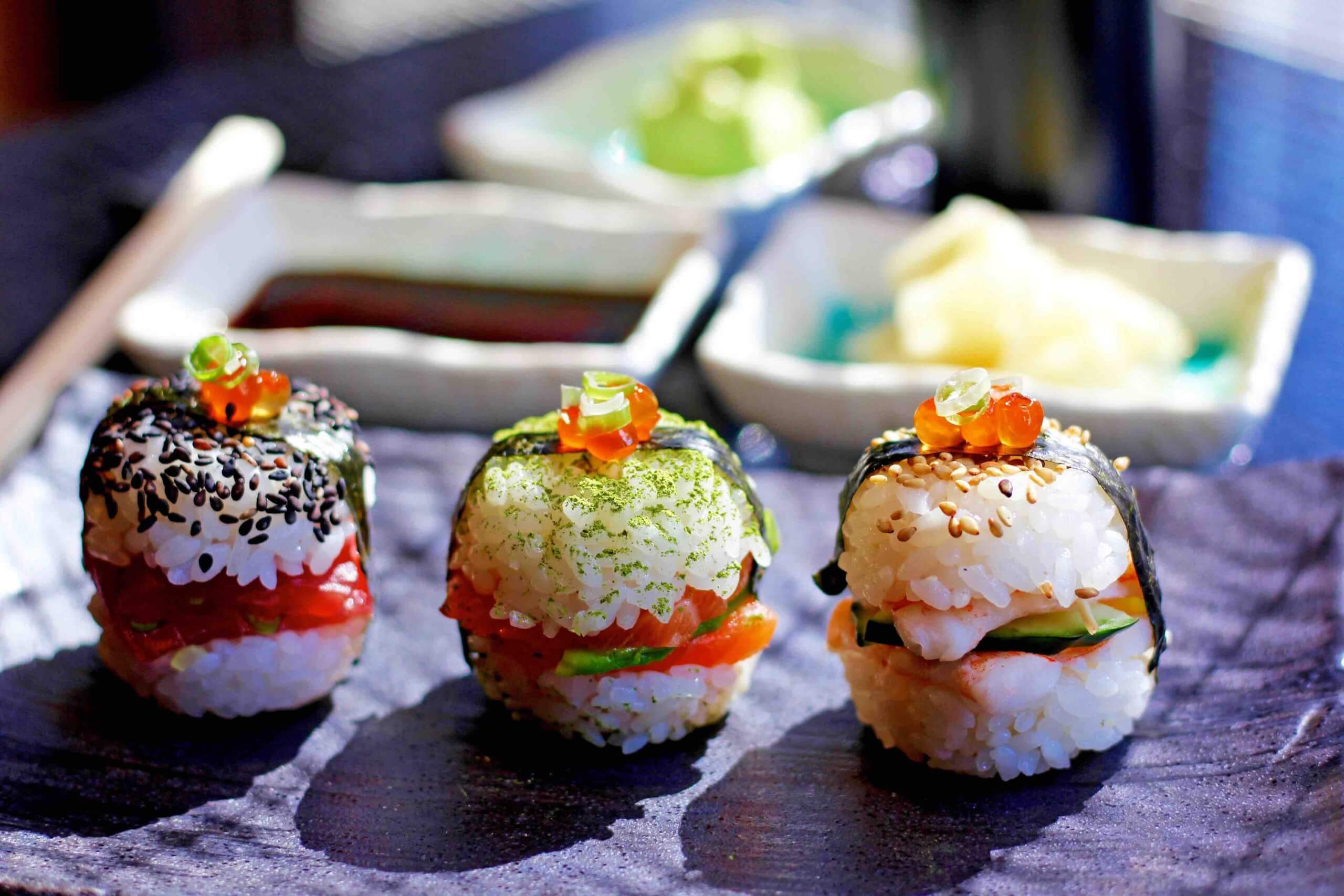 The Burger: Trio of sushi rolls
The Lowdown: Japanese restaurant Miyako, found within the Andaz London Liverpool Street hotel, has created a rather quirky sushi alternative to the traditional burger and is offering 20% off on all slider dishes on National Burger Day. Miyako has given the classic burger-and-bun a Japanese-inspired makeover replacing traditional bread buns with sushi rice. Served as a trio, the sushi sliders feature raw salmon and avocado, raw tuna and spring onion, and prawn and cucumber topped with matcha, ikura and sesame seeds. Available for one day only!
Where: 40 Liverpool Street, Andaz London Liverpool Street, London EC2M 7QN
3. For an Ice Cream Burger: Jude's
The Burger: Brown butter pecan ice cream burger
The Lowdown: Jude's ice cream is dedicated to crafting the world's tastiest ice cream from their dairy in Hampshire. Jude's use milk from the cows next door to make up their traditional crème anglaise base, flavoured with the best natural ingredients. Jude's ice cream have created an ice cream burger for the special day, with each burger made using the latest flavour to join the Jude's ice cream family, Brown Butter Pecan. Sandwiched between the toasted brioche bun is a strawberry 'patty' topped with a sprinkling of nuts to create a hot-cold, sweet summer sensation.
Where: Jude's will be serving the Brown Butter Pecan Ice Cream Burger, as well as scoops and tubs from their striped horse trailer in St James' Park, London from Thursday 25th until Saturday 27th August.
4. For a Calzone Burger: Rocket 
The Burger: Calzone Burger – pizza dough, beef patty and a choice of fillings
The Lowdown: Rocket restaurant has combined the nation's love of burgers with their pizza expertise and created a Calzone Burger like no other. Rocket's signature home-made pizza dough is wrapped around a juicy burger patty and packed with fillings like bacon, cheese, tomato and even a fried egg for added ooze! And because no burger is complete without fries, Rocket's Calzone Burger also comes with a side order of chunky chips. The Calzone Burger is only available until the 26th August. Miss it, miss out.
Where: Canary Wharf Group, 2 Churchill Pl, London E14 5RB
5. For a Crab Burger: K West Hotel 
The Burger: Soft shell crab burger with cheddar cheese, chilli mayo and salad
The Lowdown: To pay homage to the annual occasion, K West Hotel has knocked up a brand new Absolutely Crabulous Burger. This year, the hotel has taken inspiration from the seaside and created a soft shell crab burger to celebrate the long awaited calendar event. The sandwich features battered soft shell crab with cheddar cheese, grainy mustard, chilli mayo, beef tomato, baby gem lettuce and pickles all encased in a fluffy brioche bun, served with chilli honey fries. On National Burger Day, all K West burgers will be available at 20% off their original price.
Where: K West Hotel & Spa, Richmond Way, London W14 0AX
6. For a Duck Burger: Le Garrick
The Burger: Pulled duck burger in a brioche bun
The Lowdown: Traditional French restaurant Le Garrick in Covent Garden have thrown the pulled pork rulebook out of the window, and have whipped up their new pulled duck burger. Think juicy, saucy, savoury: Le Garrick's Pulled Duck Burger will get all over your hands and probably ruin your favourite dining shirt – but you know it will be 100% worth it.  This gorgeous mess is topped with homemade coleslaw and served with fries. And veggies, do not worry – there's the chickpea burger bursting with flavour (pepper, red onion, courgette, garlic puree and red chilli), served with fries.
Where: 10-12 Garrick St, London WC2E 9BH
7. For a Very Large Burger: Heliot Steak House 
The Burger: Big Time Burger – 2kg of USDA prime beef, bacon, tomatoes and Monterey Jack cheese
The Lowdown: Heliot Steak House has created the biggest burger in London, the Big Time Burger – a show-stopping 2kg of USDA prime beef, topped with 10 slices of streaky bacon, tomatoes, 15 slices of Monterey Jack cheese, half an Iceberg lettuce, 500g of truffle sauce, 4 dill pickles and just in case you can fit it in, a generous serving of hand cut chips. Phew. You can tackle this huge burger as a group, or for those who dare to raise the steaks, grab a mate, and if the two of you eat it within 30 minutes, you will get the burger for free. Plus, you'll receive a "Big Time" t-shirt to prove it. The Big Time Burger must be pre-ordered 24 hours or more in advance, and will require one hour cooking time.
Where: 14 Cranbourn St, London WC2H 7JH
8. For a Double Meat Burger: Chicago Rib Shack
The Burger: Olympian Burger – two 6oz beef patties, potato cake, onion rings, fried egg and avocado
The Lowdown: The Olympics may be over, but Chicago Rib Shack are still selling their special Olympian Burger at their branches across London for National Burger Day. The Olympian Burger features two 6oz beef patties, potato cake, onion rings, fried egg, avocado, American cheese, cheddar and BBQ Mayo. And it come with a side portion of chips to seal the deal. Ready, set, eat.
Where: Locations here 
The Burger: Jamie's Burger –  6oz patty, French's mustard, Red Leicester cheese and Sriracha mayo
The Lowdown: Gourmet Burger Kitchen (GBK) has got behind the grills with National Burger Day founder Jamie Klingler and created something seriously tasty to satisfy burger lovers in the run up to the big day. Available exclusively at GBK until the 28th August, Jamie's Burger is a 6oz patty, grilled in French's mustard and topped with Red Leicester cheese, Sriracha mayo, pickled onions, ketchup, and lettuce. GBK are feeling generous on National Burger Day, and are offering 20% off your food bill, download your voucher here.
Where: Locations here
10. For a Burger Deal: Shake Shack
The Burger: Any burger your heart desires – but we recommend the SmokeShack with cheese, Wiltshire cured bacon, cherry peppers and Shack Shake sauce
The Lowdown: Shake Shack will be offering #NationalBurgerDay voucher holders, 20% off all burgers, across all London sites. If you haven't heard about Shake Shack, quite frankly you've been living under a rock. Shake Shack is a modern day roadside burger stand known for its 100% all-natural, Aberdeen Angus beef burgers, flat-top dogs, frozen custard and crinkle cut fries. Their frozen peanut butter concrete is on another level. Seriously. The offer is valid on burgers only between 11.00am – 11.00pm on 25 August.
Where: Locations here