It really goes without saying seven weeks in, but if there's one specific thing that the lockdown has changed, it's my food and drink habits. Whether it's seeing every Tom, Dick and Harry bake a sourdough on Instagram daily, or getting massive food envy from a bowl of pasta I see on twitter – Londoners are definitely getting more boujee at home with their food.
With that in mind, it's no surprise that London delivery services are thriving at the moment, offering way more than you can get at the local cornershop without leaving the house. Once again, About Time had the truly dreadful experience of reviewing the range of food and drink delivery services the capital has to offer – here's what we found:
What: Meat survival box (£60)
The 411: HG Walter are an award-winning family run butcher in Barons Court. They supply to many leading restaurants and chefs, but have fully adapted to home deliveries meaning you can have a delicious butchers box delivered to your door, daily. Try the meat survival box, including a variety of goodies: sirloin steaks, chicken supremes, chicken legs, lamb loin chops, country-style sausages, beef mince and smoked streaky bacon. Blimey.
Hot tip: The lamb loin chops are tasty AF with garlic and rosemary.
Where: Order online
What: Homemade meals (Dishes start from £8)
The 411: If you've had enough of cooking the same old thing, feel like you're spending all your time in the kitchen or tried and failed to get your hands on the ingredients you're after – Archie's Foods is the answer. A celebration of what's in season, founder and home cook William Deal devises weekly changing menus for you to choose from, all in portions of two, they are a mixture of home cooked meals ready to freeze as well as fresh pasta and sauces. Think lamb tagine, pork meatballs, and fish pie, among others. 
Hot tip: The classic beef lasagne is just something you'll never get bored of eating.
Where: Put your order in here 
What: 4 course Sicilian supper club, masterclass menu and recipe parcel (£22 per person)
The 411: Working together with local London businesses and Sicilian producers, Strazzanti have designed a series of inspiring Sicilian suppers and recipes for you to enjoy at home. Delivered to your front door each Friday, the package includes everything for a slap-up Italian feast – antipasti served with a whole loaf of freshly baked East London sourdough, make your own Strazzanti pasta dish with the exact perfectly portioned top quality ingredients provided, and a virtual step-by-step recipe and video link with chef and co-founding sister, Emilia Strazzanti. And to finish, Strazzanti's signature cakes and Cubaita Siciliana.
Hot tip: You can personalise your parcel by adding on their multi-cultivar Sicilian extra virgin olive oil, pesto Trapanese, Pecorino with Sicilian honey and many more Stuzzichini.
Where: Buy here
Photo Credit: Nic Crilly-Hargrave
What: The Mini Collective Box – Original (£39.95)
The 411: Crosstown Doughnuts has joined forces with Millers Bakery, The Estate Dairy, Rollagranola and Caravan Coffee Roasters and others (who supply many of the great restaurants, hotels and cafes) to create The Crosstown Collective – artisan food boxes packed full of fruit, vegetables, fresh bread, pantry essentials and doughnuts to hit the sweet spot. As ever, Crosstown Doughnuts can also be ordered in boxes of 6 or 12 – grab the peanut butter and raspberry compote doughnut and thank us later.
Hot tip: Crosstown Doughnuts have also created a selection of vegan food boxes featuring plant-based doughnuts, dairy-free alternatives and tons of fresh fruit and veg.
Where: Grab yours here
What: La Dolce Vita – Truffle Pasta Provisions Box (£35)
The 411: La Tua Pasta completely flipped their business after losing 80% of their restaurant and hotel clients overnight; they set up an online business in 5 days, and customers can now order pasta for delivery overnight within London. The Pasta Provisions Box contains a mighty fine selection of their fresh truffle pasta filled with meat or cheese, 1 plain pasta, 3 types of sauces and enough Parmesan topping for all. Serves 3 meals for 2 people.
Hot tip: Meat-free boxes are available as well as fresh pasta for your own carb-based masterpieces.
Where: Order here 
What: Fruit and Veg Box (Prices start at £9.45)
The 411: The Oddbox team has worked tirelessly over the last few weeks to reopen to new orders and deliver boxes of fresh fruit and veg to Londoner's doorsteps. The box includes a mix of seasonal British staples and other seasonal out of specs, trial varieties and surplus produce depending on availability – as well as a selection of international produce that has been imported but then graded in the UK. If Oddbox can rescue it, they will.
Hot tip: Veg only and fruit only boxes are also available, in sizes small, medium and large.
Where: Order online 
What: Spanish bites (Prices start from £3.50)
The 411: Ibérica had added their restaurant classics, regional specialities, deli items and larder essentials online – available for collection or delivery in London. Delve into a veritable feast with traditional Spanish snacks to start including salty sweet Boquerones and breads and olive oil – delicious with a glass of sparkling Villanue Brut Reserva Cava. The cured meat selection includes their famed Jamon Iberica and rich sobrasada drizzled with honey before a rich spread of tapas favourites and new discoveries like the patatas bravas dressed in aioli, oozing Tortillas, pulpo – octopus with paprika and potatoes and serrano ham croquettas.
Hot tip: Match your manchego and compliment your cured meat selections with a range of Spanish wines Cavas, Albarinos, sherries and cider, and add deli portions of specialist cheese, jamons and artisanal larder favourites like sardines, butterbeans, and chickpeas. 
Where: Order online here 
What: Brunch Duo Box (£26)
The 411: Bored of banana bread? Sick of sourdough? Then take a break from your Instagram feed and snap up a B Bagel Brunch Box. Freshly baked, traditionally made bagels come additive-free, but flavour full and arrive straight to your doorstep alongside everything you need for that flat lay-worthy brunch time spread. Of course, spreads and tasty sides are in abundance such as sliced smoked salmon, cream cheese, extra virgin olive oil, a box of six free range eggs, butter and jam.
Hot tip: B Bagel has partnered with Chelsea Farm to curate a bijou range of grocery boxes.
Where: Buy here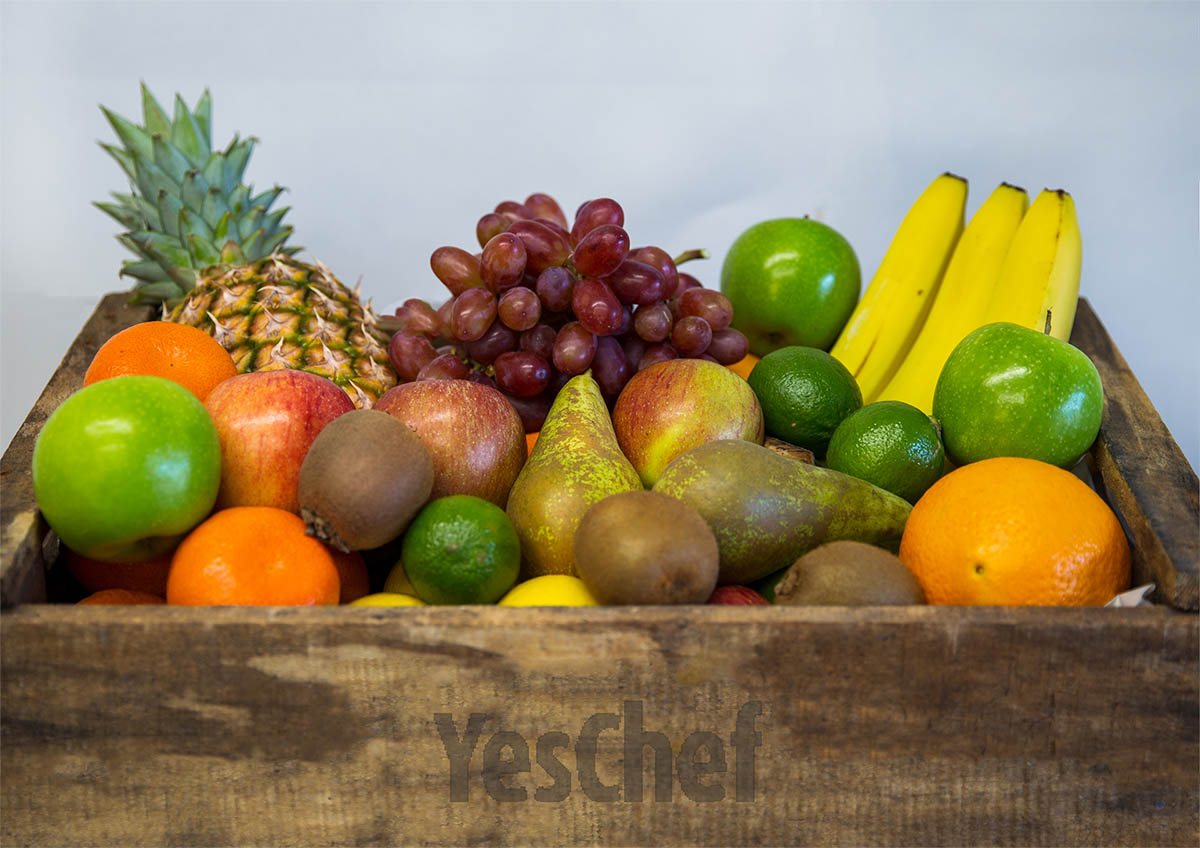 What: Fruit and veg boxes (From £17.50)
The 411: Chefs Georgio Locatelli, Jose Pizarro, Bryn Williams, Pierre Koffmann, and Nieves Barragan Mohacho count on Yes Chef – a family-run fruit and veg supplier – for their top-drawer fresh produce, and now you can have it at home. Things are kept simple with a choice of three types of boxes: fresh fruit, fresh veg or fresh salad, with the option to add on everyday staples like eggs, milk, cheese, bread and butter. 
Hot tip: Yes Chef has shelves at the famous New Covent Garden Market bursting with the freshest, most sought-after produce there is. 
Where: Buy a box here 
What: Bread and More Box (£12)
The 411: Delivering from its Acton central bakery in West London to postcodes across the capital, shop online at PAUL – The Grocery Market for a quick, easy delivery of fresh farm fruit and vegetables, handmade loaves, semi-skimmed milk and unsalted butter with additional items including flour, yeast,  freshly baked croissants, viennoiserie, tartelettes and beignets.
Hot tip: There's loads of bundles to choose from including Bread and Veg, Bread and More, and Family Top-up boxes available from £10 each. 
Where: Buy here