We love hot cross buns; slather them with butter, top with jam, or eat them straight out the packet. They're the perfect tea time treat. We've discovered London's best bun creations just in time for Easter – let's get eating:
1. Best Bun in Town: Gail's Bakery
The Run-Down: Beautifully soft, gently spiced dough with plenty of moist fruit – these are about as perfect as a hot cross bun can get. While you're there, pick up a loaf of their new chocolate sourdough and toast it up with a generous layer of nut butter for the breakfast of dreams.
Where: Locations here 
2. Best Big Buns: St John Bakery
The Run-Down: St John bakery don't mess about and their hot cross buns are pleasingly massive, light and well fruited with a good sticky glaze on top. Try one buttered with a slice of Comte. You can thank us later.
Where: 72 Druid Street, London SE1 2HQ
3. Best Hot Cross Bun Mash-Up Ever Invented: Bread Ahead 
The Run-Down: We already know that Justin Gellatly and his team at Bread Ahead are baking geniuses. Now he's gone and created the ultimate Easter treat: a hot cross bun doughnut. Packed with raisins, candied peel and spice – filled with vanilla custard and topped with a baked cross. We are ALL over this.
Where: Locations here 
5. Best for Haute Cross Buns: Hotel Cafe Royal x Violet Bakery
The Run-Down: Hotel Cafe Royal and Violet Bakery both turn out small but perfectly formed little buns. Beautifully baked, fresh and light, plenty of fruit. And you'll have room for a few.
Where: 68 Regent St, Soho, London W1B 4DY
6. Best for Added Spice: The Modern Pantry
The Run-Down: The hot cross buns from The Modern Pantry are made on site with an extra twist to the spice mix, a touch of chilli. In the restaurant you can have them toasted with a big old slice of bacon – controversial, but it really works.
Where: Locations here 
7. Best for a Local Treat: Brick House Bread, Dusty Knuckle, De Beauvoir Deli, and Pavillion Bakery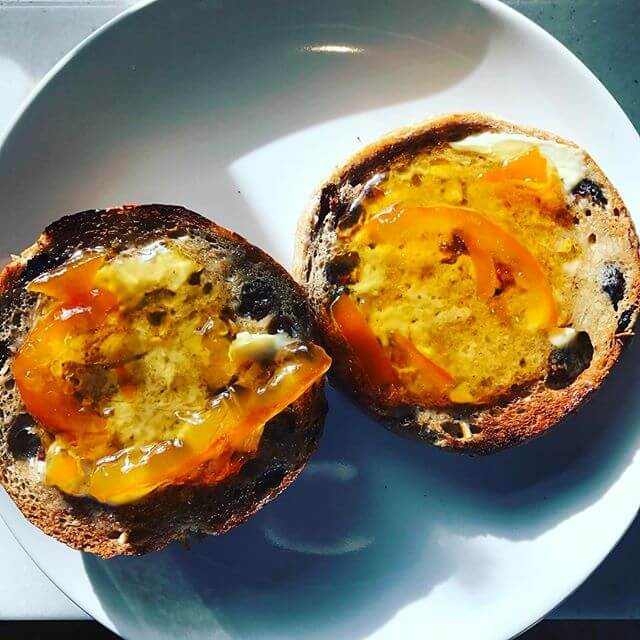 The Run-Down: For South Londoners – head to the award winning Brick House Bread where their Easter range now includes hot cross buns. Find them just off Lordship Lane, Peckham Rye station and Herne Hill famers market.
The Run-Down: For North and East Londoners – Dusty Knuckle tucked away in Dalston: their buns are also available in Islington's De Beauvoir Deli. Or try the excellent Pavillion Bakery on Broadway Market and Columbia Road.
Where: Brick House Bread: 1 Zenoria Street, London, SE22 8HP. Dusty Knuckle: Abbot Street Car Park, London E8 3DP. De Beauvoir Deli: 98 Southgate Rd, Hackney, London N1 3JD.  Pavillion Bakery: 18 Broadway Market, London E8 4QJ.
8. Best for Delivery: Abel & Cole 
The Run-Down: Abel & Cole will add a pack of buns to your veg box – theirs come from the Gloucestershire based Authentic Bread company, handmade using all organic ingredients.
Where: Order here 
9. Best on the High Street: Marks and Spencers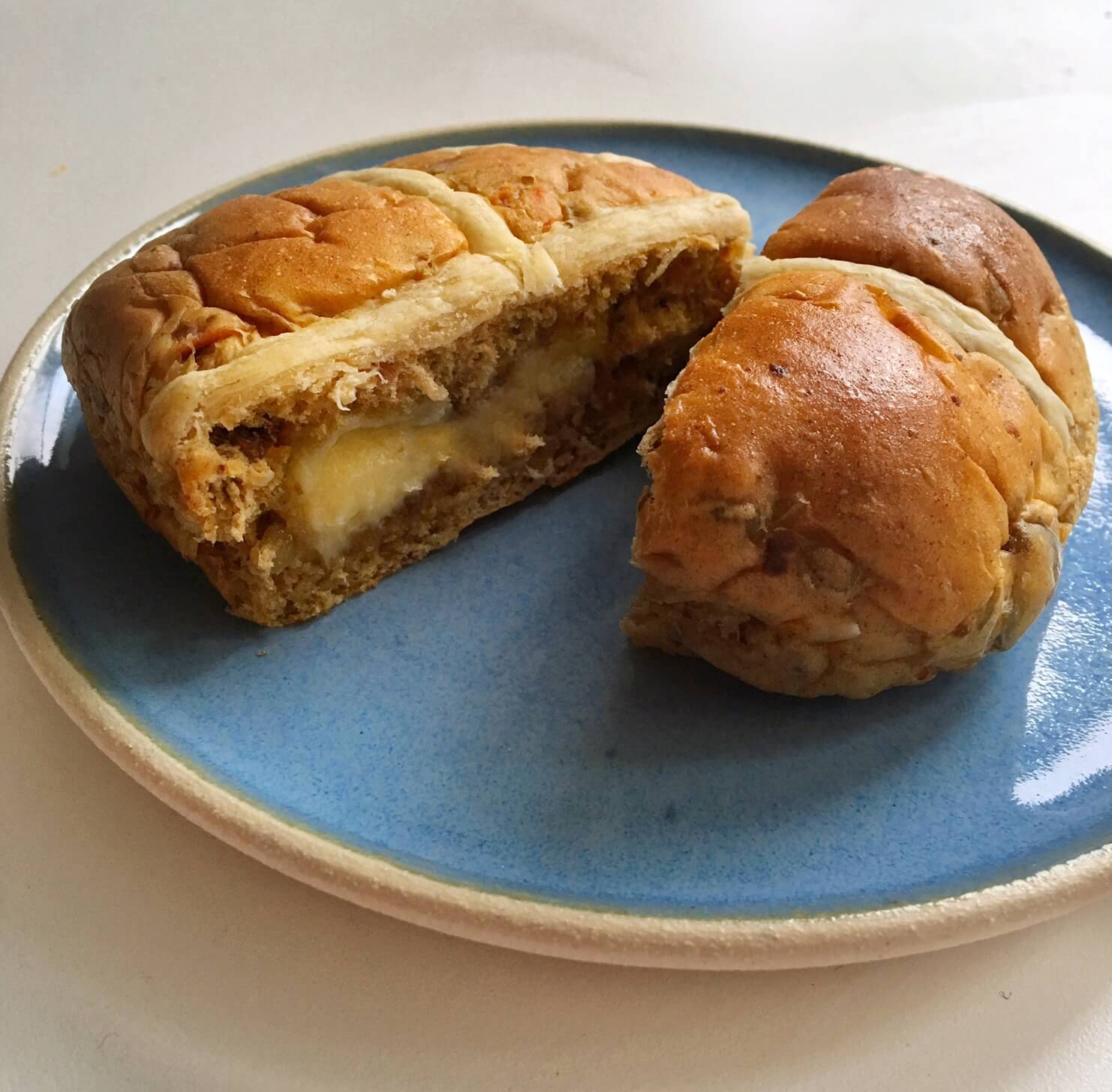 The Run-Down: Marks and Sparks has pulled out all the stops this year with a whole new range of inventive buns. Our favourite is the carrot cake one with grated carrot, walnuts and raisins in the bun, and a hidden centre of cream cheese frosting. OK, so you can't toast it – but it's pretty delicious. The jury is out on the cheese and onion one – try it and see!
You can get brioche hot cross buns at Aldi, while Waitrose has some new varieties including an apple cinnamon bun, and a mandarin earl grey one in the posh Heston range.
Where: Locations here 
Photo Credit: Felicity Spector Instagram 
10. Best Non Bun: Ole and Steen
The Run-Down: Ole and Steen's fantastic seasonal cakes include an Easter chick puff – it has a marzipan base topped with passionfruit marshmallow, passionfruit ganache, before being covered in white chocolate and coconut. A big Easter yes to this.
Where: 2, St. James's Market, 56 Haymarket, St. James's, London SW1Y 4RP