10 of the Best: Gluten-Free Burgers in LondonBy Jenna Downes
London has never been short of inventive burger offerings but now those who are gluten free can get in on the act too. If you're coeliac or gluten intolerant, here's our roundup of the gluten free burgers in London that prove gluten free doesn't have to mean taste-free. You can discover more of our special diets content right here. Let's talk burgers:
Photo Credit: @eat.travel.london 
What: This hip, 100% plant-based, vegan burger joint launched their second branch in Canary Wharf at the end of 2018.
The Lowdown: The Vurger Co's menu is perfect for both vegans and gluten free foodies alike. One of our top gluten free restaurants in London, as all four of their plant-based burgers can be made with a gluten-free bun (or as a salad bowl if you'd prefer) and the sides are just as epic. There's everything from gluten free, vegan mac and cheese to seven varieties of vegan milkshakes (including Oreo, Biscoff and Banana Caramel flavours).
Price: Burgers are £8.45 with no extra charge for gluten free options. Find the full menu here.
Where: Shoreditch (Unit 9, Avant Garde Building 6 Richmix Square) and Canary Wharf (Unit 1 The Wharf Kitchen, 2 Canary Wharf)
What: With restaurants in London, Reading, Bristol and Cambridge, this burger joint serves up British-made burgers (using the meat from their own butchery) and inventive specials each month.
The Lowdown: All burgers and fries can be made gluten free (with the menu also catering to a wide range of dietary requirements, including nuts, sesame seed, egg, garlic and dairy). This month's special (available until the 24th Feb) is the Poutine: featuring beef with cider and bacon gravy, white onion and pickle, smoked cheddar (from artisan dairy Westcombe Dairy) and bacon.
Price: Burgers start from £9. Booking isn't available but you can find more information on their menu here.
Where: All over London; along with single locations in Bristol, Brighton and Cambridge. Find a list of all their locations here.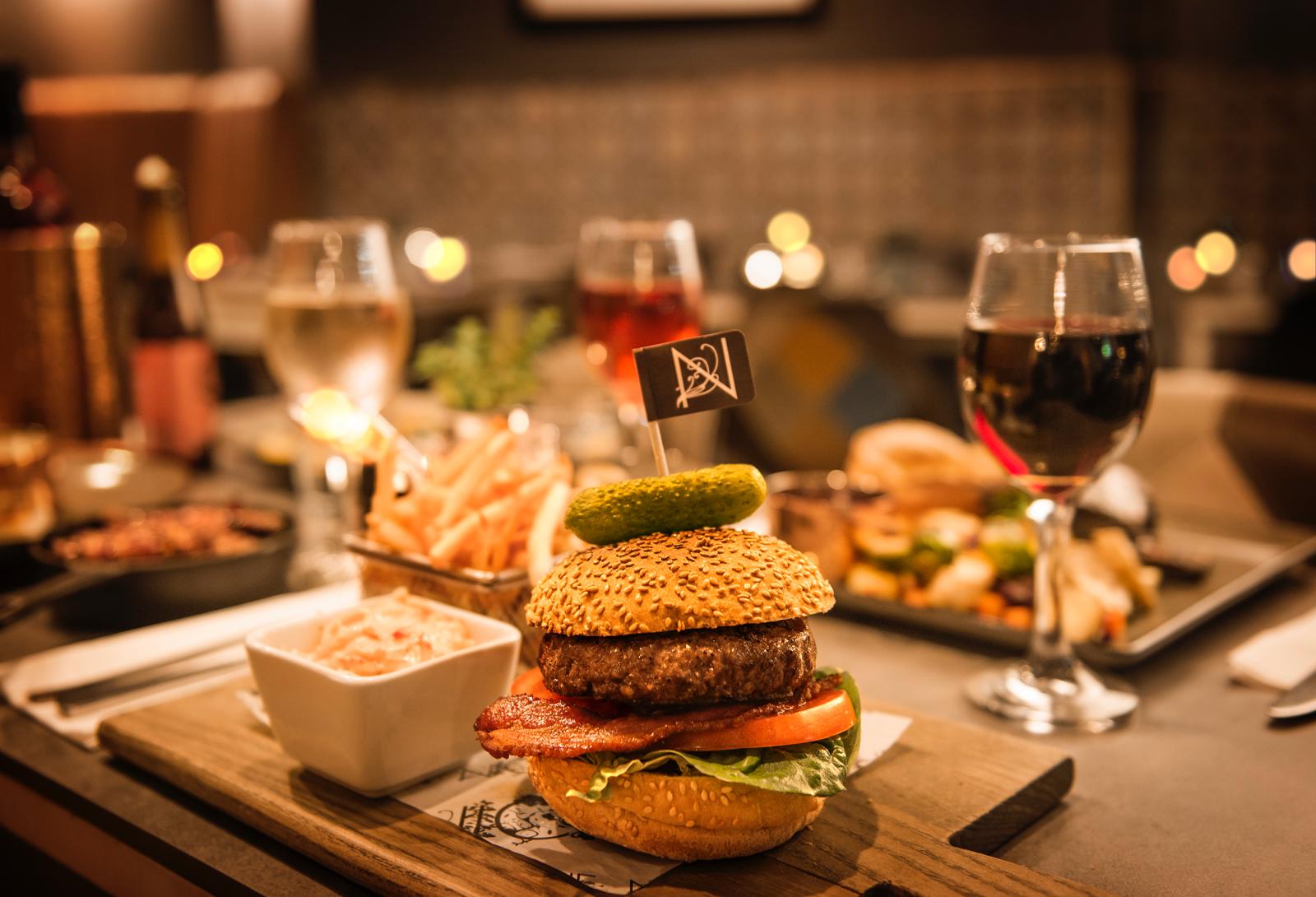 What: This 100% gluten free restaurant in Angel offers British and European classics.
The Lowdown: Niche is a coeliac's paradise, because every single item on the menu is gluten free (whilst also catering to dairy-free, low FODMAP and vegan diets). If you're in the mood for a burger, Niche's gluten free Smoky Burger combines a super-soft sesame bun with British beef, smoky bacon, sun dried tomatoes, homemade coleslaw and skinny fries. One of the best gluten free burgers in London for coeliacs, no doubt.
Price: Niche's Smoky Burger costs £14.50. Book here.
Where: 197-199 Rosebery Avenue, Clerkenwell, London, EC1R 4TJ 
What: Just across the road from Canada Water tube station, is Leadbelly's, whose amazing 98% gluten free menu won Gold in last year's Free From Eating Out Awards.
The Lowdown: There's three burger choices on the menu (flame grilled beef, soya beet and southern fried chicken) but the extra-crispy, melt-in-your-mouth buttermilk southern fried chicken burger needs to be tasted to be believed. If you've been craving KFC since being gluten free, this hits the spot perfectly. One of the best gluten free burgers in London, without a doubt.
Price: £13.95. Book here.
Where: Montreal House, Market Square, London, SE16 7AQ 
What: Located in the heart of Tooting Market, Boom Bap Burger serves up bargain burgers, beer on draft and a resident DJ. One of the coolest, most fun gluten free restaurants in London.
The Lowdown: There's ten burgers on offer (2 of which are veggie) and all can be made gluten free. Vegans will love the 'MWA' (Mushrooms with Attitude) a mix of juicy portobello mushrooms, grilled vegan halloumi, pickles and sundried tomatoes. You must try 'Drop It Like It's Hot', which combines grass-fed Scottish beef with homemade green chilli and pickles.
Price: Burgers start from £6.50. More here.
Where: Unit 21, Tooting Market, 21-23 Tooting High St  London, SW17 0RH
What: Station 26 serves up 100% gluten free, fresh fusion cuisine in the heart of Brixton Village.
The Lowdown: The Cyprian Halloumi Burger is a menu highlight: tangy halloumi cheese fuses with a toasted gluten free brioche bun, tomatoes, hand cut chips and homemade pesto (or cranberry sauce if you'd prefer).
Price: The Cyprian Halloumi Burger costs £10
Where: Coldharbour Lane, Unit 26, Brixton Village Market, London, SW9 8PR 
Photo Credit: Becky Excell
What: We know, we know, it's better to support independents – but Byron's burgers are really rather impressive for a chain restaurant. This American-style burger joint caused much excitement when the finally launched their gluten free buns last year.
The Lowdown: Byron has a dedicated menu for those avoiding gluten. The Smashed Avocado is a firm favourite (combining avocado, dry cured bacon, red onion, tomatoes and the famous Byron sauce) whilst the Beethink (a falafel patty with vibrant rainbow slaw, kale and yes, you guessed it, more avocados) is perfect for vegans.
Price: Prices vary. Book here.
Where: Byron has restaurants all over the city. Find them here.
What: Farmacy Kitchen is a health-conscious, plant-based eatery based in Notting Hill. It not only offers gluten free options; but dairy-free, refined-sugar free and additive-free food.
The Lowdown: The Farmacy burger is a gluten free, nutritional powerhouse; fusing supergrain millet with black bean, mushroom, carrot and celeriac remoulade and goji ketchup. We know it's a bit fancy, but it's still one of our favourite gluten free burgers in London. Side choices include sweet potato fries, kimchi and roasted vegetables. There's also three gluten free options for desert; including banana bread and peanut butter pudding and warm chocolate cookie.
Price: The Farmacy costs £15.50. Book here.
Where: 74 Westbourne Grove, London, W2 5SH
What: This high-end steakhouse, which hails from the US, is known for its prime cuts of meat and extensive wine list. One of the best gluten free restaurants in London if you want something a bit special.
The Lowdown: Smith&Wollensky signature burger – The Wollensky Butcher's Burger (which comes with smoked bacon and cheddar) – can easily be made gluten free. Relevant cross-contamination procedures are put in place for coeliacs upon ordering so just let your waiter know.
Price: The Wollensky Butcher's Burger costs £14. Book here.
Where: The Adelphi Building, Covent Garden Riverside, 1-11 John Adam Street, London WC2N 6HT
What: Gluten free burger to your door? We're listening. Delivery-only restaurant Twisted London brings epic, hangover-curing burgers direct to your door.
The Lowdown: Twisted London's no-gluten menu has us drooling at our desks. The Mighty Stakeout stacks a chuck and brisket patty with a layer of steak, red onion marmalade, garlic butter, pickles and french mustard – one of the best gluten free burgers in London in our books.
Price: The Might Stakeout costs £12.50 Order here.
Where: Twisted London deliver within a 2 mile radius of their East London kitchen (in the Aldgate East/Whitechapel area) via Uber Eats; with plans to expand to Central and West London later this year.