Tasty Tuesdays: 10 Foodie Products You Need to Buy This WeekBy Alicia Grimshaw
If there's one thing we like more than peanut butter, it's peanut butter ice cream. Save your sparkles and spend it products really worth it – here's the ten foodie items you need to try this week. Let's get munching:
1. For a Savoury Snack: Chika's
What:  Chika, a recent success story from Dragon's Den, has just launched her new line of African-inspired snacks in the UK. Chika's – An Adventure in Taste Awaits, includes plantain crisps, hand-toasted peanuts, sea salt and black pepper cashews, smoked almonds and chickpea crisps.
The Lowdown: Packed with nutrients, all GMO-free, natural and made in the UK, Chika's snacks are developed with only the highest quality ingredients that are vegan-friendly and gluten-free. Spending years developing, sourcing and perfecting her products, Chika's – An Adventure in Taste Awaits now grace the shelves and pockets of those seeking a healthier, tasty and authentic food experience.
Stockists: Waitrose and Wholefoods
2. For a Sweet Treat: Thomas J Fudge's
What: The busy bakers at Dorset bakery Thomas J Fudge's have added an exciting new flavour to their remarkable florentines. Introducing the limited edition Caffè Mocha Florentines.
The Lowdown: A light yet indulgent fusion of juicy fruit and crunchy nuts, all laced with  coffee-infused caramel and topped with creamy milk chocolate, these sweet treats are perfect for dinner party gifts, spring and summer sharing or even solo-treating.  Hurry though as these delights are only around until June.
Stockists: Waitrose
3. For a Gluten-Free Beer: CELIA 
What: 100% organic and brewed using three simple ingredients, CELIA Organic is a premium craft Czech lager ideal for even the most discerning lager drinker. CELIA is brewed with Saaz Hops and a natural carbonation process to create a non-bloating refreshing lager with a delicate bitterness,
The Lowdown: CELIA Organic is batch brewed in the cellars of a 14th century castle to create a hand-crafted, premium Czech lager with a refreshing bitterness and a hint of citrus. Brewed using Moravian malt sourced from the Bohemian region, organic 100% Saaz Hops and sand-filtered water, locally sourced from the Zatec foothills, CELIA is brewed using a natural carbonation process, achieved with a 14-day open fermentation period.
Stockists: Ocado, in Waitrose stores nationwide and selected Oddbins, Booths and Whole Foods
4. For Fruit Vinegars: Womersley Foods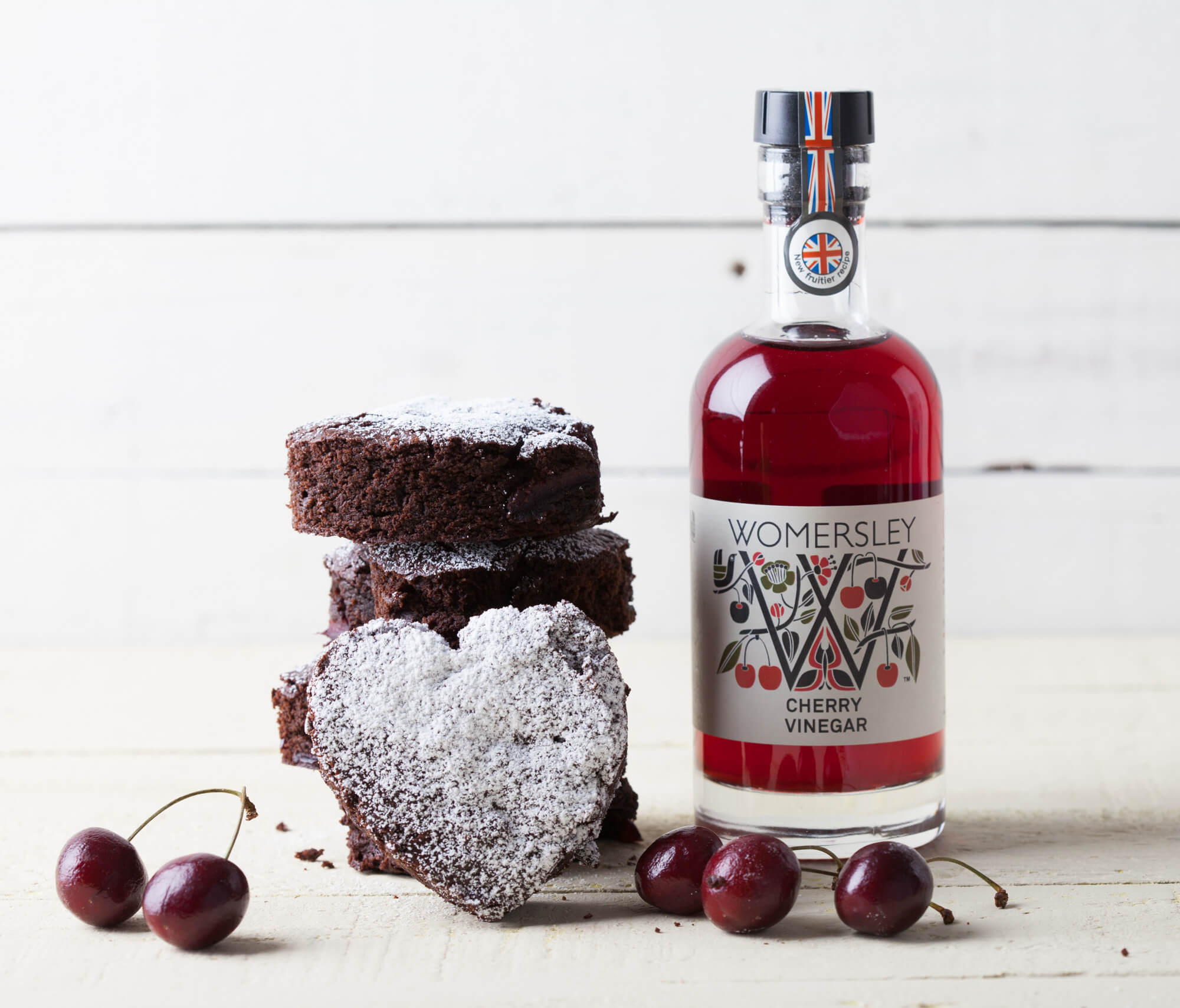 What: Womersley Foods produce one thing: fruit vinegars. Founded by two brothers, they use home grown specialist herbs and fruits which are the key ingredients of their now famous vinegars and jellies. Two of their vinegars have been awarded Great Taste Gold*** and come in a range of flavours – Blackcurrant & Rosemary, Golden Raspberry & Apache Chilli, and Lemon, Basil, Bay and Juniper.
The Lowdown: They've halved the amount of sugar they use, resulting in their finished vinegars having only 33% sugar in, now. This has resulted in a flavour balance where the fruit is stronger, the vinegar sensation in the throat is better balanced and there is significantly less intrusion of the 'cordial like' sweetness many didn't like.
Stockists: Available online or from Cotswold Fayre, Artisan Food Club and Shires Foods
Photo Credit: Sophie Carson Photography
What: Zigzag teas story began in 2014 when founder Lucy Dolan was supported by The Prince's Trust to start her business. Now a small, artisan company based in East London. Inspired by her own experiences of the ancient Chinese Gong Fu tea ceremony and the journey of tea across the world, Lucy has built a passionate team of experienced tea blenders, growers and brewers dedicated to creating tea that will awaken your taste-buds.
The Lowdown: All of ZigZag teas are natural, whole leaf tea sourced from independent growers and private tea gardens around the world. Make sure you check out the salted caramel tea – let it brew for about 4-5 mins then add a dash of milk but it also tastes good black. There's also; strawberry and kiwi, chocolate chai and peach. They're all winners in our eyes.
Stockists: Buy online 
What: Spice Kitchen is a family run artisanal spice company run by mother and son team Sanjay and Shashi Aggarwal. Started over the kitchen table in early 2013, the business is centered around Shashi's expertise and knowledge with spices and spice blends.
The Lowdown: Spice Kitchen specialises in high quality home-ground spice blends and spices. They source the freshest spices from around the world for their customers, which are carefully hand-blended, roasted, ground, stored and packed just before sending.
Stockists: Buy online 
7. For a Japanese Treat: Tsuki Mochi 
What: Tsuki Mochi, an artisan producer of mochi truffles has launched a beautiful range of luxury Japanese desserts, which are served chilled in two unique editions, Yuzu Lemon Cheesecake and Dark Chocolate. Made from pounded and sweetened rice flour, mochi is a delicacy in Japan where it has been eaten for over one thousand years.
The Lowdown: Japan's favourite dessert and its best kept secret, Tsuki Mochi is on a mission to put mochi on the map in Britain. Traditionally filled with a sweetened red bean paste, this brand has updated the classic mochi recipe with contemporary flavours. Each truffle bursts with a velvety smooth and decadent ganache, creating the combination of contrasting textures that makes each mouthful so unique.
Stockists: Selfridges
What: T + drinks have launched the UK's first range of vitamin enriched green tea to offer the benefits of vitamins combined with a great tasting tea to conveniently aid a hectic everyday schedule. 
Each box contains 15x individually wrapped tea bags with a mission to make it easier for everyone to do themselves some good, but we also aim to do others good too by supporting charity Vitamin Angels. 

The Lowdown: The t + boost is an energising blend of green tea, yerba mate, ginseng and energy releasing B vitamins in a natural raspberry and pomegranate flavoured tea. There's also the t + immunitea – an immune boosting mix of green tea, echinacea, ginseng and 50% RDA vitamin C in a delicious natural orange and blueberry flavoured green tea, and  t + detox – acleansing blend of green tea, milk thistle, ginger root and B vitamins in a refreshing natural apple & blackcurrant flavoured tea.
Stockists: Buy online 
What: PHIZZ is for anyone looking to travel to the max without compromising on health. Inspired in part by the World Health Organisation rehydration formula, PHIZZ is the perfect mix of glucose, vitamin C, zinc, copper, plus many more important vitamins and minerals giving your body all the essentials to combat dehydration, boost your immune system and keep mental and physical fatigue at bay.
The Lowdown: By combining a rehydration formula with a mix of essential vitamins and minerals in one convenient effervescent tablet, you can simply head from a busy day in the office to the airport, hop on a long haul flight then head straight out to the 'go to scene' with Phizz by your side. Long-haul flights especially can take a considerable toll on your body, ultimately causing symptoms of Jetlag such as tiredness, fatigue and sleep deficiencies. PHIZZ comes in convenient tubes of 10 or 20. No messing around with sachets, just simply pop and drop into your in-flight or hotel water and continue your trip exactly as you intended.
Stockists: Ocado and Amazon.co.uk
10. For a New Ice Cream: Magnum
What: Magnum has announced the long-awaited return of its most indulgent range, Magnum Doubles. The selection comes roaring back with more splendour than ever before and, tapping into taste sensation trends, the range now features a decadent new Peanut Butter flavour to add to its premium collection.
The Lowdown: These Magnums are crafted with thick chocolate, made from high quality sustainable cocoa which is 100% Rainforest Alliance certified. They are also gluten-free, for all you coeliacs. Bursting on the scene, Magnum Double Peanut Butter is the perfect taste combination of sweet and salty for a rich flavour experience. Velvety smooth peanut-butter flavour ice cream is dipped in chocolate flavour coating, smothered in a layer of peanut butter sauce and covered in famous cracking Magnum chocolate, made from high quality cocoa beans.
Stockists: Ocado