National Curry Week: London's Best DaalsBy Uma Nayer
It's National Curry Week! And it's about time the most under-rated curry of all had its moment in the spotlight. Often referred to as a humble side dish, daal /dal/dahl (curried lentils) is a staple dish in most Asian homes. Whether it's a buttery Tadka daal, rich black daal or light and spicy Sambar, Daal is the most morerish of curries – with the added bonus of it usually being  gluten-free. Here are the best daals in London.
1. Best Daal On a Budget: The Indian YMCA
What: A variety of daals – the menu changes every evening (£8)
Why: Its not often that I quote The Village People, but they were right when they told young men everywhere, that you can have a good meal …at the YMCA!  And this place is no exception. Expect a delicious home cooked daal with all the trimmings (rice, chappati, a choice of different veg/meat curries) set in a buzzy canteen. This isn't luxurious but it is amazing value for money and a rarity in central London, enjoy a complete meal for under a tenner. So grab a plate, queue up, and get stuck into the all you can eat buffet!
Where: 41 Fitzroy Square, London, UK W1T 6AQ
2. Best Black Urad Lentil Daal: Raunka Punjab Diyan
What: Daal Makhni (£4.95)
Why: Raunka Punjab Diyan take their delicious Daal Makhani seriously, it's lovingly cooked on hot coals for 12 hours and then bathed in cream and lots of butter. The restaurant's name means true glimpses of the Punjab. Its food and hospitality is Punjabi to the core – generous and warm. On the weekends, Raunka Punjab Diya help diners to work off all that ghee with bhangra dancing complete with sparkly waistcoats.
Where? 466 Lady Margaret Road, Southall, Middlesex. UB1 2NW
Photo Credit: Rajan Wadhera
3. Best Tadka Yellow Daal: Indian Zing 


What: Tadka Daal (£5.00)
Why: When you walk into Indian Zing, you are greeted with a friendly welcome – it feels just like coming home. Their Tadka dal is just like home too. Smokey, garlicky and the perfect comfort food. The restaurant has an air of calm, and serenity and the food is light, with a Maharashtrian influence. From the stunning amuse bouche lentil soup to the freshly made chutneys and poppadoms, the menu is exciting and fresh.  The Vegetable Bhanavla is the most sensational take on an onion bhaji you will ever eat! Indian Zing is  the perfect place to impress curry aficionados (even my parents enjoy Indian Zing, which means it must be good).
Where: 236 King St, London W6 ORF
4. Best Daal For a Meat Feast: Gifto's Lahore Karahi
What: Haleem (£9.50)
Why: When you can't decide between daal and a lamb curry, there is no need to pick sides, you can have a Haleem! Succulent lamb pieces and spicy lentils are slow cooked together to create a mash up of both dishes, this ancient and well travelled curry is the star of Middle Eastern and Asian cuisine. Head to Southall institution Gifto's for an authentic Pakistani Haleem.  You can also watch the chefs expertly tandoor the best sheekh kebabs and lamb chops in London.
Where: 162-164 The Broadway, Southall UB1 1NN
5. Best Daal for Vegans: Rasa N16
What: Cheera Parippu Curry (£4.50)
Why: This restaurant is a vegan paradise. The Cheera Parippu is a typically Keralan daal, flavoured with curry leaves with a spinach and green pepper twist. The other daal of choice is a soupy Samaba which is served with another Keralan classic Chilli Onion Rava Dosa (rice flour pancake). Even confirmed carnivores will love the variety of the menu, and vegans will be spoilt for choice.
Where: 55 Stoke Newington Church Street, Hackney, London N16 0AR
6. Best Takeaway Daal: Malabar 
What: Murg Dhansak (£9.15)
Why: Malabar's Murg Dhansak has everything you need for a daal fest at home –  chicken, lentils, tamarind and it's delicious on its own or with a buttery paratha (flakey bread).  Located in a quiet street behind Notting Hill Gate, Malabar is a hidden gem – a family run restaurant where you might spot local celebs running into grab a curry fix.
Where: 27 Uxbridge St, London W8 7TQ
7. Best Daal With a View: Carom, Spice Garden at Butlers Wharf 
What: Black lentil daal (£4.90)
Why: Carom's black daal is decadent and authentic, much like the rest of the menu. What makes it even more special is while you eat you can check out the resturant's iconic view of Tower Bridge. Located on the Thames, Carom's Spice Garden pop-up (until Feb 2016) is the perfect location to sip on a mango lassi (with or without vodka) and enjoy a palak (spinach) pakora chaat with of course the black daal.
Where: 36e Shad Thames, London SE1 2YE
8. Best Pub Daal: Darjeeling Express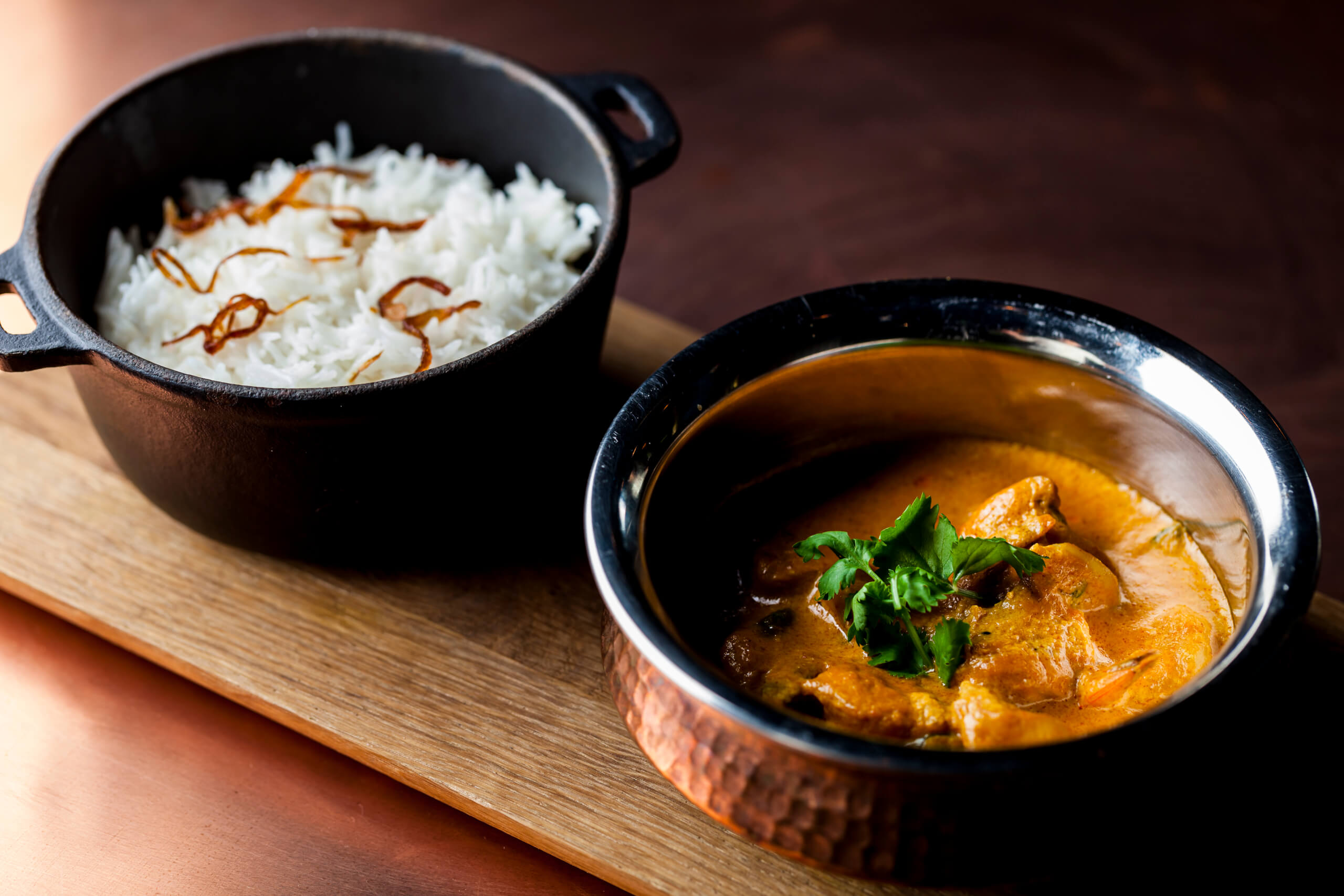 What: Tamarind Daal
Why: This daal originates from Hyderabad and is a taste sensation. The tamarind gives it a tangy, zesty flavour very different compared to the other daals on this list. It's also perfect for vegans! Forget the usual pub fare with your pint, and instead head to the Darjeeling Express for a crunchy starter of Dahi Puchkas , tamarind daal and the regal venison koftas.
Where: 21 Great Pulteney St, London W1F 9NG
9. Best Daal With Cocktails: Dishoom 
What: Black House daal (£4.90)
Why:  Dishoom's black daal is thick, creamy and cooked for 24 hours making it their signature dish. Washed down with Dishoom's Desi cocktails and you have a winning night out. The Bollybollini with rose and cardamom infused prosecco, brings out the richness of the daal. Don't leave without trying the Thums Up Flip – Johnny Walker whisky shaken up with Indian cola and spices, oh and the East Indian Gin Gimlet (£7.50) – hey, just try them all. When you get peckish be sure to also share the okra fries and Dishoom calamari, Boti kebabs and Masala prawns.
Where: Locations here 
10. Best Daal For a Sweet Tooth: Laguna Tandoori Restaurant 
What: Moong daal halva (sweet yellow lentil pudding) (£3.55)
Why: What better way to finish a daal-icious meal (sorry!) but with more daal, this time for desert. Laguna's traditional Rajasthani dish will sweeten you up after a spicy treat. The unique texture is creamy yet gelatinous and can be served with ice-cream – it really is a pudding worth celebrating. A must try for your starter, are the crispy and aromatic Amritsari fish pakoras, absolute deep fried goodness.
Where: 1-4 Culmington Parade, 123 Uxbridge Road London W13 9BD