It's like a slice of sunshine on your plate; whether you prefer the traditional shortcrust or the Portuguese style crust, no one can fail to smile at the sight of a custard tart. So to celebrate the return of spring's sunny days – here's our pick of the top 10 custard tarts in town.
1. Best for a Modern Classic: The Marksman Pub
The Run-Down: The brown butter honey custard tart which sold so fast that people started calling ahead to reserve a precious slice. The rich flavour which chef Jon Rotherham came up with after making madeleines, shines through the velvety, barely set custard with its golden, biscuity crust.
Where: Marksman Public House, 254 Hackney Road, London, E2 7SJ
2. Best for a Tart on the Go: St John Bakery, Maltby Street
The Run-Down: These perfectly sized little tarts sell like, well, hot cakes, out of St John's railway arch bakery in Bermondsey. The pastry is delicious enough to eat by itself.
Where: 41 Maltby St, London SE1 3PA
Photo Credit: ks_ate_here
3. Best Old School Classics: Corrigan's Mayfair
The Run-Down: You certainly won't leave hungry after dinner here, but make sure you leave room for dessert. Especially when there's custard tart on the menu – a classic, done perfectly.
The Run-Down: Or try Outlaw's at the Capital – Nathan Outlaw's London outpost under head chef Tom Browne. It's not just good for brilliant sea food, there's a rather special looking custard tart on the dessert menu too.
Where: Corrigan's: 28 Upper Grosvenor St, Mayfair, London W1K 7EH. Outlaw's at the Capital: 22-24 Basil St, Knightsbridge, London SW3 1AT
4. Best for a Deep Filled Tart: Temple and Sons
The Run-Down: The latest in Jason Atherton's ever expanding empire celebrates the best of British cooking. The custard tart, which comes with a shocking pink quenelle of rhubarb sorbet on the side is deep, rich and generous.
Where: 22 Old Broad St, London EC2N 1HQ
5. Best for a Bit of a Twist: Dominique Ansel Bakery
The Run-Down: The salted honey tart is essentially a riff on a custard tart, combining frangipane with a salt milk cream and celebrating two kinds of local London honey.
Where: 17-21 Elizabeth St, Belgravia, London SW1W 9RP
The Run-Down: The custard tart at Honey and Co comes baked with seasonal fruit: you might find rhubarb and strawberry, or apricot. Either way – it's soft, creamy and like everything else they sell, utterly delicious.
Where: 25 Warren St, Bloomsbury, London W1T 5LZ
Photo Credit: Honey & Co Instagram 
6. Best for a Portuguese Vibe: Mercado Taberno
The Run-Down: If you enjoy your custard like the texture of thick double cream, and who doesn't – then these tarts, served warm, are your elixir. Stick in your spoon and the custard will instantly break free in a pool of golden yellow joy.
Where: Old Spitalfields Market, 107B Commercial St, London E1 6BG
7. Best for an Out of Town Treat: Hispi
The Run-Down: Hispi in Manchester is worth the journey up north for many things: but star of the menu on this newly crowdfunded venture by Sticky Walnut's Gary Usher is the custard tart. Perfect pastry, beautiful silky filling, it's about as good as a custard tart gets.
Where: 1C School Ln, Manchester M20 6RD
8. Best for a Pop-Up: The Development Kitchen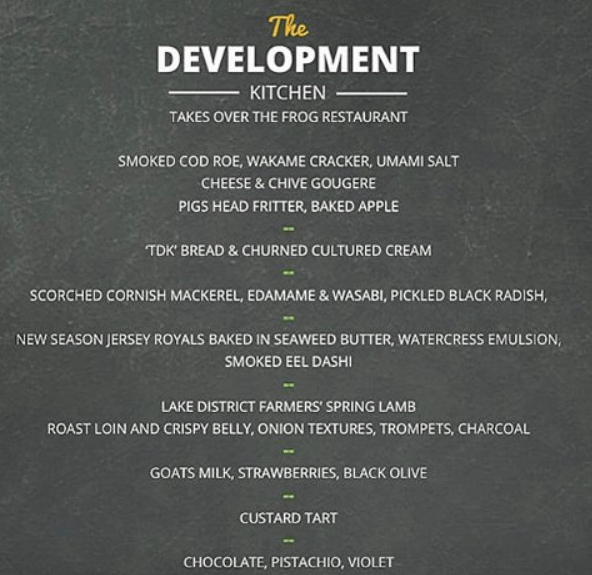 The Run-Down: The Development Kitchen is a new partnership between ex Sat Bains chef Tom Shephard and former head pastry chef at Chiltern Firehouse Adam Degg, featuring wonderfully creative tasting menus popping up at different venues around town. Adam is a custard tart genius. By popular demand, there is one on the menu at their next pop-up.
Where: Check their website for details of their monthly events.
Also Recommended:
The Run-Down: Famous for the outstanding pastry creations by chef Calum Franklin and team – if the custard tart makes a reappearance on the dessert menu – you're in luck. It's sometimes available to take away from their deli next door too.
Where: 252 High Holborn, London WC1V 7EN
The Run-Down: Alex Hely-Hutchinson has come up with a rye cacao cardamon tart with almond custard as an occasional special. We say this is too good to keep for an occasional special. Join our campaign to get it on her menu year round!
Where: 1 Neal's Yard, London WC2H 9DP
The Run-Down: Another place with a top-rate pastry chef – a heather honey custard tart has been known to make an appearance. We say a big yes to this tart.
Where: 88-94 Farringdon Rd, Clerkenwell, London EC1R 3EA