About Time You Discovered: London's Best Coconut SmoothiesBy Alicia Grimshaw
We've gone slightly nuts for the humble coconut this week. Our friends over at The Coconut Collaborative have helped us uncover London's best coconut smoothies – for coconut inspiration, follow Coconut Collab on Twitter here, like them Facebook here and keep up to date by using #CCcoconutweek. Now, let's get drinking:
1. Best Green Smoothie: Granger & Co, Kings Cross 
What: Bill's Greens – green apple, cucumber, ginger, silver beet, chia and coconut water (£4.80)
Why: Check out new Granger & Co in Kings Cross. There is no denying that King's Cross is undergoing a dramatic transformation and there couldn't be a more exciting area in London to be a part of. Expect a central bar, wrap around olive leather banqettes and pink marble tables, an ideal place for a breakfast meeting, an indulgent brunch with friends, a salad with work colleagues or dine in style in the evening – just don't forget to order this smoothie.
Where: Stanley Building, 7 Pancras Square, London N1C 4AG
2. Best Sweet Smoothie: Mojo, Soho
What: Sweet Kale Of Mine – kale, banana, almond, dates, coconut butter, almond milk and cinnamon (£4.95)
Why: Mojo just has 'it'. The 'it' being the smoothie list, the brekkie options and the lunch time salad bar. We've got a lot of time for Mojo – they're into nutrient-rich whole foods, avoiding refined sugar and processed food and fully embracing nutritionally balanced food packed full of healthy fats, responsibly sourced proteins and whole grains. Grab a stool and order their sweet kale of mine smoothie and their toast with orange tahini paste – breakfast sorted.
Where: 8 D'Arblay Street, W1F 8DP
3. Best Glow Smoothie: Blend & Press, Covent Garden
What: Glow Smoothie – peach, mango, pineapple, carrot, coconut milk, lemon, baobab and beauty oil
Why: The guys down at Blend & Press are all about feeding your body from the inside. Blend & Press regularly team up with  nutritionists and natural health experts to design juice and smoothie recipes to help cleanse the body and boost overall health. Not only do they create fine cold-pressed juices, but super food smoothies are also their forte.  The glow smoothie is high in the best vitamins and natural oils to promote radiant and glowing skin.
Where: 6a Neal's Yard, London WC2H 9DP
4. Best Boosting Smoothie: Roots & Bulbs, Marylebone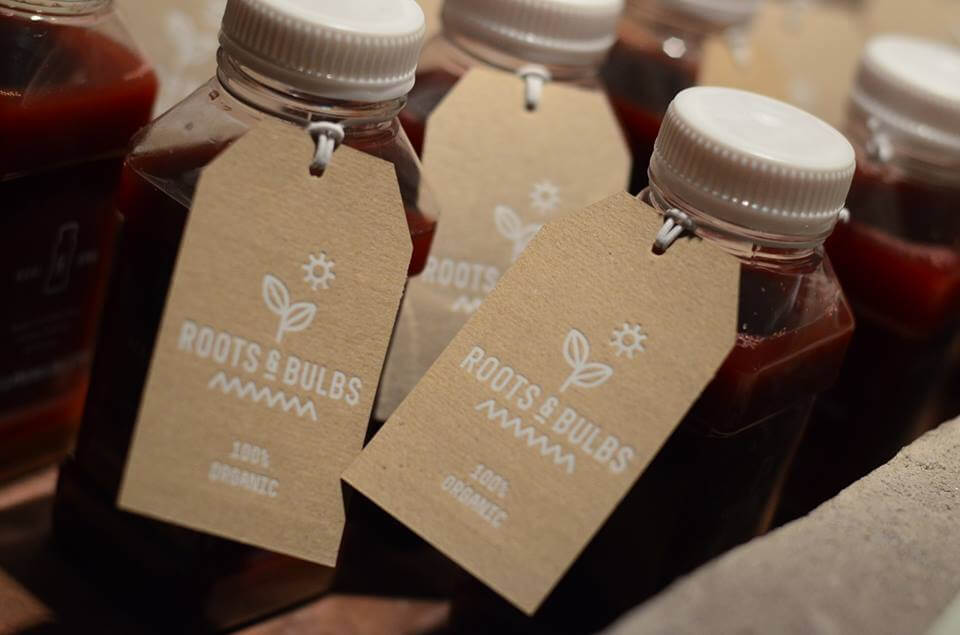 What: Coco Heaven – coconut water, coconut meat, spirulina, wheatgrass, barley grass (£6)
Why: Roots & Bulbs is built on three main values; honesty, transparency and quality – they strive to create some of the best possible tasting juices, smoothies and food that contain no hidden ingredients, no nasties and certainly no tongue twisting additives.  While their cold-pressed juices are killer, their smoothies are also worth a shout out. You can't go wrong with the coco heaven smoothie – it's a nutty delight.
Where: Locations here
5. Best Breakfast Smoothie: Crussh, Various Locations 
What: Bliss Blend – orange juice, low fat yoghurt, mango, pineapple, peach, bananas, coconut milk and bliss blend booster (£3.75)
Why: Crussh is the high-street chain that knows what goes into making fine smoothies – fruit, yogurt and 100% juice. None of this 32 different artisan ingredients nonsense, although they do sell wheat-grass shots if you fancy it. The bliss blend is packed full of fruity flavours and is a sure fire afternoon pick me up. There's nothing wrong with the high-street, Crussh is fantastic.
Where: Find your nearest Crussh here
6. Best Coffee Smoothie: The Juice Well, Soho
What: Mochachino – banana, almond milk, coffee, coconut nectar, cacao, lucuma (£7)
Why: The Juice Well is a juice bar in Soho, creating organic cold pressed juices, superfood smoothies and cleanses. Alongside cold-press juices which they're known for, their smoothies are sublime. The Mochachino is traffic-halteringly good – coffee, almond milk and banana.  No one could possibly turn down a healthy spin on a frappacino.
Where: 4 Peter St, Soho, London W1F 0DN
Photo Credit: Zoe Haldane
7. Best Fruity Smoothie: moosh, Kingly Court 
What: No.5 –  mango, pineapple, raspberry, coconut and yogurt (£4)
Why: moosh is an all natural fruit and smoothie bar, that whizz up classic smoothies and juices that are freshly made in front of you and best of all – are tailored to your taste. Their smoothie list is out of this world, and if you're not a fan of some of the ingredients you can chop and change the menu. The No.5 smoothie tastes like summer. No, really – it does.
Where: Unit G11, Kingly St, London W1B 5PW
8. Best Exotic Smoothie: 106 Baker Street, Baker Street
What: Pineapple and coconut water (£2.95)
Why: 106 Baker Street is a quaint cafe in Marylebone – they've perfected the art of making glorious flats white and they boast a pretty nifty cake selection. They have a daily-chaning menu featuring freshly-prepared salads, pastries, sandwiches, quiches and hot and cold mains. The pineapple smoothie and the banana bread come highly recommended by us.
Where: 106 Baker St, Marylebone, London W1U 6TW
Sponsored post in association The Coconut Collaborative – follow them on Twitter here, Facebook here and see the website here.