We're big fans of baked goods. Very big fans. There's nothing we like more than freshly baked cinnamon buns – sweet, sticky and utterly delicious, these little goodies remind us of the Danish childhood we never had. The limp salad can wait, here are London's best cinnamon buns:
1. For a Swedish Cinnamon Bun: Bageriet
The Story: Pastry chef Daniel Karlsson started making pastry at 20, training at Gothenburg in Sweden, including a year of work experience in a professional bakery. With the encouragement of his mother and grandmother, and recipes handed down from generations, Daniel realised his dream at Bageriet, a fantastic Swedish bakery in Covent Garden.
Expect: This Swedish bakery does traditional Swedish biscuits, cakes and treats exceptionally well. Their cinnamon bun, or Kanelbullar, is the most heavenly mix of sweet dough rolled together with a sweet cinnamon filling – they come adorned with little sugar crystals, for an added sweet crunch. For something a bit different, try the Kardemumma Bullar, which has an unusual and delightful cardamon filling. Basically, anywhere that sells 'butter cake' and 'brioche pretzels' gets a yes in our book.
Where: 24 Rose Street, London, WC2E 9EA
2. For a Family Cinnamon Bun: Cooper & Wolf
The Story: This family-run restaurant opened in 2012, and serves breakfast and lunch seven days a week in the heart of Clapton overlooking Millfields Park. They are passionate about good quality – from the coffee made with beans from Caravan's Roastery in Kings Cross, to daily-changing fresh, homemade cakes – it's all about the best produce, produced in a warm, friendly atmosphere.
Expect: Home-cooked Swedish food inspired by head chef Paul and owner Sara's family recipes, going back by generations. Dishes include Swedish meatballs, fresh fish and veggie delights. They use only seasonal produce and even pickle their own herring and make their gravlax in-house. Come for the "Dagens" daily special on our menu. For breakfast, try the oatmeal with apple, cinnamon and Swedish syrup, it's absolutely dreamy.
Where: 145 Chatsworth Road, Lower Clapton, London E5 0LA
3. For a Traditional Cinnamon Bun: Nordic Bakery 
The Story: This list wouldn't be complete without a mention of our favourite Nordic Bakery. The bakery describes itself as a peaceful meeting place in a frantic city – and we can see why. A beautiful, calm oasis that wafts of freshly cooked cinnamon buns is enough to make you forget all your mid-week stresses. The Scandinavian-style café offers simple and savoury Nordic bakery products – and an honest attitude.
Expect: Open sandwiches made with dark rye bread and the most incredible cinnamon buns. The food is all based on Nordic recipes and ingredients; think classic Swedish meatball sandwich with lingonberry jam on dark rye, and Gravadlax with cucumber and mustard dressing. For the sweet-toothed, their cinnamon buns are huge (a rustic take on the Finnish cinnamon bun) and the Blueberry upside-down cake a slice of moist heaven. Luckily for you, their cakes are also available to order whole to take away with 48-hours notice. Dreamy.
Where: Locations here
4. For a Scandi Cinnamon Bun: ScandiKitchen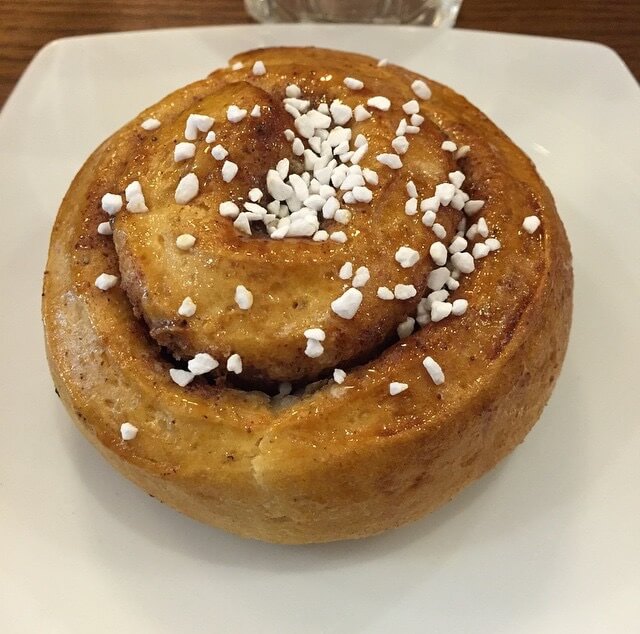 Photo courtesy of sk8ermumuk
The Story: ScandiKitchen on Great Titchfield Street is a trendy mid-week hangout for the yummy mummy and Swedish expat crowd alike. They do great lunches, like traditional beetroot salads and open prawn mayo rye sandwiches, as well as incredibly delicious banana cake. They have over 600 goodies from Sweden, Norway, Denmark and Finland – from crispbreads to tasty salmon and herring and salty liquorice varieties.
Expect: For breakfast, expect some seriously creative oats action. We're talking raw stirred lingonberry porridge with oats and rye, topped with Nordic lingonberries and pumpkin seeds, as well as Nordic Rye and Oat Porridge with a choice of apple compote, fresh berries, cinnamon and agave nectar toppings. Lunch is a feast of fresh salads, and you can't miss their cakes – the Mjuk pepparkaka, a soft gingerbread cake with lingonberry vanilla whip, is one of the best things you'll ever taste. And, of course, their cinnamon buns are the absolute dream.
Where: 61 Great Litchfield Street, London W1W 7PP

5. For a Local Cinnamon Bun: Violet Cakes 
The Story: Claire Ptak, food writer, food and prop stylist, recipe developer and consultant, runs this bakery-café, which started as a market stall on Broadway Market. She bakes with organic flour, sugar, milk and eggs, as well as makes her special buttercreams, which are made by mixing butter and sugar then gently folding in fresh fruit purees, melted Valrhona dark chocolate, freshly brewed espresso, home-made flower cordials or dark caramel made with sea salt. Total bliss.
Expect: Incredible baked goods. Expect creations like cinnamon buns, fresh ginger and molasses cake, chocolate rye brownies, fruity spelt cake and chocolate-vanilla sandwich cookies. There is a real focus on flavour here, and everything cake is perfectly moist and delicious. Small but perfectly formed, this East London cake shop is exactly where you want to while away a few hours with a cup of tea, a slice of cake and a good book – come on a weekend and lose yourself.
Where: 47 Wilton Way, London E8 3ED
6. For a sticky Cinnamon Bun: Bygga Boo 
The Story:  Branding itself as 'a slice of Scandinavia in E17′, we can see why. The cafe doubles us as a shop selling a range of different imported goods  from Scandinavia and independent local suppliers. If you need your fashion fix, they sell well known Scandinavian labels including  Cheap Monday, Fjallraven and Bloomingville. Come for pastries and leave with hand cream.  
Expect: There's very little to dislike about this quaint cafe in Walthamstow. All their baked goods are made using organic ingredients, no nasties here. They use freshly baked bread from Flourish Bakery, based in Tottenham and the beans used in their coffee are from the expert roasters at  Climpson and Sons. If you're after good quality food without bank breaking prices – this is the place. If you're after a cinnamon bun that's slightly sticky with a generous amount of cinnamon, you've come to the right joint.
Where: 8 Chingford Road, London E17 4PJ
7. For a Sweet Cinnamon Bun: Cinnabon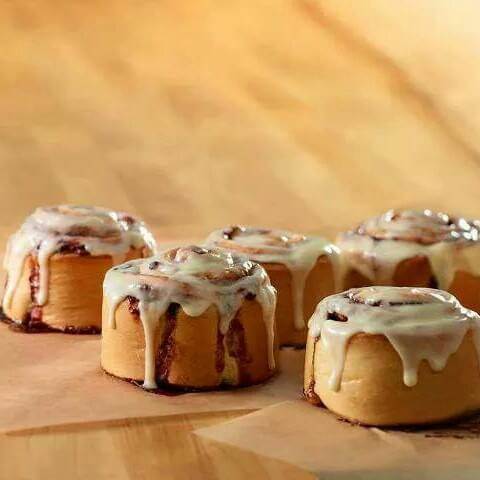 Story: Opened in 1985 in Seattle by two brothers Rich and Greg Komen who wanted to create the 'world's best cinnamon roll'. Fast forward a few years and the stores finally hit the UK with much acclaim.  If you ever wondered what the sweet smell was wafting down Piccadilly Circus Underground, blame Cinnabon – not that we're complaining.
Expect: For cinnamon buns with different flavours, head to these guys. They sell their famous Cinnabon classic roll which is always a good shout – warm dough filled with cinnamon and topped with a generous serving of frosting. If you fancy switching it up, you can always opt for their Caramel Pecanbon or Chocobon. Both are equally delicious. These cinnamon buns are for the sweet tooth fans, one bun can keep your sugar level high for days (or weeks).
Where: 7 – 14 Coventry Street, London W1D 7DH
8. For a Knotted Cinnamon Bun: Fabrique
Story: Originating from Stockholm with now an impressive 11 bakeries, this is their first bakery to be housed outside Sweden. Using traditional methods and the finest natural ingredients, they make some pretty darn good artisan sourdough bread. If you've been in search of a good loaf, call off the quest – it's these guys you need to be visiting.
Expect: Cinnamon rolls take on new life at Fabrique with the famed Scandinavian pastry being served in knotted form instead of the usual circle. It's covered in ground cinnamon and a slight sprinkling of cardamon. Found under the railway arches of Hoxton overground, it's easy to miss this small bakery-  be sure to look out for it. Pop down on a sunday for one of their coffees using beans from Swedish coffee roasters Johan and Nyström, a perfect companion to one of their cinnamon buns.
Where: 385 Geffrye Street, London, E2 8HZ
9. For a High-Street Cinnamon Bun: Gail's
Story: First opened  in 2005 in Hamsptead, three friends decided to bring well baked artisan bread to the streets of London. Establishing itself as a 'go to' lunch spot, Gail's serve quick on the go dishes from sandwiches, quiches to flaky sausage rolls. If you're around for breakfast be sure to pick up on of their granola pots with Greek yogurt, we can't get enough of it.
Expect: A cracking selection of hand made artisan loaves made with sourdough, rye and spelt. For a quick breakfast grab one of their pastries, freshly baked every morning or if you have time, pull up a chair and get stuck into their sweetcorn pancakes. For us, nothing beats their cinnamon bun – cinnamon sugar encased in dough which is then caramelised in the oven. It's an absolute belter.
Where: Locations here 
10. For a Classic Cinnamon Bun: Hej Coffee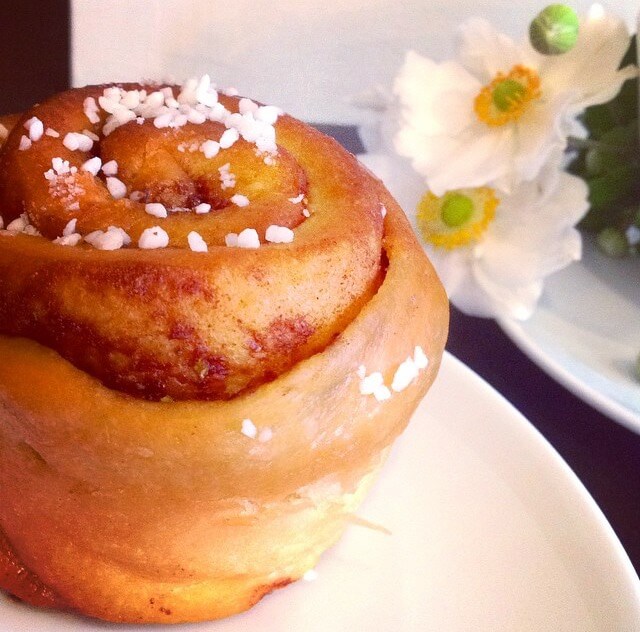 Photo courtesy of: Erin Brown Food Creative 
Story:  Found in a converted warehouse with minimalist decor and a laid-back vibe, Hej prides itself on their coffee and Swedish grub. The coffee experts at Hej imports offee from Swedish company,Lofbergs known for the organically grown and fair-trade coffee. They also have a training academy, proving barista training to unemployed people to help them get back into employment with a barista qualification.
Expect: Some of the freshest pastries South East London has seen, baked every morning onsite. The menu is easy to navigate with no flashy over the top fussy lunchtime specials, instead sweet and savoury pastries, a good selection of cakes and sandwiches are on offer. If there's one thing to buy it has to be their cinnamon bun. We don't know how they make this doughy delight taste so good, we don't care – it's absolute heaven.
Where: 1 Bermondsey Square, London SE1 3UN