People say fondue has made a comeback, but let's be real here – fondue never went out of fashion. A popular Swiss dish, us Brits can't get enough of the melted cheese and crusty bread combo. If you're looking for a sweet or savoury fondue, we've found the best fondue in London. And if you want to make one at home, discover the best independent cheese shops in London here. Time to feast:
1. For a Three Cheese Fondue: La Fromagerie
Order: La Fromagerie Fondue – Comte, Beaufort and Emmental served with crusty bread and cornichons (£18.50)
The Lowdown: La Fromagerie doesn't mess around when it comes to fondue. Aside from stocking an eclectic mix of cheeses from far and wide, the cheese shops also bang together a drool-worthy fondue featuring three blends of classic cheese greats: Comte, Beaufort and Emmental. One of the best fondue in London – addictive and incredibly moreish, you'll easily nibble your way through the stumps of crusty bread. No fear, you can always order more. This stuff is the best legal high going.
Where: Locations here
2. For a Traditional Fondue: Androuet
Order: Classic fondue with crispy bread (£13.50)
The Lowdown: With several branches in France, Androuet are the kings of fondue. Established way back in 1909, this Parisian cheese merchant boast a cheese heavy menu featuring their classic fondue, which as you'd expect, is knock your socks off delicious. The fondue is made with gourmet cheese sold in the shop, and it's nothing short of a melted miracle. And for God's sake, don't think about leaving without trying the Swiss Racelette – basically an edible duvet of cheese.
Where: Spitalfields Arts Market, 10 Lamb St, London E1 6EA
3. For a Boozy Fondue: St Mortiz
Order: Fondue Moitie-Moitie – melted Gruyere and Vacherin cheese from Switzerland served with new potatoes and bread (£19.90 per person)
The Lowdown: Any fondue list worth its cheese wouldn't miss St Mortiz for love nor money. This place isn't a restaurant, it's an institution (having opened in 1974, this place is London's oldest Swiss restaurant). If you want to nab a table at this Alpine-inspired joint, book ahead as this place gets packed. The fondue here is boozy as hell, but that's why we love it; copious amounts of white wine are mixed into not one, but two cheeses. One of the best fondue in London, for sure. Forget your fake fondue gaffs, St Mortiz is the real deal.
Where: 161 Wardour St, Soho, London W1F 8WJ
Photo Credit: Nine Grand Student 
4. For a Classic Fondue: Champagne + Fromage
Order: Cancoilotte Fondue – served with potatoes, smoke gauges, salad and bread (£18 serves 2-3 people)
The Lowdown: Champagne + Fromage is a little French bistro which serves the three best things on the planet: charcuterie, cheese and Champagne. With outposts in Covent Garden, Brixton, Greenwich and Elephant and Castle,
this place has all you ever need, and manages to feel like a cute little secret, despite having four locations throughout London. The tartines (try the Auvergne – fresh figs on melted Fourme d'Ambert cheese) will rock your world, as will the salami and cured meat selection. But the fondue is where the party gets started – get dunking the bite sized pieces of bread into the fondue and tell us that it doesn't taste good.
Where: Locations here
5. For a Rooftop Fondue: Babylon at The Roof Gardens
Order: French Comte Fondue melted with shallots, white wine and garlic (£19)
The Lowdown: A newbie on the fondue circuit, Babylon at The Roof Gardens has transformed its terrace into a winter haven with hot cocktails and delicious melted cheese to boot. The fondue features a combination of garlic, white wine and melted French Comte, and is a better trio than Destiny's Child. One of the best fondue in London – while the size is on the smaller side, this is classic fondue done very well indeed.
Where: 6th Floor, The Roof Gardens, 99 Kensington High Street, W8 5SA
6. For a Simple Fondue: For a The French House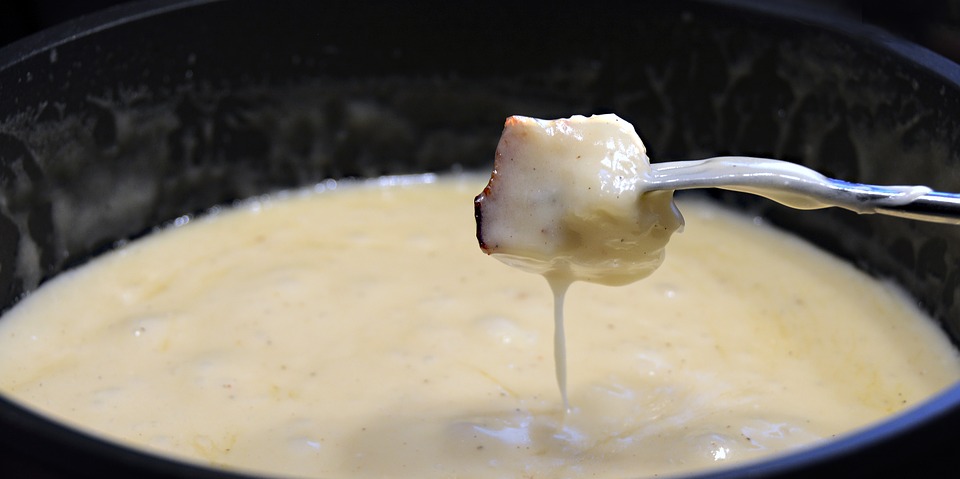 Order: Fondue Savoyarde served with served with a side of crushed garlic potatoes and mixed leaves salad (£15.50 per person)
The Lowdown: The French House is a vibrant neighbourhood eatery with locations in East Dulwich and Crystal Palace. Not just a French menu, the restaurant is home to 1960's French Yéyé interior design and music. Here, you'll find a vast selection of home cooked classic French dishes like the fondue Savoyarde – a rich and hearty pot of simmering cheese. Dreamy.
Where: Locations here 
7. For Fondue with All the Sides: Jimmy's Lodge
Order: Traditional Alpine fondue served artisan charcuterie, new potatoes, bread and side salad (£40 including canapés, starter, fondue for main and dessert)
The Lowdown: Jimmy's Lodge is an Alpine escape set on the Southbank. Just opened for the winter months, the Refuge Restaurant is where you can come and bask in all the Swiss munch. The set menu is ideal for sharing with a group of friends and includes a fondue for main course. You know what's tasty? Charcuterie. You know what's even tastier? Charcuterie dipped into a bowl of bubbly, boozy cheese.
Where: Southbank Centre, Belvedere Road, London, SE1 8XX
8. For a Chocolate Fondue: Jaz and Jul's
Order: Chocolate Fondue – melted chocolate with a selection of items to dip: fresh fruit, brownie chunks and marshmallows (£12 for two to share)
The Lowdown: Jaz & Jul's in Islington is a chocolate-fiends' dream; think cakes and pastries, all baked in house, and a delicious chocolate-themed brunch. If you're after a traditional chocolate fondue, you'll find it here. We appreciate the fruit selection, but why dunk strawbs when you can dunk in fudgy, gooey chocolate brownie chunks. When it comes to the best fondue in London, this chocolate creation is up there. Double the chocolate, double the fun. 
Where: 1 Chapel Market, London N1 9EZ
Photo Credit: Kirsty Owen
9. For a White Chocolate Fondue: Cafe Godiva
Order: Classic Fondue – a choice of milk, dark or white chocolate Godiva ganache served with croissant pieces, fresh strawberries, bananas and marshmallows for dipping (£22)
The Lowdown: Cafe Godiva is a playground for chocolate lovers. Come to Cafe Godiva for decadent truffles, rich chocolate drinks, and that melting fondue. The fondue uses the best possible chocolate, melted on a low heat for a rich, intensely creamy flavour. And the most beautiful thing of all is that you can pick your chocolate of choice. A bowl of melted white chocolate? Get some.
Where: Harrods, 87-135 Brompton Rd, London SW1X 7XL
10. For a Salted Caramel Fondue: Tramshead
Order: Salted caramel fondue with marshmallows and doughnuts  (£14.50 serves 3-4)
The Lowdown: Tramshed, part of the HIX family, is a joint for heady cocktails and meat madness, and a place where you can ogle at Damien Hirst's Cock n Bull creation and achingly stylish industrial interiors. The menu gives centre-stage to Swainson House chicken and Peter Hannan's beef, carved at the table and designed for guests to share. But the real delight is the salted caramel fondue. Honestly, it's worth every ruddy penny. Sweet, delicious and oh-so rich, this isn't a pudding, this is a way of life. Never mind the chicken and steak – we're all over this dessert.
Where: 32 Rivington Street, Shoreditch, London EC2A 3LX