BBQs in Britain is a summer staple – and with the UK currently basking in the warmer rays, there's never been a better time to fire up the grills. If you're feeling deterred by the barbecue selection at your local supermarket, we've discovered 10 independent companies banging out the best BBQ boxes in the business.
Be warned: the below article contains a cornucopia of meaty images.
What: Box Two (£42)
The 411: Tom Griffiths' Flank has launched next level meat boxes with Jones The Butcher. Providing the perfect restaurant-quality cuts at home for budding BBQ experts, there's a choice of three boxes from £25, and each is full of native breed meat. The pork is Yorkshire white, outdoor reared, and the beef is 30 day dry age, English and either Short Horn, Hereford, Angus or Charolais. For more meat for your Great British pound, grab box two containing 750g rib eye, 600g bavette/flat iron, 750g short rib/flank, 500g burger mince and 750g pork belly.
Perfect For: A massive step up from your classic sausage and burger BBQ combo.
What: BBQ Box for Four (£65)
The 411: HQ Walter have once again rustled up a mega box for all your BBQ needs this summer. The perfect box for a weekend BBQ, there's enough for 4 (but can all be frozen if you're fewer). Expect everything from pork chops to classic burgers, chicken thighs and lamb chump steaks. And to make sure your meat is marinated to a tee, the pack also includes HG Walter House BBQ Rub, Stokes Sweet and Sticky BBQ Sauce as well as Cornish Sea Salt.
Perfect For: A fuss-free family BBQ.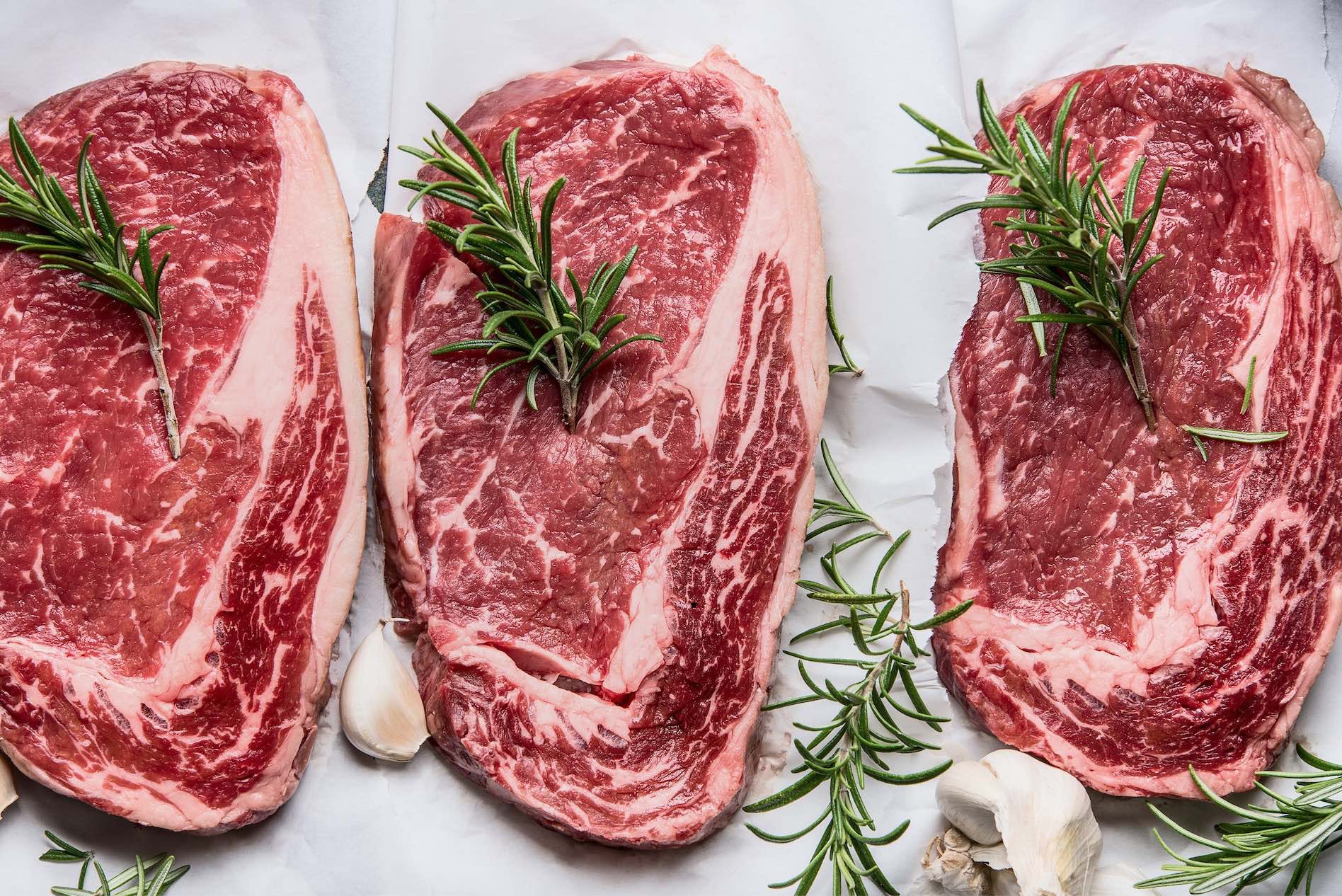 What: Steak Box (£100)
The 411: Third-generation master butchers and supplier to London's most prestigious restaurants, Tom Hixson of Smithfield, has joined forces with London steak restaurant Heliot Steak House to launch a properly fit fresh meat box. Jam-packed with over 22 premium grade steaks, the new lockdown boxes include 2.5kg of Argentine Black Label Ribeye, 1kg of deluxe Wexford Valley Chateaubriand and 1.2kg of Angus Pichanha.
Perfect For: Diners with large stomachs and steak lovers.
What: Lamb BBQ Box (£55)
The 411: Penbedw Estate, a family-run farm in North East Wales, breed high-quality Welsh lamb for their carefully selected BBQ boxes. The lamb is processed at a local butcher's, minimising travel time and stress for the animals, and is then aged for 7 days to give it an even richer, bolder favour. The Lamb BBQ Box provides an impressive feast for 4-6 people to enjoy (think leg steaks, shoulder steaks, and loin chops).
Perfect For: Barbecuers with a heavy penchant for lamb.
What: Old Pulteney and Carlingford Oysters Box (£50)
The 411: For pescetarians and non-meat eaters among us, Oystermen's bundle offers an alternative to the onslaught of meaty delights. Partnering with whisky brand Old Pulteney, the Covent Garden restaurant has put together a box for anyone longing for the beach this summer. The carefully curated bundle includes 12 of Oystermen's fresh Irish oysters from Carlingford Bay and a shucking knife alongside a bottle of Old Pulteney 12 Years Old and matching Glencairn Crystal whisky glass. A £5 donation from every order will be made to The Drinks Trust to help its mission of providing care and support to the UK drinks industry during the COVID-19 crisis.
Perfect For: People bored with the fail-safe BBQ selection.
What: Barbecue Meat Box (27.50)
The 411: Here to cater to your summer-eating needs are the ethically-founded online butchery Farmison & Co with their brand new Barbecue Meat Box. Lovingly created by award-winning Michelin-starred chef Jeff Baker, this selection box of high-quality cuts is a summer essential for lockdown Britain. Featuring an array of classic barbecue favourites, tuck into the likes of chicken koftas, heritage breed hanger steak, hamburgers, and pork, apple, and fennel sausages. 
Perfect For: Impressing friends without breaking the bank.
What: Ethical Butcher & Borough Wines Paired BBQ Box (£90)
The 411: The Ethical Butcher has partnered up with the good folks at Borough Wines to launch the Ethical Butcher and Borough Wines paired BBQ box. The new addition to the Ethical Butcher's range sees three of their premium meats, each perfectly paired with tipples from Borough Wines. The box includes three pre-marinated meats ready for the BBQ, along with recipe cards and three full bottles of wine to drink with each dish. Lovely stuff. 
Perfect For: A boozy afternoon BBQ.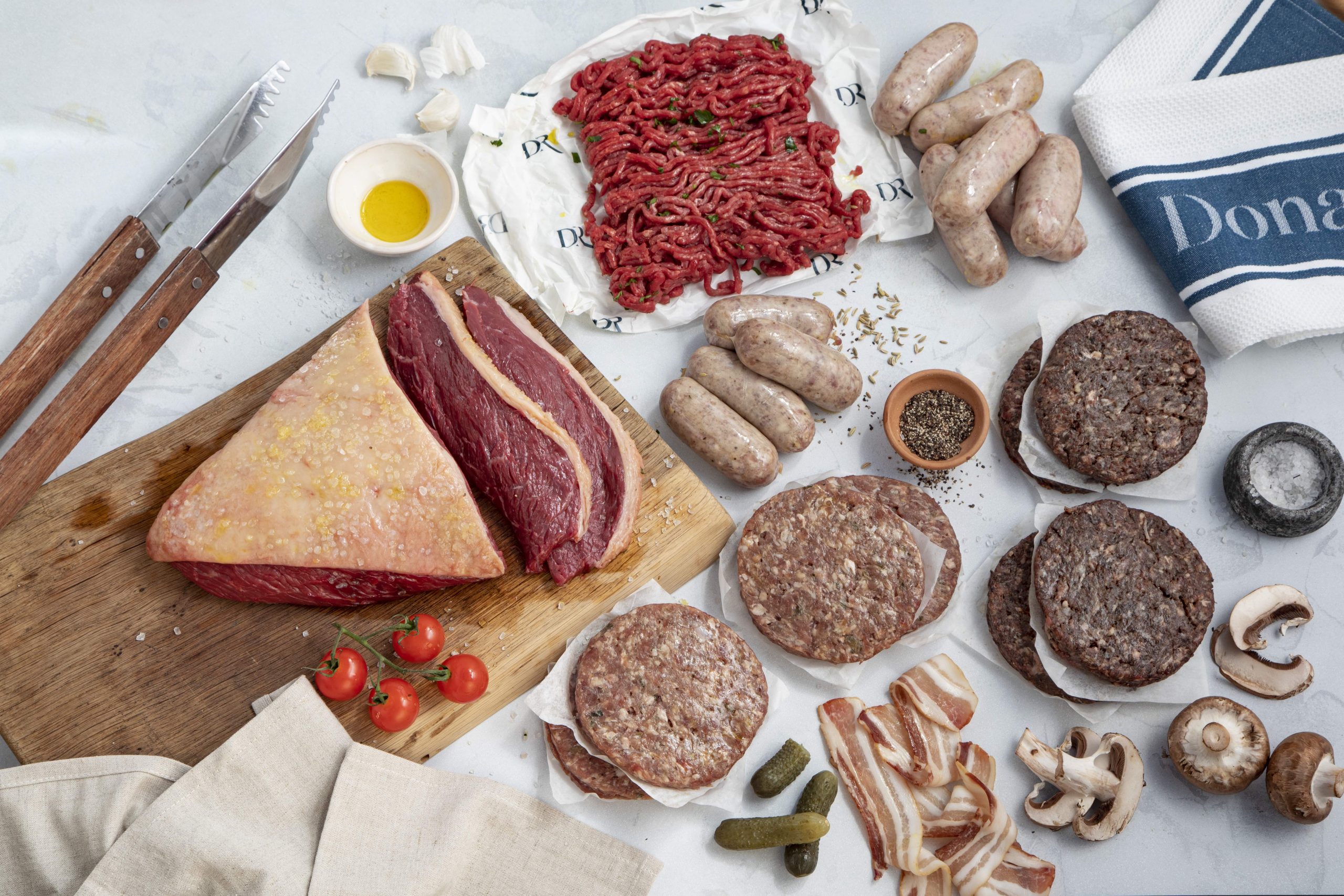 What: DJ BBQ Selection Box (£39.90)
The 411: Award-winning craft butchery Donald Russell uses the finest quality grass-fed British beef when it comes to their burgers and BBQ offering. In collaboration with grilling superstar DJ BBQ, Donald Russell has created the DJ BBQ Selection Box, serving 4-6 people. Comprising beef rump cap, minced steak, burgers, and steak burgers, the pack also features sides such as the crowd-pleasing potato rostis and Alpine Fries.
Perfect For: A money-saving spread of epic proportions.
What: Smith & Wollensky Steak Box (From £55)
The 411: Smith & Wollensky have joined forced with Knock Knock by Smith & Brock to create a series of at home steak and vegetable boxes. With two boxes on offer (pick either (28 dry-aged, grass-fed Irish tomahawk or 28 Dry-Aged Irish Rib-Eye), the bundle also comes filled with fresh seasonal vegetables from Knock Knock, including: asparagus, new season garlic, cauliflower, tomatoes, spinach, potatoes and portobello mushrooms. 
Perfect For: Cuts of meat you can't find in the supermarket.
What: BBQ Meat Box (£22.40)
The 411: Farmdrop's family meat bundle is a great value way to enjoy a range of deliciously flavoursome cuts from the free-range, grass-fed Sussex cattle, Romney ewes and Berkshire pigs raised in harmony with their surrounding countryside at Park Farm in Kent. This box includes 6 beef burgers, 6 sausages, 6 lamb ribs and 6 pork ribs.
Perfect For: Making good, quality popular BBQ favourite (who can say no to a proper burger stuffed into a fluffy white bun?).