About Time You Discovered: London's Hottest New October OpeningsBy Alicia Grimshaw
We all have a restaurant 'to-do' list where we try and make our way through the best eating spots in the capital. Bad news, guys, your list is just about to get a whole lot longer. This month sees a taqueria open in Kingly Court, a ramen pop-up finally moving into a bricks and mortar site, and a second branch from a much-loved Middle Eastern restaurant. Read on to discover where you should be dining this month:
1. For Middle Eastern Eats: Bala Baya
What: Bala Baya have smashed it out the park with their Middle Eastern fare, and now the gang are bringing a Tel Aviv 'souk' style market to Union Street arches, ideal for the early risers. Inspired by the city's unique mix of different nationalities, Bala Baya Shook will take you on a sensory journey where culture meets ecstatic taste buds.
Eat and Drink: Seasonal sweet and savoury scents from the in-house bakery, pastries and breads will drift across the counter. Open from 8am, a wide, carefully chosen selection of breakfast options will include savoury bites such as babka pretzels, pitta pie and poppy seed filas. Those preferring a sweeter breakfast, handheld delights include iced cinnamon buns, chocolate babka swirl and quince and almond torsade. Updated regularly, no two breakfasts will ever be the same.
Gimme More: From 12pm until 3pm, there will be a generous lunch offering including slow-braised beef stuffed pittas, pumpkin curls with lime yoghurt dressed with pineapple and fermented prawn, and miso and medjool date roasted aubergine drowned with rocket and coriander salsa.
Where: Arch 25, Old Union Yard Arches, 229 Union Street, London SE1 0LR
2. For a Coffee Shop and Co-Working Space: JOVA London
What: We get the need for fast wi-fi, plenty of plug points and a nice cup of hot joe. Good news: JOVA London is a co-working space with a coffee shop ideal for start-ups and the freelancer crowd. And you don't need a Macbook to enjoy their wholesome, heathy food.
Eat and Drink: Downstairs, the Joffice work club is a member-only area and provides a full suite of secure work stations, a cosy lounge, a meeting room and a round the clock concierge desk. The coffee shop features a nutritious and balanced menu using natural and organic ingredients, locally sourced whenever possible. Because they believe that every day is different, JOVA has created two food ranges – 'active' or 'lighter' – to choose from, which are both perfectly balanced to suit the different lifestyles. The menu is inspired by Mediterranean cuisine and also caters to gluten-intolerant, low FODMAP, dairy-free, pregnancy, vegan and vegetarian diets.
Gimme More: A full range of organic cold-pressed juices, freshly made in JOVA's own kitchen, are served in glass bottles and customers are encouraged to return them to JOVA's very own recycling drop off through their 'green card' scheme.
Where: 69 Charlotte Street, Fitzrovia, London
Photo Credit: Jason Alden
3. For Indian Flavours: Gul and Sepoy
What: Harneet and Devina Baweja have already bowled us over with their home-style Indian cooking at Gunpowder, and treated us to the incredible Himalayan flavours found at Madame D's. And now they're opening their third restaurant, Gul and Sepoy on Commercial Street on Tuesday (3rd October).
Eat and Drink: Showcasing the breadth of Indian cooking, the menu will be divided into two sections, with 'Sepoy' reflecting Chef Nirmal's modern interpretation of the rustic, provincial style-food associated with the soldiers of the Indian army who would cook whilst on the move. Dishes include; wild rabbit terrine with kasundi celeriac and pickled fig; clams sukka masala; and potted pig head with blood masala onions, championing nose-to-tail cooking and drawing on the food Nirmal grew up on at his family home in Maharashtra. The Gul menu, on the other hand will echo the age-old banquets of the Raj palaces in North-Western India with lavish flavours featuring; three birds awadhi korma; jackfruit and walnut galouti; and red leg partridge in Afghani sauce.
Gimme More: With a pared-back aesthetic throughout, the upstairs dining room will denote a touch of luxury, in a nod to the decadence of North India's ancient royal palaces, including intricate wooden features and large marble feasting tables.
Where: 65 Commercial Street, London E1 6BD
Photo Credit: Steven Joyce 
4. For Japanese Bites: Yamagoya
What: Ramen lovers, unite. After a succesful pop-up stint on Shaftsbury Avenue this year ramen kings, Yamagoya will open their first bricks and mortar site in Southwark later this month.
Eat and Drink: The signature ramen menu will include their celebrated 'Yamagoya', handmade noodles swimming in a smoky tonkotsu broth, garnished with traditionally prepared Japanese chashu pork belly, marinated bamboo shoot, Kikurake mushroom, nori and marinated Burford Brown egg; and the Tobanjan, a fiery tobanjan spiced broth known to locals as 'the fire of food', finished with chilli pepper. The Yuzukara ramen, the uniquely green tonkotsu broth, will also be layered with sliced chashu pork and topped with a salty, spicy paste made from the zest of Japanese yuzu and fiery green chillies.
Gimme More: Cold varieties of 'Hiyashi Chuka' ramen cooked in cold water, will also be available with either smoked chashu, chicken or tofu, all served with marinated Burford Brown egg and garnished with fresh, seasonal vegetables. A host of toppings are available for all hot and cold ramens, including glazed chashu of pork; seared chicken; kimchi; umami nori sheets and a pickled mustard Takana.

Where: 49 The Cut, London SE1 8LF
5. For Mexican Delights: Breddos Taqueria 
What: Good news for all your Breddos Tacos fans out there: the team are opening their second site in Kingly Court on Saturday (7th October). More than double the size of the original, with 84-covers and a basement Mescal and Margarita bar where drinks will be flowing 'till late, 7 days a week – this is one opening you don't want to miss.
Eat and Drink: Breddos fans can expect old favourites such as sea bass ceviche tostadas and masa fried chicken tacos, though the menu at Kingly Street will be much broader, diverse and with an all new, regionally inspired dishes from a recent trip through the Yucatan, Oaxaca and Mexico City. Menu highlights include: bone marrow nachos with dripping bread; artichoke mole with shishito peppers; elote tempura with queso fresco and habanero mayonnaise; and lamb neck barbacoa with avocado leaf consommé.
Gimme More: Downstairs, a Mescal and Margarita bar will serve margaritas and stock over 30 rare Mescals alongside a selection of agave based and classic cocktails, as well as British craft beer, and a small wine list.
Where: Breddos Taqueria, 26 Kingly Street, Carnaby, London
What: We've been to The Coal Shed in Brighton – and it's fantastic. So we were pretty hyped to hear that The Coal Shed is opening at One Tower Bridge this month. Having opened two restaurants in Brighton (The Salt Room and The Coal Shed), this is restaurateur Razak Helalat's first London opening, and it's going to be epic.
Eat and Drink: Think 35-day, dry-aged Scottish steaks from the North Highlands that will be expertly cooked on hot coals and fresh seafood that will be delivered to the restaurant every day from the South coast. Expect small plates, an impressive drinks list with innovative cocktails, and a full Sunday sharing roast, complete with all the trimmings.
Gimme More: Relive your childhood days with their dessert menu featuring doughnuts, 99 ice creams and candy floss. Growing up never tasted so good.
Where: One Tower Bridge, 4 Crown Square, London SE1 2SE
7. For Cocktails: The Racketeer
What: Hotshot trio Tyvian​ ​Vigrass,​ ​Marco Torre​ ​and​ ​Jack​ ​Foxcroft are behing new Clerkenwell cocktail bar, The Racketeer. Having completely gone DIY SOS on the previously boarded up boozer, the chaps have loving restored the​ ​bar​ ​to​ ​its​ former Victorian​ ​glory.
Eat and Drink: The​​ menu ​​focuses ​​on​​ classics ​​with ​​a twist, ​​including​ P​​enicillin ​​In​​ A ​​Storm​​​ – ​​​Chivas ​​Regal 12​ ​Blended​ ​Scotch,​ ​ginger​ ​syrup,​ ​lemon,​ Laphroaig​ ​10 and Porter​ ​Float​​; Jaffa​ ​Collins with​ ​​Beefeater​ ​Gin,​ ​lemon,​ ​orange​ ​bitters​ and ​San​ ​Pellegrino​ ​Pompelmo​​;​ ​and​ ​​Black​ ​Spice​​ ​with Rittenhouse​ ​100​ ​Rye,​ ​PX​ ​Sherry,​ ​Dry​ ​Curacao,​ ​Fernet​ ​Branca​ ​and black​ ​pepper​ ​tincture.
Gimme More: The​ ​bar​ ​also​ ​serves​ ​a​ ​selection​ ​of​ ​beers​ ​and​ ​wines​ ​as​ ​well​ ​as​ ​having​ ​their​ ​own​ ​dedicated bottle​ ​shop​ ​with​ ​an​ ​unusual​ ​wine​ ​list.​
Where: 105​ ​King's​ ​Cross​ ​Road,​ ​London,​ ​WC1X​ ​9LR
8. For an Irish Boozer: Mc & Sons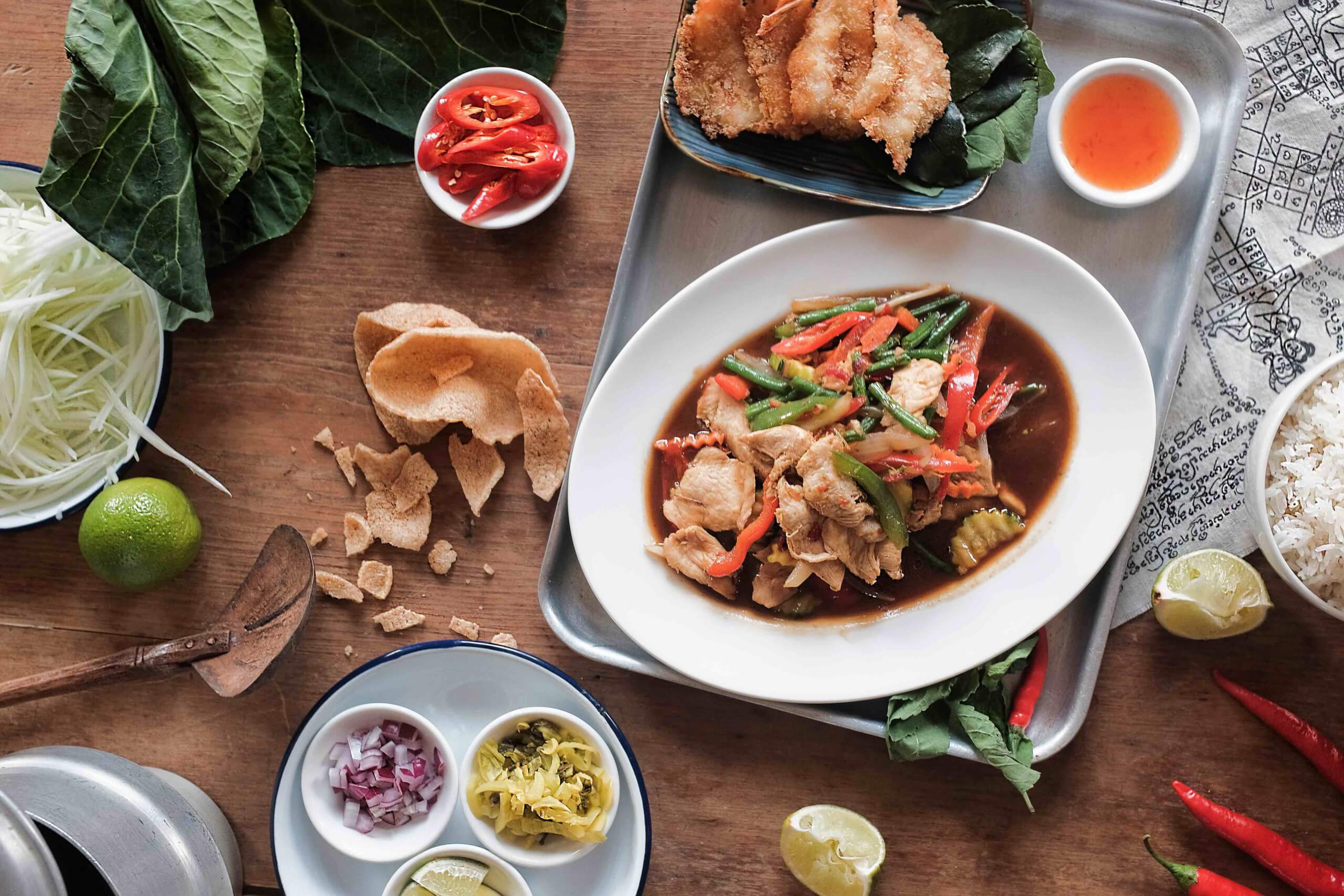 What: Irish boozer with some Thai food thrown in? It can only be new bar/restaurant Mc & Sons. Opening on October 16th, Mc & Sons is a traditional Irish pub with an authentic Thai twist nestled in the heart of Southwark between Blackfriars Road and Borough on Union Street SE1.
Eat and Drink: Mc & Sons will offer authentic Thai street food at reasonable prices.  Served up in a friendly, welcoming environment for takeaway at lunch only (12pm-2:30pm) and table service at dinner (6:30pm – 10pm). Opt for the popular takeaway lunch boxes  or save yourself for a leisurely occasion later into the evening, with an opportunity to pre-book your preferred dining spot. Let your taste buds run wild, thanks to Chef Lailar's inspired menu including marinated spicy pork salad, stir fries, noodles and curries.
Gimme More: A carefully curated drinks list will be available featuring rotating beers and ales that will change weekly.
Where: Mc & Sons, 160 Union Street, London SE1 0LH
9. For Meat-Free Bites: Veggie Pret
What: Since opening their first Veggie Pret in Soho back in 2016, Londoners can't seem to get enough of the plant powered goodness. Fast forward to this year and they've already expanded to Great Eastern Street, and now the Pret lot are taking their veggie bites to Clerkenwell.
Eat and Drink: The shop will open on Wednesday (11th October) with new menu items, including a vegan beans and avocado power pot, a mushroom florentine toasted tortilla with creamy béchamel sauce and Italian cheese, and a sweet potato, coconut and cashew flat bread with yoghurt, fresh coriander and mint.
Gimme More: Other new vegan dishes include the ragu and red pepper hot wrap with roasted tomatoes, Kalamata olives and crispy onions, and the veggie avocado and falafel flatbread with yoghurt sauce, lemon juice, parsley and red onions.
Where: 21 Exmouth Market, London EC1R 4QD
10. For Honest Grub: Rochelle Canteen 
What: Hot dang, this is the stuff of foodie dreams. Margot Henderson and Melanie Arnold are bringing the much-loved Rochelle Canteen to the Institute of Contemporary Arts, creating a brand new café, bar and restaurant. The pair, known for their Shoreditch canteen, hidden within the walls of an old schoolyard, will bring their 'no rules, and everything will be great – we like parties and we like to have fun' attitude to the space.
Eat and Drink: Margot and Head Chef Ben Coombs have written a menu including pumpkin soup; braised cuttlefish and fennel; quail escabeche; pheasant and trotter pie; an Old Spot chop with chard and lentils and a feast of whole pig's head to share, as well as vegetarian dishes including roast beetroot, red onion, soft boiled egg and spinach.
Gimme More: The cafe and bar will share a counter, and will serve Caravan coffee and homemade daily bakes.
Where: Institute of Contemporary Arts, The Mall, St. James's, London SW1Y 5AH
One for luck… 
11. For Baked Goods: Ole & Steen 
What: Danish bakers extraordinaire open their fifth London bakery in less than 12 months in Victoria's Nova development.  he new store follows hot on the heels of Ole & Steen Bedford Avenue which is already popular with residents of Fitzrovia and anyone living a short bus ride away (us North London lot).
Eat and Drink: Ole & Steen bake everything fresh throughout the day so their pastries, open sandwiches, cakes and focaccia have become firm favourites with Londoners. Get some danish baked goods in your life like the hand-made Rabarberhorn (rhubarb crescent) using fresh rhubarb. Best enjoyed with a cup of their coffee.
Gimme More: They're open in the evening for post-work drinks and nibbles. Grab some cakes for the tube ride home.
Where: Sir Simon Milton Square, Victoria, London SW1