Tasty Tuesdays: 10 Foodie Products You Need to Buy This WeekBy Alicia Grimshaw
Is your shopping basket looking a bit empty this week? Here's the ten food products you need to try – we say, shake things up this week:
1. For Cooking: Absolute Spice
What: Absolute Spice have over 40 years of experience, and, with their expert knowledge, they provide the best quality spices from all over the world, while consciously supporting local farmers. All of their spices and herbs go through rigorous testing, carry certificates and traceability.
The Lowdown: All of the herbs and spices sold at Absolute Spice are 100% natural, GMO free, sodium, additive, wheat, and dairy-free. They're also suitable for vegans and unlike supermarkets who stock spices for up to one year on shelves (which can end up stale with loss of flavour), they have a much quicker turnover rate to ensure fresher quality spices and optimum flavour.
Stockists: Order online
2. For a Condiment: La Crémière
What: At La Crémière they make beautiful artisan food using Jersey cream and Jersey butter – the ultimate good mood foods. Their first ever product is the Jersey Salted Caramel Sauce, made using Jersey cream, butter and sea salt. For the first time, the sauce can now be bought in the UK on the food market.com
The Lowdown: There's two flavours in the range – Salted Caramel Sauce, and Espresso and Salted Caramel Sauce. Both are made using Jersey cow milk that is rich and creamy enough to produce this amazing flavour. Pour over crepes, pancakes, ice cream, or any pudding.
Stockists: Buy here 
3. For Wine: Most Wanted Wines 
What: At Most Wanted Wines, they're on one mission: to get everyone to enjoy the world's most wanted wines. They've travelled the globe sourcing the finest, most lip-smackingly delicious varieties – some that you know, some you might not. They're into selling top quality wine at purse friendly prices, without the o pretentious wine chat.
The Lowdown: Most Wanted's Malbec is a luscious red without the bull, making it the perfect guest at barbecues, as well as a home cooked spag bol. Most Wanted's Malbec hails from Argentina – thanks to the dessert climate, the heat helps with growing the grapes to absolute perfection. This full-bodied red is also a cracking partner to Mexican dishes.
Stockists: See stockists here 
4. For a Delivery Service: The Happy Bread Co. 
What: The Happy Bread Co. based in Hackney make nutritious, organic, gluten-free, fermented bread. Each bread is made in small batches over two-three days by hand. The Happy Bread Co is the first of its kind – offering a bread delivery service throughout most of London, launching nationwide this Wednesday (9th March).
The Lowdown: The Happy Bread Co. work with ancient whole grains that are naturally free from gluten along with a variety of nuts, seeds and vegetables to make bread that is high in dietary fibre for a very happy tummy. They put huge effort into sourcing the best ingredients locally where possible and further afield where necessary.
Stockists: Order here 
What: Established in Turin in 1895, Lavazza has been owned by the Lavazza family for four generations. Lavazza, Italy's favourite coffee, knows that living fast doesn't mean we cannot live better. That's why the  coffee roaster has created its first 'every instant' coffee, Prontissimo! meaning lovers of authentic Italian coffee are able to enjoy a true Italian taste experience 'pronto'.
The Lowdown: Made using 100% Arabica beans sourced from Columbia, Prontissimo! is a premium instant coffee which contains a high percentage of microground roasted coffee granules, for the authentic Italian taste. Locked inside the coffee granules are the vital coffee oils that ensure there is more to taste than your average instant coffee.
Stockists: Sainsbury, Waitrose and Tesco
6. For Gin and Chocolate: Daffy's
What: At a time of year synonymous with chocolate, award-winning Daffy's is launching an exquisite gin and chocolate pairing for an Easter alternative. In collaboration with Felicity's Chocolates, bottles of Daffy's will come with a luxurious pack of four artisan white chocolates, specifically designed to pair with the subtle notes found in this small batch, premium gin.
The Lowdown: Garnished with a touch of raspberry, the chocolates have been handcrafted to bring Daffy's botanicals to life; buttery notes of caramel, spice and red fruit enhance as they infuse with the delicate flavours of white chocolate and the subtle sharpness of raspberry on the palate. Best enjoyed alongside a neat measure of Daffy's over ice, each chocolate will be stamped with an emblem representing the botanicals most accentuated by the chocolates – Lebanese mint, Belgian angelica root, Malaysian cassia bark and Moroccan orris root.
Stockists: The Daffy's limited edition, chocolate pairing pack is available with any purchase of Daffy's here, Harvey Nichols and select independent retailers from 7 March from £34.99.
What: OSO was founded in honour of P S Lambis, a young man who emigrated to London and embraced the city while always remembering the tastes of his birthplace. OSO brings you the finest produce of Cyprus to celebrate the life of a great man, his love of family and excellent food. Each product in the OSO range has been carefully chosen for its significance in the life of P S Lambis and own inherent excellence: extra virgin olive oil, thyme and wildflower honeys and Greek coffee, are each sourced from family-run producers.
The Lowdown: OSO has the first ever Premium Single Estate Extra Virgin Olive Oil from the Republic of Cyprus. The groves sit below the Machairas mountains in the old village of Kampia. The estate's 2500 carefully and expertly tended Koroneiki olive trees are watered by the mountain's spring and thrive the cooler climate. During the harvest, the olives are picked and cold pressed on the same day to ensure the oil is unrivalled. Thyme and wildflower honey is supplied by a family who tend some one thousand six hundred beehives across the island. Crowned the world's best at the 2013 World Beekeeping Awards in Kiev, the secret to the stature of OSO's honey is its aroma and flavour.
Stockists: Online here
8. For a New Sauce: The Foraging Fox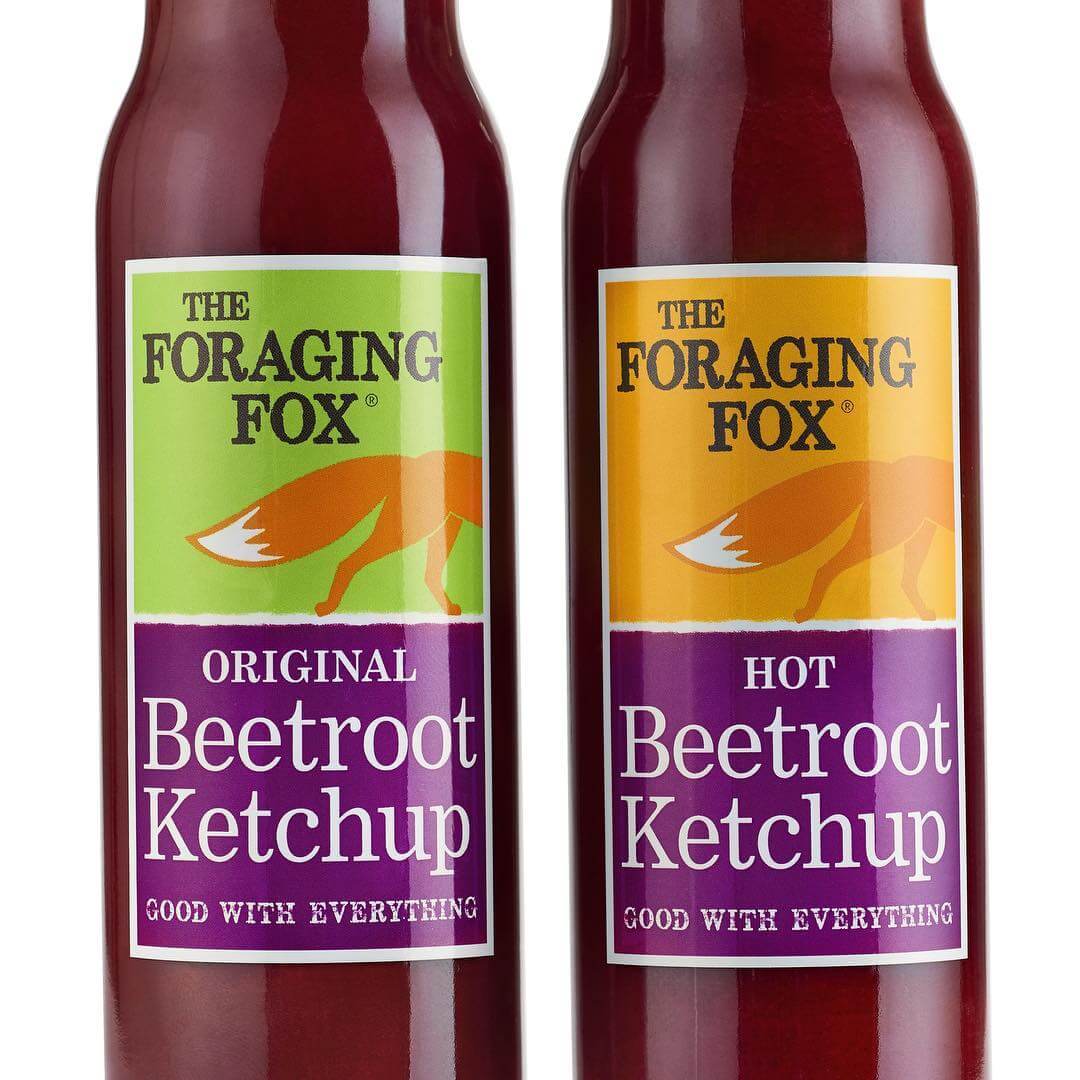 What: The Foraging Fox continues to shake up the world of classic condiments with the launch of their innovative, new Hot Beetroot Ketchup. Infused with a gentle and earthy heat from Co-Founder Frankie's specially developed recipe using chilli and horseradish, this is a complex evolution from the Original, family friendly, ketchup.
The Lowdown: The Foraging Fox Hot Beetroot Ketchup is 100% natural, with no artificial flavours, colours or sweeteners. It's gluten free, allergen free and is suitable for vegetarians and vegans. Working as an exciting new accompaniment to burgers, bangers, smoked salmon and scrambled eggs, The Foraging Fox's Hot Beetroot Ketchup also makes a quick and easy base for a beetroot risotto or a Bloody Mary. Nom.
Stockists: Online here and Ocado.com – £3.49
What: Purition is a new brand who do things a bit differently. They have listened to the advice of nutritionists and created a range of whole food shakes which rely on nature for all their ingredients. By combining real foods, like nuts, seeds and coconut, they have formulated a variety of high protein, gluten free, low sugar wholefood smoothie mixes which can be combined with either milk, nut milk or yoghurt to create healthy meal replacements, which can easily be incorporated into most healthy eating plans.
The Lowdown: Purition mixes are low in calories, but that they are rich in fibre, protein and healthy fats. They really do prove that you can 'eat more' and 'lose more' and make it easier to include more real whole foods in your diet, whilst cutting down on sugar and refined carbohydrates, especially at breakfast. With flavours including strawberry, coconut, chocolate, pistachio, almond, and macadamia and vanilla, and a vegan hemp range, there's something to please everyone's taste buds.
Stockists: Online here – £22.95, or you can buy a sample box with a range of flavours for £12.99
10. For a Wholesome Snack: Jem Nut Butters
What: Jem Nut Butters blend together organic, raw, sprouted almonds, hazelnuts, and cashews mixed with super foods and super fruits in stone-grinders for hours, for delicious flavour blends. From their Oregon factory, they handcraft sprouted nut butters in small batches, paying careful attention to each and every detail. They've perfected sprouting, stone-grinding and blending processes so that the final product retains the richest flavour, smoothest texture and highest nutritional content.
The Lowdown: Jem is a mission-driven company – they craft premium organic products, representing the highest standard of sustainability and transparency. They craft premium, organic nut butters for the world market. All their ingredients are 100% OTC-USDA certified organic, GF, non-GMO and vegan. They closely monitor the temperature and speed of their stone-grinders and dehydrators, which means everything takes much longer, but they know the result will be our creamy delicious, and nutritious Jem Butters.
Stockists: Online here and in Planet Organic