Tasty Tuesdays: 10 Foodie Products You Need to Buy This WeekBy Alicia Grimshaw
We don't like to brag, but we think we've found 10 cracking foodie products that you should be throwing into your shopping trolley pronto. From quirky condiments to a vegan gelato, here's the hottest foodie products to get your hands on this week:
1. For a Tomato Ketchup Alternative: The Foraging Fox 
What: Tomato ketchup is a classic, and a perfect buddy to bean on toast. However, as much as we love the red sauce it's time to shake it up with The Foraging Fox's line up of innovative Beetroot Ketchups. They've been busy in the kitchen, and have expanded their line again with the launch of their new Smoked Beetroot Ketchup. The newest arrival is a smouldering, smoked adaptation that harnesses all natural, allergen free ingredients. A perfectly barbecue accompaniment that acknowledges the ongoing trend for rich, smoky flavours.
The Lowdown: Packed with vitamins, minerals and antioxidants, The Foraging Fox's Beetroot Ketchups bring something unique to the table. From meaty treats, fishy fancies, eggs a-go-go, to bringing salad dressings to life and gusto to a cheese sarnie – there is no shortage of options for these store cupboard essentials. As well as bringing some get-up-and-go to mealtimes, The Foraging Fox's ketchups are certified gluten-free and are Vegetarian Society approved – meaning that everyone can enjoy beetroot-y goodness.
Stockists:  www.ocado.com or visit their website to locate your nearest store
2. For a Summer Drink: Vodka/Mate
What: Inspiring social enterprise Lemonaid & ChariTea have joined forces with hip new micro-distillery Our/London to create the ultimate summer party fuel, Vodka/Mate. The guys have created a four-pack spirit and mixer collection that answers any summer drinks dilemmas if you're over soggy fruit-filled Pimms and sickly warm rosé.
The Lowdown: The four flavours include Our London Vodka – made from wheat, an excellent quality micro-distilled vodka produced in London's Hackney. Bottle Two is ChariTea Mate a sparkling organic, Fairtrade iced mate tea. Bottle Three is a Blood Orange Lemonaid – a low sugar, organic drink made with Brazilian oranges and Sicilian blood oranges, and lastly, Bottle Four – Lime Lemonaid – a low sugar, organic drink made with Mexican limes and Paraguayan cane sugar.
Stockists: Selfridges
3. For an Iced Beverage: Yum Cha 
What: Summer is here, which means it's time to replace hot versions of the nation's favourite brew with a refreshing glass of iced tea. Yum Cha aim to change this for the better this summer. Their new range of iced teas not only have, on average, half the sugar of the leading brand, but they are also created using a more traditional and natural method.
The Lowdown: Amongst their range you'll find Sour Plum, made with dried Wu Mei plums, liquorice root and sweet osmanthus flowers, and Moroccan Mint, popular throughout Northern Africa and made using the famous gunpowder green tea and spearmint. Earl Grey lends a quintessential British twist, Jasmine adds another Eastern favourite and, for those who prefer a 'classic' iced tea, there's Lemon Ceylon, made with Sri Lankan tea leaves from the Hamilton Russell estate, who produce an orange pekoe tea grown at high altitude in the mountains above Kandy.
Stockists: Delis, farm shops and Amazon
4. For Coffee: Workshop Coffee
What: Workshop Coffee launched in 2011 and in the intervening years has become a byword for innovation and creativity (and those damn good baked eggs). This month the brand is once again bringing something new to the world of coffee in the delicious and totally unique shape of BLOOM.
The Lowdown: BLOOM is not cold brew and it's not iced filter; it's the best of both worlds. Made using just four ingredients – seasonal roasted coffee, filtered water, Sicilian lemon juice and English beet sugar, and using a brewing technique that allows for improved extraction levels and a fresher flavour profile, this new product is an absolute corker.
Stockists: Workshop Coffee outlets
5. For Grab and Go Salads: Bol 
What: Bored of your shoddy sandwiches and over-refrigerated sushi? Bol is here to help with their new collection of four fresh and healthy Salad Jars, inspired by the Californian trend for 'shake-and-go' salads. BOL Salad Jars are perfect for busy people on the go, and mark the end of the era of the drab 'al desko' lunch. The jars include both a fork and dressing on the side, so once you have chosen your flavour of choice, simply dress, shake and enjoy.
The Lowdown: The new salad jars combine exotic flavours and vivid colours, layering healthy grains, green leaves and good fats, resulting in a meal that is packed with natural ingredients and bursting with wholesome goodness. Developed in collaboration with top TV chef Alex Mackay and renowned nutritionist Ian Marber (The Food Doctor), each salad jar is vegetarian and totally delicious. We've done our homework, and we can let you know now The Persian with spiced cauliflower, beluga lentils, chickpeas, spinach with a pomegranate and sumac dressing is outstanding.
Stockists: Ocado, Amazon Fresh and Planet Organic
6. For Dairy Goodness: Esja Skyr
What: Yogurt is big business at the moment. As much as we like our classic Greek yogurt, it's totally OK to mix it up from time to time. Organic, naturally fat free and high in protein, Esja Skyr is the new organic Icelandic yogurt that has found its way to British shores.
The Lowdown: British food entrepreneur David Atkin has teamed up with Icelandic brothers, Helgi and Sverrir Gunnarsson, to bring their Icelandic dairy product to the UK. Utilising traditional Icelandic techniques, the Eska Skyr family recipe has been used for twenty years. A great breakfast option (milder in flavour than yoghurt), Esja Skyr is a perfect addition to a smoothie or with fresh fruit and milk or simply by itself. Try the natural yogurt, or the mango for a fruity burst.
Stockists: Planet Organic
7. For Gelato: Snowflake x Pip & Nut
What: If you haven't seen our musings on Twitter, we'll fill you in now – we going absolutely mad for nut butter. So when we found out about Pip & Nut's new partnership with Snowflake Gelato, we did a lap of happiness in the office. The team have created something rather special, a new peanut butter gelato which is now available in all Snowflake outlets across London.
The Lowdown: Not only can you get your hands on this delicious new gelato, you can also take a bite into what's set to be one of tastiest trends of the summer: Peanut Butter Gelato Sandwiches. Yes, you read that right. Peanut. Butter. Gelato. Sandwiches. The sandwiches even come half dipped in milk chocolate and finished with a crushed peanut crust. If that's not enough temptation, there will also be a Pip & Nut milkshake on the menu, along with a vegan Pip & Nut vegan gelato.
Stockists: Check your nearest Snowflake here 
8. For Iced Cold Caffeine: Jimmy's Iced Coffee
What: Jimmy's Iced Coffees are somewhat of an About Time staple, and a hit in the office on those muggy London days. These caffeinated beauties were created by Bournemouth based beverage king, Jimmy Cregan. The coffees come in a range of three flavours: Skinny, Mocha and Original.
The Lowdown: If you're into refreshment without the 'creamy', Jimmy's SKINNY is the one for you. It's ace for a healthy pick me up or a pre gym workout refresher. Need some chocolate loving in your life? Get sipping on the Mocha – a refreshingly different blend of coffee and chocolate deliciousness. Jimmy's Iced Coffee Mocha is far from the thick, creamy and, quite frankly, sickly sweet mochas we have come to know. Instead, this Mocha is ridiculously refreshing. The Original is inspired by his travels around Australia, where an iced coffee break post surf was the norm, Jimmy created his original creamy kick and coffee flavour with three simple ingredients: milk, Arabica coffee and demerara sugar.
Stockists: Tesco's and other major supermarkets
What: If, like us, you like the idea of cooking spelt but never really end up with the correct consistency (hello, wallpaper paste), the chaps at Shoreham Park thankfully have the answers. Their all new pearled spelt is fast becoming a hit with cooks and food lovers thanks to healthy ingredients and all round deliciousness.
The Lowdown: Pearled Spelt is high in fibre and an excellent source of slow release energy. These innovative new spelt grains are ideal for use in soups, stews and salads and produce a deeper flavour, fibre-hit and a moreish texture to a range of homely meals.
Stockists: Order online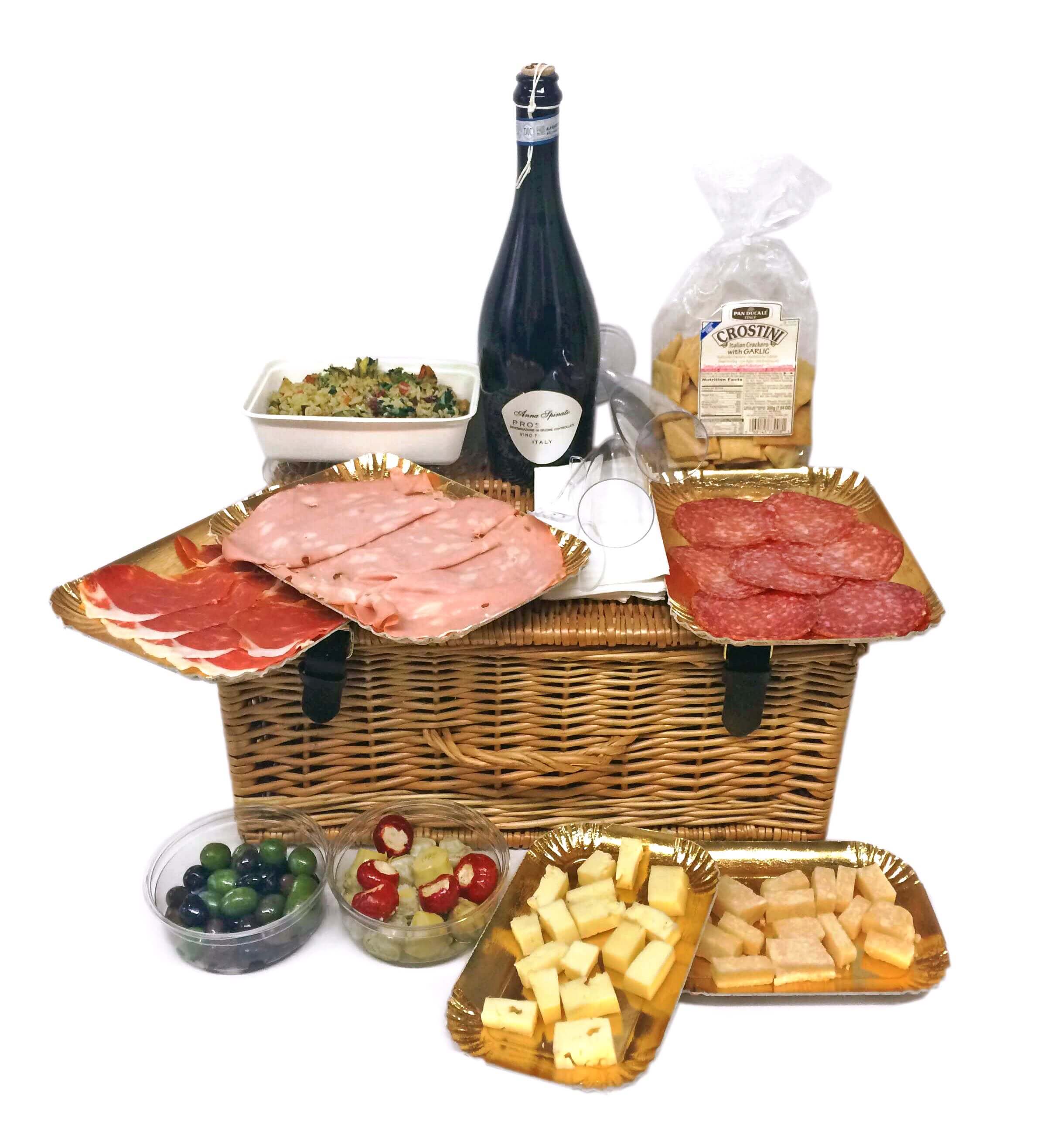 What: You say summer, we say picnic hampers. And the team down at Lina Stores are selling one hell of a basket of delights for you to chomp on down at your local park, or in your garden. Nothing says summer weather more than a hamper of cured meats and tasty cheeses.
The Lowdown: The chaps at Lina Stores have selected some of their favourite specialities, ideal for injecting some Italian style into your next picnic. In the hamper you'll find; slow-cooked fine pork sausage, one of Italy's most famous styles of salami, San Daniele prosciutto, a medley of the most popular Italian varieties of olives,  cow's cheese and a bottle of Prosecco to wash it all down with.
Stockists: Order online
One for luck… 
What: OHAYO is the mini bottle of goodness designed to boost hydration with one super-concentrated shot of vitamins, minerals and electrolytes. It may have been designed with hydration in mind, but this bottle of liquid magic can cure your hangover better than a Wetherspoon's breakfast.
The Lowdown: OHAYO is vegan-friendly, gluten and dairy free with no artificial flavourings. The flavour is potent and powerful, because just one bottle of OHAYO is jam-packed with the vitamins, minerals, and antioxidants that the body loses each day, in a supercharged boost that can be consumed in just a couple of gulps. Each little bottle contains vitamins C and B to help reduce tiredness and fatigue, magnesium to contribute to the body's electrolyte balance and potassium to help maintain a normal blood pressure.
Stockists: Harvey Nichols and online