Tasty Tuesdays: 10 Foodie Products you Need to Buy This WeekBy Angelica Malin
We've sipped our way through cartons of dairy-free milks to bring you this feature. From chocolate oat milk (tastes insane) to vegan protein balls – here's 10 foodie products you need to buy this week. Let's get shopping:
Tasty Tuesdays: Breakfast
1. For a New Product: Bill's Granola 
What: Bill's Restaurants is brightening up the breakfast table this spring with the launch of Bill's Granola. Presented in a characterful retro tin, made by William Say & Co. Ltd, the capital's oldest surviving tin maker – the new granola is dairy-free and packed full of fruit and nuts.
The Lowdown: Made with a mix of jumbo oats, honey, coconut, raisins, sunflower seeds, maple syrup, almonds, pumpkin seeds, cranberries, cashew nuts and hazelnuts; Bill's Granola is ideal served with yoghurt and berries for a quick and wholesome breakfast. Or if snacking if your thing,  mix with butter, honey and dried fruits and pop in an oven dish and bake to create flavoursome, homemade granola bars.
Stockists: Bill's restaurants and online 
2. For Chocolate Goodness: Oatly
What: Oatly's sole purpose as a company is to make it easy for people to turn what they eat and drink into personal moments of healthy joy without recklessly taxing the planet's resources in the process. The team are dedicated to upgrading the lives of individuals and the general well being of the planet through a lineup of original oat drinks.
The Lowdown: Oatly's chocolate oat drink is full of oats instead of milk, and these oats contain protein and carbs and fibers and some healthy fat. And if that's not enough they've enriched it with calcium and vitamins so the more you drink the healthier you grow (not actually proven). This chocolate milk works wonders on muesli, or granola. Or with anything, really. Heat it up for a posh hot choccy.
Stockists: Planet Organic, Whole Foods and other health retailers
3. For Coconut Milk: Vita Coco
What: Vita Coco already have their Coconut Water stocked in shops and store aplenty – and they've just released a brand, spanking new product. World, meet Vita Coco Coconut Milk Alternative. The brand has given anyone looking for a plant-based dairy alternative a major reason to celebrate.
The Lowdown: Made with 'never from concentrate' coconut water from Vita Coco and coconut cream, Vita Coco Coconut Milk Alternative is perfect in your morning cereals (hot or cold), delicious on its own, and has the flavour and proper consistency to easily complement your daily coffee and tea.
Stockists: Sainbury's
Tasty Tuesdays: Snacks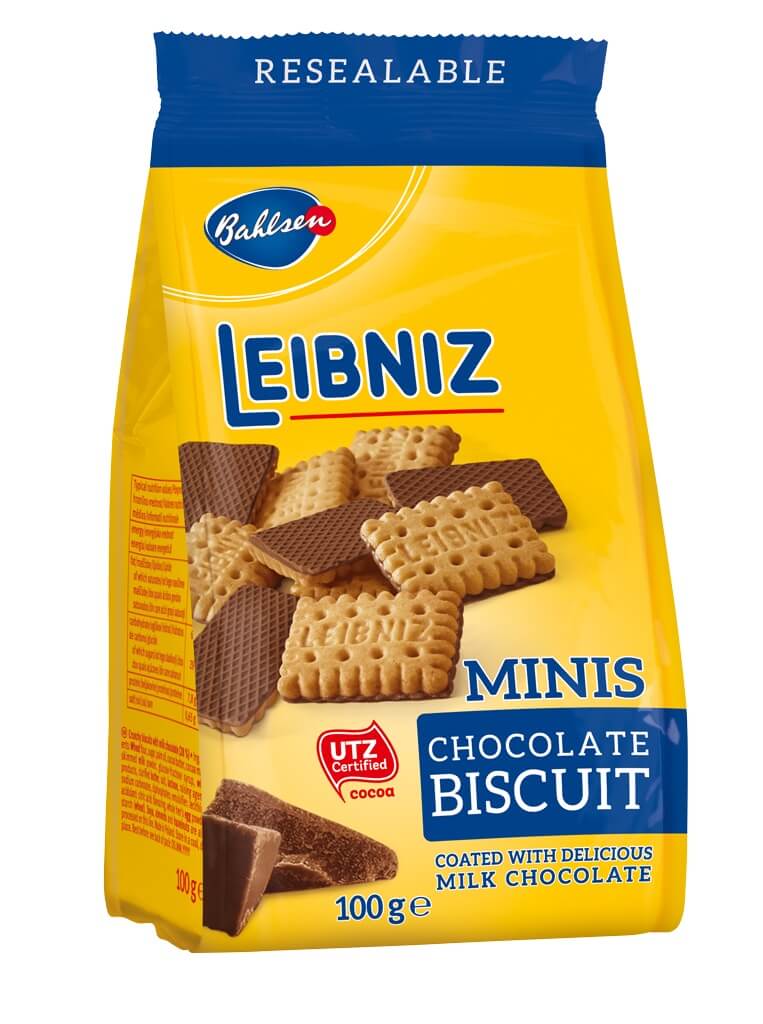 What: At Bahlsen, they have been putting more of the best into every one of their biscuits for over 125 years. These guys know their chocolate, and their bases. And snacking is what they're all about. Joining the biscuit family is the new Leibniz Minis – a smaller version of their most popular snack. Grab a couple of bags, and pop the kettle on.
The Lowdown: Leibniz Minis are the perfect little snack for at home or on the go. The same care and attention to detail that make Choco Leibniz so irresistible have also gone into Leibniz Minis. Great for sharing, or a snack for one. Because who likes to share biscuits? Not us.
Stockists: Supermarkets nationwide
5. For a Protein Snack: Deliciously Ella 
What: Ella Mills has introduced a brand new member to the Deliciously Ella family; the all-natural, plant-powered, Almond and Blueberry Protein Ball. Just like all of Ella's products, the Protein Balls are naturally gluten, dairy and refined sugar free, and designed to celebrate what you can do with great plant-based ingredients.
The Lowdown: Designed by Ella, the new protein ball packs a serious punch. Combining only six natural ingredients, including tasty blueberries and creamy almonds, with eight grams of plant-protein, it is the perfect post-gym refuel or an ideal on-the-go snack for anyone looking to add a protein kick to their diet.
Stockists: Ocado and Wholefoods
Tasty Tuesdays: Lunch and Dinner
What: BOL's new The Super Green Salad Jar is a snappy way to shake those heavy wintry meals away. With English garden-inspired, crisp local flavours, The Super Green layers healthy grains, green leaves and good fats, packing the lightest of flavours with super-powered nutrition.
The Lowdown: The Super Green's fresh new flavour is low in sugar and will be the fast and easy way to get two of your five-a-day. Bursting with wholesome green goodness such as chargrilled broccoli, feta, quinoa, peas, chargrilled sprouts, radish, pumpkin seeds with a punchy lemon, mint and spirulina dressing.
Stockists: Ocado,Wholefoods, Amazon Fresh, Planet Organic and WH Smith Travel Stores
What: HECK are an independent British company who pride themselves on their service and flavour, and pull out all the stops to deliver farmers' market quality sausages up and down the UK. HECK may be known for their sausage numbers, but they've just launched their new vegan friendly Thai bites.
The Lowdown: The Thai bites are packed with sweet potato, rice, quinoa, kale, chia seeds, Thai pesto, and coriander, and are vegan, dairy-free and gluten-free. Stir fry the Thai bites with bok choy, some greens and a sprinkle of chilli for a quick and easy dinner.
Stockists: Waitrose
8. For Microwavable Meals: Watmuff & Beckett 
What: Dragons Den victors Watmuff & Beckett are bringing Michelin star cooking to ready meals. Working directly with British farmers they ensure the freshness, traceability and authenticity of their ingredients is second to none. The result is a range of soups and risottos focused on ramped-up flavours and sustainable, UK produce.
The Lowdown: Watmuff & Beckett provide the best possible produce packed into perfectly portable pots. The nutritious ready-to-heat soups and risottos that take just moments in the microwave, and come in a range of different flavours including perfect pea and fresh mint soup; sweet potato, carrot and ginger soup; chorizo and butternut squash risotto; and spiced pancetta and red pepper risotto.
Stockists:  Asda, Tesco, Selfridges, Whole Foods and Ocado
Tasty Tuesdays: Dessert
9. For a Nordic Pud: Winter Spring
What: Danish dessert company, Winterspring has launched three exquisite ice desserts embodying quality and flavour combinations only found in the Nordic region and developed in collaboration with leading Nordic chefs and carefully selected suppliers. Try the chocolate one, it will blow your mind (in a good way).
The Lowdown: A bespoke Winterspring dessert box contains three elements: a creamy ice cream complemented by a refreshing, delicate sorbet, and finished with a topping. The three new ice desserts are: Liquorice Rose Hip Flower White Chocolate – a combination of mild liquorice ice cream and a fragrant raspberry, and rose hip flower sorbet with finely chopped white chocolate; Camomile Vanilla Apple – the dessert combines subtle camomile and vanilla ice cream with a refreshing apple sorbet and golden roasted pumpkin seeds. And Chocolate Sea Buckthorn, an combination of rich chocolate and honey ice cream with a tangy sea buckthorn sorbet and crushed dark chocolate.
Stockists: Waitrose and independent London food retailers
Tasty Tuesdays: Coffee
10. For New Flavours: Taylors of Harrogate 
What: Taylors of Harrogate has launched a new range of single origin premium coffees created to specifically appeal to coffee connoisseurs in search of new and exciting flavours and experiences. The new range features three variants – Cacao Superior from Colombia, Praline Especial from Brazil and Rare Blossom from Ethiopia – with a further three coffees to launch in July.
The Lowdown: The Cacao Superior Colombia boasts deep chocolate tones, and is like biting into a rich, gooey chocolate caramel, flooding your tongue with flavours of deep cocoa and roasted brown sugar. The Praline Especial Brazil has a nutty flavour profile. First it unleashes a hit of hazelnut and chocolate – then the sweetness kicks in, offering up flavours of cinder toffee and caramel. The Rare Blossom Ethiopia has pronounced floral notes. It's uniquely fruity and fragrant, blooming with aromatic flavours of ripe mango, strawberry and honeysuckle.
Stockists: Sainsbury's, Waitrose, Morrisons, Tesco, Asda and Booths