Tasty Thursdays: 10 Foodie Products You Need to Buy This WeekBy Angelica Malin
Sorry, we were too busy munching on popcorn to realise this feature is somewhat late. Don't sweat – we've discovered 10 glorious foodie items you need to know about. Let's get munching:
1. For Quirky Flavours: Pop Works 
What: Pop Works has landed in the UK and for those that don't take life too seriously, this is great news. The clever folks at Pop Works have created a new range of unique flavoured popcorn; spot on for sharing with mates over a box set or cracking open at a Christmas party. But quite frankly, if you want to grab a bowl, climb under the duvet and chill, we won't judge.
The Lowdown: There are four lip smackingly good flavours on offer; Sticky Toffee Pudding, Peanut Butter and Caramel, Sweet and Salty, and Apple Pie.  No, that's not a misprint. It's actually Apple Pie flavoured popcorn, and we've eaten a bag, and it tastes good. Really good. These guys don't mess about, using a 'wet popping' method, with the corn kernels popped in a kettle rather than a hot air popper, this new snackable is lovely and light and crunchy.
Stockists: Nationwide in all major supermarkets
2. For a Limited Edition Bottle: Kraken Black Spiced Rum 
What: The Kraken Black Spiced Rum is an imported rum from the Caribbean blended with secret spices. Named for the sea beast of myth and legend, The Kraken Black Spiced Rum is bold, rich, black and smooth. The Kraken Black Spiced Rum has launched a special limited edition bottle – and unlike any other, the glossy black, "betentacled" ceramic is a thing of dark beauty.
The Lowdown: The rum inside the ceramic bottle is the same legendary black, spiced rum usually housed in its iconic glass bottle and delivers notes of cinnamon, vanilla, cherry and coffee aromas. The Kraken is 40% ABV and pairs perfectly with ginger beer for The Perfect Storm. Add in a wedge of lime for a citrus burst.
Stockists: Amazon
3. For a Flapjack Hybrid: graze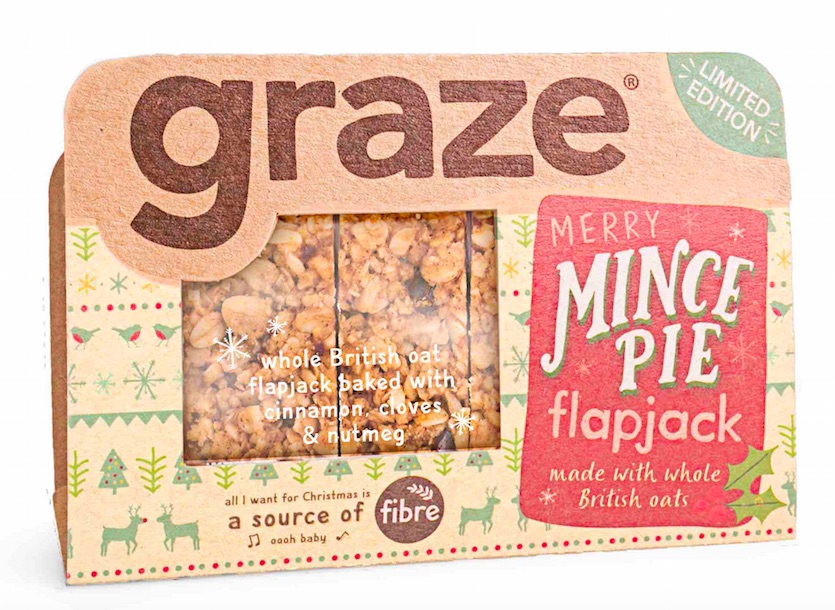 What: Taking some of the most popular flavours of the festive holiday, like cinnamon, cloves and warming nutmeg, the graze taste experts have introduced a Merry Mince Pie Flapjack that will make it easy to get into the Christmas spirit.
The Lowdown: graze's flapjacks are made in the Cotswolds by the White family from their own 30-year-old recipe. The flapjacks are hand-baked in small batches so the rustic whole British oats aren't damaged, to make a treat that provides a source of fibre and tastes genuinely homemade. graze taste experts use only quality ingredients, never ever use any artificial flavours, colours or preservatives and ensure there is always a positive nutritional benefit from every snack.
Stockists: Sainsbury's, Tesco, Boots and Ocado
4. For a Christmas Tipple: Codorníu Cuvée Barcelona
What: Bodegas y Viñedos Codorníu Raventós was founded in 1551 when landowner Jaume Codorníu began to produce wines. Fast forward to today – Bodegas y Viñedos Codorníu Raventós is one of the leading producers of traditional method sparkling wines worldwide, and to celebrate the year that the first bottle of Codorníu Cava was created, the team have produced Codorníu Cuvée Barcelona.
The Lowdown: Made using traditional techniques and presented in a beautiful bottle inspired by the typical stained glass windows of modernist Barcelona, Codorníu Cuvée Barcelona is a timeless drink – ideal for popping open over the festive season.
Stockists: Tesco, Sainsbury's and Waitrose
5. For Fruit and Veg: J.F.Rabbit
What: J.F.Rabbit is pioneering new and natural vegetable waters. Blending un-concentrated veg juices and filtered water, they've created three delightfully refreshing and healthy pick-me-ups. Swap your squash for one of these veggie beauties.
The Lowdown: The three new flavours include Cucumber, Ginger and Beetroot. All crammed full of fruit and veg, and all with 95% less sugar content than fruit-based waters, squashes and smoothies – these are a must for a revitalising morning wake up call, or a lunchtime pick-me-up.
Stockists: Available across London
6. For a Christmas Special: Jimmy's Iced Coffee
What: Jimmy's Iced Coffee has launched a Christmas themed Gingerbread flavour to warm your cockles this winter. A little Christmas treat for the cold coffee connoisseur with seasonal spices, Jimmy's will hit the spot come sun, sleet or snow this winter.
The Lowdown: The Gingerbread house themed carton is specially designed for the festive season, complete with baubles and candy canes. The refreshing coffee is a mix of coffee, milk and sugar, and a big spoonful of spices and ginger for a proper festive hit.
Stockists: Tesco, Waitrose and Selfridges
7. For a Salty Snack: Clearspring Sea Veg Crispies
What: Clearspring Sea Veg Crispies have launched s second flavour, the all-new chilli. These thin, light and crispy toasted nori sea vegetable snacks are baked for just a few seconds to maximize crispiness. Nibble on them for a mid-morning snack, or crush and sprinkle over a lunch time salad.
The Lowdown: The sea veg crispies are made with just four simple ingredients: nori grown in the clear waters off the coast of Korea, unrefined sea salt and organic sesame and rapeseed oil which combine to produce this tasty, convenient and nutritious snack.The crispies are gluten-free, high in fibre, suitable for vegans, and contain no additives or preservatives.
Stockists: Health Food Wholesales, Independent retailers and online
8. For an Alcoholic First: FREYA 
What: FREYA is the first in a new line of sustainable, natural alcoholic beverages. The foraged birch sap is sourced from the wild untamed depths of Northern European Forests, where this special elixir is harvested once a year during early spring.
The Lowdown: From the ritualistic tapping of the trees, ensuring no harm is done to the natural surroundings, to the distillation process in hand made copper pot stills, set in the leafy English countryside; every step taken in the creation process of FREYA has been lovingly thought out to create this pure, wild spirit.
Stockists: Available online 
9. For High-End Popcorn: Popcorn Shed 
What: Popcorn Shed has created gourmet popcorn the way it should be – by hand, using all natural, high quality ingredients, carefully sourced, lovingly crafted and free of any unhealthy preservatives or additives. Popcorn Shed's focus on creating distinctive flavour combinations have already won them a Great Taste Award for the Salted Caramel flavour.
The Lowdown: Popcorn Shed is available in the following exceptionally tasty flavours: Pecan Pie – Pecan Caramel Gourmet Popcorn with golden roasted pecans;  Chocolate – Rich Chocolate Caramel Gourmet Popcorn with Belgian milk chocolate; and Salted Caramel – Sea Salted Caramel Gourmet Popcorn with Belgian milk chocolate. Popcorn Shed's range is suitable for vegetarians and completely gluten-free.
Stockists: Available online 
10. For a Cupboard Must: Baxters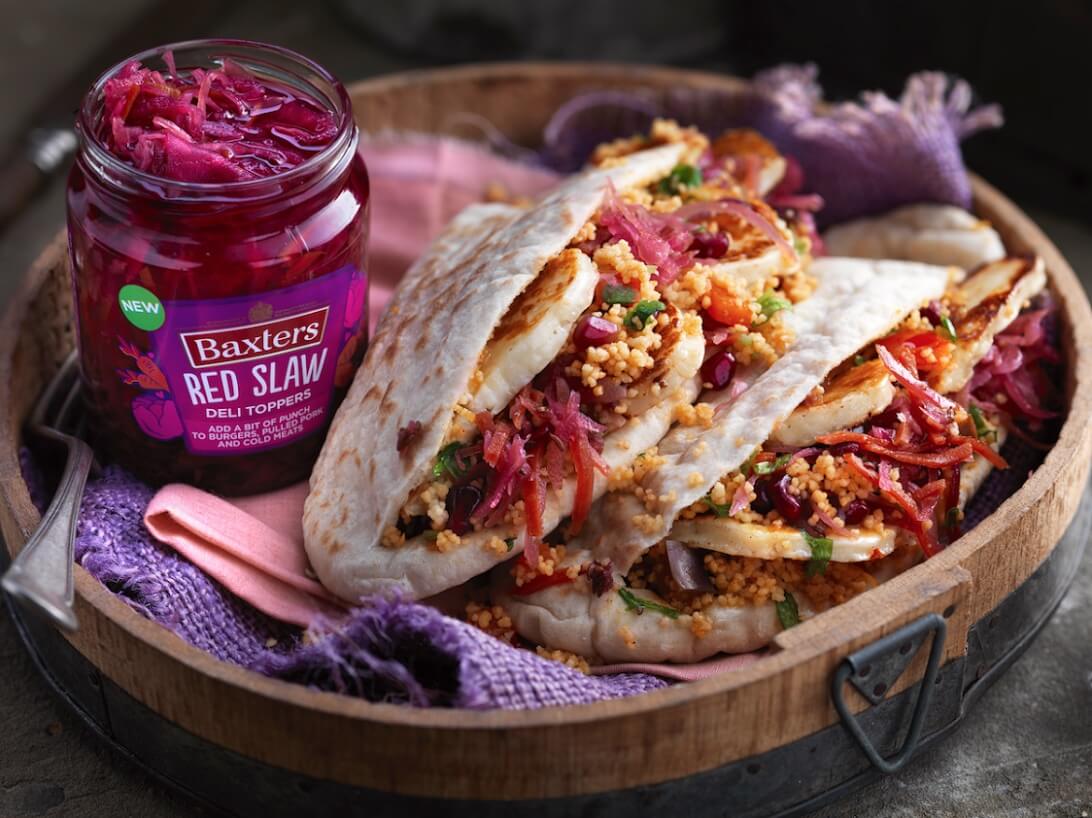 What: You know what we love? Condiments and accompaniments. And Baxters have just the product for your cupboard, with their all new range of  Deli Toppers. Created for foodies looking for the perfect finishing touch to their dishes, the range comprises 4 individual jars. 
The Lowdown: The range includes Spicy Slaw, Red Slaw that packs a punch, tangy Red Onion and Jalapenos that add a kick to any dish. Used alone or as a 'mix and match' combination, Deli Toppers adds the ultimate finishing touch, that brings to life dishes such as hot dogs, pulled pork, burgers, wraps, pizzas and nachos.
Stockists: Tesco and Asda
One for luck.. 
For a Chocolate Bar Alternative: Mallow and Marsh 
What: As the fastest growing marshmallow brand in the UK, Mallow & Marsh are dedicated to putting good marshmallows on the map. We like these bars paired with a flat white or a good brew. Get dunking.
The Lowdown: The bars are available in three flavours; Coconut, Vanilla coated in milk chocolate and Raspberry coated in 70% dark chocolate. The marshmallow itself is gooey, creamy and is completely handmade using a unique take on a traditional recipe. They're all 100% natural and use the highest possible quality ingredients, from real raspberries to organic and Fairtrade vanilla extract. Each marshmallow is delicately made over a four-day process with no additives or preservatives.
Stockists: Sainsbury's, Starbucks, Booths and Wholefoods