Super Bowl LV is here! Whether you're rooting for the Buccaneers or hate Tom Brady with a burning passion, there's no denying this year's game is an absolute must-watch. With that in mind, it's important to stock up on the right food and drink for the occasion. Have no fear, we've compiled the best offers out there to secure ahead of the big day. Game on.
Super Bowl LV: What to Eat
The Lowdown: Manchester pizza institution Rudy's have upped the home pie game this lockdown. Crafting their iconic Italian-style pizzas with fresh ingredients before vacuum sealing them and popping them in the post with next day delivery. What results is the closest thing we've had to a restaurant experience since 'eat out to help out' (remember that?).
With a variety of iconic flavours to choose from, including succulent Wild Boar Salami and Nduja, Buffalo Mozarella, Portobello Mushroom, Fior de Latte and basically every luxurious topping you could want on a pizza, their bake at home pies cook in the oven in just 7 minutes, and will be a total gamechanger whether you're watching solo or sharing with your housemates.
Where: Buy online 
The Lowdown: If there's one thing we've been craving during this lockdown, it's a boujee restaurant burger. Luckily, burger pioneers Honest have stepped in with a game-changing DIY kit that's sure to make your Sunday night even more special.
Featuring everything you need to craft 4 of their iconic bacon cheeseburgers, the kits come with easy to follow instructions meaning you can keep one eye on the game and still create a stunning burger that will take you back to before these "unprecedented times".
Where: Buy online
The Lowdown: What would a Superbowl spread be without wings? Even if we can't have people over this year, wing legends WingShack Co are offering the perfect DIY kit, which is fit for four people (or one hungry linebacker).
The kit contains 1.5kg marinated raw chicken wings, Chang's honey and sesame sauce or Jarv's tangy buffalo sauce, chives, toasted white sesame seeds, spring onions, and, to avoid any clothing mishaps, 4 WingShack bibs. Needless to say, if you're wanting your wing fix and don't mind getting messy in the process, make sure to order these bad boys in time.
Where: Buy online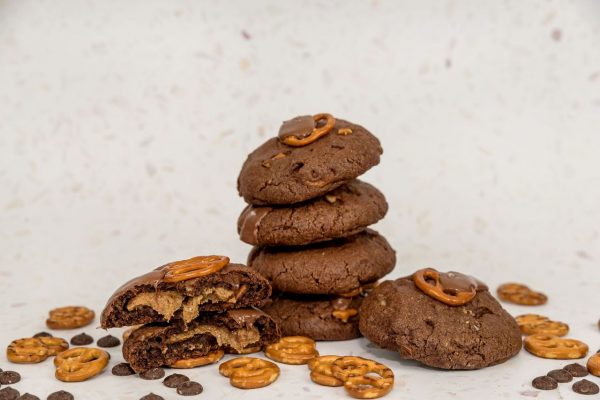 The Lowdown: Because you'll need that sweet fix after all that savoury/need a sugar boost to make it to the fourth quarter, Floozie are on hand to provide a luxurious dessert option. The concept of ex Claridges pastry chef Kimberly Lin, Floozie creates remarkable stuffed cookies (that just happen to be vegan too).
Not only do these bulky cookies make for legendary snacking, they also come in authentic American flavours including PB&J, Cinnamon Crunch, Pecan Pie and of course, a classic Chocolate Chunk.
Where: Buy online
The Lowdown: Whether you're a full-time vegan, a flexi, or just someone who got a bit carried away with Veganuary, Vegan Dough Co have you covered with their range of bake at home pizzas.
Cooked in just 15 mins in a hot oven, VDC have two wonderful vegan pies to choose from – a nduja, broccolini and olive special or a festive 'mistletoe' which features an alfredo sauce base topped with Brussel sprouts and acorn squash. If you're looking to get your junk food fix whilst also getting your five a day, look no further.
Where: Buy online 
The Lowdown: Regular readers will know we love a collaboration here at AT, so you can imagine our joy when we say that one of our favourite burger joints have collaborated with Soda Folk. Award-winning Libertine and softy specialists Soda Folk have crafted the perfect Super Bowl kit, fit for two people.
The box has everything you need to make two award-winning burgers with butcher Aubrey Allen's famed Aberdeenshire beef, Libertine fried chicken wings with blue cheese mayo, Tater tots with spicy dipping sauce and cans of cream soda from the good folks at Soda Folk to wash it all down with. The kit even comes with a foam finger (though we suggest eating the wings before popping that on), and delivery is available nationwide.
Where: Buy online 
Super Bowl LV: What to Drink
The Lowdown: It wouldn't be a Super Bowl spread if we didn't include the drink that's taken the US by storm this last year. White Claw is the OG of hard seltzers (boozy fizzy water) and has finally launched in the UK with a bang. Dangerously drinkable and with flavours including Black Cherry, Raspberry, and Lime, it's no surprise why these cans have become a worldwide favourite and pioneered a new drink trend.
Where: Buy online 
The Lowdown: I think it's fair to say that most of us would trust anything that comes out of Ryan Reynolds' mouth, so needless to say we were excited to try some gin fronted and backed by Deadpool himself. While America isn't exactly known for its gin, you'll be pleasantly surprised by the delicate blend of flavours on show with an Aviation and Tonic. Think orange peel and cardamon notes with hints of juniper and aniseed that refrain from being overbearing like you find in some gins. If you're looking to vary up your drinks cabinet as a whole (and want a different drink from beer in the third quarter), then Aviation is a remarkably good shout.
Where: Buy online, Tesco, Asda and Masters of Malt
The Lowdown: Another pleasant switch up from the beers (because we can't be pounding lager with junk food for all four quarters), we recommend taking a trip to Loudoun County, Virginia for a refreshing change of pace. Catoctin Creek was the first distillery to legally open post-prohibition, and craft award-winning Rye Whisky in three stunning styles. With rich, woody undertones and hints of caramel and lemon, Roundstone Rye is a remarkably sippable whisky and perfect whether you're looking to sip, or go high class and make a Manhattan just after midnight.
Where: Masters of Malt and The Whisky Exchange
The Lowdown: Let's be honest, of course, we were going to put beer in this list. Naturally, you could just nip to the offy and get some bud light, but why not push the boat out and hit up HonestBrew (the UK's leading craft beer retailer) and stock up on some of the best craft from the wide selection of US breweries. Our personal favourites are Barrier's range of robust IPA's and NEIPA's, Sierra Nevada's classic Pale Ale and of course Brooklyn's range of classic lagers.
Where: Buy online