About Time: You Discovered London's Gluten-Free SecretsBy Angelica Malin
London, we're here to tell you, you really can have your gluten-free cake and eat it. If you find yourself heading to the same restaurant night in, night out, then we say take a look at our list of gluten-free secrets in the capital, you won't be disappointed.
If you want more gluten-free inspiration, check out our guide to the best Gluten Free Breakfasts in London, Gluten Free Cupcakes in London, Gluten Free Pizzas in London and Gluten Free Sandwiches in London. All the gluten free loving. 
1. For Chinese: Gluten-Free Dim Sum
What: Gluten-free dim sum feast at Naturally Chinese
Why: Naturally Chinese in Waterloo has a dedicated gluten-free dim sum menu. The husband and wife owners have put every effort into creating delicious Chinese food that is free from MSG and other nasties – it's all natural, fresh and delicious. Think steamed prawn and chive dumplings, rice paper spring rolls and lemon ginger fish. Just avoid the soy sauce, and you'll have a great time.
Where: 59-63 Brighton Road, Surbiton, Surrey, KT6 5LR
2. For Weeknights: Gluten-Free Fish and Chips
What: Gluten-Free Wednesdays at Oliver's Fish and Chips
Why: Oliver's is a unique blend of a traditional fish and chip shop with a fresh fish Mediterranean restaurant. Founded by Mario Budwig (who previously owned Millie's Cookies), it serves up tasty fresh salads and great fried treats. Every Wednesday is 'gluten-free night' where the chefs wash down the pans with rapeseed oil to stop cross-contamination, and fry up with fish with buckwheat, maize and other gluten-free flours. Get a side of sweet potato gratin with your fish, just because.
Where: 95 Haverstock Hill, London NW3 4RL
3. For Indian: Gluten-Free Dosas
What: Gluten-free dosas at Horn OK Please
Why: This is the one for healthy, gluten-free Indian street food. If you don't know, a Dosa is a South Indian savoury crepe usually made out of rice flour, but at Horn OK Please they make them with either rice, moong dhal (lentil) and rava (semolina). Served as plain, with potato or with paneer fillings and chutneys, they're totally delicious. Also try their great stews and warming Indian soups.
Where: You can find the crepes at street food markets throughout London, including Borough Market – see the schedule here.
4. For Sundays: Gluten-Free Sunday Roast
What: Pub classics and gluten-free lager at The Truscott Arms
Why: For one, you'll love this five-storey this independently-owned pub and garden – it has a great vibe, and is always buzzy on a Saturday night. And secondly, you don't have to stress about being gluten-free here – The Truscott Arms is family run, and that family happens to have coeliacs in it! As a result, they've made a great menu for pub-food loving foodies – they do gluten-free fish and chips with Celia Lager and Dove's Farm flour and fantastic 'beef shin chips' with slow roasted and pulled beef, pressed and coated in gluten free flour and polenta, and fried. If you want a burger, they have gluten-free bread buns – and food is always uncontaminated as they have separate fryers! To end your meal, try the gluten-free macarons. Nom.
Where: 55 Shirland Road, London W9 2JD
5. For Work Lunches: Gluten-Free Arancini
What: Risotto balls from The Aranicini Brothers – coated in rice flour
Why: Because everyone deserves a heavenly bite from time to time. These risotto balls make a great alternative lunch – you can get them in a box with salad on the side, or served inside a hearty vegetarian stew. The restaurant in Kentish Town started as a tiny market stall in Brick Lane on Sunday mornings – they took over a ilapidated English cafe in Kentish Town, and the rest is history. The tasty balls are made with rice, mixed through slow cooked onion, garlic and herbs, vegetable stock is added to make a firm, delicious risotto. Then we mix through flavours like cheddar, mozzarella, parsley and lemons.nThis is hand rolled into little balls, coated in rice flour then fried. Heaven.
Where: 115 Kentish Town Road, London, NW1 8BP
6. For Comfort Food: Gluten-Free Bangers and Mash
What: Cumberland or Pork and Leek sausage with mash at Mother Mash
Why: You've got to be careful with bangers and mash – there can often be sneaky gluten in the sausage casing or mix, which is why Mother Mash is great – two of the sausages (Cumberland and Pork and Leek) here are totally gluten-free. That's not the only reason they are great though; with seven kinds of mash to choose from (think: sweet potato and chilli mash, horseradish mash and comforting cheesy mash) and delicious sausages, it's a total dream. There's also a range of great gravy to choose from, and some banging sides like french beans wrapped in bacon. Whether you like your tatties mashed or bashed, this place is for you.
Where: 26 Ganton Street, London W1F 7QZ
7. For Hangovers: Gluten-Free Pizza
What: 14″ gluten-free pizza and pasta at Stingray Cafe
Why: Accordingly to our Gluten-Free Editor Elana, Stingray Cafe does really good gluten-free pizza; great surface area, thin and crispy crust and lots of different toppings. But they don't just do pizza – they also do amazing garlic and cheese bread (though it's circular and it looks like pizza…so it's basically pizza). It's also very reasonable priced and so tasty – well worth a visit. If you fancy a bowl of cheesy goodness, they also do gluten-free pasta. Plus £7.95 for a pizza and beer on Wednesdays, can't say fairer than that.
Where: 135 Fortess Road, Tufnell Park, London, NW5 2HR
8. For Saturdays: Gluten-Free Cake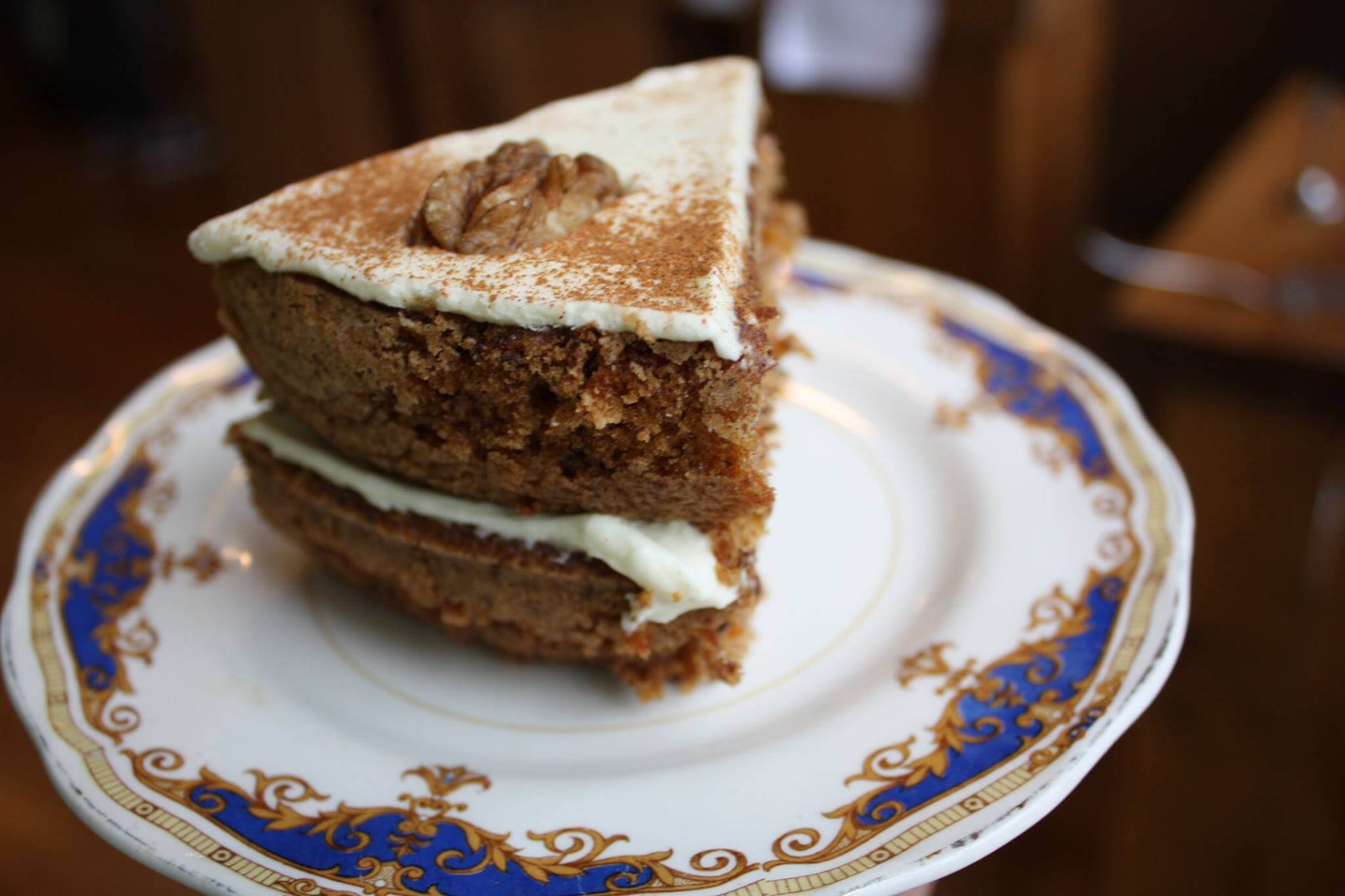 What: Cake, sausage rolls and other pastry delights at Romeo's Gluten-Free Bakery
Why: It can be hard to relax when you've got Coeliac Disease for fear of cross-contamination, but there's none here – as everything is totally gluten-free! The cakes, the pastries, the bread, the tarts – everything. Much better than the powdery stuff, this bread is very tasty and has a real depth of flavour. Come for a gluten-free sausage roll, or ten. They also do Full English Breakfast and Veggie Breakfasts, served with gluten-free bread, if you want something more substantial.
Where: 167 Upper Street, opposite Islington Town Hall, N1 1US
9. For Brunch: Gluten-Free Eggs Benedict
What: Eggs Montagu – Bumpkin's healthy twist on Eggs Florentine gluten-free muffin, spinach, two soft poached eggs, lemon nut sauce (£9 50)
Why: Because no-one should be deprived of Eggs Florentine. At Bumpkin, Julie Montagu has devised a special gluten-free dish on a homemade muffin, with spinach and delicious light sauce. It's got that naughty weekend taste, but without the calories. Come and try Bumpkin's great fresh juices and nice atmosphere, it's great for dates and families alike.
Where: Chelsea and Notting Hill – here
Top 5: Gluten Free Breakfasts in London
Top 5: Gluten Free Cupcakes in London
Top 5: Gluten Free Pizzas in London