"There's an awful lot of people with jumpers tied around their necks here" my boyfriend says
"Don't let that put you off" I say
He doesn't, and we proceed to have one of the best meals out of our lives.
Salmontini: The Lowdown
Located in the heart of SW1, Salmontini sits proud on Pont Street. Salmontini isn't for the faint-heated – there's certainly a "crowd" here – rich Made in Chelsea types, women in Herve Ledge dresses with hair so perfect it looks like it's been painted on, Euro-looking men with sun kissed cheeks that seem to have just stepped off the boat from St. Tropez, Cannes or wherever else the rich like to holiday these days – and they're playing all the big hits from the Ibiza club scene to remind the willing participants in this game of their last holiday.
I sound like I'm bitter, but I'm really not – I'm actually enjoying the spectacle. When we arrive, there's a bloke driving his Ferrari outside with three people in the back drinking champagne and talking selfies. They scoot off into the distance and I realise that I'm the only one who's concerned that the restaurant might not get their champagne flutes back. You get me?
Salmontini: What to Expect
The menu fuses Modern European with high-end Japanese cuisine, everything from sushi to  steak, with a special bottomless weekend brunch. The interiors are chic and warm, and there's a lovely mirror-lined bar and Onyx lounge for enjoying music from Europe's best DJ's throughout the summer. The restaurant is light and airy – all very Feng Sui and minimalist, with a few touches of modern art. All in all, it's very cool.
Salmontini: The Drinks
There's a focus on sake, of course. They've got a good selection of sakes by the bottle, as well as rarer sakes – we sample the sparkling sake, for fun, and it's delicious. They've got a modest cocktail menu – not mind-blowing – but the Magic Monkey (£14) with Monkey 47 with gin, elderflower, apple and lime is decent enough. I reckon they need a few more "girly" cocktails with fruity flavours (what Japanese restaurant doesn't do a Lychee Martini?) but they infuse their own vodkas and this impressive fact makes me forget all about it.
Salmontini: The Food
The menu is, as they proudly state, a fusion of Japanese and European. Truth is, it's not fusion. It's just that they do both cuisines (and really well, surprisingly, there's normally a weaker twin) – but there isn't really a combination of flavours going on. I'm judging them slightly.
But then we start to eat, and everything changes. What I once saw as pretensions, I now realise is just self-confidence. Because Chelsea types are in the know – and always have great taste, having been weened off breast milk onto Grade A sashimi and wasabi – and they've rightly claimed this place as their own.
To start, choose between European starters like beetroot salad and pea soup or their Japanese counterparts, miso and spicy salmon skin salad. Realising we can get pea soup from M&S, we make a decision to stick Japanese all night.
Start with the miso soup (£6) – it's rich, full of unami and has a generous helping of mushrooms and spring onions. Their seaweed salad (£12) is delightful – the unusual combination of creamy avocado and sour red currants on to of a bed of seaweed, mixed leaves and cucumber is dreamy, and really quite genius. It's generously tossed in a roasted sesame seed dressing, which has notes of your classic Satay sauce, perhaps, but it's more playful, and adds a real warmth and nuttiness to the salad.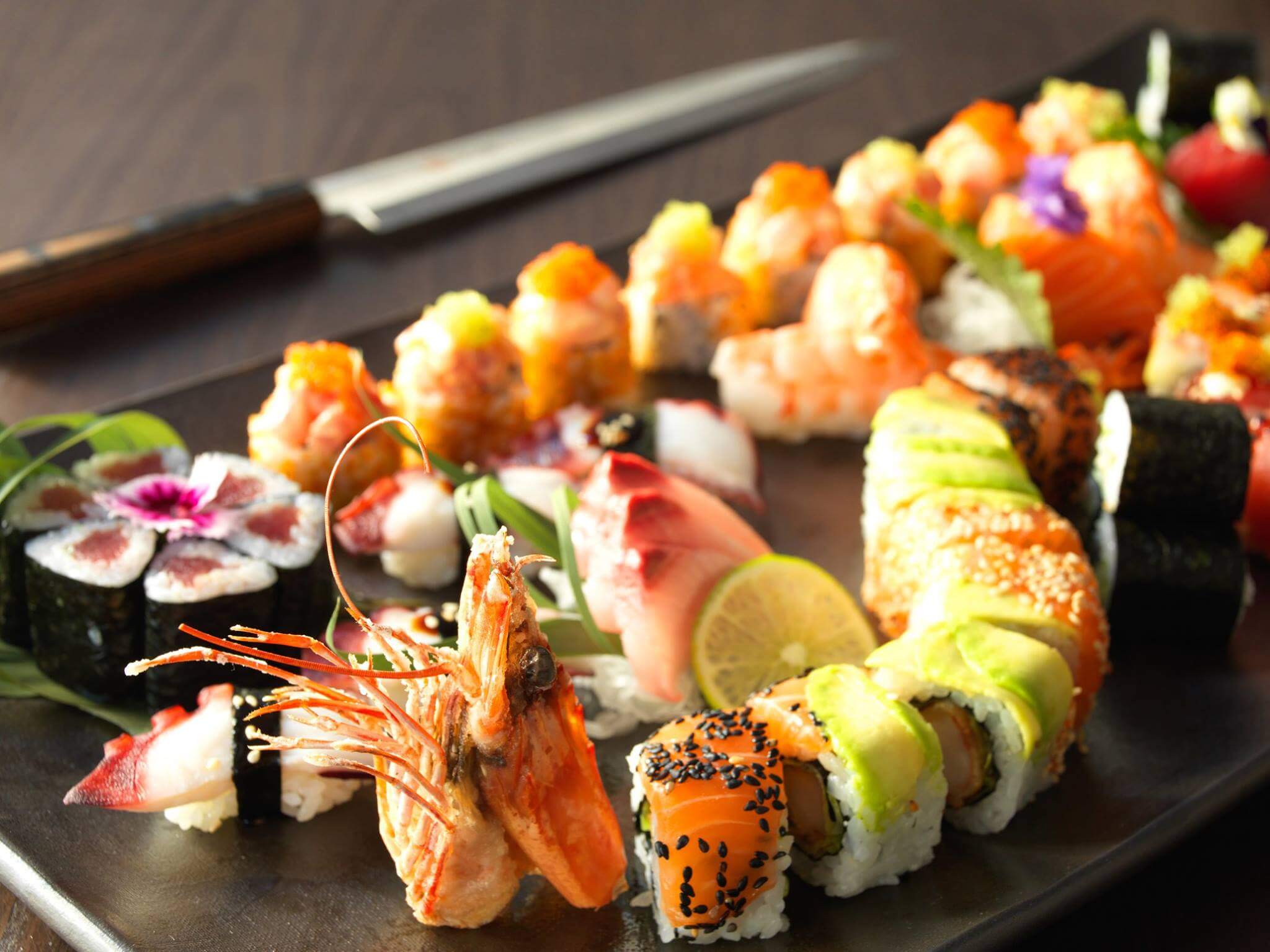 Then the sushi arrives, and everything is blown out of the water. It's the kind of quality you can taste from the second the food touches your lips; ocean fresh fish, the most perfectly cooked sushi rice, touches of additional flavours to the sushi that only magnify the flavours. You know when you try really, really incredible and sushi and you think "I'm never going to eat normal food again". Well, that.
The sashimi is incredibly light and fresh – if a little tiny – we try salmon (£6), mackerel (£7) and sea bass, (£6) and they are perfect. Served on ice with a touch of fresh ginger, the sashimi is always a big test for a restaurant and here Salmontini succeed with flying colours.
The sushi is incredible; simple Salmon Koru maki (£8), a salmon and avocado roll, has the perfect softness to it, the rice melting in your mouth, their salmon only the best quality. The spicy tuna roll (£9) is presented beautifully – a little sweet for my tastes but still great – and the Salmon Skin Futomaki (£8) with salmon skin, chive and mayo is crunchy, rich and has almost nutty flavour, but is simply incredible.
The Hamachi Nirgri (£9) is incredible, with a little burst of Yuzu dressing on top, it's so mild and fresh tasting. I always say the test of a good sushi restaurant is how well they do a simple avocado maki roll (£7) – like scrambled eggs, this dish is the make or break of a good chef. I try the avocado roll. It's out of this world. Who is the man behind this brilliance?
It's all so sensational, we almost completely forget about mains. But the Chilean Sea Bass (£28) and Black Cod (£24) are as good as their price tag suggested they are. The Black Cod has a sticky, sweet miso glaze, bringing out an almost a caramelized orange flavour, and simply melts in the mouth. The Sea Bass is more European insipred – with lemon butter, on a bed of herby mash with a rich, salty samphire sprinkle. We order the Sea Bass to check whether they can pull off European food with such finesse, and the answer is obviously yes. Salmontini, you beautiful thing.
Salmontini: Our Verdict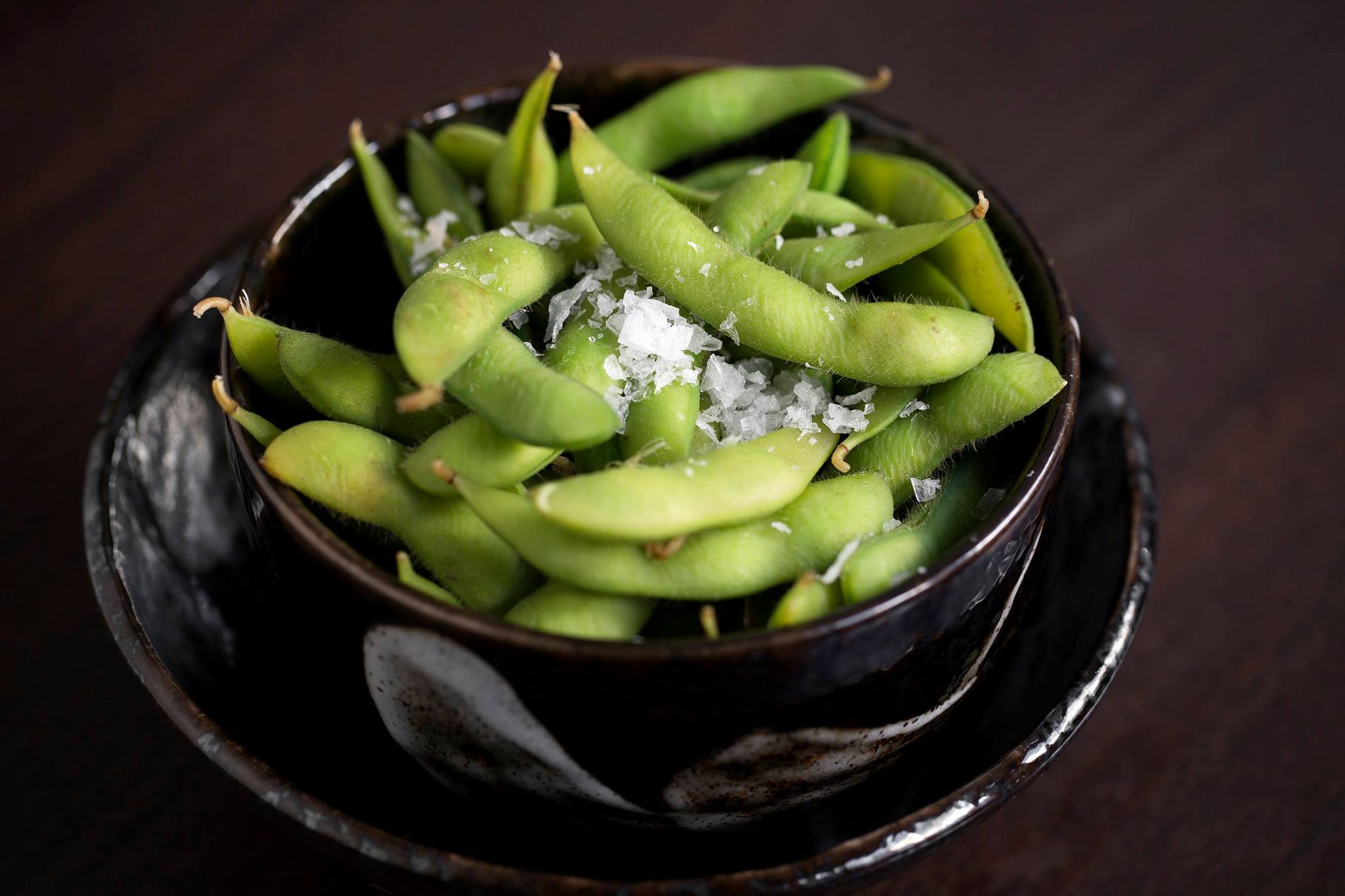 For something really special, you need to try Salmontini. With too many drinks and too much sushi, the bill comes to around £80 per person. I'm sure you could do it for a lot less, and be just as satisfied. Come to Salmontini, and see what it's all about. 

For more information, and to book, see their website here.