Tredwell's. Oh, Tredwell's. We all have moods. Moods when we want to cuddle up with Netflix and a bowl of pumpkin ravioli. Moods when we want to put on our sparkliest dress and highest heels and take selfies with Lychee Martinis with your girlfriends in fancy sushi joints. Moods when we want to drink English Breakfast tea and dive into carrot cake with your mother.
And then, there are moods for when we're feeling young and carefree. When we want to kiss over candlelight, listen to Jazz music and wear red lipstick, just because. For the latter, Tredwell's is the place you need to be. The place has style in bucket loads; sexy interiors, cool, slick marble surfaces, green leather booths for getting up close and personal, and the food, well, it's just beyond sexy.
Date night food. There's no other way to put it. If you're looking for a Valentine's Day spot, we can't recommend Marcus Wareing's Tredwell's enough – full of charm, refinement and tasty sharing plates, it's perfect spot for affordable elegance. Here's everything you need to know:
Winner of AA's 2015 Restaurant of the Year, Tredwell's is the newest offering from Marcus Wareing Restaurants. It brings modern London cooking to the heart of the Seven Dials – this restaurant is in the beating heart of London, close to fantastic cocktail bars, theatre hotspots and amazing hotels. Come here on a weekend – every Friday and Saturday evening, Tredwell's hosts live Jazz performances, which are great fun. The restaurant is split onto two levels, with a more intimate setting upstairs, and a great space for hosting private dinner parties. It's the place to come if you like people watching – there's nothing nicer than peering down on the refined diners below, over your glass of bubbly. Heaven.
The drinks are great: think seasonal cocktails and all-time boozy favourites. Opt for a fruity, botanical cocktail – the Down the Apples and Pears with Belvedere Vodka, apple, pear, elderflower and thyme is fantastic. The Tredwell's Negroni is also a winner, with No3 Gin, Antica Formula, Aperol, peach and grapefruit bitters. There's also got an extensive wine menu, including great sparkling champagne and rosés. If that's all too much, the Treading Well juice with cucumber, fennel, lime, apple and spinach is delightful.
They call it Modern British, I call it Marcus British. From presentation to creative flavour pairings, Marcus Wareing's food always has a touch of magic. It's accessible cuisine, too; the food at Tredwell's is fantastic for vegetarians – the menu has a focus on fish and vegetarian options, and lots of delights for the dairy-free and gluten-free crowd.
Start with the Harissa-glazed aubergine with peanuts, coriander and chilli – this vegan dish is utterly moreish, with the perfect balance of sweetness from the aubergine and spicy kick from the Middle Eastern Harissa paste. A real winner of a combination.
You must try their Burrata – you'll be served an incredible quality piece of creamy Burrata, pimped out with olive, caramelised shallot, balsamic and rocket. The combination of sweet, sticky balsamic and the unctuous cheese is sensational, and it goes fantastically with their Music bread – utterly delicious.
For mains, there's great veggie options, such as the butternut squash and sage dumplings, which come in a rich, indulgent hazelnut sauce, and, of course, the vegetable of the moment: kale. For fish lovers, try the miso-baked cod with cauliflower, samphire and sesame – the flavour combination is unusual, but the mix of cauliflower and sesame is delightfully, and really adds to the fish. If meat's your bag, you'll be spoilt for choice with the charcoal grill – there's grilled lamb chops, Hanger steak, dry-aged Ribeye and Saddleback pork chops.
The sides are really a crowning glory of the restaurant – inventive, unusual and seriously tasty, they cannot be missed. The sweet potato chunks are truly a delight to eat, and the kale, sugarsnap and rocket salad is fresh and zingy. For something truly delicious, you can't miss the grilled broccoli, almond butter and capers – the homemade almond butter brings out the nuttiness of the broccoli, complemented by the little sparks of saltiness from the capers. Glorious.
You'd be mad to miss out on dessert here; the restaurant's homemade salted caramel soft serve ice cream truly put them on the map. The dessert menu is surprisingly special diet friendly – for vegans, there's coconut mousse with pineapple and mint, a refreshing and light end to your meal, and even their chocolate brownie is vegan, served with homemade coconut yogurt.
You can't miss the pear, burnt honey mousse, greek yogurt and crumble – a breakfast-y take on dessert, the dessert is super light and utterly divine. And for those that just can't decide, the gin and tonic cheesecake is a must-try.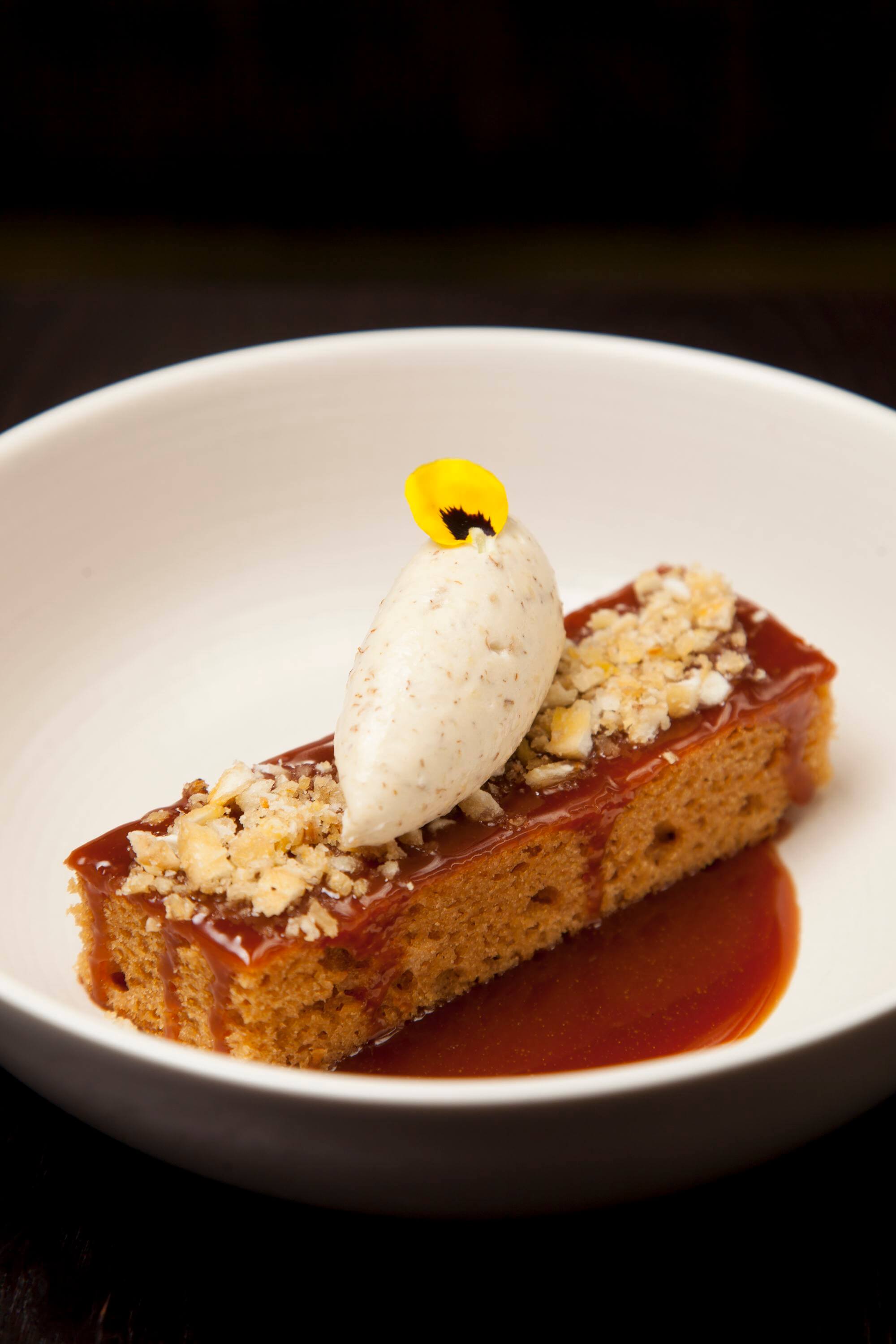 Tredwell's has it all; from great food to a warm, intimate atmosphere, it's a fail-safe dinner spot for couples, dates and loved ones alike. The menu has something for everyone, with great vegetarian, meat and vegan options, and you'll be surprised by the playfulness of the menu and the ingenuity with which they approach flavour combinations. Marcus Wareing and his team deserve high praise for this Modern British restaurant, they've truly outdone themselves.
Tredwell's is at 4a Upper St Martin's Ln, London WC2H 9NY – for more information and to book, see here.