Something is happening people; a revolution is in motion. In years gone by, a restaurant in the hotel was your last, worst option – reserved only for the tourists and the people too weary to search for anything better. But in recent years, the hotel restaurant has re-invented itself – London is full of amazing dining options within hotels these days, which are steadily becoming destinations in themselves. And so is the case with May Fair Kitchen, a recently renovated Italian-inspired restaurant within The May Fair Hotel in swanky Green Park. Behind the glitz and glamour of the hotel's impressive facade, there's a true gem of a restaurant here, with a chef that seriously knows his stuff. Here's what you need to know:
Recently re-designed, the May Fair Kitchen is the place to come for an intimate, shared dining experience; the restaurant embraces the concept of shared dining, with a sophisticated yet unassuming setting. The interiors have just been refreshed, and the restaurant looks slick, cool and sexy – with all the ambience you'd expect in a 5* establishment.
It's all about Mediterranean twists here; the restaurant aims to evoke the Med with a great election of Spanish and Italian small plates, alongside good wines and cocktails. May Fair Kitchen is owned by independent hospitality group Edwardian Hotels London, one of the UK's largest, privately-owned companies which has been developing luxury hotel and hospitality brands for decades. Can't say fairer that that.
The food here is really rather wonderful – and the presentation is tip top. To start with, they have some delicious Italian small plates to nibble on; the Burrata Pugliese with baby basil and San Marzano tomatoes (£10) is utterly divine. The burrata is just as you would hope – rich, creamy and wickedly moreish, paired perfectly with fresh tomatoes and delicious mopped up with their homemade focaccia bread (which, by the by, is absolutely divine).
I rarely think salads are the highlight of a menu, but at May Fair Kitchen, they really are. The orange and avocado salad (£8) with cayenne pepper lemon dressing is simply divine – full of fresh, delicious flavours, and the flavour combination just works so well. The spinach and artichoke salad (£8)with blue cheese and pine nuts is no less impressive – the artichoke still has bite to it, and the pairing of soft cheese, crunchy pine nuts and crisp spinach is just so good. This is the kind of food you'll want to be eating all summer long: absolute veggie heaven.
For mains, we moved onto some carby delights. The king crab ravioli (£18) with sage butter is perhaps not a menu highlight, and could do with some seasoning, but it's pleasant enough. The Chilean sea bass (£22) with padron shiso salsa is, however, a triumph. The fish is so light and delicious, expertly cooked and paired perfectly with a tangy salsa – delicious.
The chilli panko tiger prawns (£14) with jalapeño emulsion are a fun, tasty dish. Perhaps they could do with a touch less oil, but that's personal preference, but the jalapeño emulsion they are served with is utterly delicious, and we found ourselves mopping it up with bread. All in all, the food here is really rather fantastic and, beyond a few technical details, it's got serious style and sass.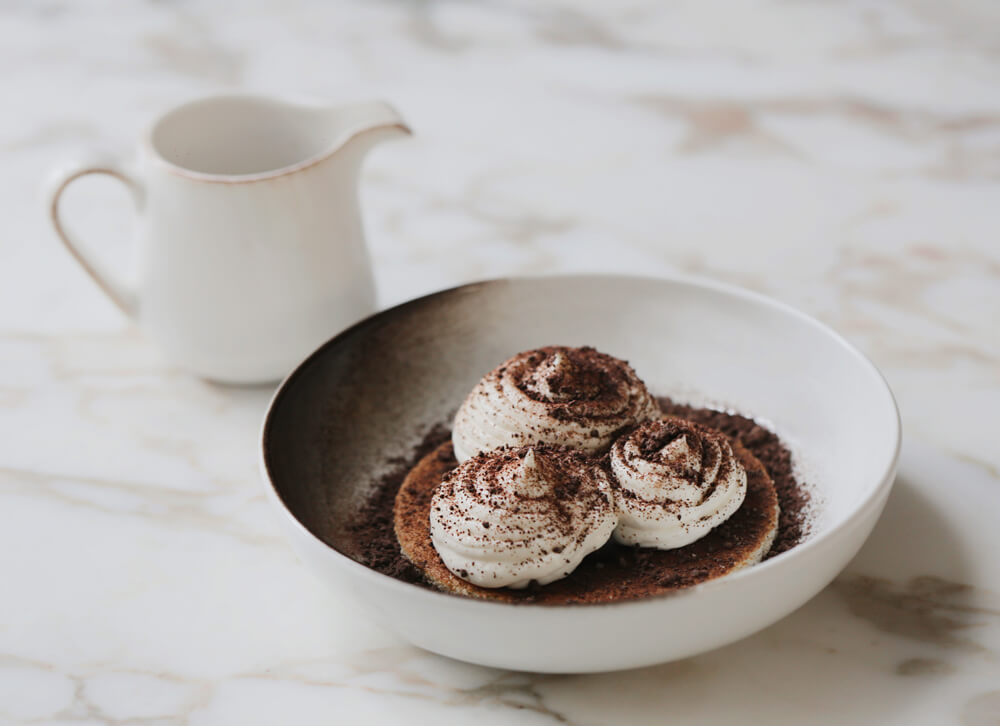 For dessert, you need to try their chocolatey offering. The chocolate fondant (£9) with amaretto and vanilla bean ice cream is a sensational pudding – with a little twist on the classic from the amaretti, it's like a delicious hug in a bowl. Seriously, can you beat a classic chocolate fondant? Head to the May Fair Kitchen for this alone – it's unbelievably good.
They've got a great selection of wines on offer, including lots of Italian and Spanish wines. The May Fair Kitchen also serves up some tasty cocktails of their own – for a great summer aperitif, try the Campi di Viola with lavender, elderflower and lemon, topped with prosecco (£14). And for a signature cocktail, sample The Valencian (£14) with Bombay Sapphire gin, Mandarin Napoleon, fresh orange juice, rhubarb cordial and fresh basil. Dreamy.
The May Fair Kitchen does most things really, really well; the service is slick, the food is beautifully presented, and the vibe is just right. With a few tweaks to the dishes, I think this is going to be one restaurant you'll want to visit – all. summer. long.
May Fair Kitchen is at The May Fair Hotel, Stratton St, London W1J 8LT – book here.