Looking for a new spot for a Vietnamese dinner? Look no further – House of Ho is exactly what you need. Here's why you should visit the new flagship restaurant by Ian Pengelley:
Set in an impressive four storey townhouse, in the heart of Fitzrovia, offering the finest contemporary Vietnamese food, House is Ho is a seriously impressive restaurant – perfect for a date. It's expansive, too, so you're guaranteed to get a seat – set over four floors, including private dining, the restaurant is bring, modern and airy. Even though it's in central London, the restaurant is a nice hide away haven from the bustle of town. Food? Well, their Vietnamese kitchen creates enthralling dishes, full of colour, authentic ingredients and exciting tastes. It's really vibrant, colourful food, that will get your taste buds singing – and some wicked cocktails, too.
The food is beautiful, fresh Vietnamese fare. Whilst sipping a Lychee Martini, nibble on something light and tasty – the edamame with chilli and garlic are seriously tasty, always a winner. Start your Asian feast with their great small plates – the crispy squid with chilli and salt is divine, the perfect amount of crunchy, salty goodness on the fresh dish. For something deliciously different, the wild salmon tartare with Asian pear, cured egg yolk and sweet soy dressing is great – an interesting take on a classic dish, given a sweet touch with the pear and a richness from the egg yolk – really rather lovely.
An Asian meal wouldn't be complete without dumplings – and they are really great here. For veggies, the wild mushroom steamed dumpling is beautiful, full of the flavours of garlic and chive, whilst the prawn and sea bass dumpling is light and fresh.
For something unique to the restaurant, try the open-top scallop dumpling – it's a taste sensation. If you fancy something fresh to go with the dumplings, try one of their salads – the duck and watermelon salad is a real menu highlight, served with roasted cashew nuts and fresh mint, the flavours are unusual but they just work. And, of course, fresh prawn summer rolls are a must for anyone who wants a real Vietnamese experience here.
Normally I'd say opt for the small plates and dumplings in an Asian restaurant, but here the main courses are actually a real menu triumph – which speaks volumes about the quality of the restaurant and the creativity of their kitchen.
From their 'Signature Sharing' menu, you simply cannot miss the Chilean seabass – I think it's the best fish I've ever had in London, and I think about it all the time. Sweet than normal seabass, a bit like Black Cod, this fish is so light and delicate, it simply melts in the mouth – too divine for words. The fish comes with a sweet Vietnamese fermented plum sauce, which sets off the sweetness of the perfectly, and brings the whole dish together. And if you're a meat lover, I have it on good authority that their duck breast with orange miso is absolutely delicious. Oh, what a place.
Again, defying expectation, as desserts in Asian restaurant can often be rather forgettable (give me a traditional British apple crumble over mochi any day), the desserts at House of Ho are really rather fantastic – and well worth trying. Whilst the exotic fruit platter is beautiful to look at it and just made for Instagram, their warm green tea fondant is a thing of dreams – served with vanilla ice cream and passion fruit, if you love the flavour of matcha, this is made for you. You can also go all out and get a sharing dessert platter, which features the best of everything, if you dare.
The cocktails here are the thing to try. The cocktails have been given an unique Asian twist – and it really works. Try the Lotus Root with Bombay Sapphire, crème de violette, lemon sherbet, sugar syrup and soda water – it's fun, and very refreshing. If you like sweet cocktails, try the Quick Fix –  it's passion fruit vodka, eucalyptus cordial, passion fruit and Singha Beer. Dreamy.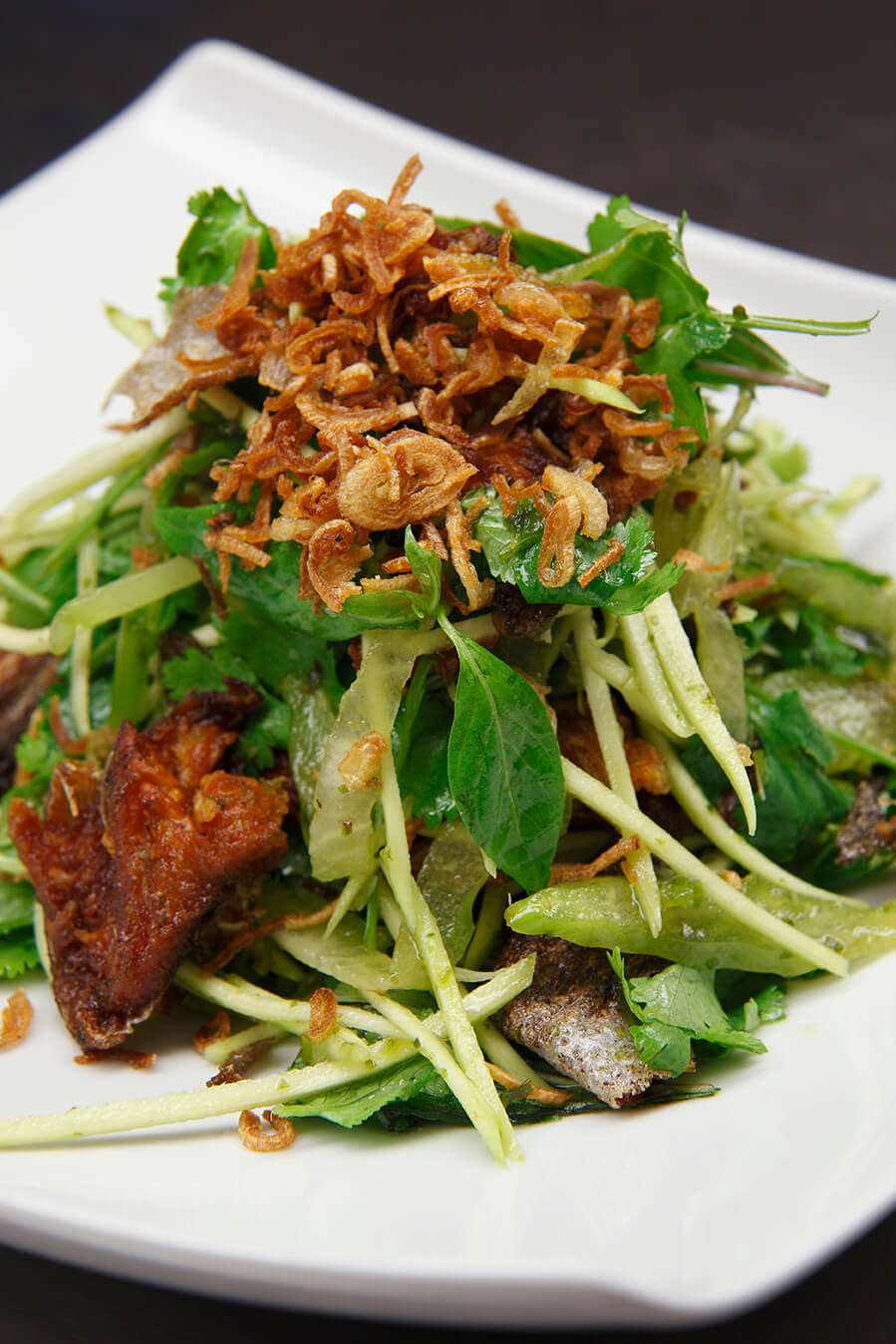 For a fun, tasty Vietnamese dinner in the heart of London, House of Ho is fantastic – the service is quick, the dishes are delicious and there's a really good energy about the place. Where many Asian restaurants have fallen before, House of Ho continues to impressive with its attention to detail and inventive, challenging dishes. And, man, that matcha fondant – it cannot be beaten. Get yourself down to House of Ho to taste some of London's best Asian creations.
House of Ho is at 1 Percy St, London, Fitzrovia W1T 1DW