Some places just have "it". I'm not quite sure what "it" is – a vibe, a look, a sense of cool, something you just can't put your finger on. Sometimes, you just need to find "it" – these are the qualities that make a restaurant the perfect spot for a date, for impressing someone, for something special. Effortlessly cool, laid-back, just the right amount of elegance, Chotto Matte has all those things in bucket loads. The restaurant is very, very chic – think cool pop art, a bustling open kitchen and wicked cocktails. If you're looking for somewhere new this month, we can't recommend Chotto Matte enough – the menu, created by the Nikkei Boys, Jordan Sclare and Michael Paul, is simply unbeatable. Enough small talk, here's what you need to know:
Chotto Matte is a Japanese-meets-Peruvian restaurant with grill and sushi bar in Soho, which fuses traditional clean lines with a grungy Tokyo style. The restaurant is all about urban elegance; it's the kind of place you can go for cocktails with girlfriends and pints with your football team in equal measure. Not too girly, not too refined, it's a crowd pleaser of a restaurant.
Nikkei cuisine is at the heart of the Chotto-Matte experience. Nikkei, the fusion of Japanese and Peruvian, effortlessly blends two of the best cuisines around – think incredible ceviche, grilled meat and the best Pisco Sours in town. Nikkei cuisine is all about quality, ingredients and flavours; all the products they use here are natural, locally produced and real – just the way it should be. The artwork of the restaurant will be the first thing you notice – bright, bold and ballsy, the walls are a testament to the restaurant's daring cuisine.
You can come here for the cocktails alone and make a night of it. The delicious cocktails are on the fruity side, with a Japanese twist – there's lots of sake, Asian spirits and exotic fruit involved. Our favourite is the Lychee Picante – a take on a classic lychee martini, made fancy with Calle 23 Blanco tequila, lychee, lemon, chilli syrup and egg white. It's got a serious kick to it and it just works. For something sweet and delicious, try the Flor de Manzana – a mix of mango vodka, sake, apple, lime, passion fruit and elderflower. Glorious. That said, you can't go wrong with a classic Pisco Sour – they make a mean one here.
Where to start, where to start. Well, in truth, you start with the padron peppers – sweet and salty at the same time, they are utterly heavenly. Then you need to tackle the menu – it's long, so don't be overwhelmed! Everything is fantastic, so you can't go wrong. They have four cooking sections in the restaurant: sushi bar, barbecue, sauté and tempura.
The food is designed to share; served on small plates, they recommend 4-5 per person. To do things right, you should eat the colder, light flavoured dishes first, graduating to hotter, fuller flavours and ending with sushi. If you're overwhelmed, you can try the Nikkei sharing menus, with eight courses, to try the restaurant's most popular dishes.
From the cold appetizers, the ceviche and sashimi is a must. Try the Nikkei sashimi – an incredible dish of yellowtail, cherry tomatoes, jalapeno, coriander and yuzu truffle. It's one of the best sashimi dishes in London I have ever tried – the balance of truffle and fresh lime is spot on, and somehow, despite all the strong flavours, the fish is still the star of the dish – truly sensational. The seabass ceviche is also a triumph – a rich mix of fish, sweet potato, Peruvian corn, coriander, chive oil and citrus sauce, it's sweet, tangy and utterly refreshing. The cold starters here can't be missed – they are a real feat of ingenious cooking.
Next, move onto the sashimi. We adored the Nikkei sashimi – the slivers of fresh fish are blowtorched at your table, which is a lovely little touch, and really adds spectacle to the whole thing. The fish couldn't be fresher – the slices of salmon, tuna, turbot and aubergine simply melt in the mouth. Perfection. The salmon sashimi is, as predicated, of the highest quality – it cannot be missed.
For main courses, the Nasu Miso is a delightful – a quirky aubergine dish, featuring aubergine cooked in miso with apricot, puffed soba and sesame seeds. The dish is sweet, but the aubergine has been roasted to perfection, and, again, it melts in the mouth. You must try some fish, too – the Black Cod is a star dish of the mains. It's served simply grilled – nothing too fancy here – but falls apart of the fork and is perfect with one of their quirky sides, such as the smoked purple potato puree, or cassava wedges.
If that's not enough food for you, you can't come to Chotto Matte and not try their sushi – it simply put them on the map. Try the Salmon Picante roll with salmon, aji amarillo, pickled cucumber and chotto soy emulsion – it's got a lovely crunch on the outside, which really compliments the whole roll. And because it's a classic, you need to try their Spicy Tuna – the heat comes from Peruvian chilli and is simply divine. And if you're got room, the Smoked California roll with snow crab, grilled haddock and avocado is an unusual take on the classic roll, which really works.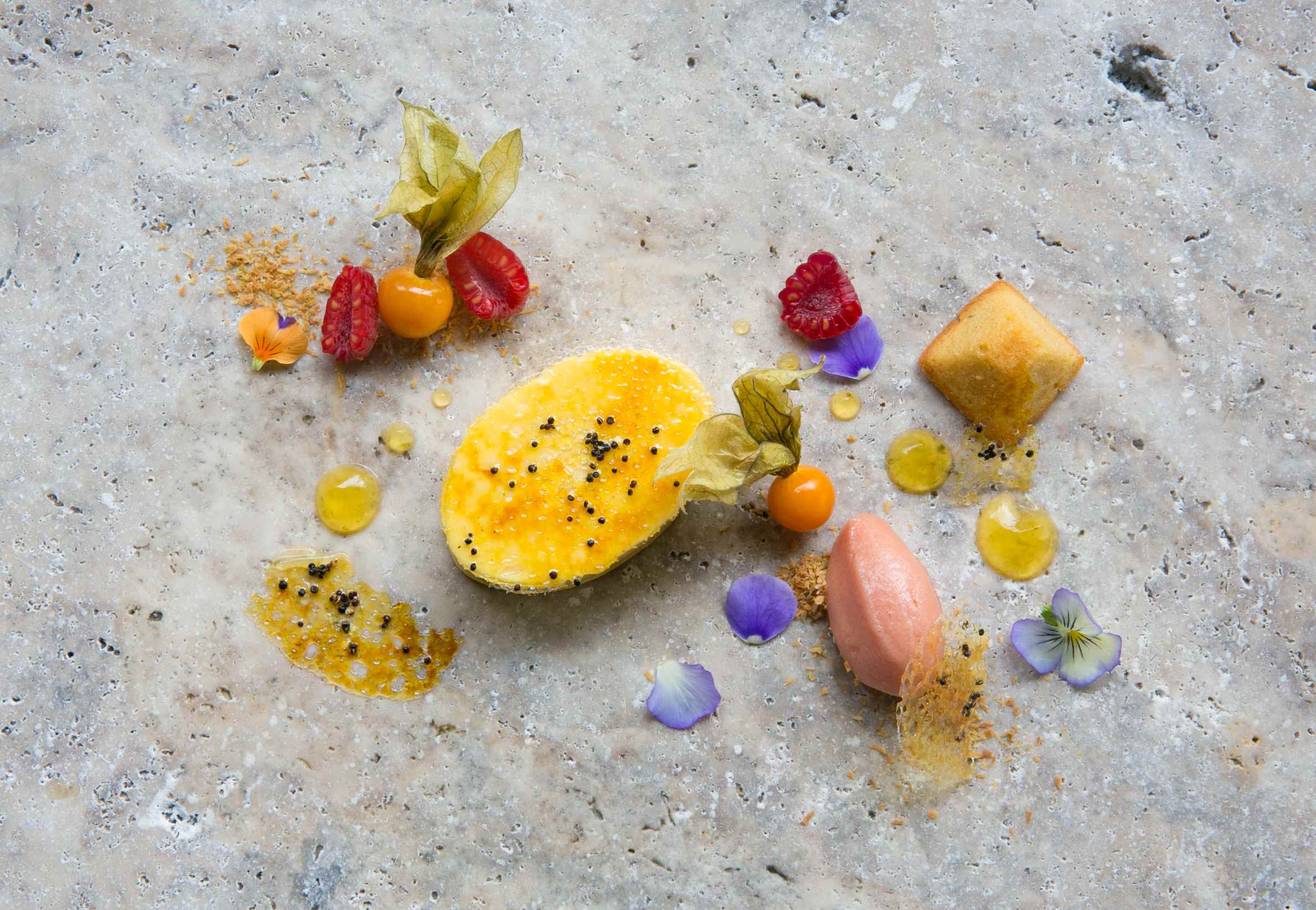 Of course, you can't leave without pudding – it's always the best bit. Here, pudding consists of some unusual options, such as coconut mounds, mochi and green tea ice cream. Go for the salted caramel chocolate fondant – the melt-in-the-middle pudding comes with slices of fresh orange, and a delicious vanilla ice cream. It's simple and totally perfect. Then step out of your comfort zone with the passion fruit creme brûlée with A Ji Aharillo jelly and guava sorbet – the little touch of spice that makes the whole thing work. Pudding perfection.
We can't recommend Chotto Matte enough. Sure, it's not the cheapest meal in town, but you're paying for something much more than food here – it's an experience, a sense of theatre and drama, and a seriously memorable night, which, for me, makes the whole experience totally worthwhile. Come here for lychee cocktails, sushi rolls and a chocolate fondant, and I promise you, you'll remember it for years to come.
Chotto Matte is at 11 – 13 Frith St, London W1D 4RB