I love a good Galette des Rois, the traditional frangipane filled pastry eaten across France to mark Twelfth Night. And one of my favourite ones has traditionally been from Dominique Ansel's bakery – with its beautiful golden pastry and delicious almond filling. Chef Dominique – crowned the world's best pastry chef in 2017 – sent over his recipe. Would I be up to the task?
I bought more eggs and butter than anyone buys in January ever, cleared out a shelf of the fridge for all the to-ing and fro-ing, and checked a few photos of Dominique Ansel Galettes to see what it was meant to turn out like (always have an end goal in sight!).
The many pages of instructions involved rolling out a precise rectangle of butter and then wrapping it round a block of pastry which seemed to defy all reason. Can one fold butter around a thing? It was at this point that I noticed the throwaway line at the very end of the method, 'then refrigerate overnight'. It was also at this point that I realised my pastry skills, let alone my attention to detail, were not quite there just yet – so I traipsed back to Waitrose and bought a ready made pack of puff, the posh all-butter kind.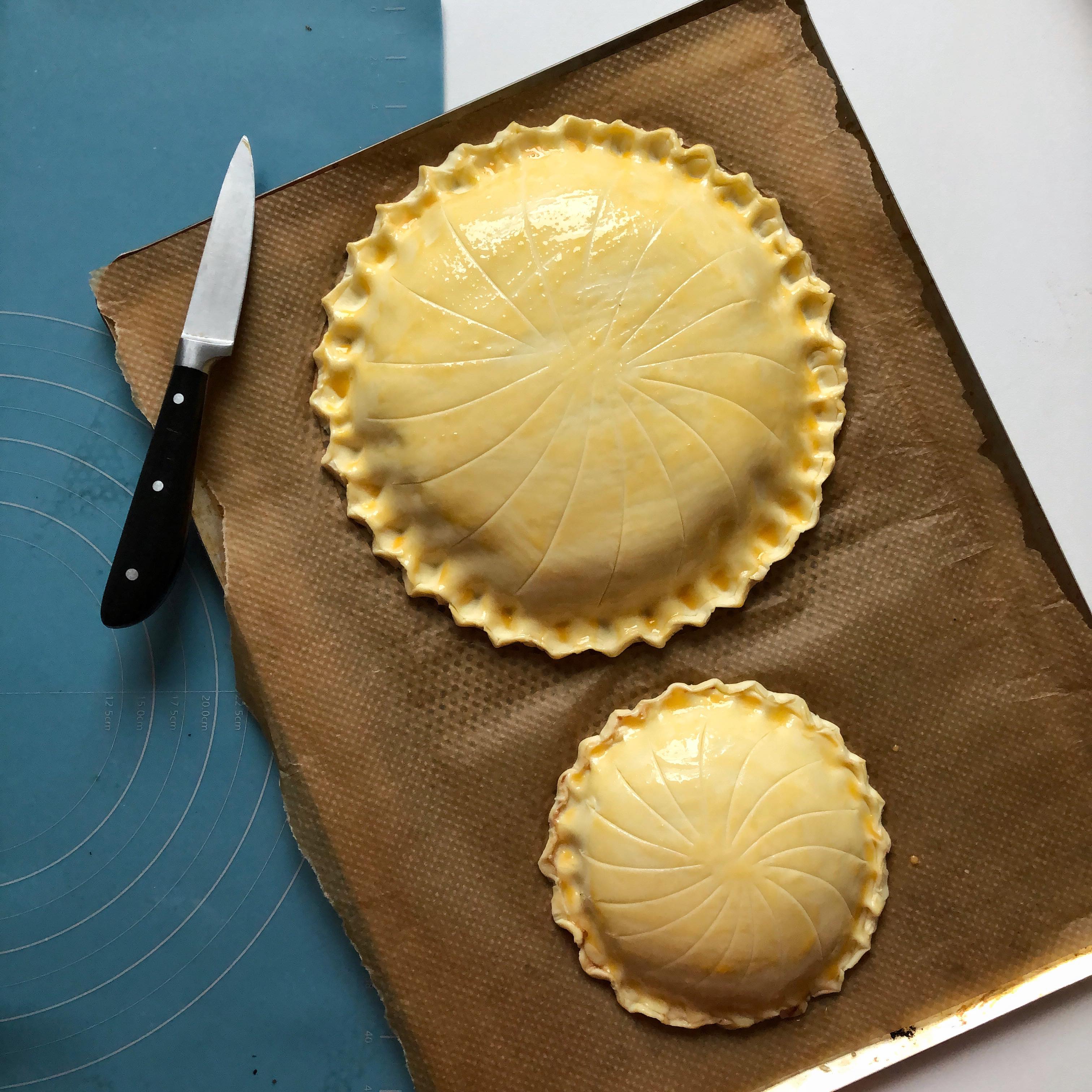 Next, pastry cream. I unwrapped my sugar thermometer from the packaging in which it had been sitting, untouched, for approximately 17 months. I weighed out egg yolks, which I had not previously realised was a thing, heated the milk and tempered the yolks and sugar. Turns out it was not possible to put a thermometer in a pan of custard while whisking constantly. I had to guess when it 'reaches 85 degrees'. But somehow my pastry cream emerged fairly lump free, to be cooled and folded into my frangipane. Filling done, I cut 20cm circles out of the shop bought pastry (helpfully ready rolled! So handy!) and spooned the frangipane mix into the centre, stuck in a little ceramic charm known as the feve, before topping with another disc of pastry and sealing the edges. So far, this Galette lark was pretty simple.
'Score lines resembling a crown', said the instructions. I drew a few shaky lines resembling a wonky hat, and decided that if you closed one eye and sort of squinted at it, it could possibly be a crown. The Galettes then went a bit off-piste in the oven, spreading into a less than perfect circular shape. Rustic, I decided. But after 45 minutes – so crisp and golden brown!
Eat warm, said the recipe, which was sage advice indeed – and despite not making the whole thing from scratch (one day! Maybe after a day in Chef's kitchen) – it tasted rather delicious, the filling was rich and soft and there were no layers of raw dough or a dreaded soggy bottom. A relative triumph, although I certainly won't be putting any world's best pastry chefs out of a job just yet.If you don't want to make your own – Dominique Ansel Bakery London is selling Galette des Rois by the slice for £6 or a whole one for £27 until January 20th. Or if you're in New York – he's done a giant one that serves up to 70. Get 69 friends and have a massive galette party.
Other places in London to get a great Galette des Rois:
Balthazar bakery, Covent Garden
Laduree
Bread Ahead Bakery
Hedone Bakery
40 Maltby Street
Helene Darroze at the Connaught