As part of BeLOVeD Date Week, we searched high and low for London's best date treats. There's nothing that dates can't do – from adding a delicious sweetness to your smoothies, to pimping out Millionaire Shortbread, the humble date has a lot of goodness to offer. Try one of these amazing date slices in the capital to satisfy your sweet cravings:
1. Best Humble Date Slice: Ludenwic
What: Date slice with dates, rolled oats, vanilla, cinnamon and brown sugar
Expect: Oliver and Dom, the duo behind Scotch Tails (the Scotch egg stall at Borough Market that you need to try) have set up a Nordic-themed cafe concentrating on simple, honest food with a ton of flavour. They put the same love into their food as they do their coffee and juices – it's a total win. Their sourdough sandwiches are sublime and they also cater for veggies and vegans. Save space for one of their Scotch eggs.
Where: 45 Aldwych, London WC2B 4DW
2. Best Sugar-Free Date Slice: Lantana
What: Sugar-free breakfast bars with oats, dates, figs, pistachios, almonds, sunflower and pumpkin seeds
Expect: Aussie owned, this quaint cafe is somewhere you would find abroad, not down a side street just off Goodge Street. For a relaxed weekend brunch, you can't beat Lantana Cafe – with locations in Fitzrovia and Camden, this cafe serves up some wickedly good brunch dishes. Their banana bread is the stuff of legends; the toasted banana bread with mascarpone, banana custard and salted chocolate crumb is one of the most delicious, decadent things you'll ever try.
Where: Locations here
3. Best Gluten-Free Date Slice: The Free From Bakehouse
What: Flapjack with dates and banana
Expect: Gluten-free, wheat-free and diary-free baked goods is on the menu at The Free From Bakehouse. This independent producer is bucking the trend that free from products are tasteless and inferior to regular sweet treats. Their hardwork has certainly paid off as their mantlepiece is now full of awards, having been awarded 2 star gold at the Great Taste Award 2012 and winning at the Free From Awards with their almond, apricot and tahini flapjack.
Where: Borough Market – every Wednesday, Thursday, Friday and Saturday
4. Best Granola Bar: E5 Bakehouse 
What: Granola bar with seeds, dried fruit and sesame
Expect: Housed in a railway arch, the chaps at E5 Bakehouse know a thing or two about how to make a good sourdough loaf. Championing organic and locally-sourced ingredients, the small team of bakers bake their bread using artisan methods and techniques. They treat their loaves with the love and respect they deserve –  from their ciabatta, focaccia and spelt loaf they're all packed full of doughy goodness.
Where: Arch 395, Mentmore Terrace, London E8 3PH
What: Goji five seed bars with dates, hemp seeds, sesame seeds, sunflower seeds, pumpkin seeds, chia seeds, coconut oil, cacao and goji berries
Expect: Juice Baby is a jewel in Kings Road forever growing healthy food scene, using locally sourced ingredients, hand making all food and drink and staying away from dairy, eggs, gluten, chemical additives and preservatives – Juice Baby have nailed the art of healthy living. All of their coffee is fair trade and organic and tastes way better than your standard coffee shop version, we promise.
Where: 98 Kings Road,London, SW10 0LJ
6. Best Healthy Power Balls: Roots & Bulbs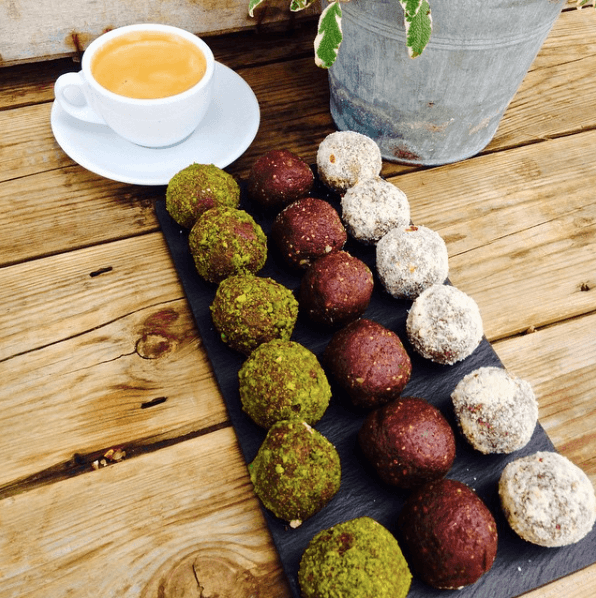 What: Fireball with dates, goji berries, almonds, cacao and chilli
Expect: Roots and Bulbs is all about that sweet juice life – cold-pressed juices, super smoothies and wholesome food. Not only do they whip up some pretty incredible juices they're also a dab handing at food too. It's not earth shatteringly different to any other juice shop, think chia pots, salad boxes and quinoa granola but it does taste damn good.
Where: Locations here 
What: Granola square with oats, seed mix, walnuts, dates and pistachios
Expect: Pure is that place you visit for lunch as it's close to your office. You don't want to admit it, but the food is really, really good. They freshly bake their flatbreads, create all their own dressings and make their smoothies to order. They've got breakfast covered with their super eggs, porridge and muesli bowls. There's nothing wrong with the high-street people, Pure is fantastic.
Where: Throughout London