Literally translated as "sweet of milk" and commonly known as "milk candy", dulce de leche is originally from Argentina. Legend has it that it was produced by accident when a maid was cooking some milk and sugar and was unexpectedly called away. Upon her return, the mixture had transformed into a thick, brown, caramel consistency which ended up as Argentina's first sweet, dulce de leche (thank you Argentina!). From its humble start in Latin America, this caramel-like, creamy treat is starting to seep into cheesecakes, ice-creams and cookies across the London food scene. And if you haven't tried "milk candy", you must, you really must.
1. For Ice Cream: Freggo
Why: If you love a cream and caramel combo, you can't go wrong with a cone of dulce de leche ice cream from Freggo. At Freggo you have two dulce de leche ice cream options – dulce de leche temptation (yes, that's the name of the flavour) or dulce de leche and chocolate. Choose one or have both, or go all out and top with dulce de leche. Freggo's dulce de leche-ness doesn't stop there either. Also on the menu are dulce de leche pancakes, milkshakes, cheesecakes and cookies.
Where: 27-29 Swallow St, London W1B 4QR
2. For Churros: CAU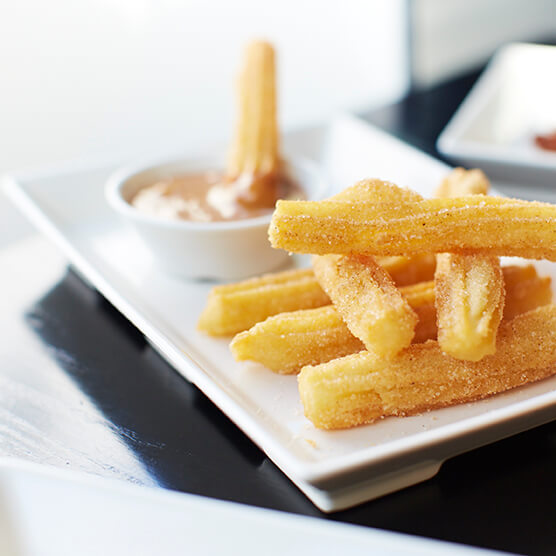 Why: Staying true to its Argentine theme, CAU serves up decent steaks, good red wine and obviously an array of dulce de leche-infused puds. As doughnut-fans, top of our list are the churros – sausage-shaped doughnuts dusted with cinnamon sugar and then dunked in "milk candy". CAU knows how to make a darn good, doughy churro and its churro-dunkers only get the most authentic dulce de leche. This is how doughnuts should be dunked!
Where: Locations here 
3. For Pancakes: Moo Cantina
Why: It's Moo's mission to bring the best street food of Argentina to London. No Argentinian menu is complete without a range of dulce de leche desserts. Moo's menu winner is its "panqueque" (pancake to us Brits). Pancake eating will never be the same after you have tried this dulce de leche stuffed pancake. Caramel oozes out of the crepe and you can go double-dulce by adding a scoop of dulce de leche ice cream. Trust us, you want to go double-dulce.
Where: Locations here 
4. For Cheesecake: Gaucho
Why: Don't eat too much steak as Gaucho does a mean salted dulce de leche cheesecake. The Hispanic version of salted caramel cheesecake, this dessert is probably as good as it gets for a sweet tooth. Sweet, salty, crunchy and smooth, Gaucho has created the perfect after-dinner dulce de leche concoction. Who in their right mind would choose extra steak over a slice of this caramel goodness?
Where: Locations here 
5. For Cookies: Lima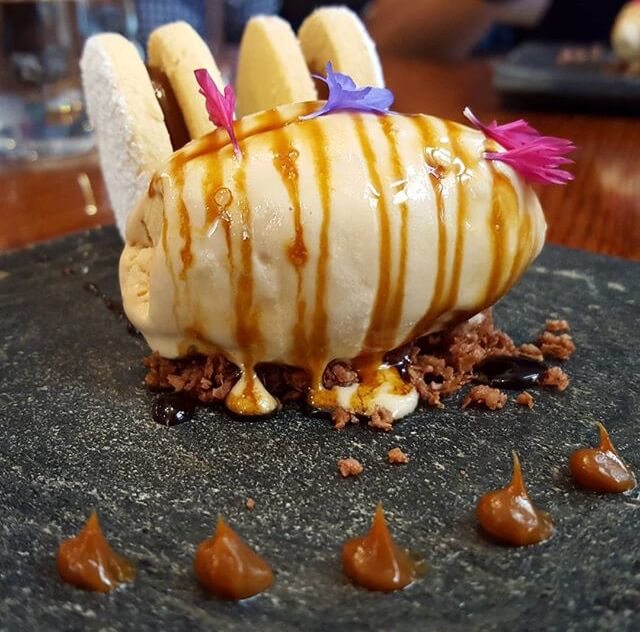 Why: Alfajores are one of Argentina's favourite ways of serving dulce de leche. Derived from the Arabic word meaning "filled", these are simply dulce de leche cookie sandwiches (lashings of dulce de leche squidged between two cookies). Thanks to the dulce de leche filling, these cookie sarnies knock socks off your average biscuit. At Lima, the alfajores are served as part of the Sunday Long Lunch menu and are the perfect sweet accompaniment to an espresso.
Where: 31 Rathbone Pl, London W1T 1JH