Looking for some amazing London restaurant openings and foodie news? You're in the right place. Whether it's a dim sum brunch or a delicious pastry, we've found the best food in the capital this week. Stop your Google searching now, here's ten things you need to eat in London this week:
What: Dominique Ansel has launched two new seasonal pastries at his London bakery for the colder months ahead. Saying goodbye to summer, the bakery wizards have created new sweet bites inspired by autumn.
Why: The poached pear and salted pecan caramel tart is made with ripe seasonal poached Williams pears, salted pecan caramel and drizzled in smoked tahitian vanilla and honey ganache. The fig and mascarpone cream cake is made with vibrantly coloured Turkish figs, mascarpone cream mousse with a touch of rosemary and brown sugar financier. 

Where: 17-21 Elizabeth St, Belgravia, London SW1W 9RP
What: After opening its doors earlier this summer, Magpie has launched a morning menu at their Heddon Street home – one of the best London restaurant openings this year. Inspired by traditional dim-sum style service, guests can pick dishes from trolleys and trays as they make their way through the restaurant.
Why: Straight off the breakfast trolley, early birds can choose from granolas accompanied by flavoured milks and yogurts, and fresh homemade pastries including a red-eye bun with bacon, coffee and maple syrup. Elsewhere on the menu, there's fermented potato bagels with hoisin-cured pork belly plus roasted miso almond croissant and a yuzu kosho blueberry oat muffin. Bar manager Rikesh Patel has put together a list of breakfast cocktails – try the Bloody Mary which combines tomato, lemon, pedro ximenez, tabasco, Worcestershire sauce, porter and oyster on the half shell.
Where: 10 Heddon Street, London W1B 4BX

What: Draft House has set up shop amid the ignoble community of seedy pubs and music venues in London's Camden, just opposite Camden Road Station. Draft House Camden Road is a massive celebration of pub, beer and rock 'n' roll history, with the odd deep-fried mac 'n' cheese ball thrown in. One of our favourite London restaurant openings in North London, we'd say.
Why: Aside from their beer selection, there's plenty of munch to power you through. Bar snacks include; foot-long scratchings; chilli salt squid; tortilla chips and guacamole; fried jerk halloumi fingers; and the mighty pound of buffalo wings. There's also sharing plates like the big hot mess of nachos (think loaded tortilla chips with more toppings that is deemed necessary), and the rib and wing feast. And for sweet stuff, there's warm chocolate fondant, sticky toffee pudding, and Nutella doughnuts.
Where: 102 – 104 Camden Road, London NW1 9EA
What: Discounted munch? Count us in. Newly opened Courtesan in Brixton is a dim sim restaurant, tea room, cocktail bar and subterranean late-night entertainment space. And they've just rolled out their new soft launch offer, available this week.
Why: From Wednesday 13th September to Friday 15th September, receive 20% off all food and drink. Reflecting ancient China's specialist techniques, the all-female chef team at Courtesan honour the origins of dim sum while at the same time producing an inventive menu that uses modern ingredients from around the globe. The distinctive menu features dim sum, noodle dishes, rice dishes, bao buns and an ever-changing list of specials, with extensive vegan, vegetarian and gluten-free options.
Where: 69-73 Atlantic Road, Brixton, London SW9 8PU
What: Specialist sherry bar Sack has partnered with famed fino Tio Pepe to bring a taste of Southern Spain to the city with Tio Tuesdays. Coinciding with the Jerez Sherry Festival in Spain which celebrates the wine harvest, every Tuesday throughout September the first 50 people through the doors of Sack after 5pm will receive a complimentary glass of Tio Pepe.
Why: Set to Sack's signature disco soundtrack, a Tio Pepe Venenciador will also be on hand for people to try their hand at using a 'venencia'. Loosely modelled on the wine and beer taverns of Southern Spain, Sack is by Thomas Aske and Tristan Stephenson of Fluid Movement, and Barrie Wilson and Fabrice Limon of Scotch + Limon. Long time friends in the drinks industry, they were inspired by trips to Jerez, and wanted to bring back a taste of the sherry region in a way that would work for London.
Where: Sack, 9 Christopher Street, London, EC2A 2BS
What: Hellmann's has teamed up with new Atlanta slow cooked barbeque joint, Miss P's, to launch a new limited-edition dish: smoked fried chicken wings with Alabama sauce. Get down and enjoy these white poultry favourites until 29th September. Miss P's is one of our favourite London restaurant openings this year, for sure.
Why: The smoked fried chicken wings with Alabama Sauce features corn-fed chicken wings seasoned with Pitmaster G's secret recipe rub, and then slowly smoked over oak and charcoal in the signature style of Miss P's authentic Atlanta barbecue. Deep fried to a crisp, the dish is topped-off with Alabama white sauce featuring Hellmann's Real Mayonnaise with added garlic and horseradish.
Where: 107 Addiscombe Road, London, CR0 6SG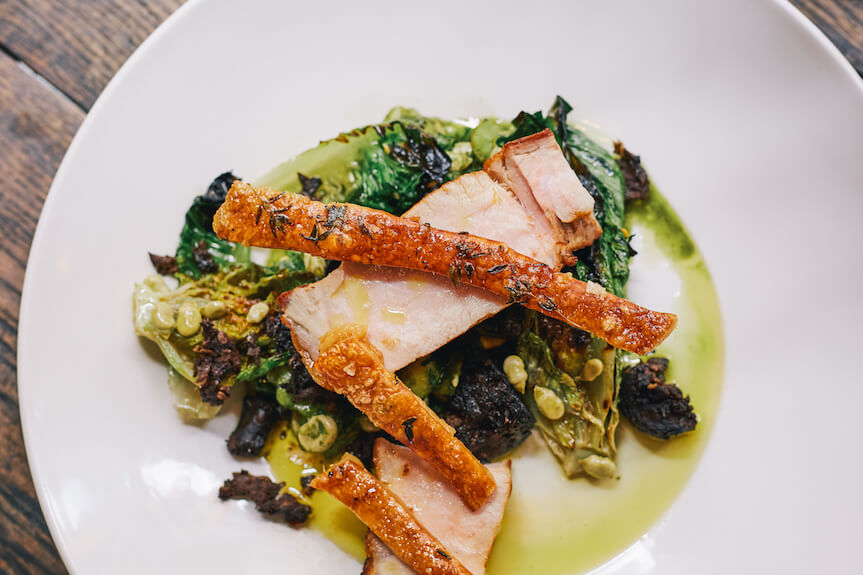 What: Throughout the summer the whole of LASSCO Ropewalk set up shop in one of the old railway arches on Maltby Street and brought their restaurant with them: LASSCO Bar and Dining. After a month of settling in, the restaurant and bar has reopened at 37 Maltby Street. Dine from the modern European menu, and enjoy seasonal cocktails, natural wines and Bermondsey craft beers, just a couple of doors down from their previous Ropewalk location.
Why: The menus change daily, depending on what LASSCO's suppliers have fresh. For breakfast, options include granola, freshly baked bread, pastries and doughnuts with English Preserves from neighbouring bakery, St John's, or heartier fare such as chorizo, roast pepper and tomato-baked eggs. For lunch, the likes of smoked aubergine, parsley with red onion sandwich; Cornish sardines on garlic toast with salsa verde or 'Nduja stuffed quail with romesco are on offer. And the dinner menu includes dishes such as almond, blackberries, rock samphire, chicken liver, polenta with wild mushrooms, or middle white pork loin with broad beans, baby gem and morcilla.
Where: 37 Maltby Street, London SE1 3PA
What: On Friday 15th September, for one day only, grab 50% off fish and chips (for just £5.75 – originally price £11.50) at London's oldest surviving fish and chip shop, Rock & Sole Plaice in Covent Garden. Eating for a good cause? Yes.
Why: Sailing out to sea and catching quality fish is a difficult job, but without our amazing fishermen we wouldn't have Britain's much-loved dish: fish and chips. To thank these men and women, Rock & Sole Plaice are coming together with their customers to donate the price of fish and chips all day on Friday 15th September. The lovely chaps at Rock & Sole Plaice will contribute the remaining 50%, with all proceeds going to two well-deserving charities; RNLI, the charity that saves lives at sea, and Fisherman's Mission, which supports active and retired fishermen
Where: 47 Endell Street, London WC2H 9AJ
What: The​ ​Dayrooms has ​opened ​their​ ​second food​ ​and​ ​beverage​ ​venture: The​ ​Dayrooms​ ​Cafe​ ​WC1. The​ ​second​ ​site​ ​has ​a​ ​stronger​ ​emphasis​ ​on​ ​take​ ​away​ ​with​ ​all​ ​produce​ ​on​ ​display​ ​on​ ​the​ ​marble top​ ​counters​ ​​served​ ​in​ ​recyclable​ ​cardboard​ ​boxes.​ ​The​ ​menus​ ​are ​seasonal,​ ​and​ ​take​ ​inspiration​ ​from​ ​the​ ​eastern Australian​ ​coastline.
Why: Bountiful​ ​bowls​ ​of​ ​salads,​ ​plant​ ​and​ ​meat​ ​based​ ​proteins​ ​and​ ​Aussie​ ​brunch​ options ​​​include​ ​​fluffy lemon​ ​ricotta​ ​pancakes​ ​with​ ​roasted​ ​fruit; cherry​ ​poppyseed​ ​coconut​ ​waffles; ​confit​ ​trout​ ​with radish​​ ​​and​ ​herbs; ​grilled​ ​prawn​ ​tostadas;​ ​​and​ ​​sticky​ ​sesame​ ​chicken. Sandwiches​ ​are​ ​made​ ​fresh​ ​every​ ​morning​ ​on​ ​site​ ​using​ ​freshly​ ​baked​ ​sourdough​ ​bread​ ​and​ ​include​ ​​kangaroo,​ ​kimchi,​ ​pickled​ ​red​ ​onion,​ ​mayo;​​ ​and​ ​​mac​ ​and​ ​cheese​ ​jaffles​.​
Where: ​​10​ ​Theobalds​ ​Road,​ ​London​ ​WC1X​ ​8PN
What: This September Crêpeaffaire has introduced an exciting new luxury indulgent collection of crêpes and shakes. The new range will send your sugar levels soaring, but in a very good way.
Why: The menu features a selection of luxury crêpes including Reese's Peanut Butter Pie – Nutella, peanut butter, Reese's mini peanut butter cups and peanuts; Banana, Rum and Raisin Delight – banana, butterscotch, rum flavour syrup and raisins; and Ferrero Rocher Extravagance – Nutella, walnuts, and Ferrero Rocher. All of the new additions are finished with your choice of cream or ice cream. And it doesn't stop there, Crêpeaffaire are also introducing an assortment of luxury shakes featuring the Oreo Cookie Shake, made with chocolate ice-cream, cookie crumb, cream, Nutella drizzle, Belgian chocolate chips and Oreo cookie.
Where: Spitalfields and Islington branches only