Another week, another chance to gorge on London's best bites. From burgers to doughnuts, afternoon tea to Valentine's Day treats, London eating has never been better. Forget your standard take away, here's what to be eating in London this week:
1. For a New Burger: Big Fernand
What: When it comes to romance and fine food, there's very little you can teach a Frenchman, which is why French "Hamburgé" specialists Big Fernand have decided to draw on their Gallic know-how to whip up a Valentine's Day special sure to set pulses racing. Introducing Le Valentin, a special V Day burger which will knock your ruddy socks off. Say I love you the right way this year – with meat (cheese and chips).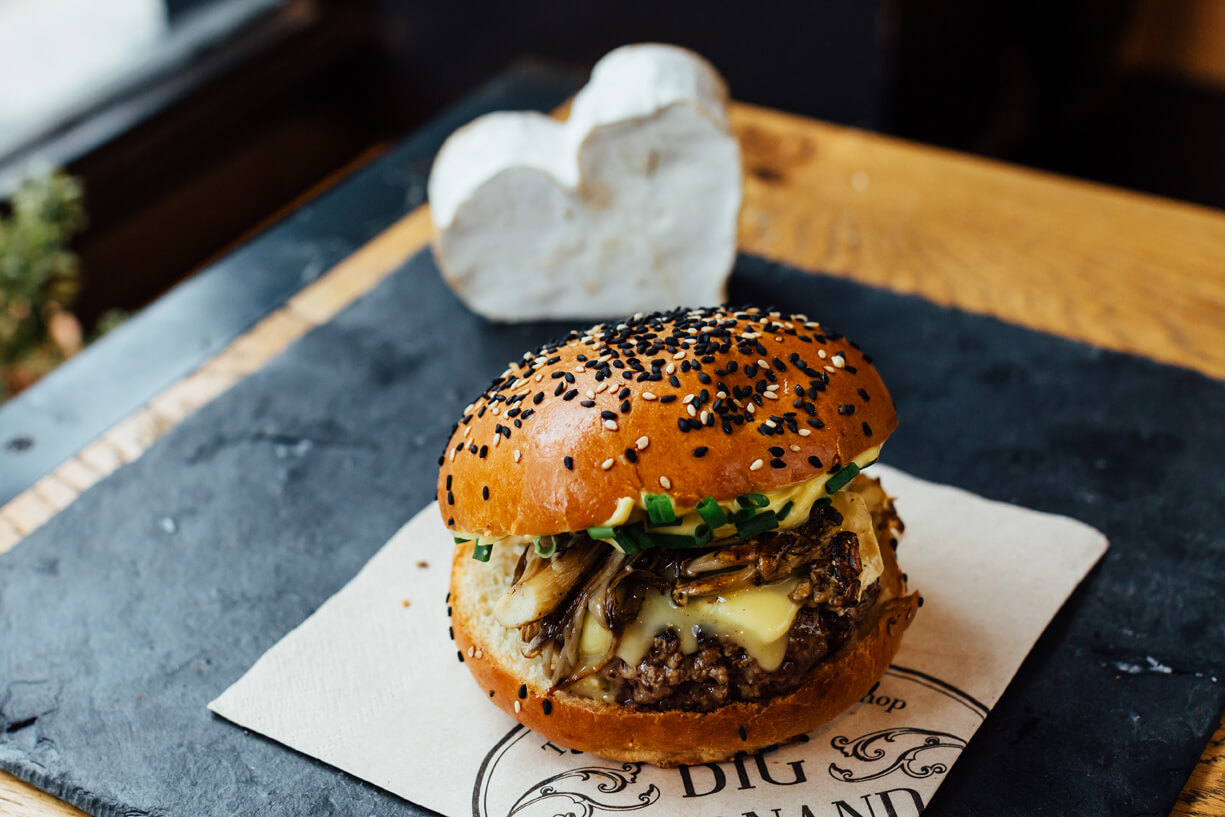 Why: A signature Big Fernand patty of freshly minced Charolais beef is topped with wild mushrooms, sweet mayonnaise and Neufchatel (a heart-shaped cheese hailing from Normandy), served in a poppy-seed bun and finished with chives and an aphrodisiac flourish of truffle oil. Bon appetite. Music is not the food of love… it's burgers. French burgers.
Where: Big Fernand, 19 Percy Street, London, W1T 1DY
2. For a New Collaboration: Crosstown Doughnuts
What: Hot on the heels of their other recent special flavours (whisky and coffee), comes a new limited edition single origin chocolate doughnut. Happening today (8th), Crosstown has launched a limited edition chocolate doughnut in partnership with award winning bean to bar UK producer, Pump Street Bakery.
Why: The collaboration is the third in Crosstown's Single Series range, which uses select single origin ingredients from like-minded partners to create a range of unique premium doughnut flavours. The new doughnut combines Crosstown's chocolate sourdough with Pump Street Bakery's Ecuador Hacienda Limon 75% dark chocolate in 3 ways to showcase the intense flavours of the bean; a dark chocolate custard filling topped with a chocolate ganache and finished with a sprinkling of dark chocolate shavings.
Where: Crosstown Doughnuts Soho
Photo Credit: Maz McEwan
3. For a New Tasting Menu: Fenchurch
What: Fenchurch, the contemporary British restaurant 37 floors up at Sky Garden has launched a new six course Tasting Menu of speciality plates using fresh, seasonal ingredients and paired with a raft of wines. The six-course menu has been curated by 29-year old Head Chef Zac Whittle, allowing everyone to try a wider range of the restaurant's signature dishes.
Why: Kicking things off is the chopped mackerel served with pickled cockles, sea herbs and oyster cream, closely followed by the Highland game ragout with chestnuts and cranberries. Other dishes include, loin and sausage of venison paired alongside pickled red cabbage, pear and juniper, finished with clementine cheesecake and glazed peanut and chocolate bar with banana yoghurt ice cream for dessert. Highlights from the vegetarian menu include; heritage beetroot, swede, crab apple and autumn berries, baked potato mash served alongside sour cream and lovage, and Jerusalem artichoke and ricotta agnolotti.
Where: 20 Fenchurch St, London EC3M 8AF
4. For a New Afternoon Tea: The Churchill 
What: The world of fashion has had no shortage of icons, and The Montagu's brand new haute-couture afternoon tea, 'Haute-Tea', pays tribute to some of the most influential superstars through an exquisite selection of sweet and savoury treats. Finger sandwiches galore.
Why: Stylish canapés includes smoked salmon sushi, leopard print brioche with foie gras and chicken liver parfait, goat's cheese mousse tartlet, roast beef with horseradish and a choice of fashionable sandwiches. For sweet fans, dig into vanilla and liquorice panna cotta, red velvet diamond studded macaroon and a chocolate gold stiletto. Sticking to tradition, warm fruit scones with lashings of homemade strawberry jam Cornish clotted cream and lemon curd are also on available.
Where: 30 Portman Square, London W1H 7BH
5. For New Sweet Treats: Gail's 
What: GAIL's Baker, Roy Levy, has created a Valentine's Day range fit for all Londoners – single and loved up, available in all GAIL's bakeries. Come for a loaf of bread and leave with a whole host of new, delicious offerings.
Why: This year's collection is all about hot lips lollipops, made with speculoos biscuits, which are spiced with warming notes of ginger, nutmeg and cinnamon. There's also a Piggy in Love, proudly wearing lipstick and a pearl necklace, Cardiograms and, for delivery to that special someone, Post-Stamp Delivery Biscuits, which are sandwiched with raspberry jam and dusted with sugar. Cupid's Vanilla and Cream Cheese Cupcakes complete the range, perfect with a hot drink or to bring home.