Bumper Edition: 5 things You Need to Eat in London This WeekBy Alicia Grimshaw
We're back from stuffing our faces with fried chicken, to bring you a special 5 things to eat this week. The past couple of weeks in London has been a busy one, with the capital home to new openings, collaborations and special summer menus. Why have 5 things, when you can have 10. Don't say we don't spoil you. Happy eating, London:
What: We all love the idea of a barbecue in the back garden: good food, great company, lots of drinks and a nice chilled-out vibe. But can your mates all fit on the patio? Does anyone actually know how to cook chicken properly? Can you be bothered to clear up afterwards? Thought not. And that's before we even start talking about complaints from neighbours and the great British weather. Which is why – just in time for summer – MeatUp, has opened in  Wandsworth Town, and is bringing the garden party indoors with #ALittleSocialGrilling. This place is just like a party in your own back garden, only bigger. And better. And bubblier (the prosecco list is among the longest in town).
Why: Barbecue favourites are based on British ingredients and head chef Stephen has been working with some of the best butchers in the country to create dishes such as charred chicken, grilled pig cheeks, BBQ ribs rubbed in signature MeatUp spices, homemade sausages with different flavour combinations depending on what the kitchen gets in, and more – which can all be enjoyed as individual dishes or as part of a sharing platter. Great fish and seafood dishes of crayfish mac 'n' cheese and the potted crab as well as smashing salads of British asparagus, courgette, pea, mint and jersey royals cover all tastes and barbecue penchants.
Where:  350 Old York Road, Wandsworth Town, London SW18 1SS
2. For a New Summer Menu: Crussh 
What: To celebrate the warmer climes and the muggy Central Line, Crussh has created a new summer menu inspired by flavours and ingredients from around the globe. Not just smoothies, the new menu features breakfast options (hello gluten-free bircher muesli), to satisfying salads for lunch and snacks for your 3pm afternoon slump. And in true Crussh fashion, the new menu wouldn't be complete without a new smoothie and for summer it's the Sicilian Lemon and Basil smoothie. It tastes like sunshine.
Why: For the early-risers, swing by for the acai and strawberry breakfast bowl, a blend of anti-oxidant rich acai berries and strawberries with a breakfast muesli mix and topped with banana, or the mango and paw paw breakfast bowl – a rich combination of mango and paw paw with a breakfast muesli mix and topped with banana. For lunch, it's a salad extravaganza, the About Time team give big love to the rare roast beef asian slaw and zero noodle salad, a meaty medley of beef along with green papaya, red pepper, green beans and raw kale. Veggie queens, the roasted beetroot and goat's cheese with harissa yoghurt and pomegranate salad is a Middle Eastern delight, with the quinoa flavoured with mint, orange zest and chickpeas.  The avocado red pepper and cashew nut tapenade wrap is both suitable for vegans and dairy-free. Double win.
Where: Locations here 
3. For a New Cafe: Rude Health
What: Oh my. Is this just the best news ever?! Rude Health, the people who make some of the finest muesli in all of the land have opened their very own cafe in Putney. Housed in the historic former home of H J Mulliner & Co, the Rolls Royce and Bentley coach builder, the Café is an upbeat daytime eatery that celebrates positive eating. Rude Health prides itself on producing foods and drinks that only use ingredients people would find in their own kitchens. The same applies to everything that is made and served from the Cafe's kitchen – nothing fake, nothing artificial.
Why: It goes without saying that the cafe's breakfasts is a highlight. Served from 8am till 12 noon, the menu features dishes ranging from Nick's legendary fruity date porridge, to kombucha bircher muesli, using kombucha-soaked oats, to steaming pots of sprouted porridge. Hearty soups and freshly made sandwiches using vibrant, interesting ingredients such as sprouted grains and fermented vegetables are available throughout the afternoon. And, if you're in a rush grab a coffee, tea or a pastry from the take-away hatch.  Grab you pals, your wallet and come hungry.
Where:  212 New King's Rd, Fulham, London SW6 4NZ
4. For a New Branch: Peyton and Byrne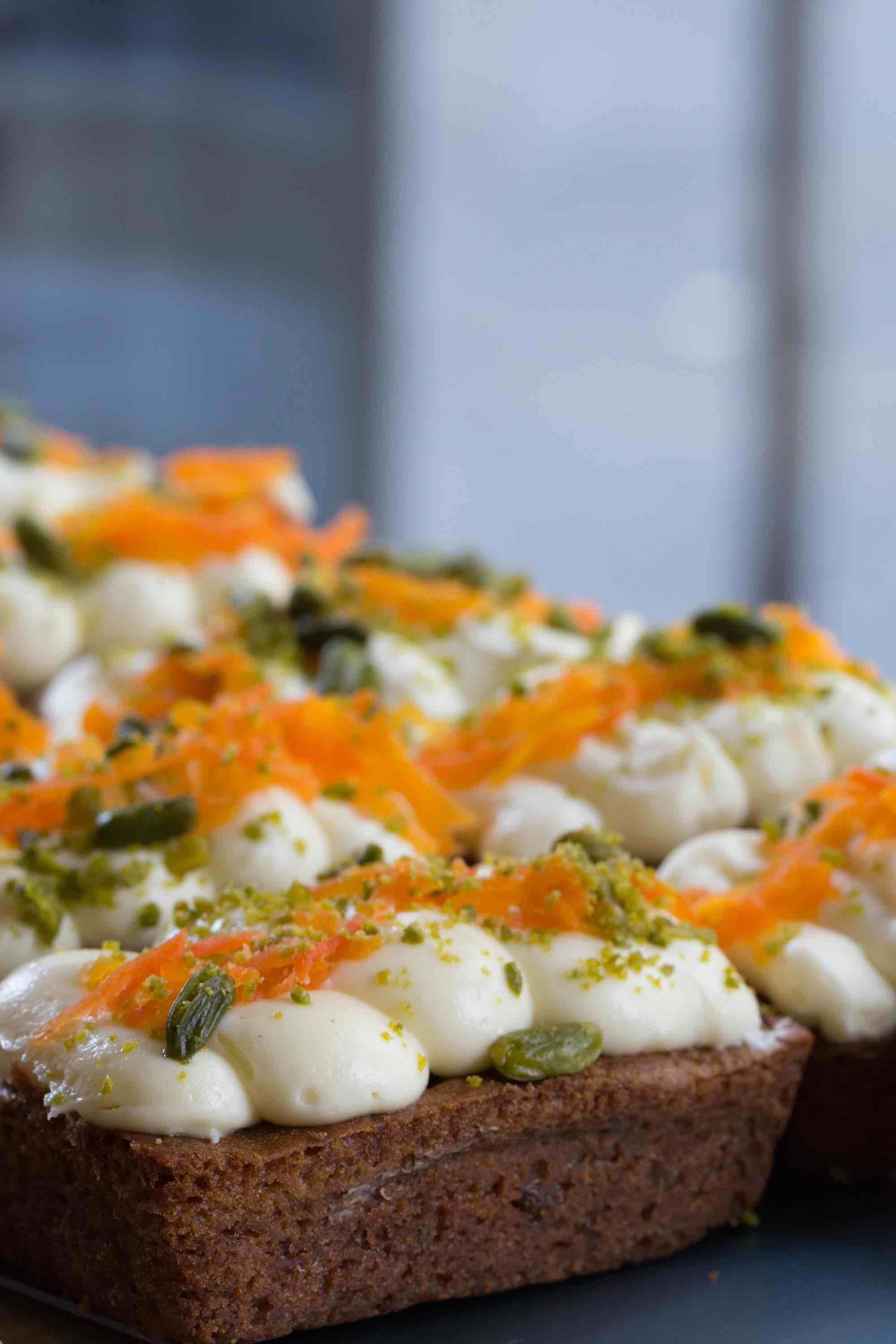 What: If you've never tried Peyon and Byrne's carrot cake, then we're going to have to rethink our friendship. Good news though, you can now buy their carrot cakes and other bakes goods at their new branch on Great Portland Street.    From sensational savouries, to all things sugar and spice, Peyton and Byrne Great Portland Street offers a wide range of products to take you through from breakfast to supper whilst solving any entertaining dilemmas.
Why: Pop in for a quick breakfast bite and grab warm homemade porridge or a wholesome bircher muesli to takeaway, or treat yourself to the signature sweet chocolate orange Chelsea bun. For a light and healthy lunch, the new bakery has launched an array of seasonal salads to-go piled high with nutritious combinations such as raw kale, peas, avocado, chill, tofu and almond vinaigrette; or grilled leek, asparagus, salsa verde, pine nuts and shaved Berkswell cheese. Peyton and Byrne Great Portland Street is also a treasure trove of teatime treats with handmade British bakery items like jammy dodgers, fig rolls, Victoria sponges, Bakewell tarts and the brand new West Country apple cake. There's loaves. There's freshly baked bread. There's oodles of cakes. See you there.
Where: 226 Great Portland Street, London, W1W 8QP
5. For a New Lunch Menu: Lima Floral 
What: Lima Floral has ditched the formal restaurant setting, for something far less refined. The restaurant has recently introduced a fun, sharing menu combining the Peruvian market-inspired food with the sharpest flavours. The innovative yet accessible menu is available at lunch in the main dining room.
Why: The menu is modern, healthy and nutritious yet true to traditional flavours. The centrepiece is the carnival selection: nine small plates to share between two, presented in a wooden box of windows, based on a Peruvian tradition of gifting. Ranging from the freshest ceviches, delicately sliced fish tiraditos topped with Peruvian superfood ingredients, marinated meat and fish skewer anticuchos, to snacks and desserts. The menu is divided into clear sections to make enjoying a diverse Peruvian lunch as easy possible. Standout dishes on offer include the tuna tiradito topped with a vibrant and flavour-packed dressing of seaweed caviar, Amazonian cashew pesto and sesame seeds and butter soft chicken anticuchos (skewers) with sundried chillies and black mint cream. Offering an array of choices, the menu includes inventive meat free options in almost all sections, including root vegetable ceviche with purple potato, olluco and heritage carrots and black quinoa causa with avocado, feta cheese and fava beans for vegetarian diners.
Where: 14 Garrick St, London WC2E 9BJ
What: Warming bowls of pho are perfect for wintery days, and their new menu of light, summery dishes are ideal for balmy July. And it's not just the dishes that have had a little spring clean, Pho has also launched a range of cocktails using exclusive premium Vietnamese spirits. The Hội An Iced Tea is a pimped up iced tea with the addition of vodka, and Phú Quoc Martin is a blend of Nếp Phú Lộc (clear rice spirit), fresh orange juice, cranberry juice and lime.
Why: The new dishes include; Gỏi cuốn bò – fresh rice paper summer rolls with brisket beef, Thai basil and cucumber. These beauties are gluten-free and served with hoisin sauce. The Bún gà xào sả nghệ is hearty
turmeric fried chicken bun noodles with a lemongrass and chilli wok-fried topping, finished with fresh herbs, beansprouts, veggie spring roll and peanuts. The salads are light, fresh and basically taste like summer on a plate. Try the Gỏi ngó sen tôm – spicy king prawn salad with crunchy lotus stems and beansprouts, or the Gỏi bò:
beef and mushroom glass noodle salad with a chilli lime dressing and crispy shallots. The pho bowls have been sprinkled with the summer magic – the spicy green pho features tender chicken breast, morning glory, green beans, pak choi, lime and Thai basil in hot and spicy veggie broth, and the super green phở includes green beans, morning glory, pak choi, fresh lime and Thai basil in veggie broth with garlic.
Where: Find your nearest Pho here 
7. For New Opening Times: Streetfeast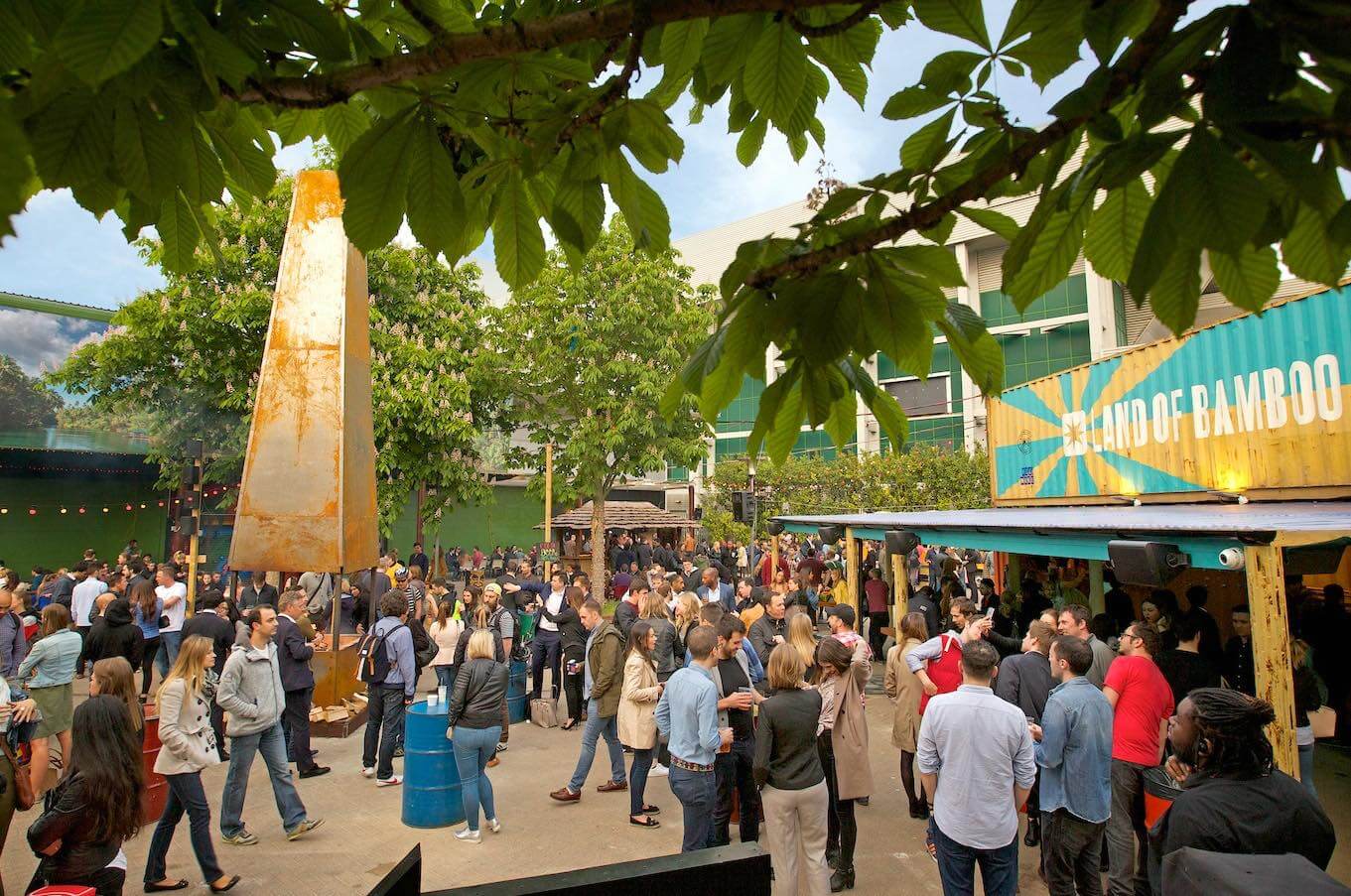 What: The kind team at Streetfeast has made sure everyone can enjoy killer street food in the sun, with their new summer opening times. Al fresco eating just got a whole lot better. Street food arenas Dinerama, Dalston Yard, Model Market and Hawker House will now be open every Saturday from midday to midnight, so you can get you chicken wings fill and doughnut lovin' come lunchtime.
Why: Bring your kitchen fitter, your next door neighbour and your pals to enjoy a tempting array of street food from some of London's hottest vendors. Dig into Yum Bun's pillowy soft Chinese buns, stuffed with delicious fillings, or go sharesies on a crispy wood-fired pizza at Fundi, and don't forget to save space for one of Chin Chin Lab's sticky toffee sundaes. For your post-Friday night fix, dig into a sticky brisket bun from Smokestak, or the equally dreamy bird box – a combo of rotisserie chicken served alongside garlic and rosemary potatoes. We tried the bird box for the first time last week, and it did not disappoint. If you want to bask in the warm summer glow, cool down with Scoopsy Daisy's fruity frozen yoghurts then head to Can Hatch for a hair of the dog brew.
Where: Locations here
Photo Credit: Scott Grummett 
8. For Another Summer Menu: STK
What: STK London has curated a range of light summer inspired dishes for its new seasonal menu. Don't worry, you can still get your mitts on STK London's signature finest 28-day custom aged USDA prime beef, alongside new crisp salads, fresh seafood dishes and decadent desserts.
Why: The restaurant's world-influenced creative starter and main course dishes now include: new season lamb served with gnocchi and tomato petals; chilled gazpacho with basil sorbet, and stuffed rabbit, comfit leg served with pistachio, pancetta and broad beans. For seafood fans, new dishes on the menu consist of a Devon crab salad served with a spicy cracker; dover sole topped with nut butter and charred lemon or seafood bouillabaisse made with prawns, clams mussels and langoustine. For dessert,  enjoy the restaurant's signature 'Fairground' selection of mini desserts or choose from new sweet treats such as lager and lime (a lime parfait with beer jelly) or the STK Snickers served with salted caramel and roasted peanuts.
Where: ME London Hotel, 336-337 The Strand, London, WC2R 1HA
9. For a New Wine Bar: Farley Macallan
What: If you think Hackney has enough bars come restaurants, think again – because a new hotspot has just opened. Situated on the corner of Morning Lane and Ponsford Street, Farley Macallan is Hackney's new destination wine bar and restaurant set in the fashion district, with a quirky wine menu that promises to impress. With an underpinning mission to "reinvent the local" Farley Macallen brings high quality food and drink with affordable prices to the area, along with an extensive community support programme.  To uphold their mission, the bar has a dedicated space named 'the locals room' which is available to emerging local fashion designers, filmmakers and designers to showcase their work free of charge.
Why: To compliment their mission to reinvent the local, Farley Macallan champions local produce, with a selection of bar snacks including succulent cured meats from Cobble Lane in Islington, delightful cheese from Raw Cheese Power on Chatsworth Road Market and beers from Five Points Brewery on Mare Street. E5 Smokehouse, the artisan guerrilla smokery, have set up a residency in Farley Macallan, providing a lunch and dinner menu which offers delicious dishes such as grilled broccoli with smoked tomato hemp and London feta, cauliflower fritters with curried yoghurt and cucumber. From 9am-5pm The Workers Café is in full swing at Farley Macallan, which serves all you can drink quality filter coffee throughout the day. The Workers Cafe is an all day hub for creative professionals to be in a productive, relaxed environment. Like a gym for work, members are free to come and work during the week in a distraction-free zone all for £5 a day.
Where: 177-179 Morning Lane, London, E9 6LH
10. For a New Delivery Service: Hopt
What: Launching in Shoreditch this Thursday (14th July), HOPT is a new drinks concept that combines the finest craft beers, boutique spirits and wines with a fast, localised delivery service. Occupying a space in Boxpark on Shoreditch High Street and offering a regularly curated selection, Hopt is perfectly placed to pop into after work for a nice bottle to go with dinner, or at the weekend on the way to a party. And, if you can't be bothered to leave the comforts of your own living room, Hopt will offer a rapid door-to-door service.
Why: Complementing well known international brands with new local talent, HOPT's drinks offering will be kept fresh and up to date by changing its selection and introducing new labels every two weeks. Using music as an inspiration, Hopt will curate its drinks like choosing a playlist. Each fortnight, four different six-packs will be introduced, each one chosen to go with a specific setting or mood. Designed to educate as well as inspire, the packs have been carefully selected by the HOPT team, and mix up and coming brands and new labels with classic favourites. As well as beer, HOPT will sell a selected range of boutique spirits and wine. Chosen from lesser known vineyards in Europe and the New World, HOPT's wine selection will carry bottles not usually found in local supermarkets or shops.
Where: Unit 8 Boxpark, 2-10 Bethnal Green Road, London, E1 6GY