If December is the Friday of the year, then January is the Monday of the year. It's a dark time – short days, cold mornings and the prospect of another bloody detox. We say: January calls for exploring great London cafes. It's grey, grim, and we all need a matcha latte and a raw chocolate brownie to get us through the short, dark days. This city is yours. Go out and explore it. Here's ten of our favourite London cafes and what to eat this week:
1. For French Toast: Foxcroft & Ginger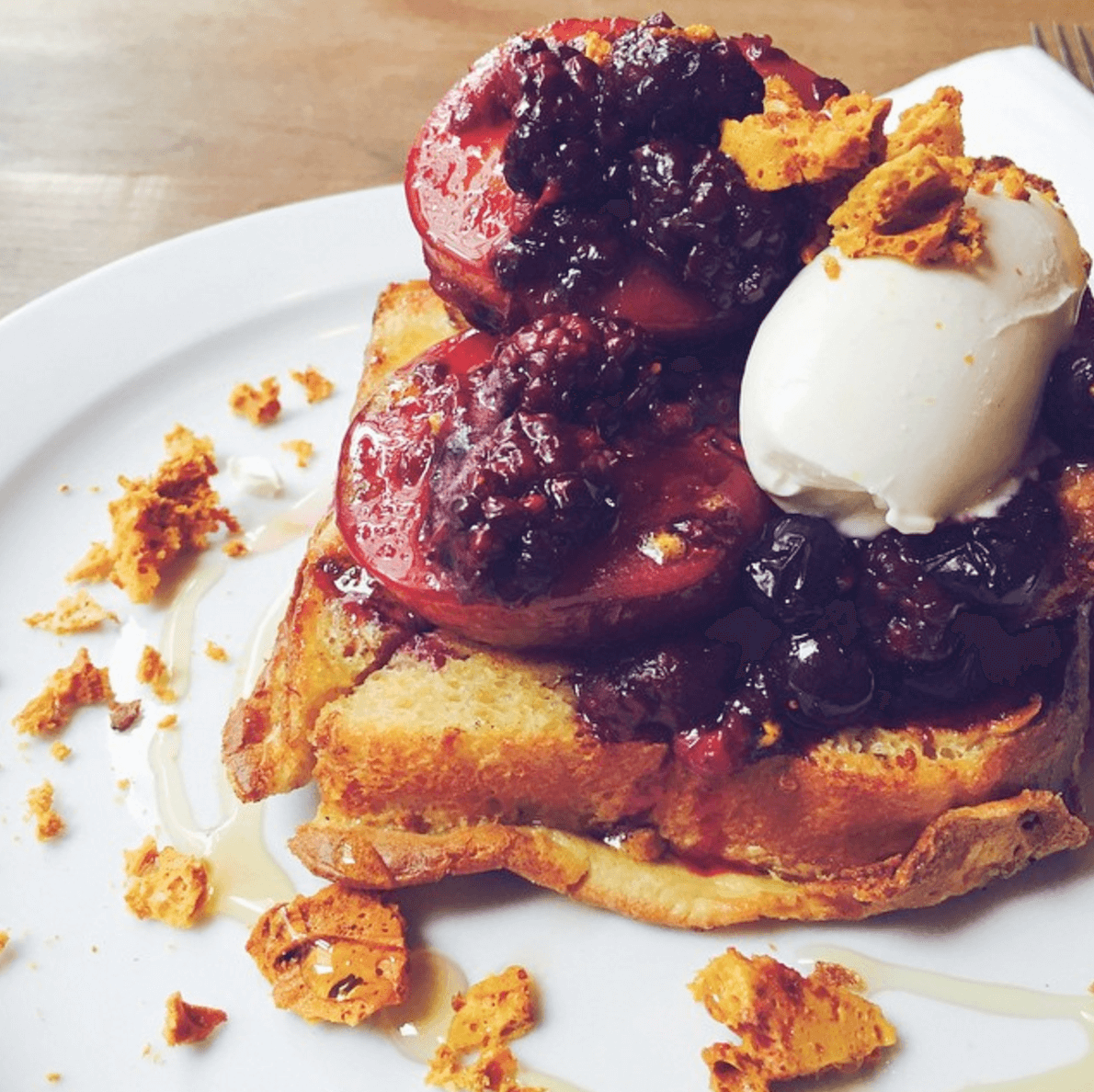 What: French toast with mascarpone, poached plum and honeycomb.
Price: £6.40
Why: Well, just look at the photo, will you? This French toast is seriously good news; full of rich plum compote and the winning combination of tart, creamy mascarpone cheese. It's a combination of some of the best things in life. Foxcroft and Ginger is a fantastic London cafe for a quick stop – they do great cakes, slices and delicious, filling sandwiches, as well the Cruffin, which is a hybrid mix of a croissant and a muffin. They make all of their breads using a sourdough base, which makes them easier to digest. Win win.
Where: 3 Berwick St, London W1F 0DR
Photo Credit: mabibas
2. For Healthy Brownies: The Mae Deli
What: Raw pecan brownie, with ground pecans, cacao and dates.
Price: £4
Why: Deliciously Ella's The Mae Deli – named as such for being a collaboration between Ella and her fiancé Matthew – is a huge hit in London. Expect queues out the door for Ella's amazing healthy food, everything from great smoothies with almond milk and fresh berries, to the Mae Bowl with a selection of hot food, such as maple-roasted squash, and wholesome salads. Their raw brownie, paired with a matcha latte, is amazing – worth it for the trip alone.
Photo Credit: La Gorda
3. For Pancakes: Gail's Bakery
What: Blueberry buttermilk pancakes, complete with fresh blueberries, blueberry compote and dusted with icing sugar.
Price: £7
Why: Gail's Bakery is a London favourite. Serving some of the best cakes, breads and salads in town, it's a great one-stop shop for lunchtime. Start with their beetroot and Goat's cheese lentil salad, which is full of flavour and hazelnuts, and finish with a fantastic sweet treat – the walnut brownies are particularly fantastic. At breakfast time, come to Gail's for fantastic Greek yogurt with fruit compote or these sensational blueberry pancakes.
Photo Credit: Nat Dickinson
4. For Chia Pudding: Granger & Co
What: Almond milk chia seed pot with mango and coconut yoghurt.
Price: £5
Why: Granger & Co is seriously good for breakfast. The Aussie-inspired cafes serve up healthy favourites, such as bircher muesli with granny smith apple, medjool date and almonds, and the best fluffy scrambled eggs. For quirky, brilliant porridge, try their brown rice and sweet white miso porridge with dairy-free coconut yoghurt and mango. For eggs, the broken eggs with ricotta, spinach, pine nuts and grilled sourdough is simply divine. If you're looking to get on a health kick, this almond milk chia pot is the one.
Where: 175 Westbourne Grove, London, W11 2SB
Photo Credit: veevelondon
5. For a Banana Bread Sandwich: Daisy Green
What: Banana bread sandwich, served with mascarpone and fresh berries – perfect to share.
Price: £6.50
Why: Daisy Green is an Instagrammer's dream – think fun, kitsch decor, comfy chairs and delicious Aussie-inspired food. Come here for weekend brunch – there's The Big Aussie, with eggs, bacon and avocado, and some of the best coffee you'll find in London. Their banana bread is world famous – and you can try it in an amazing banana bread sandwich with berries and mascarpone cheese, which is simply divine. Don't leave here without ordering a mocha – their coffee has to be tasted to be believed.
Where: 20 Seymour St, London W1H 7HX
Photo Credit: Daisy Green
6. For a Cocktail: German Gymnasium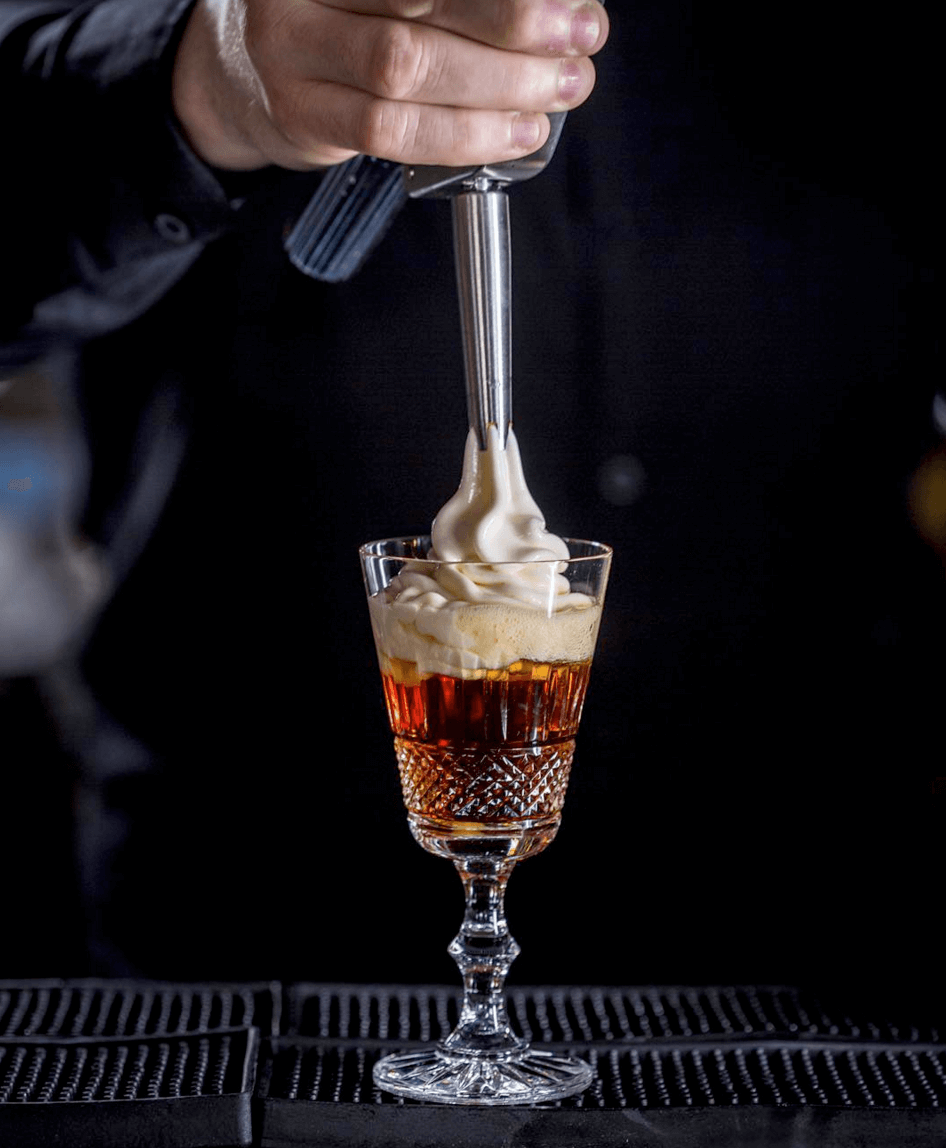 What: Rey Del Fashioned – rum, homemade cherry liqueur, bitters and orange and cinnamon foam.
Price: £10.50
Why: For something special, head to German Gymnasium. The historic former gym has been turned into a modern, all day Grand Café and bar serving Mittel-European cuisine, and it's seriously cool. Come for all the fancy food and drinks – for brunch, there's Burford Brown eggs with crisp bacon and potato rosti, for lunch you can enjoy goulash soup, seared sea bass and classic Caesar salad. For dinner, expect glitz and glam, alongside a menu of shrimp cocktail, Rib Eye steak and the best twice-baked cheesecake. Delicious stuff.
Where: King's Boulevard, London N1C 4BU
Photo Credit: German Gymnasium – Instagram
7. For Waffles: Wild Caper Bakery
What: Freshly made waffles with maple syrup.
Price: £5.95
Why: Food from the Eastern Mediterranean, real Italian coffee from Gianni Frasi, Clarence Court eggs, bacon and homemade bread to start your day – what could be better? Wild Caper Bakery serves it all, and more. Come here for brunch; you'll love their freshly cut sourdough toast with jam, and the selection of homemade cakes is to die for. In the evening, you can enjoy mezze such as smoked aubergine dip, Greek meatballs and delicious falafels.
Where: 11A-13 Market Row, Brixton, London, SW9 8LB
Photo Credit – philcastell
8. For Cinnamon Buns: Nordic Bakery
What: Fresh cinnamon bun
Price: £2.80
Why: Nordic Bakery is a beautiful Scandinavian-style café – a peaceful meeting place in a frantic city, a space where visual clutter and noise is eliminated from your café experience. The smell of Nordic Bakery alone is enough to draw you in – as you walk past, you'll be greeted by the smell of baking and delicious cinnamon. The cinnamon buns here are totally dreamy; each Nordic country has its unique cinnamon bun tradition, the version here is a generous and rustic take on the Finnish cinnamon bun. But that's not all – they also do fantastic cinnamon and apple muffins, orange chocolate slices and pain au chocolats. Nom.
Where: 14A Golden Square, London W1F 9JG
Photo Credit: rangoneverstops
What: Hazelnut and Butter – almond milk oats, butter, hazelnuts, cinnamon coconut palm sugar and apple.
Price: £5.50
Why: This cafe is a porridge lovers dream. What can you expect here? Well, porridge, porridge and more porridge. But it's seriously good news – the oats here are like nowhere else in London. If you like chocolatey things, try the banana cacao porridge with coconut yogurt and date syrup, it's fantastic. You can even have savoury porridge, such as spicy sweet potato amaranth with creme fraiche and kale salad, it's seriously tasty. Grab a fresh ginger tea while you are here – they are delightful.
Where: Seven Dials, Covent Garden, London, WC2H 9DP
Photo Credit: akboogie
10. For Total Indulgence: Christopher's
What: Chocolate brioche French toast (milk or dark) with vanilla ice cream.
Price: £10
Why: Because we all deserve something naughty from time to time, right? This French toast is so naughty, but just so tasty – complete with a mini pot of melted chocolate, and the richest vanilla ice cream. You must try the grilled grapefruit with spiced rum and toasted coconut – it's very tasty. They've also got amazing decadent brunch dishes, such as Eggs Benedict, Lobster club sandwich and steak and eggs. If this isn't your bag, Christopher's is also offering a new superfood brunch menu with avocado toast, buckwheat pancakes and raw smoothies. Balance, right?
Where: 18 Wellington St, London WC2E 7DD