Flippin' Delicious: 5 Must-Try Recipes for Pancake DayBy Angelica Malin
Batter at the ready! From savoury bites to a crowd-pleasing vegan option, here's five pancake recipes that are much better than the classic lemon and sugar. Let's get flipping:
Sweetcorn Pancakes: Gail's Bakery
Makes: 12 pancakes
Ingredients: 
200g plain flour
1 tsp Bicarbonate of soda
1/2 tsp fine sea salt
300ml buttermilk (or use 150ml of each whole milk and yogurt)
3 medium eggs
90g butter melted and cooled plus more for frying
3 spring onions chopped
Leaves from a small bunch of coriander (15-20g) chopped
Half a red chilli deseeded and chopped
2 large sweet-corns on the cob (or 3 small) (about 350g corn kernels once removed from the corn)
Method: 
1. Pre-heat the oven to 180C.
2. Using a serrated knife, gently saw down the corn ear from top to bottom, allowing the kernels falling on your chopping board. Arrange the corn kernels on a small baking tray and roast in a hot oven for 15-20 minutes until corn is toasted and turned golden brown but not dry. Using an oven-safe spatula, mix and turn the kernels half way through the toasting. Take out of the oven and leave to cool down. Reduce the oven heat to 100C.
3. In a large mixing bowl, whisk the flour, salt and bicarbonate of soda.
4. In another medium mixing bowl or jug, whisk the eggs, buttermilk and melted butter, then add to the flour mixture and whisk briefly. There will be small lumps of flour and that's fine. Avoid over-mixing the batter.
5. Add the coriander, chilli, spring onions and cooled corn kernels and mix again.
6. Heat a non-stick flat frying pan over a medium heat and add a small knob of butter. When the butter is melted and starts to foam, tilt the pan and make sure it's coated with butter. Add a little bit more butter if the pan is not fully coated.
7. Add large spoonfuls of the pancake batter and gently flatten them so you get rough rounds. Depending on the size of your frying pan, start by frying three pancakes at a time. The pancakes shouldn't touch each other. Keep frying on medium heat until small bubbles form at the centre of the raw pancake and the bottom appears dark golden brown when checked with a spatula (5-8 minutes – if it happens sooner, reduce the heat and continue).
8. Gently flip the pancakes and continue frying for 5 more minutes.
9. When the pancakes are done, arrange them on a baking tray and keep them in the warm oven until you're done frying the rest of the pancakes.
10. Continue frying in batches, adding more butter as you go (you might want to cool the frying pan a little between the batches by removing it from the heat and start afresh).
Vegan Elvis 
Pancakes: Mani Life x Gousto
Serves: 2 
Ingredients:
For the pancakes:
2 ripe bananas
2 tbsp maple syrup
2 tbsp coconut oil, melted, plus extra for cooking
180g self raising flour
½ tsp baking powder
110ml almond milk
For the peanut butter caramel: 
55g coconut oil
60ml maple syrup
26g Manilife chunky peanut butter
THIS Isn't Bacon to serve
Method: 
1. Preheat your oven to gas mark 2/150C/130C fan. Mash 1 ½ bananas in a large bowl – save the rest for garnish. Stir through the maple syrup, coconut oil and a pinch of salt. Fold in the flour and baking powder until well combined then whisk in the almond milk. This is your pancake batter. 
2. Heat a non-stick frying pan over a medium heat and add 1/6th of the batter. Fry for two minutes on each side, or until golden brown. Place the pancake on a tray in your oven to keep warm. Repeat with the remaining batter until you have six pancakes.
3. Melt the coconut oil in the microwave (or in a pan over a low heat) then whisk in the maple syrup and peanut butter. This is your peanut butter caramel.
4. Cook the This Isn't Bacon according to the packet instructions. Stack your pancakes high and top with THIS Isn't Bacon, slices of your reserved bacon and drizzle generously with your peanut butter caramel. Enjoy warm!
Brunch-Style Pancakes: The Athenaeum Hotel & Residences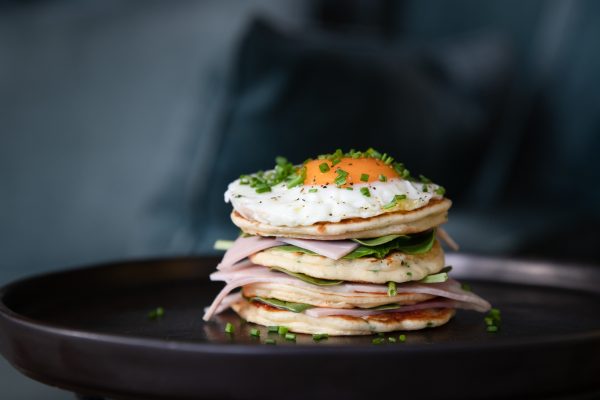 Ingredients: 
200g self raising flour
1tsp baking powder
200ml milk
3 eggs
25g melted butter, plus extra for frying
2tbsp chopped chives, plus more to serve
Ingredients for topping:
4 eggs
4 slices of thick cut ham, halved
4 small handfuls of spinach leaves
20g harissa paste
Method: 
1. Whisk all of the pancake ingredients together, minus the chives. Add some seasoning to taste and whisk until the batter is smooth. Stir in the chives.
2. Melt a small knob of butter in a large non-stick frying pan over a medium to low heat.
3. Pour 2 tbsp of the pancake mix into the pan and use the back of the spoon to shape it into a 8-9cm round disc. Depending on the size of your pan, you may be able to get 2 or 3 pancakes cooking at the same time. Cook the first side for 1-2 minutes then flip and cook for 1 more minute. Continue until all the mixture is used up.
4. Heat an oven to its lowest setting, stack the cooked pancakes onto a baking trying and place in the oven. This will keep the pancakes warm while you cook the rest.
5. Add a little oil to a frying pan and crack in your eggs, cooking until they are done to your liking. 2-3 minutes will produce a set, firm white and a partially runny yolk. Cook a little longer for a soft yolk or for eggs 'over easy' flip the egg after 3 minutes to cook the yolk a little more.
6. To serve, stack the pancakes adding harissa paste, ham and spinach leaves between layers.
7. Top with the fried egg, chives, black pepper and enjoy!
'Thunder and Lightning' Saffron
Pancakes: Chef Paul Ainsworth x Rodda's Clotted Cream 
Ingredients: 
For the pancakes: 
120g plain flour
2 large eggs
1 pinch salt
1 tsp caster sugar
350 ml full fat milk
100 ml vegetable oil for frying
1 small pinch saffron strands
For the Rodda's Clotted Cream filling: 
227g Rodda's clotted cream
100g crème fraiche
1 pinch saffron strands
150g double cream
½ orange zest
To finish: 
Icing sugar for dusting
100g golden syrup
Method:
1. To make the pancake batter add the saffron into the milk and leave to stand at room temperature for 10 minutes. In a bowl sift the flour and add the salt and sugar. Form a well in the centre of the flour mix then add the 2 large eggs. 
2. Add half the saffron and milk mix to the flour and eggs and whisk well until you have a thick smooth batter.  Now add the remainder of the milk and whisk making sure there are no lumps. The consistency should be like pouring cream. Add a splash more milk if needed. 
3. Leave the batter to rest for 20 minutes.
4. Heat a non-stick frying pan over a medium to high heat and add a little oil to the pan. Now add a small ladle of batter to the pan tilting the pan so you get an even thin layer covering the base of the pan. Return pan to heat and cook pancake for 30-40 seconds until golden.
5. You can now either toss the pancake to flip or use a palette knife to lift and turn the pancake by hand and then repeat the cooking process on the other side until golden. Remove from the pan to cool and repeat the cooking process with the remainder of the batter.
6. To make the filling add the clotted cream, crème fraiche and orange zest to a bowl and mix well.
7. In a separate bowl lightly whisk the cream and remaining saffron until you get soft peaks. Then add the whipped cream to the clotted cream mixture in two stages, until all is incorporated. Lightly whisk if needed to thicken.
8.To build your pancakes. Imagine your circular pancake is divided into four sections. Pipe or spread your cream filling into one-quarter of your pancake spreading from the centre to the edge. Then fold the opposite side of your pancake overfilling so you have a folded pancake that is half-filled. Now fold the remaining part of the pancake over again so it resembles a filled cone or quarter pancake.
9. To serve, stack the filled pancakes and dust with icing sugar then drizzle golden syrup all over.  
Joy of Veg Pancake: Yondu
Serves: 4
Ingredients: 
125g flour
10g baking powder (2 teaspoons)
150 ml oat milk
2 tablespoons Yondu Vegetable Umami
1 small carrot, peeled and shredded (50g)
½ small courgette, shredded (70g)
30g fresh spinach, chopped
20g sunflower seeds (2 tablespoons)
Black pepper and olive oil
Method: 
1. In a bowl combine flour, baking powder, oat milk and Yondu and stir until smooth. It will look a little thick, but don't worry.
2. Add shredded carrot, courgette, spinach, sunflower seeds and black pepper (optional). Stir well and let rest for 4 minutes before cooking.
3. In a skillet over medium-low heat, drizzle a few drops of olive oil and make the pancakes as follows: Carefully place two tablespoons of batter in the skillet and shape the edges to make the pancakes as round as possible. Cook for 3 minutes, then flip and cook 3 more minutes on the other side.
4. You can serve your Veg Joy pancakes with Mexican style pico de gallo: Chopped tomato, chopped onion, chopped parsley, a drizzle of Yondu, a drizzle of lemon juice and a drizzle of olive oil.