We know what you're thinking. We saw you coming. Vegan food, really? But imagine for a second, dear reader, a world without meat: what would we do, how would we survive?
Well the answer is we would. We would be forced into creativity. We'd get inventive in the kitchen – trying spices here and seasoning there, a pitch of salt, a dash of cinnamon, and we'd discover that mother nature has dealt us a fair hand indeed. After a week we'd probably all realise that there's no need to put a Chicken in a Cottage; veggies from the earth are quite enough.
If you don't believe me, then I insist you find your way to the Hyatt Regency Hotel on Portman Square to try the Taste of Vegan Earth menu. To celebrate National Vegetarian Week Chef Ali Parvinjah is popping up (not literally) at The Montagu Restaurant to do some seriously naughty things in the kitchen with carrots for one month only. Think purple heritage ones, with agave and cardamon. It's beautiful stuff.
The menu has been so popular that they've decided to keep it all year long. Here's why you should visit:
Vegan Menu at Hyatt Regency: The Idea
The Taste of Vegan Earth menu costs only £25 for three courses. Created by one of LA's top vegan chefs, it aims to bring a touch of Californian sunshine to London. Expect: lots of nut cheese, rich flavours and touches of the molecular, including vegetable caviar and tartar. The idea is also to create a way of eating healthy whilst travelling; we all know the temptation of a hotel's room service burger, but I'm here to deliver the sad news that calories do exist in hotel bedrooms. And on airplanes. And in Paris. I'm sorry, but you deserve the truth people.
Vegan Menu at Hyatt Regency: The Food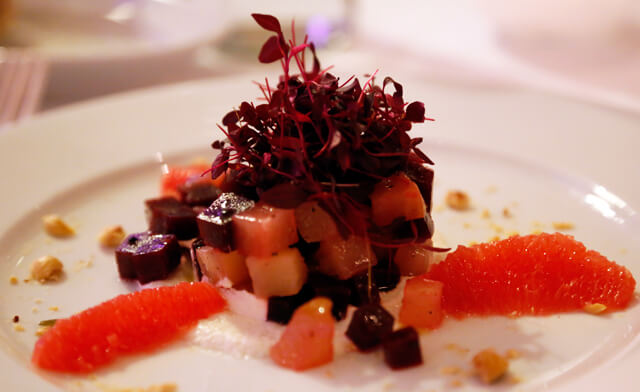 Start with the Rainbow Beet Tartar; cubes of colourful beetroot, pimped out with lemony grapefruit, crunchy hazelnuts, lying on a bed of macadamia nut cheese. It's not really cheese. But it's as nice as. The citrusy flavours bring the whole dish together, and, in fact, the purple cress makes it even look alive. Vital, vibrant, fun – it's something you want to eat all summer long.
For mains, the blackened tofu is a real winner. Flash fried in a coating of cajun spices, it's the homeboy of tofu; neither rubbery nor silky (the worst), the perfect texture is complimented by a lively mustard coconut emulsion, al dente local broccoli (probably from Baker Street or somewhere near) and those famous sweet carrots. There's nothing more exciting than a vegetable in a surprising colour and these purple bad boys are no exception.
We also sampled the quinoa, red lentil and kale creation; it's served with a rich tomato sauce, lots of parsley and crispy little shallots. It's flavoursome and nice, perhaps a touch salty, but we end up wrestling over the tofu (again, not literally).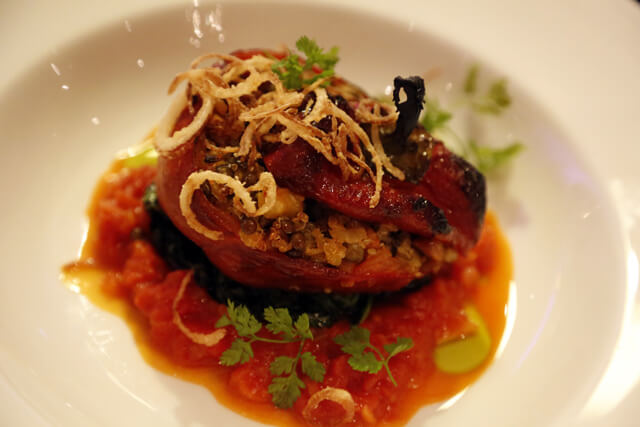 By dessert you might be sick of nut cheese, so go for the pecan pie. It's served espresso nice cream (dairy-free) and raspberries; it's delicious. The cheesecake has the flavour of roasted cashews with a dark chocolate base – either way, you'll be happy.
Vegan Menu at Hyatt Regency: The Verdict
Sometimes vegan food makes you realise what's life all about; coming away from a meal feeling happy, satiated and alive – rather than bloated and in need of a fag. If you're looking for a pre-summer health kick, this is a great way to eat out without the calorie dent. The vegan menu will be available throughout the year, so watch out London, the carrots are coming to get you.
The Taste of Vegan Earth Menu runs all year and costs £20 for two courses, £25 for three. For more information and to book, see here.