Zuma is a Knightsbridge institution.  A bolthole for the corporate crowd and after work drinks brigade, Zuma became an instant hit when it opened its doors back in 2002. Fast forward 14 years and the same values still remain – high end sushi and Japanese fare made carefully using select ingredients.
Zuma is London's worst kept secret – you'll struggle to nab a table if you haven't booked, and you'll be lucky to snag a seat at the bar for a few cocktails. Book ahead and prepare yourself for the culinary journey that awaits you. Hold tight, because you're in for one hell of a delicious ride. Enough of the small talk, here's what you need to know:
Zuma: The Vibe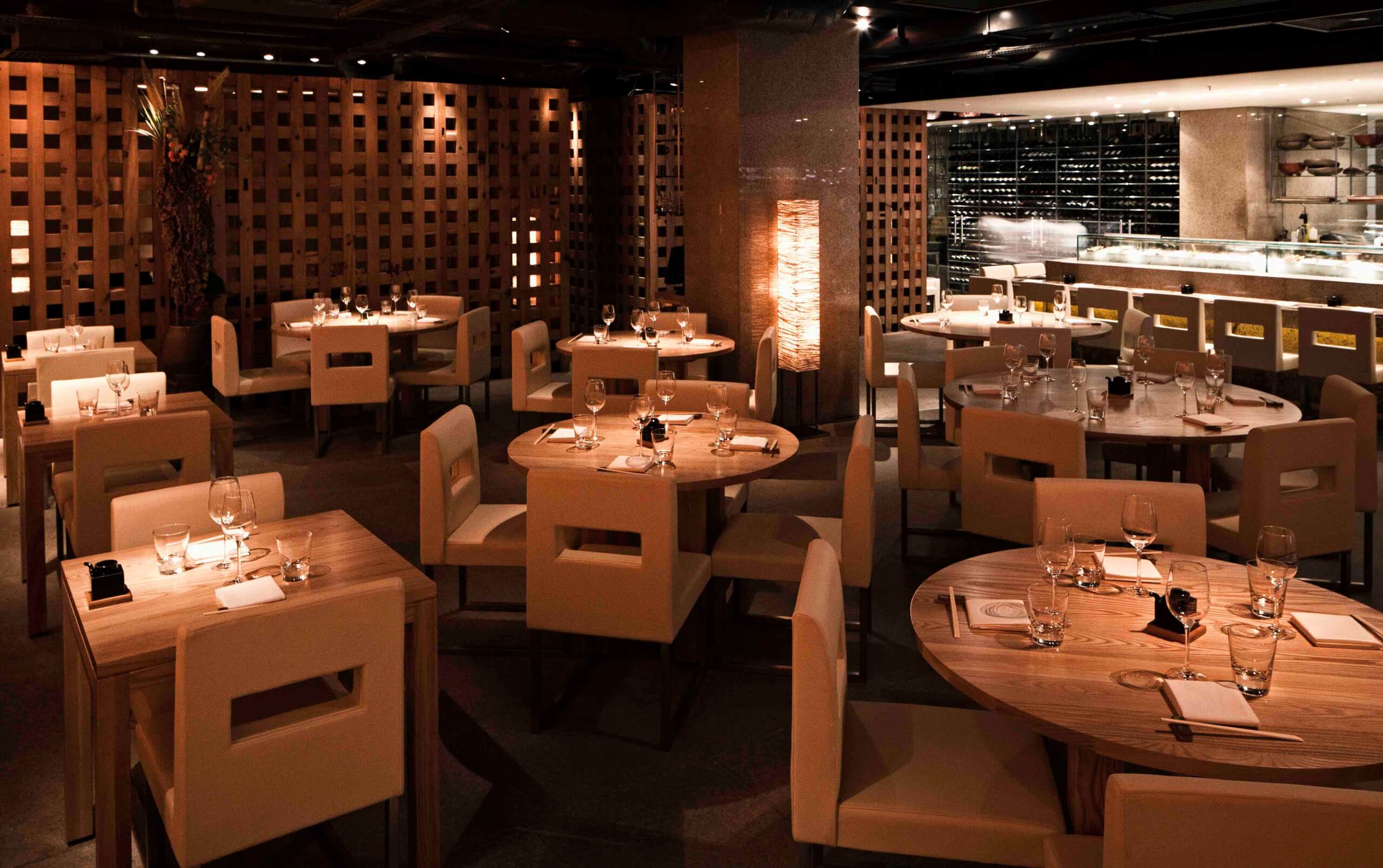 Zuma was designed with the four elements in mind: Earth, Fire, Water and Air. The esteemed Japanese design company Super Potato were commissioned to materialise the vision.  Their designer, Noriyoshi Muramatsu, introduced calming water features and used antique pine, re-cycled from old Japanese houses – he believes the wood retains the goodwill of the previous owners. It took over 3 months of travel and research to locate the exact granite and different woods that were ultimately selected for the project.
Zuma is beautiful, and you can't help but fall in love with the decor. It's dimly lit, minimal and modern. Get a front row seat at the sushi bar and robatata grill for all the maki action, or if you're after a quieter evening, there's a splattering of tables around the restaurant. Zuma is vast – there's a bar for cocktails, two private dining rooms and numerous tables, yet the vibe here isn't loud or brash; it's surprisingly mellow. The vibe here is organic, there's no pulsastating music to cover the lack lustre ambience, there's a real buzz about this place.
Zuma: The Drinks 
Last December Zuma introduced their Chanoyu drinks menu. The Chanoyu menu takes inspiration from the elegant and refined tradition of a Japanese tea ceremony. Every cocktail on the menu contains a different tea which has been sourced from a different location around the world, as way to celebrate ZUMA's international identity.
The sweet Creamy Berry is reminiscent of a French Martini, only this tipple contains  zacapa 23 yr, mixed berry tea syrup, fresh lemon juice, egg whites and chocolate bitters. It's a really light cocktail, and the perfect pre-dinner cocktail. The Kyodo cocktail fuses together Indian and Japanese flavours thanks to the masala chai tea cordial and noilly prat ambre and barsol pisco. And if that hasn't whet your appetite, the heady combination of francoise voyer cognac, rhubarb and custard tea sherbet and yuzu sake found in the Frozen Sweet cocktail certainly will. This cocktail stays true to its namesake, and tastes like a boiled rhubard and custard. Chug one back for a right nostalgic kick.
Zuma: The Food
It's not only the interiors that make you drool – the menu itself is a work of art; though beautifully presented and deliciously enticing, it needs an encyclopedia to navigate.  The descriptions are their own challenge; Yuzu features heavily, as do unusual ingredients, such as gobo, wafu, and tobiko. Go with someone who won't judge for your ignorance, or keep your phone close by. The staff are also super knowledgable, and are on hand to guide you in the right direction if you're overwhelmed, or just a little lost.
Greatly influenced by his time in Japan, chef Rainer Becker has introduced a modern elegant and sophisticated cuisine philosophy, which has been inspired by the more informal Japanese dining style  – Izakaya.  Essentially it is made up of three different components: the main kitchen – offering a selection of contemporary dishes, the Sushi Bar – with dedicated sushi chefs, and the Robata Grill – a concept which originates from the cooking style of northern Japanese fishermen.
The gyu no tataki is a strong way to kick off proceedings – incredibly light, the dish features seared beef with soy ginger, and a hint of lime and coriander for a slight citrus burst. The beef is melt in your mouth, knock your socks off sublime. It's incredibly moreish and delicate, the beef is seasoned nicely with the ginger and isn't swimming in a pool of soy. The ika no kari kari age is Zuma's take on calamari – the crispy fried squid is simply battered with no greasy residue or heavy coating. The squid works really well with the spicy green chilli and lime. Dish perfection.
Obviously, you can't come to Zuma and not try their sushi and sashimi offering – that would just be sacrilege. The California maki, a medley of fresh crab and avocado is so simple, yet executed so well. The spicy tuna roll is absolute dynamite; tuna, homemade chilli miso and yuzu tobiko. So, so good. You can't help but comment on the freshness of the ingredients.
Move onto the robata grill next. Don't ask me how they do it, but their yaki-imo no teriyaki gake (sweet potato with teriyaki and sesame to you and I), is the best sweet potato dish I've ever tried. It's basically chargrilled sweet potato, but its taste is off the charts. A sharp, crisp outside and a fluffy centre, all encased in this glorious teriyaki and sesame marinade. Highlights from the robata menu also include the jumbo tiger prawn with yuzu pepper, seabass with burnt tomato and ginger relish and chicken wings with sake, sea salt and lime. And if you didn't quite get your beef fill from the starters, the spicy beef tenderloin with sesame, red chilli and sweet soy will rectify that problem. The tenderloin is lightly seasoned with red chilli for an extra bite – and the sweet soy adds a softness to the dish.
There's a special item that isn't on the menu, and you need to ask for it; the dessert platter. What I can only describe as something out of a Lilo and Stitch movie, the dessert platter is full on tiki party with an over the top floral arrangement and a medley of the restaurant's signature puds. The chocolate fondant pudding is, just, magnificent. The chocolate pudding is warmed, and filled with a molten lava, also know as melted chocolate. So much melted chocolate. There's also a green tea sorbet, banana cake and other sweet delights hidden behind the palm leaves.
Zuma: The Verdict
Zuma has it all; from great food to a warm, intimate atmosphere, it's a fail-safe dinner spot for couples, dates and loved ones alike. The menu has something for everyone, with great vegetarian, meat and fish options, and you'll be surprised by the playfulness of the menu and the ingenuity with which they approach flavour combinations.
5 Raphael Street, Knightsbridge, London SW7 1DL