Considering we're both big pizza fans, north Londoners, and one of us literally lives around the corner, it's surprising that we've never visited Zia Lucia on Holloway Road. The name is Italian for 'Aunt Lucy' which makes sense being it's a cosy unassuming pizzeria with a family-style feel. We turned up at 7pm on a Tuesday and it was already heaving with customers. If you're looking for your next carb fix in the capital – look no further. Here's the 411:
Zia Lucia: The Food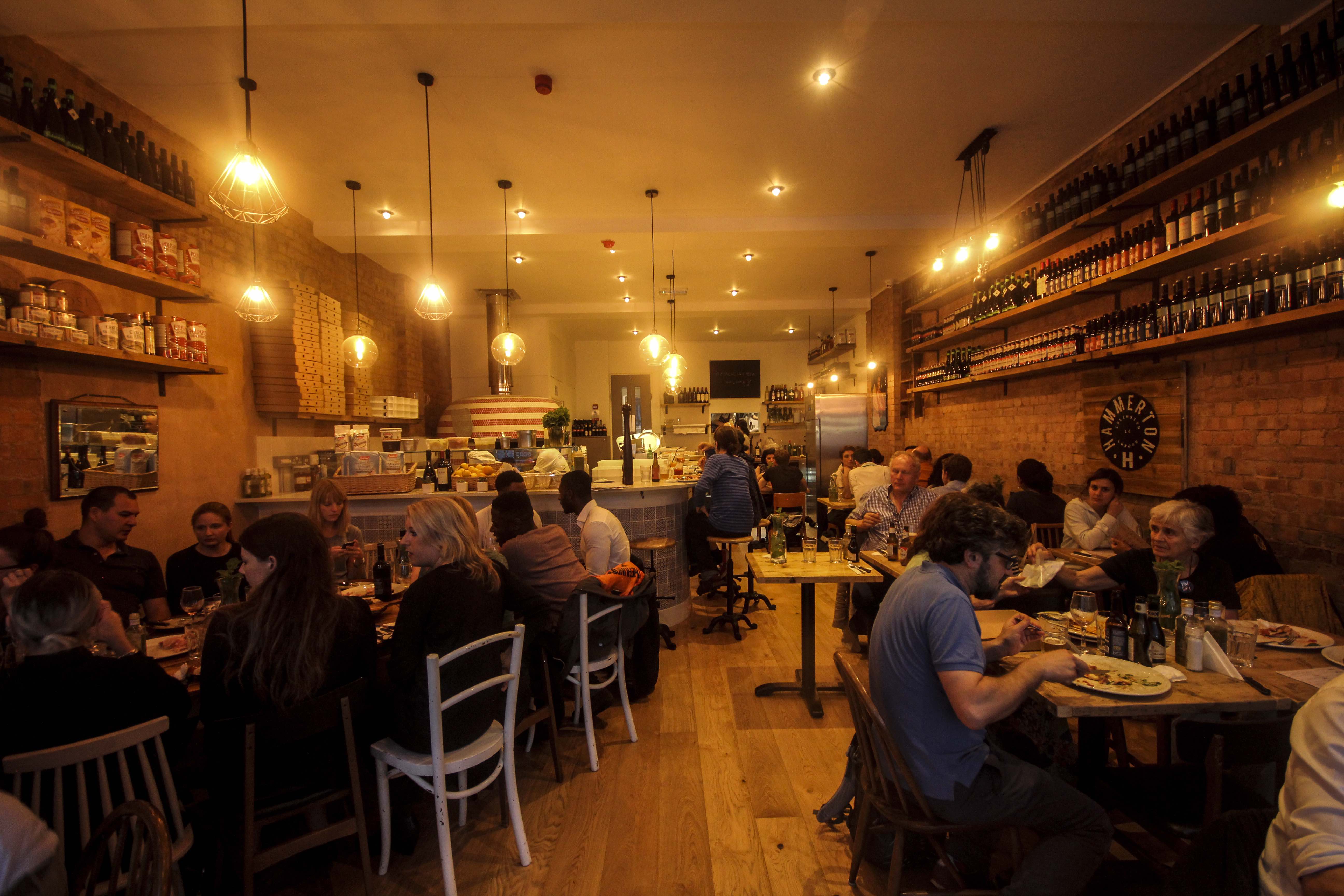 Almost everything at Zia Lucia is handmade on-site and, as a result, the menu is uncomplicated but effective. They do however offer a choice of four 48-hour fermented pizza doughs: traditional, wholemeal, gluten-free, and charcoal. Everything was explained to us in detail by the staff who were all friendly, in particular the manager Alessio made us, and the other patrons, feel very welcome as he meandered the tables with his super personable character.
For starters, we went all out on Italian meats and ordered the bruschetta with n'duja and the mortadella with focaccia. Both were straightforward but delicious: the n'duja was just the right consistency and didn't overpower the bread whilst the mortadella was subtle yet paired superbly with the rosemary from the focaccia.
For mains we would've liked to have sampled all the doughs but, seeing as this was our first visit, we chose 'traditional' to see how it performed against the rest of the pizza world. We went more off-piste with our toppings though, opting for a spicy burrata (tomato, mozzarella, spianata, and salami) and the decadent Arianna (mozzarella, sausage, tagellio goat's cheese, pecorino, and truffle honey). The ricotta from the burrata was a great accompaniment to the spicy meats and this was probably our favourite pizza of the two. The Arianna was highly indulgent and the truffle honey really gave an extra layer of richness alongside the two cheeses. The dough fared particularly well and was cooked to perfection in a traditional wood-fired oven.
A special mention has to go to their chilli oil which was terrifically potent to say the least. Being quite full we weren't sure about ordering a dessert but Alessio insisted that we try the homemade ricotta cheesecake. Wow, we were glad that we did! A delicate base covered with fresh fruit and compote, it rounded the meal off impeccably.
It's no wonder that there were queues outside Zia Lucia throughout the entirety of our visit as they've clearly mastered the skill of doing all the simple things correctly, and this really does make a difference. There's no doubt about it: we'll definitely be back.
157 Holloway Rd, London N7 8LX
For more information on Zia Lucia, see here.