I am not someone who ventures out of North London without good reason. Birthday, anniversaries and luxury maki rolls are pretty much the only thing that will make me leave the comfort of my NW6 postcode. Truth is, South West London is very alien to me; it's so clean, sparkly and bursting with Moncler coats. It makes me crave the doughy bagels and leafy green spaces of North London, but, sometimes, you need to step out your comfort zone to find the really good stuff. I hopped on the circle line to discover the latest Sticks'n'Sushi on the Kings Road, and I can happily report it was well-worth the journey. Here's everything you need to know: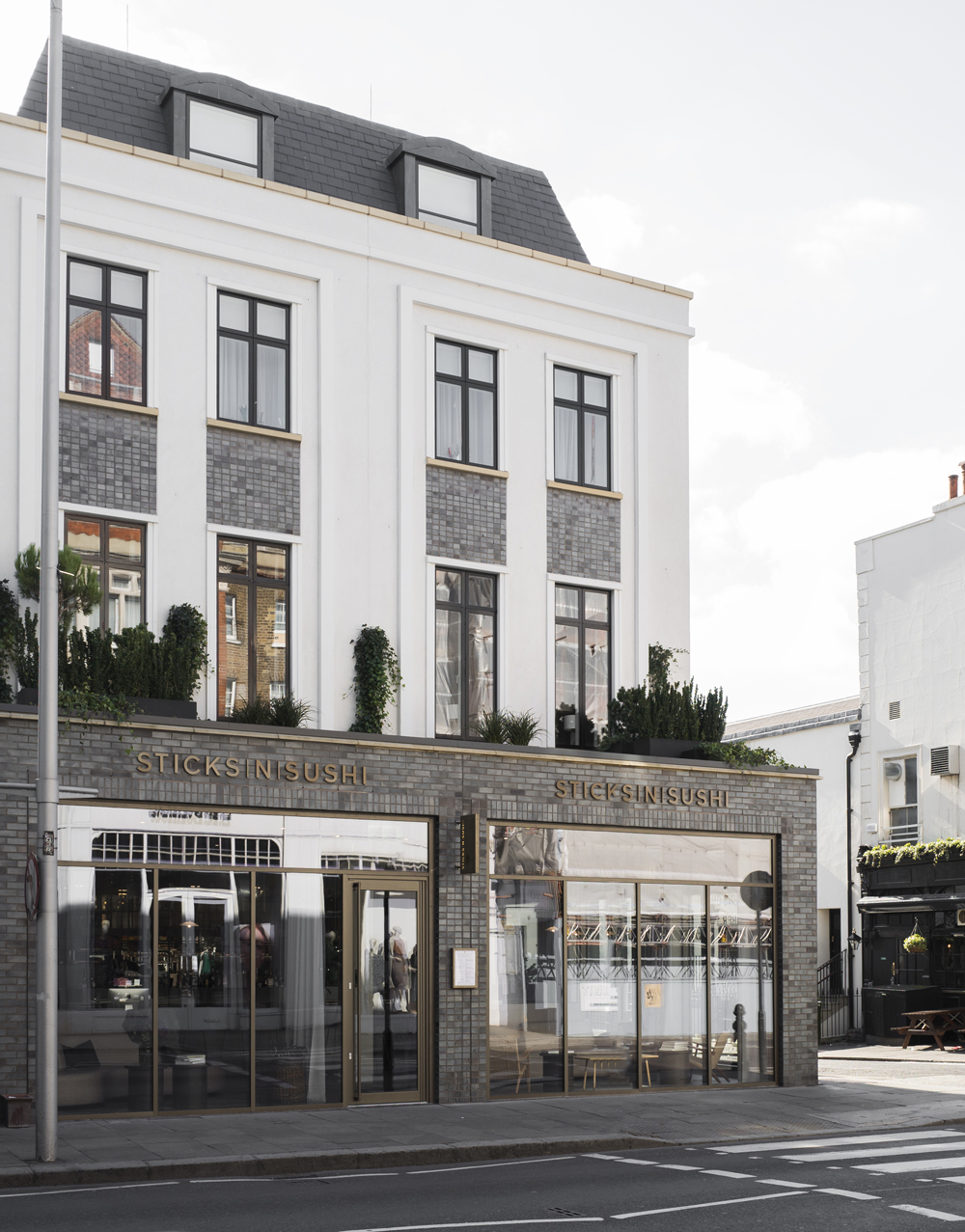 Newly opened on the Kings Road, one of the most luxury, iconic high streets in the world, Sticks'n'Sushi is right in the middle of the action. An impressively expansive restaurant, with seating for 220 people across three floors, it's managed to strike the perfect balance between opulence and casual, easy dining. There's a real touch of food theatre about the place; coming in from the street, you'll be greeted by a large open kitchen, where you can watch the chefs making sushi magic.
Sticks'n'Sushi is synonymous with style; behind the design is the Copenhagen-based architectural office NORM, who have given each floor its own identity. It's perfect for all moods; you can grab a quick bite and cocktail at the bar, and watch the sushi-making in action, or have a long, leisurely dinner upstairs with friends. On the night we visited, the restaurant was crammed with all sorts – from first daters to families – in an easy, convivial atmosphere.
In the basement, there's a restaurant-within-the-restaurant with The Kings Room. In these private underground chambers, you can host private dinners or parties in lavish surroundings, shielded from the rest of the world. Very nice, indeed.
If you haven't been to Sticks'n'Sushi before, be prepared to feel a little overwhelmed by the menu. Their 'menu card' (there's photos for all the dishes, it seems that's back in fashion), is vast, spanning appetisers, sushi rolls, sashimi, sticks and sides – the idea is to craft your own A La Carte menu, in a sharing-style dinner. It's trés sociable. I'd recommend ordering as you go; it's a little easier than picking out everything at once, and gives you a chance to really deep-dive into some of the best bits of the menu.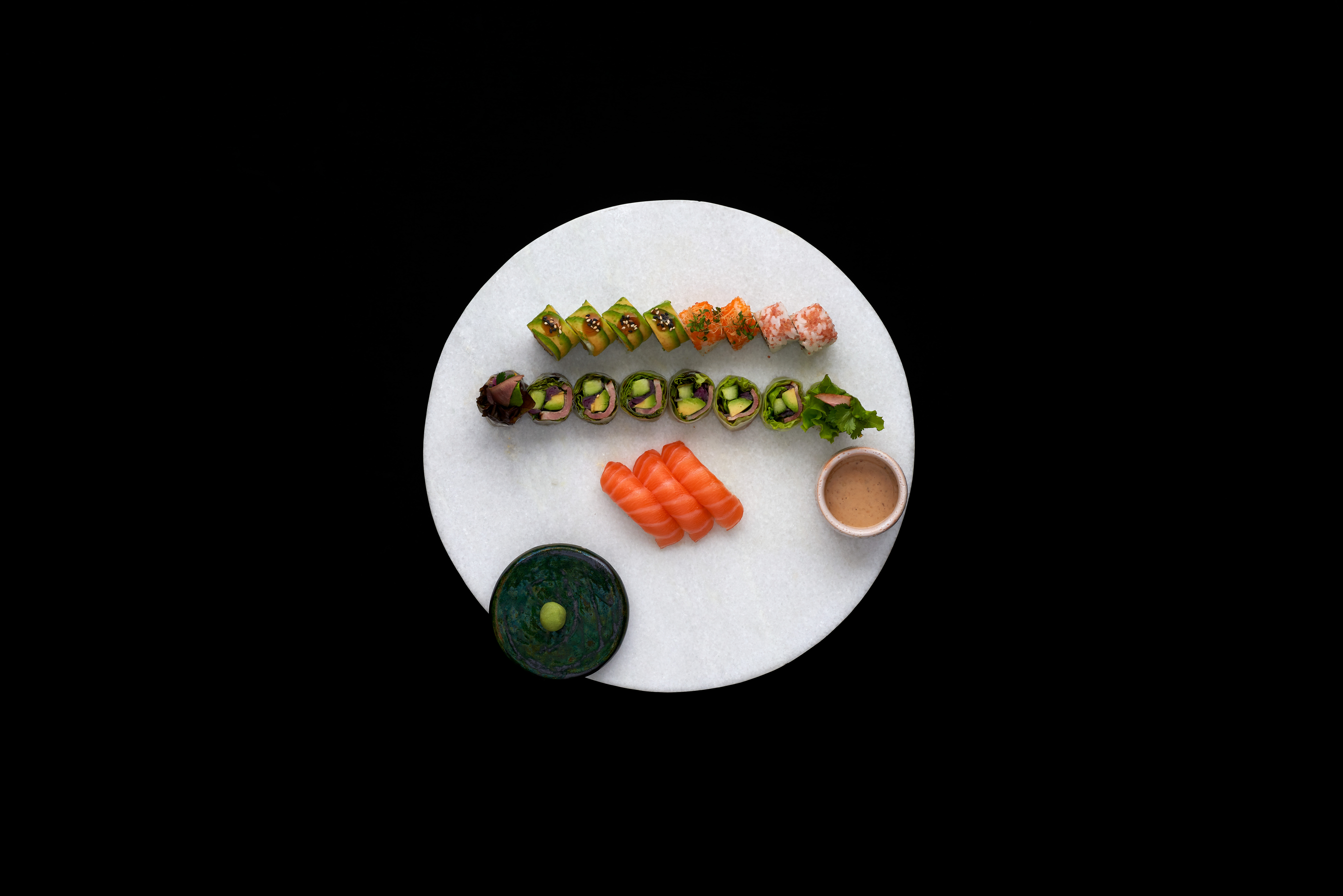 We started with some of the creative, modern Japanese dishes; I loved the Salmon Tataki with daikon, cress, wasabi and ponzu, with its sweet, tangy piquancy balancing out the super-fresh fish perfectly. Another highlight was the Jerusalem artichoke with miso dip – there was something so naughty and moreish about the oily artichoke with an unctuous, savoury mayonnaise – it made my palate sing. We moved onto sushi – first seared Salmon Niigri (delicious and light), then the Spicy Tuna, Ebi Panko and Rainbow rolls.
The Ebi Panko rolls – tempura shrimp with spicy sauce, topped with avocado – were a triumph, the crunchy prawn balancing so well with the creamy avocado and spicy kick. I devoured the Rainbow rolls – not normally a fan of the more complex, "played with" maki rolls, I was pleasantly surprised by the fresh-tasting shrimp roll, topped with tuna, salmon and hiramisa. The Spicy Tuna were pleasant enough, but perhaps opt for the more inventive sushi here – it's what they do so well. Finally, my guest devoured a duck breast stick, and reported that it was heaven in a bite, in between meaty mouthfuls.
For pudding (you didn't think we'd skip pudding, did you?) we sampled their bite-sized dessert tasters. The Matcha Financier with a molten chocolate middle was a delight, as was their White Chocolate Mousse with raspberry sorbet. All in all, I really couldn't fault the food – creative, visually appealing, fresh and, most importantly, totally delicious.
They've got some really fun, creative drinks here, including Japanese-inspired cocktails. Try the Noguchi Bellini – their take on a traditional bubbly cocktails with guava, kumquat, yuzu and prosecco. Another honourable mention goes to the Rozu with vodka, raspberries, lychee, citrus and rose blossom water. Be warned: their cocktails taste delicious, but are pretty potent too.
I totally loved the new Sticks'n'Sushi; they've got the balance just right between conceptual and creative, without being gimmicky. The sushi is good. The sticks are good. The cocktails are good. The atmosphere is good. There's just something about this restaurant that makes it feel special, without being stuffy or pretentious. I'd take my boyfriend, my girlfriends, my mum – it's the perfect spot for any occasion. And well-worth venturing out of North London for, I'd say.
About Time were guests of Sticks'n'Sushi but all views are own