Down a small alley off Fleet Street, Humble Grape has opened its doors recently offering wines sourced directly from independent wine makers across the world.
Humble Grape: The Lowdown
The South African owner took a moment to show us around and it's clear he's very passionate about wine. He and his staff know their stuff and this means delicious wines that go down nicely with their wide selection of meat, cheese and fish platters and a few main courses too. Going direct to the winemakers means no middle man and thankfully, no industry mark ups.
Humble Grape: The Food 
After a quick bowl of biltong (direct from South Africa of course), we felt it was only right to order a wheel of melted cheese. The baked Camembert had a tasty hint of rosemary and garlic, and came with a generous amount of salty focaccia toast. All complete with an Italian red from Tuscany.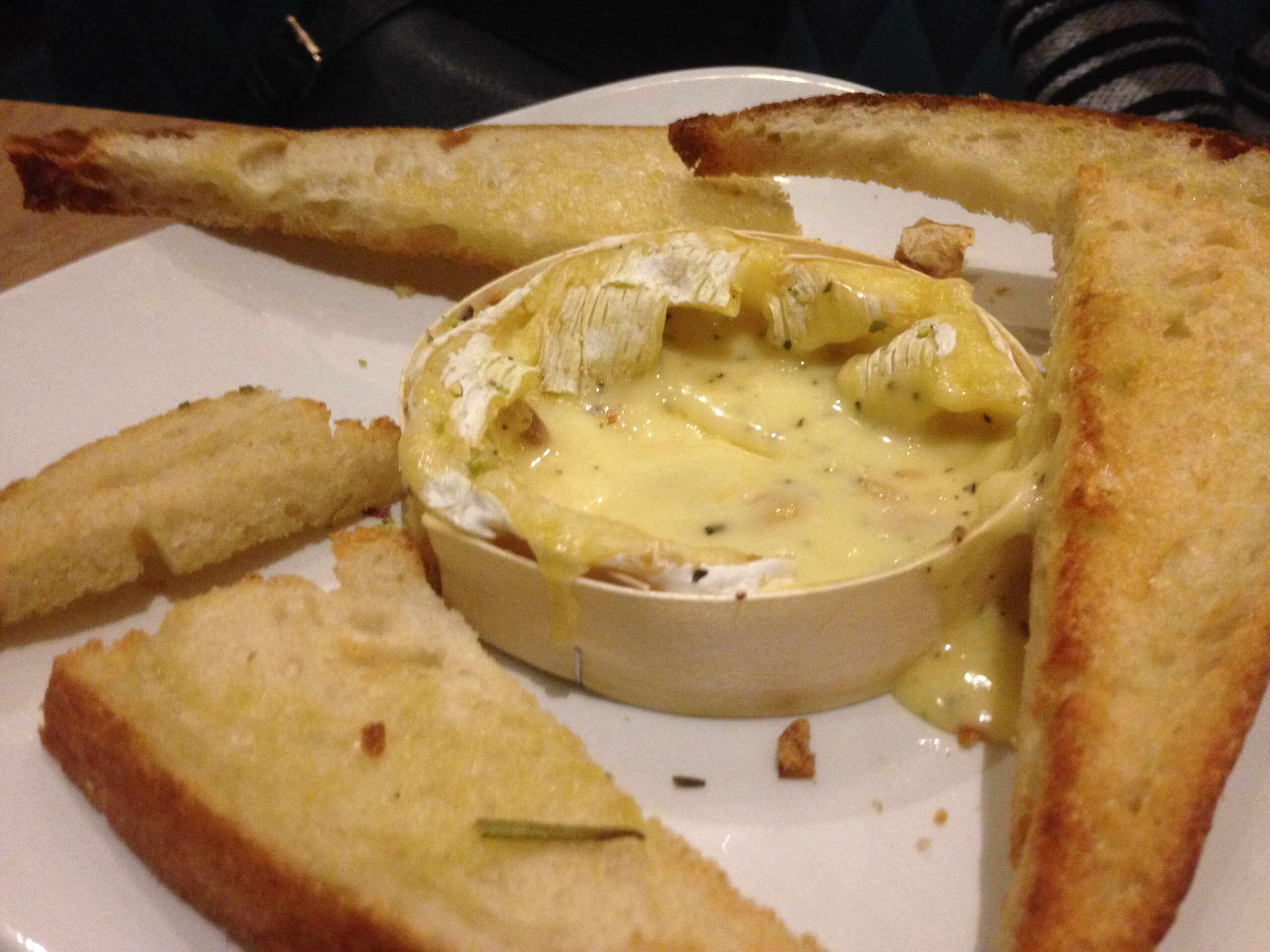 No French meal though is complete without meat – with the 'Iberico Secret' and steak showing that these chaps know what they're doing when it comes to cured meat. The iberico is somewhat of a speciality, with the thin slices of succulent cut pork from Spain's acorn-fed pigs. The steak was also really impressive. Perfectly cooked, the meat was allowed to speak for itself, well seasoned and not drenched in over-powering sauce.
Humble Grape: The Verdict
Humble Grape is more than just a bar and restaurant. All their wines are available to buy in their shop, they also have plenty of space for events and host regular wine-tasting sessions. You can pop along to one of their wine-maker dinners and meet the people behind the grapes. There's really no better combination than good wine and good food, and the Humble Grape has both. Better still the wine isn't served with a snobby attitude or a draining price point. Humble Grape is a great new addition to an area where good places are often hard to find, perfect after-work or on a date, you'll be talking about the 'bouquet' in no time.
Other Places For Great Grape:
For Wine and Eats: Borough Wines 
What: Independent London bottle shop Borough Wines has extended its drink-in offering and launched a brand new bar menu of drinks and snacks that you can enjoy in the Stoke Newington, Kensal Rise, Columbia Rd. and Hackney shops.
The new menu features wines and beers as well as seasonal cocktails. Bar snacks have a Spanish influence and include anchovy-stuffed olives, salted almonds, cured meats, cheese and game salamis from Borough Market neighbours Cannon & Cannon.
Where: Locations here 
For Bubbly Cocktails: Daphne's x Veuve Clicquot
What: To celebrate the beginning of British Summer Time, Charlotte's Olympia, Daphne's and Veuve Clicquot have teamed up to create a flowery collection of statement heels and bespoke cocktails.
Get down there and try out the cocktail menu. Our favourite drink was made with the newest addition to the Veuve Clicquot family: RICH. A delightfully fresh and fruity rose champagne topped with floral garnishes and drunk over ice. The shoes are pretty cute too. 
Where: 112 Draycott Avenue, SW3 3AE